TAKE THIS BUNDLE
Project Management Training Certification (17 Courses)
17 Online Courses
76+ Hours
Verifiable Certificate of Completion
Lifetime Access
Project Management - Learn All Process Groups & Knowledge Areas
Microsoft Project 2016 Training
Project Schedule Management Training
Offer ends in:
TAKE THIS BUNDLE
What you get
Online Classes
Technical Support
Mobile App Access
Case Studies
Online Project Management Training
This Project Management Training Certification includes  17 comprehensive Project Management courses with 76+ hours of video tutorials and Lifetime Access. You get to learn almost everything under Project Management which includes Project Management knowledge areas, Project Scheduling, Integration Management, Scope Management, Quality Management, Scope Management, Project productivity, Microsoft Sure Step Methodology For Managing Projects, Microsoft Project and lot other concepts.
Project management is part of Business management where the complete syllabus is about how to handle a project. Here, proper planning and execution are been taught to monitor a project. A project can be anything which is undertaken to finish and achieve its goal by making modification in it or maybe started from scratch.
Here in this project management training, you will be taught different tools and techniques used for a project to complete in a most successful manner. The candidate who is pursuing a project management course will be benefitted by this project management certification as he will learn how to implement these tools. He will get complete knowledge about handling a team, managing their roles in the work, proper guidance towards goad and lots of stuff with practical knowledge
Industry Growth Trend
The Professional Services Automation Market is projected to grow from USD 634.7 Million in 2016 to USD 1,244.8 Million by 2022.
[Source - MarketsandMarkets]
Average Salary
Average Salary
$80,196 per year
The average salary for a Project Manager is $80,196 per year in the United States.
[Source - Indeed]
About Project Management Training Certification
| | |
| --- | --- |
| Course Name | Online Project Management Training Certification Bundle |
| Deal | You get access to all 17 courses bundle. You do not need to purchase each course separately. |
| Hours | 76+ Video Hours |
| Core Coverage | Project Management knowledge areas, Project Scheduling, Integration Management, Scope Management, Quality Management, Scope Management, Project productivity, Microsoft Sure Step Methodology For Managing Projects, Microsoft Project |
| Course Validity | Lifetime Access |
| Eligibility | Anyone who is serious about learning Project Management and wants to make a career in this Field |
| Pre-Requisites | Basic knowledge about Project Management would be preferable |
| What do you get? | Certificate of Completion for each of the 17 courses |
| Certification Type | Course Completion Certificates |
| Verifiable Certificates? | Yes, you get verifiable certificates for each course with a unique link. These link can be included in your Resume/Linkedin profile to showcase your enhanced project management skills |
| Type of Training | Video Course – Self Paced Learning |
| Software Required | None |
| System Requirement | 1 GB RAM or higher |
| Other Requirement | Speaker / Headphone |
Online Project Management Training Curriculum
---
In this section, each module of the project management certification is explained.

Project Management - Learn All Process Groups & Knowledge Areas
Here you will get the basic knowledge of project management. You will learn the important aspects like time, cost, the scope of the existing field. The phases involved like Initiating, planning, executing, monitoring and controlling will be taught in detail.
Microsoft Project 2016 Training
Through this project management training you will learn basic things about fundamentals, working on multiple projects and consolidation, resource sharing, advanced customization, import and export, working with forms, introduction to macros, templates, earned value analysis etc. The basic details about Microsoft Project are been taught.
Microsoft Project
This project management training module includes the development of plan, allocate tasks, assign resources, track progress, and manage the budget, analyzing work trends and workloads. The reasons to choose why Microsoft is good is been taught. Microsoft project course is been described in detail with all its features.
Project Scheduling
In this module project planning is explained and how to carry out pre-planned processes, procedure, and workflow. Schedule model and project scheduling are been taught under this programme in detail.
Project Schedule Management Training
Here the topic schedule is taught how actually we should do this. Proper method and scope for project schedule management is taught where you can understand its importance. The two important methods are taught 1.Work Breakdown Structure 2. Wideband Delphi. The remaining topics like need, effort, and cost estimation is taught under this project management training.
Microsoft Sure Step Methodology For Managing Projects
This programme includes Microsoft Dynamics CRM, Microsoft Engagement, Microsoft Dynamics Marketing, Microsoft Dynamics AX, Microsoft Dynamics NAV, Parature, from Microsoft. Complete course details with is explained with a proper structure
PMP - Integration Management
The introduction is given about integration and basics of managing integration, project initiation and selection is taught. Further development of a project management plan and developing project charter and monitoring project is been taught.
PMP - Scope Management
What would be the scope if you are a project manager? And how you will plan your work and schedule a time for a given project is been taught. Under project scope management planning, controlling and closing is taught. There are 6 steps which include planning, collecting, defining, creating a WBS, validating the scope, controlling the scope.
PMP - Time Management
Time is important to manage else late submission is not entertained many times. The effective steps in time management are 1. Defining activities 2. Sequencing activities 3. Resource evaluation for activities 4. Time duration and work estimation. 5. Development of Schedule 6. Schedule Control. These are the steps in this project management training module which are taught.
PMP - Cost Management
Costing includes planning, estimating, controlling and managing project cost. Proper planning saves you cost which is taught under this module. Determining the budget and controlling the costs are the main aspects.
PMP - Quality Management
Quality management includes the inspection of all designs, plan, and investigation of all process. This includes quality definition, quality assurance, quality control, quality improvement. Objectives and importance of quality management training is taught.
PMP - Human Resource Management
It is the important aspect which is taught. Planning development and managing HR is explained under this programme. The basic need of HR management in project management is explained with its goal and objectives.
PMP - Risk Management
How to manage a risk in business is properly explained with its two type negative and positive risk. Why this risk management is important is explained and the ways to manage risk. The main goals include 29 lectures which covers almost all aspects.
PMP - Procurement Management
Procurement management contains some elements like whether or not procurement, what to procure, how much to procure, when to procure. Proper training of do project procurement management training is given.
PMP - Communication Management
Communication management means a systematic planning and revising all channels of communication. Why project communication is important and how does it play a important role in growing is explained
PMP - Stakeholders Management
To check the outcome from projects, stakeholders management techniques are necessary. In these work role of manager is explained how to maintain clients by calls, emails and meeting.
Project Productivity Improvement - A Comprehensive Guide
This project management training gives you an overview of the complete syllabus. It includes 31+ hours of HD videos 170+ lectures
---
Certificate of Completion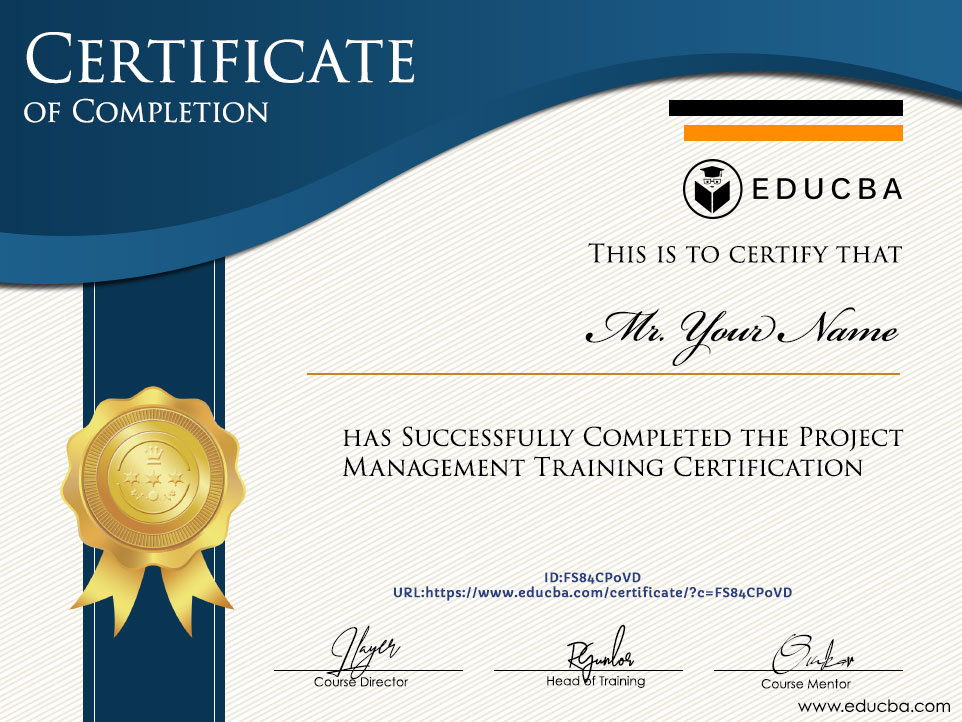 ---
What is Project Management?
Project management is where a person has to handle the given project in a standard format as per the company rules. This field doesn't require any specialization but the knowledge of every field is a must. The basic need of a project manager is to complete the project within the given time and complete the target.
Project management deals with planning, controlling, and executing the work in an efficient manner. Basically, this field is made to save the time and money of the company by working in a properly structured way which makes more benefit in the existing field. This department plays a crucial role in the growth of the company and helps in making a constrained path for the future.
The project management person has to deal directly with the director persons of the company so he should be well groomed. The project manager has to manage clients, workers, staff, and team and has to maintain a good relation. He has to estimate the cost of the project so financial management should be strong.
Which Skills will you learn in this Project Management Certification?
This project management training is very vast and teaches you lots of things which can change your way of living
The course gives you over brief about the actual project management work and its culture.
This project management certification gives you immense knowledge which helps to any kind of project in any way.
The project manager is a leader and here you will be taught to live like a leader.
As you have to deal with managers so attire should be complete formal and the way of living should be managerial
Pre-requisites to Project Management Certification
The candidate should be graduated from the project management field. If not any graduate stream will work for this project management training.
It is good if he is having his small business then also he can develop his business using these skills.
Candidate should eager to learn all things will make him a perfect project manager.
He should be workaholic as in this stream candidate have to work more than regular hours.
Target Audience for this Project Management Training
People working in industries can opt for this course.
Students can do to get extra knowledge.
He/she should be fluent in English in reading and writing.
Project Management Training  – FAQ's
---
Why this project management training is important?
This course gives you immense knowledge of work and makes you capable of handling a project in any company. This gives you a boom in your career.
Is there any discount on the project management training available?
The discount depends upon when you are applying and which offer is going on. We do some offers, but for this you need to contact EDUCBA management team.
How this project management training certification helps me practically?
As we are having professionals who are having industrial experience and can teach well efficiently. They will help you in giving practical knowledge which is beneficial for you.
How many candidates have done this before?
Around 3900 candidates have opted for this project management training and everyone is enjoying after learning with us. They are happy and has given positive feedback as they are implementing their knowledge gained from here.
Sample Preview of this Project Management Training
---
Career Benefits of this Project Management Training
After completion of this course, you have a wide opportunity to work with any company using your knowledge.
Your way of living changes and once you finish the project management training.
You will work in a different way other than the students who haven't done this project management training.
Many companies are waiting for this profile and looking for a perfect candidate who can manage this role
Many students have achieved a higher position in less time due to their work role and efficiency in working.
This project management training certification turns out to be path changer in your life and can take you to a different level than your expectations.
The main thing is that you can work in your previous field which you were working with a higher post as a manager. It means you can make use of your previous experience
Project Management Training Reviews
---
Project Management Training
This a very wonderful and resourceful platform. I enjoyed every bit of my time on the platform and easily grasped concepts.Every penny was worth it. I can't wait to get on with my next course.
Linked
Ibrahim Abbas
Project Management – The Grand Tour
This video project management training certification told me everything I needed to know about Project Management and all the relevant topics that contribute to it. This will help me a lot in progressing in my job and/or finding a better-paid position in another firm or work environment. That you big time for providing such an interesting and informative course.
Dominic Wilhelms
Top-notch PMP Exam Prep Guide
This PMP exam preparation course took me about 10 weeks to complete (5-7 hrs/wk). With this project management certification, I learned many strategies on how to manage and coordinate different complex projects and an overall view of the basics concepts in Project Management Professionals. The slides are well organized and detailed; and the instructor does a good job explaining the content of the course. Thank you Educba.
Linked
Pedro Tomas Checo
Great Place to Learn
I have completed the online course on project management training and found it useful & interesting. I'm happy with the courses and benefits provided by educba. I will look for other courses in educba website which are not only linked to project management activities. Thank you!
Linked
Alexandru Mihai Matei
Best Project Management Certification
I'm pleased to express my impressions about this course which helped me to acquire theoretical basics of Project Management. This project management training is also best sources for those willing to take PMP exam and add credentials to professionals experience. As you all might already know PMP certification is the best evidence to prove your professionalism in Project Management.
Linked
Gocha Nikolaishvili
Project Management Training
The course has opened up my eyes to the world of Quality Assessment and Management. I personally loved the Toyota Production Systems theories a lot and it helps to really understand that there is no compromise in quality. Benchmarking is also a very important tool which I've acquire through this project management training.
Linked
Wee Yin Hao Freddie