TAKE THIS BUNDLE
Project Estimation Training (6 Courses)
6 Online Courses
72+ Hours
Verifiable Certificate of Completion
Lifetime Access
Project Estimation- Online Project Estimation Training
Project Management Training Courses
Project Management Professional - PMP
PRINCE2 - Foundation and Practitioner Exam Prep
Primavera P6 Professional Training
Offer ends in:
TAKE THIS BUNDLE
What you get
Online Classes
Technical Support
Mobile App Access
Case Studies
Online Project Estimation Course
This Project Estimation Course includes   6 comprehensive Project Estimation courses with 72+ hours of video tutorials and Lifetime Access. You get to learn Project Estimation, Function Point Analysis, Prince 2, Primavera, PMP.
Project estimation is a very important aspect of Project management which eventually decide the future of the Project. Learning project estimation will help your project management career regardless of your domain and this skill of yours surely will put you in a different map altogether.
If you want to pursue a career in project management or you are a project manager with little or no experience, this Project Estimation course is for you.
In this course, we will give you all the info regarding Project estimation and management. Take the course at your own convenience and let the course tell you how useful it is to you.
Before we go into the details regarding the target audience, prerequisite, career benefits, let's talk about the course curriculum.
Industry Growth Trend
The Professional Services Automation Market is projected to grow from USD 634.7 Million in 2016 to USD 1,244.8 Million by 2022.
[Source - MarketsandMarkets]
Average Salary
Average Salary
$80,196 per year
The average salary for a Project Manager is $80,196 per year in the United States.
[Source - Indeed]
About Project Estimation Course Course
| | |
| --- | --- |
| Course Name | Online Project Estimation Course |
| Deal | You get access to all 6 courses bundle. You do not need to purchase each course separately. |
| Hours | 72+ Video Hours |
| Core Coverage | Project Estimation, Function Point Analysis, Prince 2, Primavera, PMP |
| Course Validity | Lifetime Access |
| Eligibility | Anyone who is serious about learning Project Management and wants to make a career in this Field |
| Pre-Requisites | Basic knowledge about Project Management would be preferable |
| What do you get? | Certificate of Completion for each of the 6 courses |
| Certification Type | Course Completion Certificates |
| Verifiable Certificates? | Yes, you get verifiable certificates for each course with a unique link. These link can be included in your Resume/Linkedin profile to showcase your enhanced project management skills |
| Type of Training | Video Course – Self Paced Learning |
| Software Required | None |
| System Requirement | 1 GB RAM or higher |
| Other Requirement | Speaker / Headphone |
---
Project Estimation Course Curriculum
---
In this section, each module of the Project Estimation Course is explained.

Software Estimation- Online Software Project Estimation Training
In this first module, we will understand the need for the software project estimation, the people involved in the process, and the different software estimation techniques used to get software project estimation up and running. You need to watch 65 videos in total to cover the module.
FPA - Function Point Analysis
In this module, you will get to learn about the analysis of the breaking system into smaller parts so that it can be understood better. In short which will give you a structured technique for problem-solving. You need to watch 26 videos in total to cover the module.
Software Project Management Training Courses
This module will start with the different software projects that work around and what are challenges and risks it possesses in front of a manager. It also includes the roles and responsibilities of the project manager along with the different software development methodologies You need to watch 52 videos in total to cover the module.
Project Management Professional - PMP
We will begin this module with an introduction to PMP certification and why it is important. Then, we will teach you the different components, process, how the certification works. how to advance for the certification with a basic mindset. You need to watch 203 videos in total to cover this module.
PRINCE2 - Foundation and Practitioner Exam Prep
In this module, you will get to learn about Project Management in a controlled environment. This entire module will need you to watch 40 videos.
Primavera P6 Professional Training
This entire module is designed in this way so that the user can have a real-time experience starting from planning to execution. You need to watch 75 videos in total to cover this module.
Certificate of Completion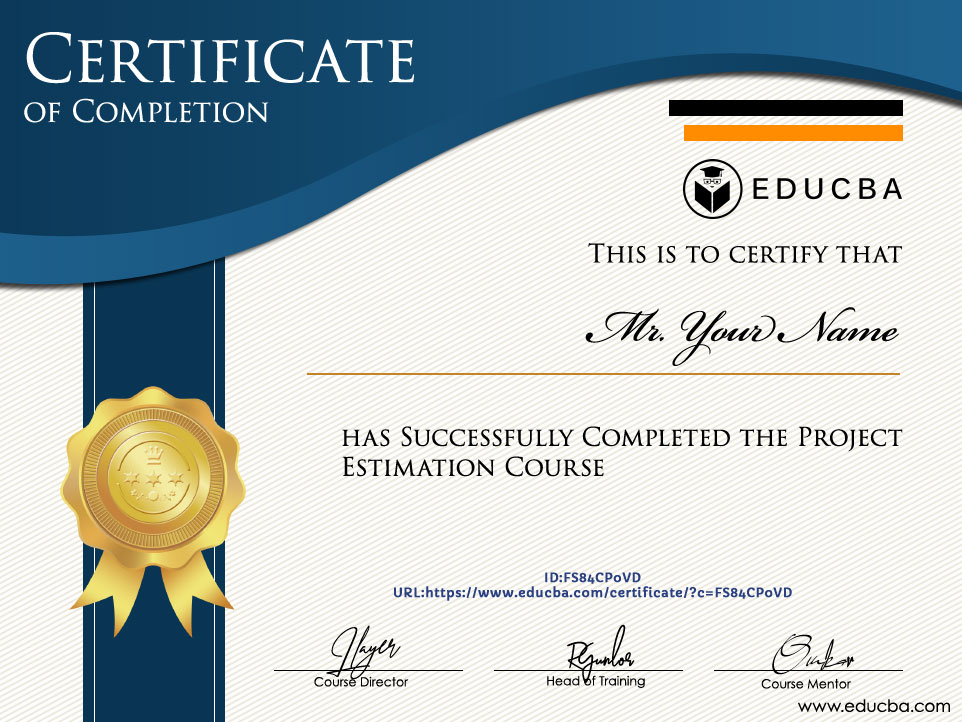 ---
What is Project Estimation?
Project Estimation is something which controls the major decision makings regarding project feasibility. Mainly the scope of the Project totally depends on it as deals with the Costs, resources, and duration of the project.
When a Project completes successfully within the timeline, a big credit goes to the Project Estimation as in the first place it made easier most the complexities and provided a solution for how to deal with it.
The scope of Project Management is huge. That's why we have designed you a course which adds values to Project management career. Because once you get started with the course, you will get to know the different Procedures and methodologies that are being used in project Estimation.
In order to get you aligned with Project management, this is an exclusive course. Here with Project Estimation, we have also provided you the connection with project management and how it should be done with all the practical constraints.
Which Skills will you learn in this Project Estimation Course?
You will learn a ton. We're highlighting here the ones that are most relevant –
Project Estimation: Not only the IT firms but across all domains now understand the value of Project Estimation and management. You will learn what are the different kinds of Projects that a typical firm gets complete details in this course.
A clear Picture about PMP certification: The Project Management Professional certification structures and procedure with all the 35 EDU included.
Function Point Analysis: How to divide complex project functional points into smaller parts so that it can be handled better.
Primavera P6 Training: You will get a close look and an experience with professional training with quality constraints with the help of Primavera in a controlled environment.
Pre-requisites to Project Estimation Course
An Experienced IT professional with Different Roles Over the Years: Clearly if you are an experienced IT professional working in different roles will have a great understanding of different angles of Project management.
Basic common sense: Project Estimation isn't rocket science. If you have basic intelligence, you can do this course. Of course, a fundamental understanding of SDLC life cycle and a good decision making will definitely help.
Target Audience for this Project Estimation Course
Students: Any student from any field who wants to peruse a career in Project Management can do this course. Learning Project Management will widen the scope of your career. It will help you explore all total a new side of Job search.
Professionals: professional across different domains who have the interest or work in the area of Project management can have the course for the in-depth knowledge in Project Estimation.
Entrepreneurs: For Entrepreneurs, if you have got the knowledge about project estimation which will ultimately help you in different decision-making processes. In short, it will give the Entrepreneurs a new perspective to handle the projects.
Project Managers: As a project manager you have just started your career and lacks real-time knowledge, then this course is for you to get some real time experience which will stand you in a better position as a project manager
Project Estimation Course – FAQ's
---
Why should I do this course?
Because not only it provides you a full picture of Project Estimation but also gives you a co-relation to your career which is going towards project management.
I am an IT professional with 3 years of experience in software Development how could taking this Project estimation course will help me
Well as you are an IT professional having prior knowledge to different software development life cycles it would be an added advantage and help your career uplift towards a better position in the current organization.
Sample Preview of this Project Estimation Course
---
Career Benefits of this Project Estimation Course
You would be able to make a stand which will be significantly different than others:
This course will add a sperate weight to your CV as a project manager or for the future Managers. With the help of real-time constraints and approaches surely you will stand different.
Project Estimation Course Reviews
---