$99$29965% Off TAKE THIS BUNDLE
Primavera Course
10 Online Courses
27+ Hours
Verifiable Certificate of Completion
Lifetime Access
Primavera Foundation

1h 03m

Primavera Project Codes and Developing Activity

4h 01m

Primavera Budgeting and Customising

1h 53m

Primavera Reporting and Graphics

2h 28m
Offer ends in:
$99
$29965% Off
TAKE THIS BUNDLE
Skills you will master
Primavera P6
Fundamental R15
Project Portfolio Management
Resource Management
Earned Value Management
Primavera Program Management
Primavera Product
Primavera P6 Professional 8.4
Primavera P6 Professional 15.1
Primavera P6 EPPM 8.4
Primavera Unifier
Primavera Unifier 10.1
Primavera Unifier 10.1
Primavera Contract Management
Capital Plan Management
Oracle Instantis
Primavera Analytics
Planning
Scheduling
Timesheets
Online Primavera Certification Course
This Primavera Training Course includes 10 comprehensive Primavera courses with 27+ hours of video tutorials and Lifetime Access. You get to learn project portfolio management software Primavera and its application which includes its Fundamentals, Products & features, program management, Project Codes and Developing Activity, Budgeting and Customising, Reporting and Graphics.
Primavera is a portfolio based project management software predominantly used in enterprises to streamline business operations more effectively. Launched in 1983, with a promising scope, it was acquired by Oracle Corporation in the year 2008. It is a project management tool that is exhaustively used to integrate with many other enterprise software such as Oracle and ERP systems, financial management and human resource management software.
This Primavera Certification will help management professionals to plan, schedule and control very large sized projects and programs. The following sections would cover the prerequisites to take up this course and the career benefits of this training. Before that, let us first see how different modules are laid out in the curriculum of this course so that the Primavera course could be grasped and learned in a simplified manner.
---
About Primavera Training Course
| | | |
| --- | --- | --- |
| Course Name | | Online Primavera Training Course Bundle |
| Deal | | You get access to all 10 courses bundle. You do not need to purchase each course separately. |
| Hours | | 27+ Video Hours |
| Core Coverage | | Learn project portfolio management software Primavera and its application which includes its Fundamentals, Products & features, program management, Project Codes and Developing Activity, Budgeting, and Customising, Reporting and Graphics |
| Course Validity | | Lifetime Access |
| Eligibility | | Anyone who is serious about learning Project Management and wants to make a career in this Field |
| Pre-Requisites | | Basic knowledge about Project Management would be preferable |
| What do you get? | | Certificate of Completion for each of the 10 courses |
| Certification Type | | Course Completion Certificates |
| Verifiable Certificates? | | Yes, you get verifiable certificates for each course with a unique link. These link can be included in your Resume/Linkedin profile to showcase your enhanced project management skills |
| Type of Training | | Video Course – Self Paced Learning |
| Software Required | | None |
| System Requirement | | 1 GB RAM or higher |
| Other Requirement | | Speaker / Headphone |
---
Online Primavera Course Curriculum
---
In this section, each module of the Primavera training is explained.
| | | | |
| --- | --- | --- | --- |
| SR. No. | Course Name | Course Duration | Course Description |
| 1 | Primavera: Course Foundation  | 1 | In this first Primavera Course module, we will start with a brief introduction of Primavera using Oracle P6. It will teach the students the entire project life cycle from planning to execution. You will learn a thorough background in the concepts of scheduling and scope management. |
| 2 | Primavera: Project Codes and Developing Activity | 4 | This module has 34 videos that will take you through user preferences, various project management screens, the definition of a project, starting and opening a new project, building WBS and henceforth. This module will enhance your knowledge of software development life cycle and software engineering operations. |
| 3 | Primavera: Budgeting and Customizing | 1 | This short Primavera Course module covers 14 videos that teach you about managing budgets, baseline vs current project, updating projects, customizing Gantt chart, activities and resource tracking. This course will help a project manager to take different decisions in terms of time, cost and scope. |
| 4 | Primavera: Reporting and Graphics | 2 | We will begin this Primavera Course with an introduction to data grouping, presentation using report wizard and groups batches. You need to watch 15 videos in total to cover this module. End of this module, you will know how to prepare S Curves, and also various administrative functions in brief. |
| 5 | PP1:01- The Fundamentals | 2 | We will start this Primavera Certification with a brief introduction to Project Productivity Improvement. Through the 20 videos that this module has, you will be learning in detail about the basic concept and functions of PPI, and cross-functional operations and production support. |
| 6 | PP1:02- Primavera Overview | 1 | This Primavera Course has 13 videos that will make you learn in detail about the features and function of project management and also how planning and scheduling are required in project management. Also, the participant will learn about time sheets and reporting, resource and portfolio management. |
| 7 | PP1:03- Primavera Products and Features | 5 | In this elaborate module, we will start with detailed learning about Primavera P6 Professional 8.4 and 15.1 product features. The participant will next learn thoroughly about Primavera Unifier, Contract Management, Oracle Instantis, and finally Primavera Analytics. You need to watch 44 videos in total to cover the Primavera Certification Course. |
| 8 | PP1:04- Primavera Program Management | 1 | In this very quick and brief module, you will learn in detail about Primavera Project Management and it's features and functions. Also, it will teach you how to manage simple and complex projects through Primavera Project Management software. You need to watch 5 videos to cover this module. |
| 9 | PP1:05- Primavera Practicals | 3 | This Primavera Course, having 31 videos, will teach the participant in detail about Project Portfolio Management and also about Resource Management. Concepts like Earned Value Management including activity details and creation of WBS will be thoroughly explained here. |
| 10 | PP1:06- Oracle Primavera P6 Practicals | 7 | This exhaustive Primavera Certification Course will explain to you in detail about practical examples of project management through the Network Logic Diagram and Critical Path Method Scheduling. The participant will learn tools of Project Productivity improvement, and how to manage Portfolios and Dashboards. You need to watch 57 videos in total to cover this entire module. |
Total Hours – 27 + Hours
---
Certificate of Completion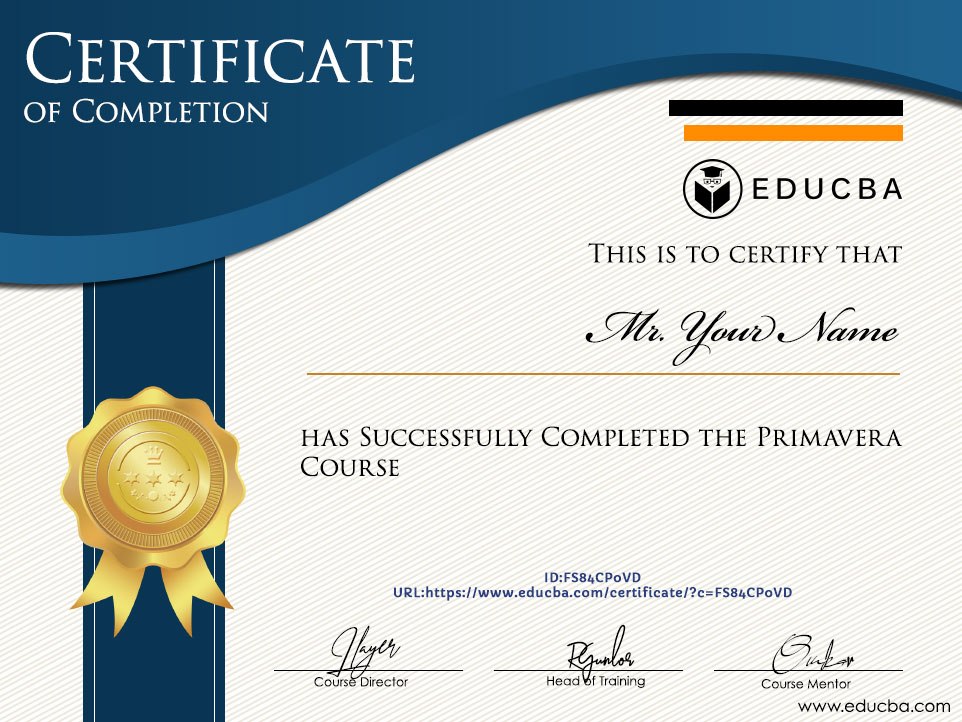 ---
What is Primavera?
Primavera is an enterprise based project management software that helps software professionals and management executives to completely finish a project starting right from project planning, scheduling, allocating resources and monitoring and control. It is through this software that the mix and match of projects are strategically chosen so as to adequately allocate resources for each project within the budget.
In addition, after project execution and implementation, it provides the best features to control, monitor and track your project progress harboring team collaborations throughout the organization. Learning about a project management course like Primavera is crucial because it helps to mitigate risks thereby avoiding issues that may arise throughout the project life cycle.
Which Skills will you learn in this Primavera Course?
There are a couple of skills that you will learn which will equip you with a better decision making process. Some of them are as follows:
Project Management: This skill will allow you as a decision maker to choose, pick up and strategically place the right projects in the pipeline for your business. You will know how effectively with ease a project could be implemented using Primavera. Passing through different life cycles of the project would now make more meaning to you.
Resource Allocation and Budgeting: Knowing beforehand just about how much resources you need to allocate for each project as per your budget would keep you on control and mitigate risks. You will know that this is crucial for optimum use of resources and manpower.
Practical use of Primavera: This Primavera training course will directly help you channelize your executions to improve productivity and output of your project. Through various embedded tools in the software, you will learn how to customize activities and understand roles better.
Pre-requisites to Primavera Training Course
---
Basic knowledge of software development life cycle: All you need to know is being familiar with the basic terminologies of software cycle like planning, scheduling, and control.
Basic knowledge of software engineering operations: Having read a
A thirst for learning: Almost all industries these days manage projects which are of varying budgets and profit oriented. It is highly recommended to be aware of software that would help you in today's time for your enterprise to produce a higher output through projects
Target Audience for this Primavera Course
---
Students: Students from all walks of life can benefit a lot from doing this course. Learning project management software like Primavera is extremely promising for organizations in today's economy. It will not introduce you better in interviews but could be a great add-on point in your resume that will not be loosely taken.
Software Professionals: The demand for software professionals have been on rising since the last decade. They have to do an eclectic role to carefully scrutinize a project before signing off the contract. It is exactly here where Primavera comes into play for deeper applications.
Anyone interested to learn about Primavera program: Whether you are a student, entrepreneur, software developer or a management trainee, the skills that you develop through Primavera can heap leaps and bounds in return in terms of your project handling abilities.
Primavera Training Course  – FAQ's
---
Can this Primavera course be accessed from anywhere?
Yes, this course can be accessed from any place and at any time. You just have to register for the Online Training Bundle, the post which you will be given the login credentials that would help you to use the contents and videos across any medium.
Is there a certificate given the post the completion of Primavera course?
After completing a module in the Online Training Bundle, you shall have received a certificate for completing the same. After you are done with 70% of the course, your request for a certificate can be issued.
What are the pre-requisites needed to enroll in the Online Primavera Certification Bundle?
There is no skill required for this training. All you need is a passion to learn and willingness to know about industry domain.
What are the different Payment Options?
You may pay through online mode or offline mode. If you pay online, you have the option to use a debit/credit card or even Net Banking. Otherwise, you can pay in cash, issue a cheque or demand draft.
Sample Preview of this Primavera Certification Course
Career Benefits of this Primavera Course
---
Making you more skilled than other managers in the industry: The Primavera course takes you through the essentials of using project management tools, how to create reports and also shows how resources can be created and utilized optimally
Easier Collaboration and effective networking within your circle: This Primavera course will help collaborate your team better through delegating tasks easily using different system integration techniques that could run your project operations even smoother. This will help better team communication.
Valued added recognition and thereby a progressive career promotion: Managers/professionals and software executives have a better chance to get promoted in their career than their counterparts without the knowledge of Primavera
Primavera Training Course Reviews
---