Learn from Home Offer TAKE THIS BUNDLE
Microsoft Project Training (3 Courses)
This Microsoft Project Training Certification includes 3 courses with 8+ hours of video tutorials and Lifetime access.

You get to learn how to use the Microsoft Project tool to its full potential while managing projects.
Microsoft Project 2016 Training
MS Project for Project Professionals
Offer ends in:
TAKE THIS BUNDLE
* One Time Payment & Get Lifetime Access
What you get in this Microsoft Project Training?
Online Classes
Technical Support
Mobile App Access
Case Studies
About Microsoft Project Certification Course
| Course | | No. of Hours |
| --- | --- | --- |
| Microsoft Project | | 2h 59m |
| Microsoft Project 2016 Training | | 1h 58m |
| MS Project for Project Professionals | | 2h 23m |
| MS Project 2019 | | 3h 18m |
---
| | |
| --- | --- |
| Course Name | Online Microsoft Project Training Certification |
| Deal | You get access to all 3 courses bundle. You do not need to purchase each course separately. |
| Hours | 8+ Video Hours |
| Core Coverage | Learn how to use the Microsoft Project tool to its full potential while managing projects. |
| Course Validity | Lifetime Access |
| Eligibility | Anyone serious about learning Microsoft Project and wants to make a career in the project management field |
| Pre-Requisites | Basic knowledge about Project Management would be preferable |
| What do you get? | Certificate of Completion for each of the 3 courses |
| Certification Type | Course Completion Certificates |
| Verifiable Certificates? | Yes, you get verifiable certificates for each course with a unique link. These link can be included in your resume/Linkedin profile to showcase your enhanced project management skills |
| Type of Training | Video Course – Self Paced Learning |
| Software Required | None |
| System Requirement | 1 GB RAM or higher |
| Other Requirement | Speaker / Headphone |
Microsoft Project Course Curriculum
---
In this section, each module of the Microsoft Project Certification Course is explained.

Microsoft Project
The stage where you step in you needs to grab all the knowledge. You will be introduced with the basics and features of the tool.
Microsoft Project 2016 Training
This Microsoft Project Training chapter makes you familiar with commands and hotkeys used in the tools to operate. This ensures you that you are on the right track to learn this software and will give you maximum benefit
MS Project for Project Professionals
How to create a project or how to start your own new project right from scratch is been taught here. You will be adhered to the basic command and features used here and will thoroughly explain all necessary inputs required.
Microsoft Project – Certificate of Completion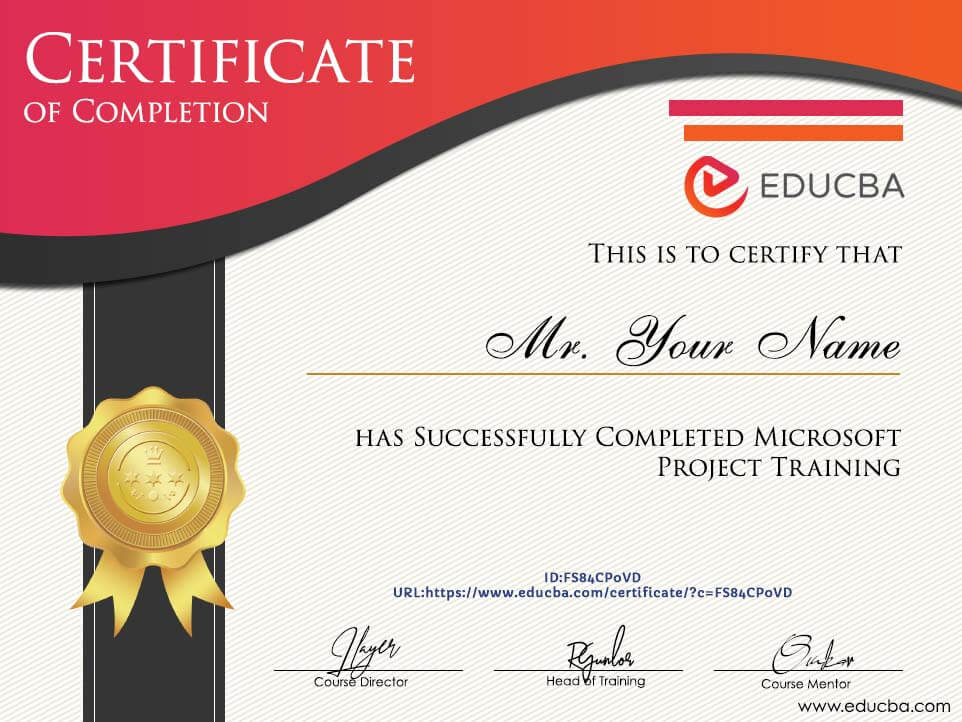 ---
What is Microsoft Project?
Microsoft Project is software that is used by Project Managers from 1984. Earlier it was designed in the DOS then, later on, it was upgraded on windows. It comes apart from the windows package as the user has to buy this product from Microsoft.
This is a versatile software in the field of management where a project manager can create, develop, or set up his task including resources. He can make a chart to schedule any activities that he wants to attend and handle a project in a fluent way. This product from Microsoft has gained a huge market and further looking towards today's condition Microsoft project is used by the majority of companies.

Industry Growth Trend
The Professional Services Automation Market is projected to grow from USD 634.7 Million in 2016 to USD 1,244.8 Million by 2022.
[Source - MarketsandMarkets]
Average Salary
Average Salary
$80,196 per year
The average salary for a Project Manager is $80,196 per year in the United States.
[Source - Indeed]
Which tangible skills you will learn in this course?
In this Microsoft Project Training course, we have three modules with several chapters included in it. This teaches us about all skills right from scratch then intermediate to the professional level. Here we get a chance to master ourselves in the management field by learning this Microsoft Project Training Certification. Following are the skills we learn: –
We learn all commands with its features and uses that help in getting good hands on the software.
If we buy heart the features of the tool then it is hard for us to forget.
At the intermediate level, we get to know about resources and their uses.
Creating our task and scheduling activities boosts our work and saves time.
Microsoft Project acts as a second hand of project manager that increases the efficiency and double up the work.
This Microsoft Project Certification makes you such a professional in this software and similarly, the course content is provided that boosts your skills.
You just need to study hard and results will be in your hand.
Pre-requisites
To grab on the skills provided one should have the following things that make him easier to understand and enhance his knowledge.

He should have a Desktop or Laptop in which Microsoft Project should be installed.
He should have a basic computer handling the knowledge that makes him comfortable with the software.
To cope up with today's world he should have adhered to internet skills and different applications using skills.
Programs and its content are easily designed in a step format but your software understanding skills should be good.
Finally, you should be very much eager to learn all the data and must give your precious time daily.
Target Audience
Who should opt for this Microsoft Project Training course this is the big question. The perfect answer to this is mentioned below: –
Beginners are on priority always as they have good grasping power instead of experience.
A person working in a company as a project manager without Microsoft project then he is the perfect candidate as he must learn.
Apart from this project schedulers, Project executives, Firm owners, Company partners, senior staff of the company handling loads of members, etc.
Candidates who are the learning management studies have a perfect choice to enroll themselves for this Microsoft Project Training.
Microsoft Project Course – FAQ
---
Are the examples provided in this course relates to Practical knowledge?
This study gives you perfect knowledge about the live examples of today's market condition. All content provided is always updated as per changing market conditions so you will get a piece of practical knowledge from this.
Will this Microsoft Project Training certification be finished early if I am in a hurry?
The complete resources and data are provided on the internet so you can learn from anywhere or anytime. This is the advantage that you can use your 24X7 time and finish the course when you want.
How this professional chapter in the advanced level will help me?
This is a professional leveled knowledge and will help you if you are at the managerial level. If you are a fresher still after getting some experience you can make use of it.
The Microsoft Project Training course seems good but do you provide a copy of the software?
Thank you for the Microsoft Project Training, but the copy of the software you have to purchase from Microsoft in your name. This you can keep with you and can learn and make use of all data gives by us.
Career Benefits
This Microsoft Project Training course is all about management studies and it's working. You can make use of this Microsoft Project certification in a similar field still it has a wide scope.
You can work as a data analyst, planning engineer, or project coordinator.
By learning this you can start your career as a business analyst or assistant project manager.
In today's market, there are plenty of jobs available for management students.
If you have a tag of this Microsoft Project Training course in your CV then you can climb stairs in your career path.
Boosting your knowledge makes you eligible to take any decisions and decide the feasible path.
Course Review
---
Nice
A nice and neat course explaining the whole Microsoft project in more detailed and clear follow with many of examples and explanation, give us a clear view on how, what, where to proceed and progress our work task in Microsoft project with more advanced techniques and impressive method to impress the third party.
Linked
Louis Hong
Excellent Content
The course was concise and straight to the point. Having used Microsoft Project in the past, this is an excellent overview for new users. The course takes you through the essentials of using Microsoft project, how to create reports, and also shows how resources can be created. Although it is a three hours course content it is packed full of information.
Linked
Roseline Iddio
Microsoft Project
Very simplified and interesting. The presenter was very audible and each slide was easy to comprehend. All important topics were addressed and illustrations were relevant, however, I would have preferred for more real-life project data to be used to illustrate the use of the software. Nevertheless, overall, I learned quite a lot.
OJO, Kelechi Chiaka
Microsoft Project 2016 Training
Good course to start learning Microsoft Project. Very well explained. All functions of the program were introduced with examples. A good tool to understand the program and to start managing a project with this software. Very well explained in a reasonable time frame. I do recommend it for beginners.
Marco Tartaglia
good course
This was a good course full of a lot of great material. This was easy to follow and had great step by step instruction. I believe this course would be great for novice to experts trying to learn and expand their knowledge in scheduling. I would recommend this course for anyone trying to expand their knowledge in the field of scheduling.
Linked
Clint A. Behm
Microsoft Project 2010 Training
This was a very good course to learn more about using Microsoft Project daily. The course was good for both beginners and somebody who knew some about Project. There were lots of things that I learned that I did not know before. Taking this course will make it much easier to use Microsoft Project so that I can do better at managing projects both for myself and my team. I would highly recommend taking this course for anybody who has to manage projects.
Linked
John Knox