TAKE THIS BUNDLE
Strategic Management Training (3 Courses)
3 Online Courses
15+ Hours
Verifiable Certificate of Completion
Lifetime Access
Strategic Management Course
Strategic Human Resource Management
Theories of Strategic Management
Offer ends in:
TAKE THIS BUNDLE
What you get
Online Classes
Technical Support
Mobile App Access
Case Studies
Online Strategic Management Course
This Strategic Management Training includes 3 comprehensive online Strategic Management Courses with 15+ hours of video tutorials and Lifetime Access. You get to learn how to create strategies to meet objectives of a business, assign resources and implement the plans. We also learn how to scan the external business environment, change management, Leadership, and strategic control systems.
In this course of business and management, you will learn about the latest business growth strategies and the newest tools for strategic planning models. and develop a strong understanding of how firms compete by learning about important analytical approaches underlying business strategy. This course will help new managers to focus on how to implement corporate strategy across functions, building cross-functional skills. And the general managers need to know how all business functions work together as functions are not isolated from each other.
This Strategic Management course will also give you leadership training and make you learn leadership skills as for effective implementation and execution of any corporate strategy, leadership skill plays an invaluable asset to all aspects of your career.
Strategic Management Training will give you an opportunity to step back and observe your own effectiveness and leadership style. You will gain new perspectives by leadership exercises and executive leadership coaching getting the "' feel'' for your leadership skills in a safe and supportive environment. The course will be taught to you from the perspective of a Chief Executive Officer (CEO), by showing you how a business views itself in ''totality''.

Industry Growth Trend
The Professional Services Automation Market is projected to grow from USD 634.7 Million in 2016 to USD 1,244.8 Million by 2022. The global market will grow at a Compound Annual Growth Rate (CAGR) of 11.7% during 2017–2022.
[Source - MarketsandMarkets]
Average Salary
Average Salary
$67,694 per year
The average salary for a Strategic Project Manager is $67,694 per year in the United States. Salary estimates are based on 69 salaries. The typical tenure for a Strategic Project Manager is 1-3 years.
[Source - Indeed]
About Strategic Management Certification Course
---
| | |
| --- | --- |
| Course Name | Online Strategic Management Training Course |
| Deal | You get access to all 3 courses bundle. You do not need to purchase each course separately. |
| Hours | 15+ Video Hours |
| Core Coverage | Learn how to create strategies to meet objectives of a business, assign resources and implement the plans. |
| Course Validity | Lifetime Access |
| Eligibility | Anyone who is serious about learning Strategic Management and wants to make a career in this Field |
| Pre-Requisites | Basic knowledge about business management would be preferable |
| What do you get? | Certificate of Completion for each of the 3 courses |
| Certification Type | Course Completion Certificates |
| Verifiable Certificates? | Yes, you get verifiable certificates for each course with a unique link. These link can be included in your Resume/Linkedin profile to showcase your enhanced skills |
| Type of Training | Video Course – Self Paced Learning |
| Software Required | None |
| System Requirement | 1 GB RAM or higher |
| Other Requirement | Speaker / Headphone |
Strategic Management Course Curriculum
---
In this section, each module of the Strategic Management Certification Course is explained.
Sr.  No.
Course Name
No. of Hours
Course Description

1

Strategic Management Course

3
In this Strategic management training module, you will learn about Strategic Management from the very basic. Starting from the introduction, Evolutionary Landscape, Genetics of Business policy, Variable Discourse, Management Ethos, Strategy Formation. In order to achieve long-term business goals, the coordination of material, and human resources within an organization takes place, this business discipline is known as Strategic Management.  In this module you will develop all the skills of a strategic manager, from decision making to setting company objectives, evaluating and executing the means of attaining the objective, formulating, and implementing plans, and last but not the least, anticipating, outcomes.
You will watch 22 videos to complete the module.

2

Strategic Human Resource Management

2
In this Strategic Management Course, you will learn how to strategize human resource management. You will learn to achieve business goals through people, as a human resource is the most vital part of an organization. It is based on three principles:

Human resource is the most vital capital of competitive advantage.
Strategic plans are made and executed by a human.
A systematic methodology must be adopted to define the goals and how to achieve those goals on an organization.

You will watch 17 videos to complete the module.

3
Theories of Strategic Management
6
In this Strategic Management training module you will learn about various theories of Strategic Management, including, crafting a strategy, about business strategy, corporate strategies, Techniques of Organisational Appraisal, Scanning The External Environment and Industry Analysis, Mckinsey'S 7S Framework, Mintzberg'S 5P'S, Strategic Change Management, Corporate Culture and Leadership, Strategic Control Systems, Conclusion to Strategic Management. You will watch 60 videos to complete the module.
---
Strategic Management Course – Certificate of Completion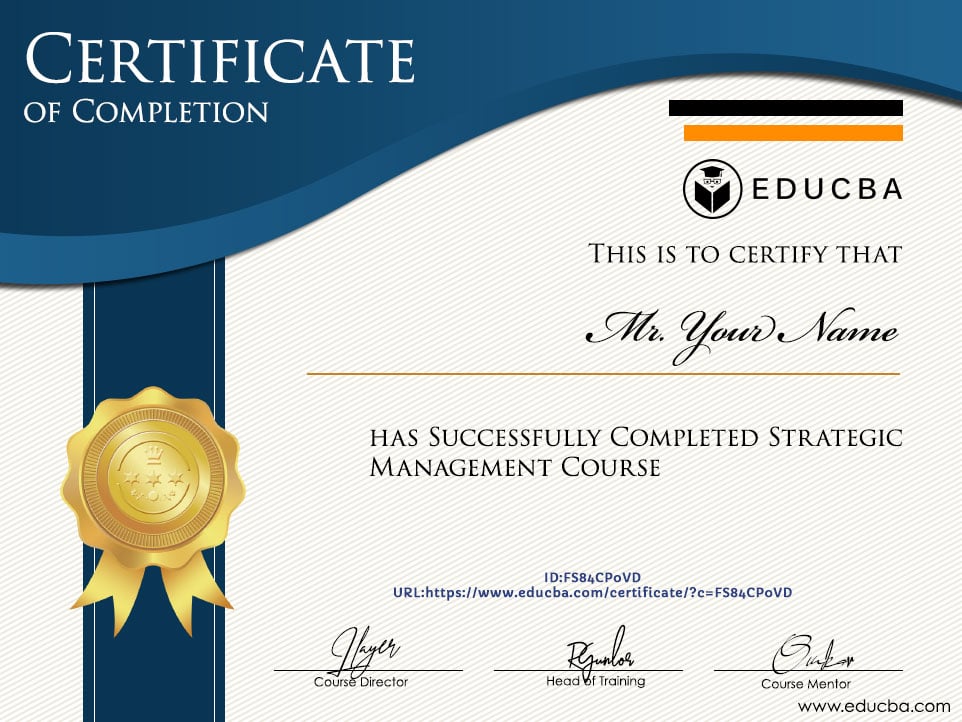 ---
What is Strategic Management?
Based on the assessment of the internal and external environments , and consideration of resources, formulation, and execution of main goals of the organization, initiative taken by top management on behalf of owners is known as Strategic Management, providing overall direction to an enterprise from specifying the goals of organization, to developing plans and policies, to execute the planning, by allocating resources for plan implementation.
All the necessaries that are required for an organization to meet its goals and objectives, starting from continuous planning, monitoring, analysis, and assessment are what is Strategic Management all about. To be successful, fast-paced innovation, customer expectations, and emerging technologies have forced the organizations to think and make decisions strategically. With the help of the strategic management process, company managers analyze the company's present situation, chalk out the strategies, execute them and assess the effectiveness of the strategies implemented. Cross-functional business decisions are analyzed prior to implementing them, using the strategic management process.
Strategic Management represents an organization ability to set long term and short term goals, and fulling there objective by making decisions and actions required to reach the goals, by necessitating a commitment to strategic planning.
Which tangible skills you will learn in this course?
---
Industry and Competitive analysis: In this course, you will learn about the industry and competitive analysis, as it will teach you all the skills of a Strategic manager. A strategic manager has to undergo all the details and analysis in detail prior to making any decision for the organization, hence he gains enough knowledge about the industry and competition around.
Resource and competency analysis: Without resource, no strategy can be executed, hence resource plays a vital role for an organization to reach its targeted goals. In this Strategic Management Training, you will learn about resource and competency analysis in details.
Analyzing Strategy across corporate and business level: A strategic manager has the responsibility to make the best strategy for his organization, using all the resources, best suitable to the environment, by analyzing strategy across the corporate and business level.
Understanding a Business plan: A business plan is based on a lot of factors, doing a SWOT analysis, utilizing the best of resources. In this Online Strategic Management Course, you will learn to understand a business plan, as a strategic manager's prime objective is to build a plan for their organization, to reach the goals and achieve success.
Pre-requisites
Passion to learn and drive to complete the course: If you want to take a leap in your career, and make your career success, then you must have a passion to learn and grow at any age, at any circumstances.
Basic computer Knowledge: As this course is online, you need to have the basic computer knowledge to complete the course, so that you do not have a technical issue while taking the course.
Computer/Laptop with Internet facility: You must have a Computer or Laptop facility to do the course, as it's an online course, and can be taken at your choice of time and place.
Graduation Degree: You must be a graduate to do this course. Strategic Management Training can be conducted only after you get a graduation degree.
Target Audience
Marketing Managers: This course is ideal for Marketing Managers, as it will help you understand marketing better and make you grow and progress in your field.
Entrepreneur: If you are running your own business, this Online Strategic Management Course is really for you. You can take a step ahead to success by doing this course and developing all the skills of a strategic manager, as an owner you will know best about your business thus taking the best decision.
CEO: A Chief Executive Officer of any company is responsible for profit or loss of a company, for which he needs to take some very important decision throughout the project, this Strategic Management Training will help him to make fruitful strategy and make the best use out of it.
Students: This course is ideal for students just coming out of college, as it helps them to gain practical knowledge about Strategic Management. Also, this certified course will give a great impact to the recruiters, helping the student to get his desired job.
Strategic Management Course – FAQ's
---
Will this course add value to my career?
Yes, this course will definitely add value to your career, by making you take a leap in your current career by learning how to create and apply strategies.
Can this course be taken from my convenient place?
Yes, this Strategic Management Training can be conducted from any of your desired place and time as it is an online course.
Will I get any technical support if required?
Yes, you will definitely get technical support, whenever required, you shall email us or call us.
How can my queries be solved online?
Just make a list of your queries, when taking the course, and mail it to our email id provided, you will get the answer to your queries over mail.
Is this a certified course, and when will I receive the certificate?
Yes, it is a certified course, and you will receive the certificate after the completion of course.
Is there any pre-requisite required for taking this course?
No pre-requisite is required for taking this online strategic management course, anyone who is keen to learn about the industry can enroll for this course.
Sample Preview
---
Career Benefits
Career Benefits
Gain Knowledge about applied strategic management: This Strategic Management Training will keep you updated about the recent tools and technologies and also about the strategies which are followed currently and make you re-fresh of knowledge that you have acquired during undergraduate studies as well as on the job.
Job Opportunity: This certified course gives you a great job opportunity, making your CV attractive in the eyes of the recruiter, getting great offers.
Growth and Enhanced Salary: This Online Strategic Management Course will give you growth in your career, ultimately increasing your salary and job roles. You will be a step ahead of all other employees.
Job Security: As a role of a strategic manager in never-ending, and will be required in the long term as well, hence you will get job security as a strategic manager.