Learn from Home Offer TAKE THIS BUNDLE
CRM Platforms Course Bundle - SalesForce | Zoho | Agile | MS Dynamics | Bitrix | -
This CRM Training Certification includes 9 courses with 41+ hours of video tutorials and Lifetime access. You get to learn how to use the best CRM software in the industry such as Salesforce CRM, Zoho CRM, Bitrix CRM, Agile CRM and Creation of Basic CRM.
TAKE THIS BUNDLE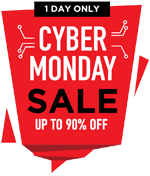 * One Time Payment & Get Lifetime Access
What you get in this CRM Platforms Course Bundle - SalesForce | Zoho | Agile | MS Dynamics | Bitrix | -?
41+ Hours
9 Courses
Course Completion Certificates
Lifetime Access
Self-paced Courses
Technical Support
Mobile App Access
Case Studies
About CRM Platforms Course Bundle
| | |
| --- | --- |
| | |
| Courses | You get access to all 9 courses, Projects bundle. You do not need to purchase each course separately. |
| Hours | 41+ Video Hours |
| Core Coverage | Salesforce CRM, Zoho CRM, Bitrix CRM, Agile CRM and Creation of Basic CRM by using Microsoft Excel VBA and SQL Express |
| Course Validity | Lifetime Access |
| Eligibility | Anyone serious about learning CRM and wants to make a career in this Field |
| Pre-Requisites | Basic knowledge about Marketing would be preferable |
| What do you get? | Certificate of Completion for each of the 9 courses, Projects |
| Certification Type | Course Completion Certificates |
| Verifiable Certificates? | Yes, you get verifiable certificates for each course with a unique link. These link can be included in your resume/Linkedin profile to showcase your enhanced CRM skills |
| Type of Training | Video Course – Self Paced Learning |
---
CRM Platforms Course Bundle Curriculum
---
In this section, each module of the CRM certification is explained.

MODULE 1: SalesForce|Zoho|MS Dynamics|Bitrix|

| Courses | No. of Hours | Certificates | Details |
| --- | --- | --- | --- |
| Zoho CRM System Administrator Training | 5h 35m | ✔ | |
| CRM Software - Cloud Based CRM Training | 5h 2m | ✔ | |
| Complete Guide to SalesForce CRM | 5h 38m | ✔ | |
| Microsoft Dynamics 365 CRM Tutorials | 3h 14m | ✔ | |
| Bitrix24 CRM Training | 5h 12m | ✔ | |

MODULE 2: Agile|Salesforce|VisualForce|Excel

| Courses | No. of Hours | Certificates | Details |
| --- | --- | --- | --- |
| Agile CRM Training | 5h 6m | ✔ | |
| Projects on SalesForce - App Logic and Interface | 7h 2m | ✔ | |
| Project on SalesForce - VisualForce | 3h 49m | ✔ | |
| Creation of Basic CRM using MS Excel & VBA | 3h 49m | ✔ | |
Goals
CRM is Customer Relationship Management. The goal of CRM training is to train the business administration professionals to understand the customer relationship model and management through the CRM software which is essential for the business needs and data analysis to build effective business strategies to deal with the customers. This training helps the professionals to track the customer's needs & requirements and let them generate the customer-specific reports for the business analysis as Customer Relationship Management is very essential for any business.
Objectives
The main objective of customer relationship management training for any organization is customer retention and customer relationship improvement. Apart from the primary objective of improving customer relationship management there are other objectives like tracking the customer requirement effectively, productivity tracking, tracking customer behavior and it provides a cost-effective solution to deal with customer complaints and grievances. The CRM helps to focus on the customers, service users, colleagues, suppliers and vendors and all other merchants who related to the organization in one or the other way and there are different CRM software available that helps to meet the needs of an organization.
Course Highlights
This training focusses on learning and understanding of the customer retention and customer relationship improvement as all the business is dependent on the customers directly or indirectly. This training will help the professionals to deal with the customers, vendors, suppliers, colleagues, etc. who are connected to the organization in one or the other way and to track them as per the business requirement.
The training provides hands-on training on different CRM software and tools which are extremely beneficial while maintaining the customer data. These CRM tools help you to stay connected with the customers, accumulate their requirements, streamline the process, reorganize the system and improve the business revenue.
The CRM training helps ineffective marketing by helping and improving the campaign projects and lets the marketing professionals to create effective marketing campaigns and to follow them.
A CRM provides accurate customer requirements and helps in creating efficient and customizable dashboards of the customer's present requirement along with the customer's history. Thus, CRM training also trains in customer data documentation for any future reference and for building customer management strategies.
This training covers the analytical training on VBA, salesforce and salesforce development module, cloud computing and data warehouse concept, campaign management, calendar and task management, ZOHO training, MS- dynamics and various plugins which are essential for maintaining and creating the dynamic datasheet of the customer requirement and business improvement.
The course helps to develop and understand the different techniques and ways that are helpful to increase customer satisfaction by taking constant feedback from the customers. Accumulation of feedback from the customer will help to analyze the customer action and behavior.
Eventually if the business can understand the customer better, the organization can align the sales and support teams to serve the customer in a much more streamlined and effective way which will help to expand the organization's customer base.
This training also helps to understand the cloud computing concept and benefits of cloud computing which is essential for reducing the unnecessary cost on the hardware and thus can save the organization's budget.
Project Highlights
Inbound CRM: This helps to streamline inbound marketing and build effective marketing strategies for uplifting sales. Inbound CRM focusses on product-specific sales approach for increasing the business profit.
Salesforce CRM: This tool is only AI-driven sales tools integrated with features for sales workforce management, customer app deployment, data integration tools, support and sales tools, customer information management tools, etc. All these tools together make customer relationship management easier and effective.
Fully Integrated CRM: A fully integrated CRM helps to generate leads and convert these leads into customers for the business. These can handle customer complaints and keeps track of the customer requirement through a helpdesk app.
---
CRM Training – Certificate of Completion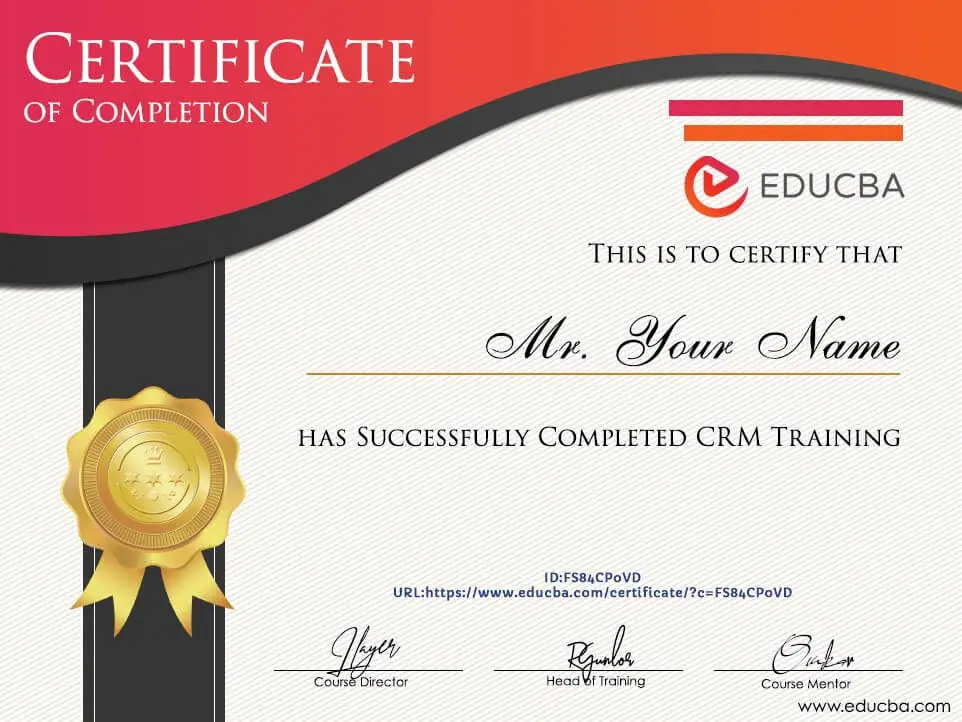 ---
What is Customer Relationship Management (CRM)?
When we read or watch news related to business – regarding small or big industries – we see that the customers play a vital role in business. At present, the only way to keep your business running and making profits, off the charts, is possible only if you have a strategy to keep your customers satisfied. Many major companies believe that the secret to success is 100% customer satisfaction.
There could be various ways to gain customer satisfaction but one of the ways would be through CRM. The next question that pops in our mind is What is CRM? CRM means Customer Relation Management, it is a technology for managing all your company's daily activities in a single place that can be accessed by any department it may be marketing or sales. Any department personnel will be able to access it. It streamlines the process and makes it easy for the company to stay connected with the customers.
What are the benefits of CRM?
Improvement in the forecasting of sales
Increase in production
More customer satisfaction
Accurate sales report
Available of customer details to each department
If you wish to improve your business as well as keep a healthy relationship with the customers. Know what the customer expects from your business and how to facilitate the same. Keep tabs on every department, and to know how each department is doing when compared among themselves. Then you are at the right place and right course. Go ahead check out all the topics covered in this training. The topics present in the training are there to improve your business handling abilities and to improve your business.

Industry Growth Trend
The Professional Services Automation Market is projected to grow from USD 634.7 Million in 2016 to USD 1,244.8 Million by 2022.
[Source - MarketsandMarkets]
Average Salary
Average Salary
$86,421 per year
The average salary for a CRM Project Manager is $86,421 per year in the United States.
[Source - Indeed]
Skills will you learn in this course?
Training in CRM will help you to master many technologies and improve your business and customer relationships. Below are the skills that you would have mastered at the end of this training.
Salesforce CRM: This tool will effectively execute the customer-related tasks and intern help you to improve the business. The tool deals with the daily activities of the business.
Zoho CRM: It is a web designed CRM tool to facilitate business growth. It is preferred for small businesses. Zoho CRM can automate daily business activities.
FreeCRM Software: This software is the most user-friendly CRM tool. It pipelines different department communication into a single database and automated tasks. There are many advantages of learning this software.
Bitrix24 CRM: It is a SAAS based CRM software. It helps you with daily business activities. This tool will help you to pull the records effectively which are in progress like work orders.
Agile CRM: It is a SAAS based CRM software Agile CRM. This tool also helps you in daily business activities like Emails, Campaigns, etc.
SalesForce Administrator: Here you will sign up and start using the software for your business. You will be able to understand SalesForce, learn cloud computing, how to create a Salesforce account and how to use SalesForce Effectively.
VisualForce: This is one of the important skill enhancement courses where you learn the framework of the Salesforce platform. So basically, you will be creating Visual Force pages.
With the above technologies, you will also be learning and have hands-on experience in Excel, VBA, and SQL Express.
Pre-requisites
Basic Knowledge of Business Processes: As this module is related to the business domain it would be a boost to have prior knowledge regarding the business process.
Little knowledge on cloud services: Though technologies are being taught in this module and no prior knowledge regarding any software is accepted but knowing the domain or software will help you to understand better, and work better once you complete the course.
Should be eager to learn the new technology: It's the urge to improve yourself and learn new technologies that will help you to complete this module and understand it better.
Basic knowledge of using Microsoft Access, VBA and Macros: To have prior knowledge on Microsoft Access, VBA and Macros will be an added advantage.
Target Audience
Business administration students: As you wish to make a career out of this domain it would be helpful to have an extra feather on your cap. It may help you to land your dream job by taking this CRM Certification.
Students of any stream: Though it is not mandatory that students pursuing only business domain needs this training, any student who wants to make a career for himself or herself in a business domain can opt for this training and go a step forward to reach his or her goal.
Working professionals: If you are a working professional who is bored by the repetitive work and wants to change the work domain or upgrade his position then this CRM training is for you or if you are an entrepreneur and planning to improve his or her business then this training goes a long way to improve your business and understand your customers.
FAQ's
---
Can I access this CRM Certification from anywhere?
Yes, you can access this module from anywhere and everywhere. Once you register for the online bundle and have your login credentials you can start.
Within what duration will I be able to complete the course?
If you follow the instructions and understand what the course has to offer, then you will be able to finish the course in the specified time itself.
Is there any timeline within which I need to complete the course?
Once you have enrolled in the course you can set your own pace to complete the module.
Sample Preview
---
Career Benefits
You can change your domain of work if your previous work was repetitive and boring. Go to the senior management level rather than being at junior management level.
Once you have completed this module you will have a huge opportunity in fields like Data Analyst, Business Analyst, SAP CRM Consultant, IT Analyst, Area Sales Manager, Business development manager and operations manager.
After you get a CRM Certification, apart from having a feather on your professional cap you will be way ahead of all your peers in your working domain.
Reviews
---
Salesforce
It is a long course that goes into very small details about each aspect of the Salesforce CRM platform. The level it is basic and it is very descriptive, overall the speaker seems to have a lot of knowledge on the program and he tries to relate the course with small business, overall it does the job explaining Salesforce.
Linked
Jorge Dominguez
Good CRM training
I did this course out of desperation. Since my company is a service company, I needed to know the basics of CRM along with technical expertise.  So I did this CRM Certification and everything started to make sense. This course is so well-thought-out that I didn't face any issue while going through the material. Comprehensive, detailed, and a perfect guide for beginners. I highly recommend this course for anyone who doesn't have any idea of CRM.
Jeff Borg
CRM certification
Trying to learn everything that makes service industry work I decided to undertake this as well and am glad I did the same. There is a whole new unexplored area I know I need to master before I find the right job. Thanks.
Mantas Khosravi