Learn from Home Offer TAKE THIS BUNDLE
Create Interactive Online Classes with LMS Course Bundle - Articulate Storyline | Zenler | Litmos | iSpring | 20 Courses in 1
This Online Content Development Course includes 22 e-learning tools courses with 61+ hours of video tutorials and Lifetime access. You get to learn how to create courses online using various sophisticated e-learning content creator tools such as Articulate, Elicitus, Elucidat, Lectora, and others.
TAKE THIS BUNDLE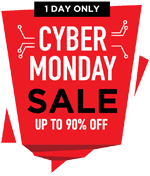 * One Time Payment & Get Lifetime Access
What you get in this Create Interactive Online Classes with LMS Course Bundle - Articulate Storyline | Zenler | Litmos | iSpring | 20 Courses in 1?
61+ Hours
22 Courses
Course Completion Certificates
Lifetime Access
Self-paced Courses
Technical Support
Mobile App Access
Case Studies
Create Interactive Online Classes with LMS Course Bundle at a Glance
---
| | |
| --- | --- |
| | |
| Courses | You get access to all 22 courses, Projects bundle. You do not need to purchase each course separately. |
| Hours | 61+ Video Hours |
| Core Coverage | Learn how to create courses online using various sophisticated e-learning content creator tools such as Articulate, Elicitus, Elucidat, Lectora, Raptivity, UDUTU, CourseLab, Gomo Learning, and others. |
| Course Validity | Lifetime Access |
| Eligibility | Anyone serious about learning how to create online courses |
| Pre-Requisites | Basic knowledge about course creation would be preferable |
| What do you get? | Certificate of Completion for each of the 22 courses, Projects |
| Certification Type | Course Completion Certificates |
| Verifiable Certificates? | Yes, you get verifiable certificates for each course with a unique link. These link can be included in your resume/Linkedin profile to showcase your enhanced skills |
| Type of Training | Video Course – Self Paced Learning |
---
Create Interactive Online Classes with LMS Course Bundle Curriculum
Section 1

| Courses | No. of Hours | Certificates | Details |
| --- | --- | --- | --- |
| Articulate Studio 13 | 3h 26m | ✔ | |
| Project on Articulate Storyline 2 | 2h 7m | ✔ | |
| Project on Articulate LMS | 3h 16m | ✔ | |
| iSpring Learn LMS Tutorials | 3h 24m | ✔ | |
| Project on iSpring Suite 8 | 3h 2m | ✔ | |
| Udutu LMS Tutorials | 2h 9m | ✔ | |
| Project on Udutu Course Authoring Tool | 3h 4m | ✔ | |

Section 2

| Courses | No. of Hours | Certificates | Details |
| --- | --- | --- | --- |
| Zenler Studio LMS Tutorials | 2h 52m | ✔ | |
| Project on Zenler Studio | 3h 11m | ✔ | |
| Litmos Author LMS Tutorials | 2h 57m | ✔ | |
| Project on Litmos Author Media Manager | 2h 53m | ✔ | |
| SmartBuilder eLearning Authoring Tool | 56m | ✔ | |
| Project on EasyGenerator Authoring tool Tutorials | 3h 22m | ✔ | |
| Project on CourseLab eLearning Content Creator | 3h 1m | ✔ | |

Section 3

| Courses | No. of Hours | Certificates | Details |
| --- | --- | --- | --- |
| H5P - Create eLearning Content | 3h 2m | ✔ | |
| Gomo Learning eLearning Tool | 3h 21m | ✔ | |
| EAD Builder eLearning Tool | 3h 24m | ✔ | |
| Composica Enterprise 6 Training | 3h 28m | ✔ | |
| Elucidat Authoring Tool | 3h 22m | ✔ | |
| Lectora 16 E-Learning Tool | 2h 13m | ✔ | |
| Raptivity E-Learning Tool | 2h 7m | ✔ | |
| Elicitus E-Learning Tool | 52m | ✔ | |
Goals
The course is strategically designed to cover all aspects of content development. Through this training, you will learn about creating, editing and maintaining the contents to provide factful information to the users. The course will provide you training about the creation of digital learning content.
Objectives
The course is about gaining knowledge about various e-learning development tools such as Lectora, Elicitus. Content development deals with the creation and presentation of content, which is necessary for any business. The training will guide you as to how to create content effectively with the help of custom animations to create a powerful impression in the minds of viewers. You will learn how to develop content in various forms and kinds such as tutorials, simulations, games, assessments, videos, podcasts, troubleshooting guides and so on.
Course Highlights
The course is going to an informative one, with the coverage of the following areas.
At first you will learn about the installation of Articulate Studio 13, the creation of an e-learning module, engaging interactions, quiz maker quiz, recording of narrations, slide properties and publishing the module.
Learners will gain insight about iSpring Learn LMS. The session will cover LMS features, its pros and cons, report generation and best practices in the case of LMS.
A tutorial will be provided on Udutu LMS which will provide ideas about its concepts, features, user and batch creation, its application and benefits, report generation, dashboard and its administration as well as best practices in this case.
Learning will be developed about Zenler Studio LMS thorough coverage of concepts such as course creation, uses and roles, its features and benefits, application, report generation and usual best practices.
You will understand Litmos Author LMS, a feature of import bulk upload user as well as other relevant features.
You will gain an understanding of the SmartBuilder eLearning Authoring Tool regarding its installation, its landing page, screen familiarization, text, and image as well as the radio button.
One will get to know about H5P software, course presentation, assessments, usage of true and false and project module.
Learners will also get knowledge about the usage of the Gomo Learning tool.
Another tool that is covered is the EAD Building tool. You will get to know its features, assessment builder, project module in demo mode and publishing of module.
You will also acquaint yourself with Composite Enterprise 6, working with symbols in it, images and media and project module and survey option.
Learners will also understand about course building in Elucidat Authoring Tool.
The next step will be to know about Lectora, its installation, tools, module creation and assessment.
Another tool named Raptivity will also be introduced. You will learn about course making, Bloom's taxonomy, Gagne's nine events, Kellers ARCS model, experiential learning and publishing of interaction.
At last, we will also gain knowledge about course making, question bank and course publishing through Elicitus.
Project Highlights
Training will be imparted on "Articulate Storyline". You will learn right from the beginning about insert options, creation of assessments, survey, publishing the module, screen recording and other interesting aspects.
A project is also covered on "Articulate LMS" which will take you through concepts of LMS as the creation of users, uses of LMS, content creation inarticulate, report generation and dashboard, and best practices in case of LMS.
A special project is inculcated in the course regarding "iSpring Suite 8". You will learn about iSpring project, interactions, a timeline and quiz, audio and video options, simulation, screen recording and publishing the course.
We will learn through a project, about "Udutu Course Authoring Tool". The various concepts that you will understand include tool access, basic screens and slide video, interactive slides, assessments, tools and different scenarios and project modules.
The project on "Zenler Studio" is also ought to be covered. It will teach you about interaction volume, assessment and publishing the module.
You will understand about "Litmos Author Media Manager" through a specific project. Here you will gain knowledge about the software, course making, assessment making, survey making and reports.
A session will be there about a project on the "EasyGenerator Authoring Tool" where you will understand its structure, content slides and media as well as project module.
An interesting session is also covered on "CourseLab eLearning Content Creator". Apart from understanding its basic concepts you will also see how to insert objects in slides, applying object videos and assessments.
---
Content Development Course – 

Certificate of Completion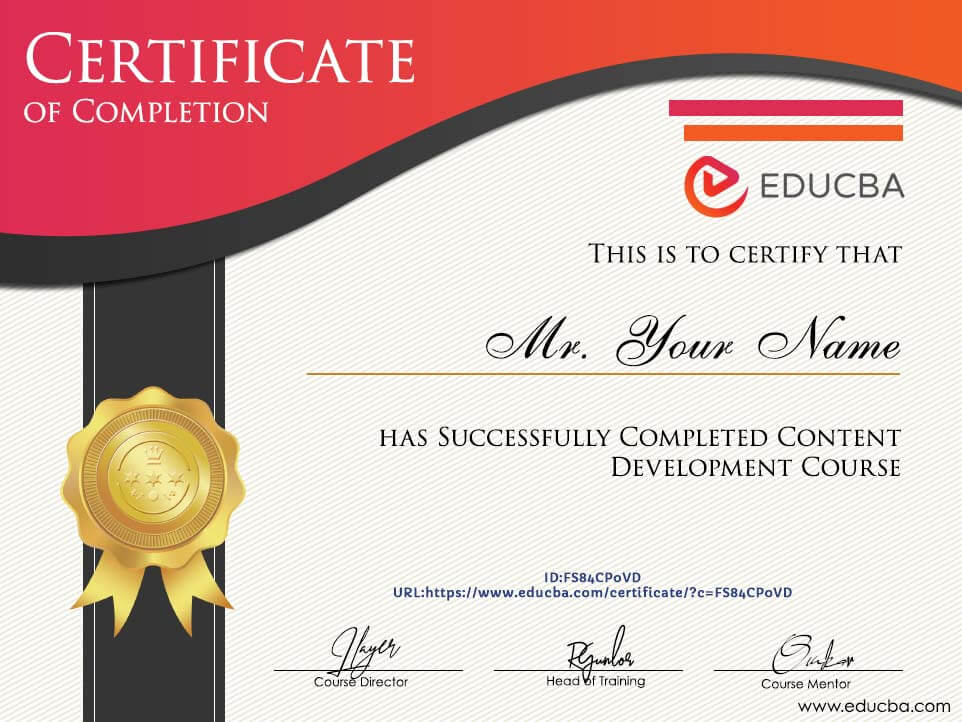 ---
What is Content Development?
Content development is to write something in a meaningful way which should be presentable in front of all. Before writing content you should have done some research about that topic, you should have gathered some pictures, graphics, or video. This enhances your knowledge and makes you more knowledgeable about writing content. By gathering all information it helps us in including more additional points in writing which enhances the written word.
Content may be of anything as it may be web content, maybe a presentation, publication, editing information or anything. It is a skill that a content writer shows by using his pen/pencil by implementing all the information which he has in his mind.

Industry Growth Trend
The digital marketing software market is projected to grow from USD 33.39 Billion in 2016 to USD 74.96 Billion by 2022.
[Source - MarketsandMarkets]
Average Salary
Average Salary
$55,027 per year
The average salary for a Content Manager is $55,027 per year in the United States.
[Source - Indeed]
Which Skills will you learn in this Course?
You will learn many micro-skills in this search engine optimization course. We're mentioning the most significant ones for your reference –
You will be aware of the software's use in the market for content development.
You will come to know what content should be added and what not to be added when you write.
You will come to know how to search and add content and from the web and save your time.
You will make your standard format and that saves you time which improves your efficiency.
You will learn all the necessary software's completely including its tool and features right from scratch.
---
Pre-requisites
There is no such need that a content creator should have any professional degree instead he/she should be able to read and write anyone's language fluently.
He/she should have completed higher secondary education.
The thinking capability should be enough to gather skillful knowledge.
Target Audience
Candidate should be from any field irrespective of its working culture.
Candidate should be interested in content creation
Nowadays he/she should be able to work on the computer and should know the MS office.
Also, internet knowledge is compulsory as to many tools are web-based.
FAQ's
---
What are the advantages of learning this all tools?
You will decide which tool is beneficial for your career and which you can handle easily. A different tool has some unique feature which you can use it in future as per requirement.
What enhances my skills?
The way of presenting your article and how to include extra stuff enhances your skills. You will come to know about the tricks which make your article look more attractive
Why would I choose this content development course?
If you are very much interested in writing and writing becomes your need then we are here to enhance your skills by saving your time. This becomes beneficial for you to know how the modified notes or articles are made in today's world.
How would be the assistance from your side apart from online training?
Once you are registered then we provide you numbers and email ID through which you get live support. This service is available 24X7 from any remote part of the world.
What is the value of my content development course certificate?
We provide a valuable certificate to you for which we have a note. Anyone from any part of the world can get to know whether you are enrolled here or not. We are certified trainers and we have professional trainers who have well experienced in their field.
Sample Preview
---
Career Benefits
Content Development is the skill where you get a chance to explore your knowledge in front of the world. By learning this content development course you will get the following benefit:
You will get knowledge about the different tools which are used to develop content.
You can make your content within no time using the tools taught here.
While making presentations or articles you will consume less time and the work will be more attractive.
You can write books if you want to explore out yourself completely.
It gives you immense satisfaction when someone gives you an appreciation for your neatness in writing and presenting skills.
This content development course will help you in each field to present your skills in an enhanced way.
Reviews
---
Easy and Interesting
This Content Development course was very nicely brought with a broad spectrum of skills, I would've added more advanced Storyline courses myself but anything was welcome. I find the entire course has provided excellent knowledge for those who want to learn about Articulate Storyline 2. I have learned quite a bit from this course. Highly recommended.
Linked
Kamil Rogowski
Love this Content Development Course
I'm a content creator and I've been on a lookout for a course that can teach me the skills to create an amazing video tutorial. While searching on the net, I discovered this course and it changed my life. I already completed half of the course and my jaws are already dropping to see the vastness and detail-orientation this Content Development course provides. I'm so very glad that I chose to sign up.
Lina Kudrows
Cheers!
I loved this Content Development course. As a student, I grasp whatever I get my hands on. And I swallowed the entire course in a month. I plan to create some great content and become a freelancer. This course has helped.
Samantha Greene