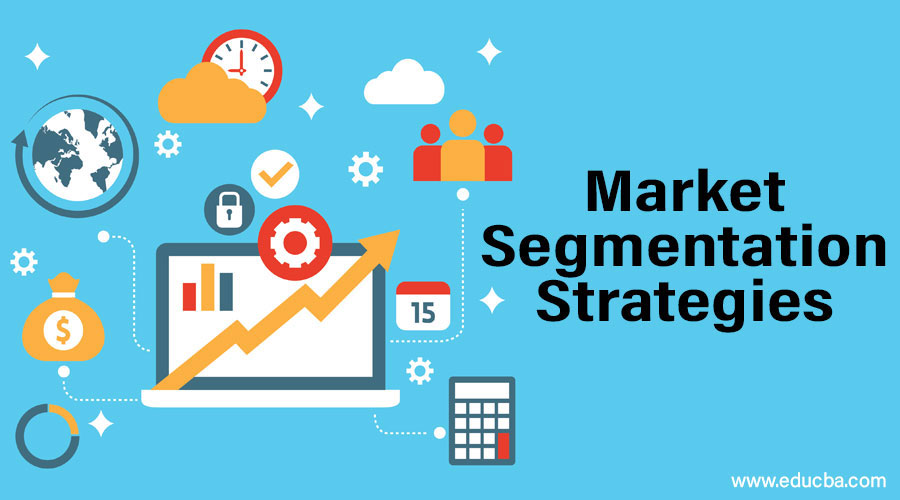 What is Market Segmentation?
The following article provides an outline for Market Segmentation Strategies. Market segmentation is the art and study of segmenting customers by dividing a broad target population into smaller groups or subsets with comparable needs, interests, preferences, and characteristics. Your target customers are unique identities having different needs and preferences, meaning there's no one-size-fits-all solution that you can use for them. Therefore, your audience must be segmented in order to create personalized content and campaigns that would hit right on the nail. All in all, it is a smart technique to grab your customers' attention right in the beginning, instead of roaming all around the world with your message. Advertising was there always. So why do we need market segmentation in place? Why spend efforts and resources on another step? To answer these questions, let's understand the importance of market segmentation as a process.
Why is Market Segmentation so Important?
Before market segmentation strategies came in, all that marketers knew was billboards, radio ads, TV commercials, and print ads. In return, all they could expect was spray and pray, just praying for best results understanding the uncertainty involved.
1. Precise and Personalised Targeting
With no market segmentation, it's like shooting in the dark instead of targeting the ideal customers. Now, with digital marketing and segmentation tools like Google Adwords to filter out the masses, you can hone in on exactly who you want and how.
2. Increased ROI
Through customer segmentation and personalized marketing campaigns, you can reduce the risk of showing ads to uninterested consumers. This clearly increases the efficiency of the campaign and hence produces ROI-producing efforts.
3. Increased Competitiveness and Conversions
By focusing on a specific subset of prospects, your competitiveness in that market segment will automatically increase. If your product or service primarily caters to working women, putting your time and money towards targeting them will yield the maximum conversions. This will also ensure brand recall and loyalty, eliminating other competitors.
4. Reduced Time and Money
Launching marketing campaigns is a costly affair, and it's important to strategize and cut your expenses and time at every stage. Channelizing your campaign's budget towards prioritized customer segments that are more likely to engage and convert will reduce the time, resources, and money spent compared to regular campaigning across all segments.
5. Better Relationships and Customer Retention
This whole process of market segmentation leads to a better understanding of your customers in aspects involving their age, preferences, income level, buying behavior, etc. That ultimately helps you serve their needs better. Also, the improved relationships make it harder for the customers to leave you, leading to greater customer retention.
Types of Market Segmentation Strategies
With countless ways to divide customers into groups, you need to understand the types of market segmentation to choose the best strategy.
There are four main types of marketing segmentation strategies.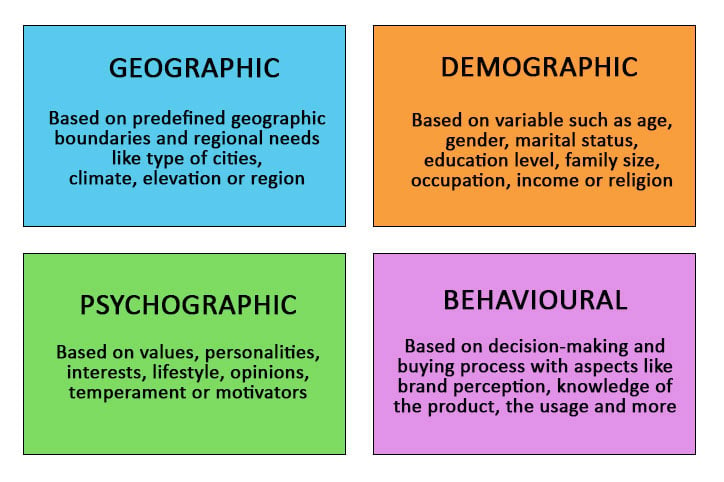 Application of Market Segmentation Strategies
Let's see each technique and its application with the help of examples.
1. Geographic Segmentation
For example, if you are a fur coat and woollen garments manufacturer, you would probably want to target the colder countries and cities. Also, a surfboard company would likely have the best luck selling to people near the ocean.
2. Demographic Segmentation
If you are a childcare company, aiming your ads at busy mothers who often post pictures of their children on Facebook will fetch more interest and conversions. For the automobile sector, segmenting the population based on income is optimum. Aiming at middle-class populations for a brand like Maruti and targeting high-end buyers for brands like Audi and BMW makes more sense.
3. Behavioral Segmentation
People who visit your website often and for longer may be genuinely interested in your products, and targeting them by giving some personalized offers may lead to conversion. People who responded positively to your last sale offers or last deal can be targeted with more attention. As per a study, 80% of the revenue comes from 20% of your customers. So segmenting and targeting your VIP customers who shop the most often and/or spend the most money can boost your revenue figures.
4. Psychographic Segmentation
If you are a brand in the fitness niche, targeting people interested in activities like running, weightlifting and yoga can fetch immediate response. Also, if you are into organic products, people with a healthy lifestyle can be tapped.
How to Create a Market Segment?
Finally, to put the knowledge into use, let's look at the steps involved in market segmentation.
1. Define and Analyze the Market
Determine the objective and strategic intent of the marketing campaign that aligns with the organization's mission. This will help in identifying the scope of your niche market and also your project.
2. Identify and Describe Potential Segments
Understand the expectations you want to serve through this campaign. Then select the potential market segments accordingly and aggregate customers into homogeneous groups by developing a profile of their characteristics.
3. Select the Market Segmentation Techniques
Next, decide which market segmentation strategy sharpens your audience. Is it behavioral segmentation or demographic segmentation that is helping you get the right set of audiences? As a recommendation, try to include psychographic segmentation gelled with other market segmentation strategies.
4. Research the Needs and Behaviour
After knowing your precise audience, study the needs and preferences of those targeted consumers to understand their requirements and pattern better. This will help in crafting your campaign message accordingly.
5. Craft the Campaign & Validate the Assumptions
Create a value proposition accordingly for that audience and do testing to validate your market segmentation strategies. If the results are positive, you can go ahead and apply the market segmentation strategies to the entire campaign. Long story short, people are more likely to appreciate and engage with brands that take the time to personalize their ads with dedicated offers created just for them. Also, it is a lot more sense to invest your time, money, and efforts only in people who would be interested in your product. So, it is advisable to segment your campaigns carefully. The better you know your target customer, the more personalized campaigns and the higher fruitful conversions.
Recommended Articles
This is a guide to Market Segmentation Strategies. Here we discuss the Importance of Market Segmentation Strategies along with the Types and Applications of Market Segmentation Strategies. You may also look at the following articles to learn more –