Updated September 15, 2023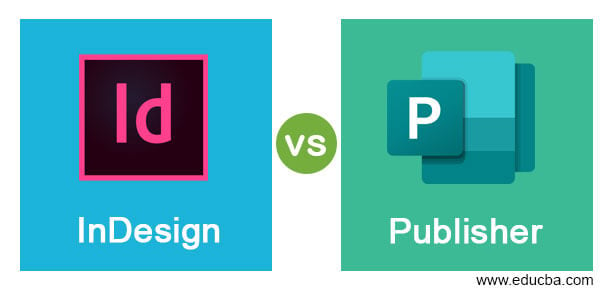 Difference Between InDesign vs Publisher
InDesign is a desktop publishing as well as Page layout Designing software that was launched by Adobe Inc. and we use it for creating different layouts such as Flyers, Posters, Magazines, Newspapers, Presentations, Books, and Ebooks. In conjunction with the Adobe Digital Publishing Suite, it is also suitable for publishing content of tablet devices. Microsoft Publisher is also a desktop publishing application that was launched by Microsoft and it is different from Microsoft Word that emphasis on page layout design in place of composition and proofing of text. We can use both of the software for the same type of purposes but there are some aspects that differentiate them from each other. So let us find those aspects.
Head To Head Comparison Between InDesign vs Publisher (Infographics)
Below are the top comparison between InDesign vs Publisher:

Key Differences Between InDesign and Publisher
Although this software is doing the same type of work we know their developer are different so there are some facts that make these two software special in their field. So let us have a look at them for having a deep analysis of this software.
InDesign supports XML, coding markup, and style sheets which makes it compatible for exporting tagged text content and that tagged content works with digital as well as online platforms which makes it popular among layout designers. It has .indd file extension and its internet media type is application/x-InDesign. Whereas LibreOffice supported proprietary file format (.pub) of Publisher and Corel Draw X4 are for read-only support.
InDesign can save file in indd, indt file formats and the File Open formats of this software is .indd, .indl, .indt, .indb, .inx. idml, .pmd, xqx. While Publisher supports several other file formats that include Enhanced Metafile format (EMF) that has its compatibility with several windows platforms. There is a very good feature with this software that we can view .pub files format in Publisher trail version beyond the trail period.
Now we are going to discuss the Price of both software which is important term to have an idea about that how you can have them in your hand. There is some variation for the subscription and pricing of InDesign such as if we go with the Individuals package then you have to pay $39.99 per month (this is discounted price). If you are looking for Business package then you have to pay $59.99 per month. There is some different prices for students that is $19.99 per month. So as per your choice, you can go with you require the type of license package.
If we take about Publisher pricing then there is also variation in price according to versions of this software. There is a free trial version also which helps you for learning about this software initially. For a One-time purchase you have to pay $109.99, $69.99 per year for Office 365 Personal, $ 99.99 per year for Office 365 Home, $ 8.25 per user per month for Office 365 Business, 12.5 per user per month for Office 365 Business Premium.
We can use Publisher for creating a printout of Inkjet or Laser and InDesign also does the same thing but at a higher price. With InDesign we have many options that allow you to create instant publishing documents or other file formats.
These are some important aspects about which you must have knowledge for understand these software deeply.
Comparison Table of InDesign vs Publisher
It is necessary to know about some of the important aspects of both software so that we can have a good understanding of them.
| | | |
| --- | --- | --- |
| | InDesign | Publisher |
| Definition | InDesign is a desktop publishing tool that deals with designing of the layout of different publishing formats. | The publisher also works as a publishing tool and has a number of tools as well as features that deal with layout design. |
| Developed and Initially released | Adobe Inc. was developed as desktop publishing software on August 31, 1999, with lots of features for getting effective results into related fields. | Although it is a desktop publishing tool it was developed by Microsoft in 1991 which is earlier than InDesign. |
| Latest version or currently stable version | On April 19, 2021, its latest version or currently table version is released for having solution of drawbacks of previous versions. | On June 8, 2021, Office 365 version has been released which is 2107 beta channel and a one-time purchase license was released on September 24, 2018. |
| Operating System | We can run it on both Microsoft Windows and Mac OS operating systems. | Being a software of Microsoft we can install it easily on Microsoft Windows. |
| Supported Languages | There is a number of languages that are supported by this software and these languages are English, Arabic, Chinese (simplified and traditional), Brazilian Portuguese, Czech, Danish, Dutch, Finnish, French, German, Greek, Hebrew, Hungarian, Italian, Japanese, Korean, Norwegian, Polish, Russian, Spanish, Turkish, Swedish, Ukrainian, Zulu. | Microsoft Publisher also supports some languages about which you can get knowledge by visiting on the official website of Microsoft. |
| Written | This software is written in the C++ computer language. | It is written in C computer Language also. |
| License Type | We can categories this software under Desktop Publishing software and it has Trialware license type. | It can also be categories under Desktop Publishing software and also has a Trialware license type. |
| Availability | You can visit www.adobe.com to have more information about this software and for downloading it to start working on it. | If you want to download it or have more knowledge about this software and its update then you can visit www.products.office.com which is the official website of Microsoft for this. |
Now after going through the comparison table you have got good information about the basic aspects of both of the software. Now I am going to tell you about some other important facts on the basis of which you can differentiate both software.
Conclusion
Now after going through this article you can understand both software very easily. We have discussed a number of important facts about this two software that helps you in good analysis throughout this article and point out the special features of both software which may be helpful for you.
Recommended Articles
This is a guide to InDesign vs Publisher. Here we discuss the InDesign vs Publisher key differences with infographics and a comparison table. You may also have a look at the following articles to learn more –