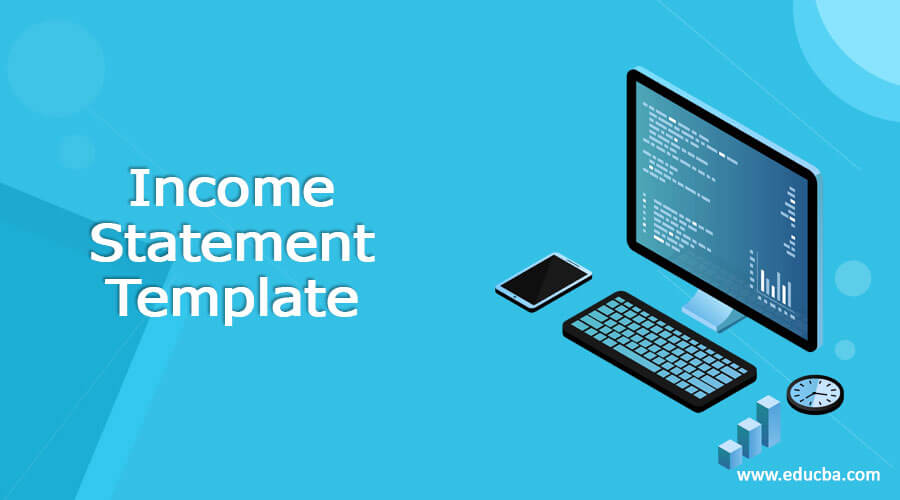 Definition of Income Statement Template
The income statement template is a company's financial statement showing its revenues, expenses, profits, or losses for some time. The income statement template describes a company's profitability and is mostly prepared quarterly/annually. Simply, it shows whether a business has earned income over time.
Explanation
As its name suggests, Income Statement Template shows the company's Net Income. In addition, an Income statement is prepared along with the Balance sheet Statement of the company. The purpose is to show the company's financial performance over some time.
Items on Income Statement Template
It contains the following Items:
Revenue: This item shows the income generated by the business from the sale of its goods or rendering the services. Earnings from the actual business of the entity are shown here.
Cost Of Goods Sold: Cost of goods sold is the cost incurred in producing the goods sold by the seller. It includes Material cost, Labour cost, and other costs directly associated with producing the goods.
Gross Profit: Gross profit is a difference between revenue earned and costs of goods sold.
Operating Expenses: Operating expenses are not directly related to the production of goods but are essential in keeping the business running. Administrative expenses, selling and distribution expenses, and salary expenses are some of the operating expenses incurred by a business.
Other Income: Other income includes income earned other than the selling of goods. For example, Interest income, income from the sale of scrap, etc.
Operating Profit: Operating profit is Gross profit less all the operating expenses. It is the profit calculated before charging finance costs and taxes.
Finance Cost: Finance costs include interest costs and bank charges. Interest paid on loan is shown under this head.
Income Taxes: Income tax is the corporate tax to be paid to the government.
Net Profit/Loss: Net profit is Total Revenue less total Costs. Total revenue includes revenue plus other income. Total costs include the cost of goods sold, operating expenses, finance costs, and taxes. It is the final result of preparing the Income Statement. Therefore, positive Net income is Net Profit, and negative Net Income is Net Loss.
Types of Income Statement Template and Example
There are two formats for preparing an Income Statement Template. These are:
Single-step Income Statement: This format of preparing an income statement shows a single head for Total Income and Total Expenses. There is no separate head for operating and non-operating costs and income. This format is generally used by small businesses whose purpose is only to know the bigger numbers.
Multi-Step Income Statement: Multi-Step income statement calculates the net income in multiple steps. There is a separate step for calculating Gross Profit, Operating Profit, and Net Profits. This method is more useful as the details shown can be further utilized to calculate various ratios and comparisons.
Example of Income Statement Template
Given below are examples of income statement templates:
Single Step Income Statement Template
Income Statement
For the year ended 31/12/XXXX
Particulars
Amount ($)
Revenue
Sales of Goods
XXXX
 Total Revenue
XXXX
Expenses
Material cost
XXXX
Salary cost
XXXX
Rent cost
XXXX
Interest cost
XXXX
Utility cost
XXXX
 Total Costs
XXXX
Net Profit (Revenue – Cost)
XXXX
Multi-Step Income Statement Template
Income Statement
For the year ended 31/12/XXXX
Particulars
Amount ($)
Amount ($)
Sales
XXXX
Less: Cost of Goods Sold
XXXX
Gross Profit
XXXX
Operating Expenses
Selling Expense
– Advertisement Expense
XXXX
– Commission Expense
XXXX
XXXX
Administrative Expense
– Staff Salary
XXXX
– Supplies Expense
XXXX
XXXX
Rent cost
XXXX
Total Operating Expense
XXXX
Net Operating Income (Gross Profit – Total Operating Expense)
XXXX
Finance Cost
– Interest Expense
XXXX
– Bank Charges
XXXX
XXXX
Net Profit (Before Taxes)
XXXX
Taxes
XXXX
Net Profit (After Taxes)
XXXX
How to Use Income Statement Template?
It provides information about the sales and the expenses of the company. It helps to understand how well a company is performing in terms of the revenue generation from selling its core products.
Many financial and profitability ratios are calculated using the data from the income statement.
Using the previous year's figures in the income statement is common. So it has become easier to compare the data over the years.
The income statement helps calculate a company's Net Profit, which is a base to decide what part of profit has to be distributed among the shareholders and how much to keep as retained earnings.
Conclusion
It is one of the most important financial statements prepared by the company. There are two different ways of preparing this template depending upon the size and requirement of the company. The multi-step Income statement template provides a more detailed picture than the single-step template. This template should be prepared carefully as it serves as a base for various financial decisions.
Recommended Articles
This is a guide to Income Statement Template. Here we also discuss the definition and items on the income statement template, along with types and examples. You may also have a look at the following articles to learn more –