Learn from Home Offer TAKE THIS BUNDLE
All-in-One Human Resource Bundle - 40+ Courses | 8+ Mock Tests | 200+ Hours | Lifetime |
It covers Human Resource Processes & Planning, Human Resource Measurement, Strategic HRM, International HRM, Organizational Behavior, Talent Acquisition, Succession Planning etc. You will get a verifiable certificate (unique certification number and your unique URL) for each course you complete.
TAKE THIS BUNDLE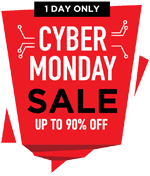 * One Time Payment & Get Lifetime Access
What you get in this All-in-One Human Resource Bundle - 40+ Courses | 8+ Mock Tests | 200+ Hours | Lifetime |?
200+ Hours
40+ Courses
Mock Tests
Course Completion Certificates
Lifetime Access
Self-paced Courses
Technical Support
Mobile App Access
Case Studies
Introduction
Educba's All-in-One Human Resource Bundle is designed to provide you with a comprehensive understanding of all aspects of HR Management, including Recruitment, Performance Management, Compensation, Benefits, and Employee Relations, Training and Development, HR Policies, and Legal Compliance. This course includes many different subjects and is good for people who are new to HR and those who already work in HR and want to learn more. This can also help you to build a portfolio of HR-related work that you can showcase to potential employers, further enhancing your credentials and increasing your chances of landing a job.
Skills You'll Master
---
Human Resource Processes

Understand HR processes and their impact on the organization

Develop and implement HR processes that align with the organization's goals and objectives

HR Planning | Performance Management | HR Information Systems (HRIS) | Strategic HR Management | International HR Management | Talent Acquisition | Conflict Management |

Strategic HRM

Understand the strategic role of HRM within the organization

Align HR strategies with the organization's overall strategy

International HRM

Understand the challenges and opportunities of managing a global workforce

Develop global HR strategies that support the organization's goals and objectives

Organizational Behavior

Understand the impact of organizational culture on employee behavior

Develop strategies to create a positive organizational culture

Talent Acquisition

Develop a talent acquisition strategy that aligns with the organization's goals and objectives

Develop a strong employer brand to attract top talent

Succession Planning

Developing a succession planning strategy that identifies and develops future leaders within the organization

Developing and implementing training and development programs to prepare employees for leadership roles

Performance Management

Developing performance metrics and KPIs to measure employee performance

Conducting effective performance evaluations and providing feedback to employees

Employee Engagement

Developing an employee engagement strategy that aligns with the organization's goals and objectives

Developing strategies to improve employee engagement

HR Analytics

Understanding the importance of HR analytics in measuring the effectiveness of HR processes

Developing metrics and KPIs to measure the effectiveness of HR processes

Employment Law

Understanding employment laws and regulations

Developing policies and processes that support compliance with employment laws and regulations
All-in-One Human Resource Bundle Curriculum
---
| Bundle | No. of Courses | Hours | No. of Mock Tests | No. of Completion Certificates |
| --- | --- | --- | --- | --- |
| HR Generalist and Human Resource Management Course Bundle - 26 Courses in 1 | 4 Mock Tests | 26 | 101+ | 4 | 26 |
| HR Metrics & Talent Management Course Bundle - 8 Courses in 1 | 8 | 21+ | 4 | 8 |
| Organisational Behavior Courses | | 61+ | | |
| Total | 40+ | 200+ | 4 | 40+ |
Important Courses
---
The below table of courses gives you the complete overview of all the courses, its links, description and the number of hours required to complete each HR course–

Human Resource Processes and Management - HR Planning & Performance
Basic knowledge and functions of Hr are taught. Here in this module, you learn about recruiting and staffing, developing and creating new leaders, compensation, employee career development, Controlling HR team, focusing and development.
HRIS - Human Resource Information System Training
Here the candidate learns about all the software's used by HR. It enhances its productivity and learns how to manage large databases and generate reports of the same. As now a day's complete task s manager electronically so this training becomes compulsory.
Strategic Human Resource Management - Manager's Role
HR department works on the strategies those strategies are explained in detail. These strategies explain intentions and plan to overall organizational considerations, resourcing, learning and development, reward and employee relations.
International HR Compensation Management Course
Many multinational companies are establishing and looking for candidates from nearby locations. So for business deals and to managing all international transactions and documents like visas, currencies and immigration formalities.
Human Resource ROI - An Approach for HR Business Partnering
HR ROI teaches monitoring progress, team building and increases efficiency. In this candidate learns about development, appraisal, reward, process, policies and making management reports.
Human Resource Measurement
All measures taken by HR like Quantification, aligned HR measurement are taught in this module. How need becomes necessary, an example of aligned measurement for development and appraisal domain.
Human Resource Plans for a Start-up Firm
It becomes a challenging process as to how you boost your start-up. Proper planning teaches you forceful recruitment and all strategies including with it.
Nature of Human Resource Training
In this module lessons taught are General introduction to management skills, objectives to HRM, process and sources of recruitment, Various training methodology, Performance appraisal and methods of performance appraisal. As hiring the right candidates for the right position with proper salary is also important.
Online Organizational Development Training Course
This topic is too vast and it is explained in brief that too in a well-structured manner. Overall development processes are listed and what steps need to be taken in the right way is taught.
Organizational Behavior Training
This human resource course module teaches us transaction analysis, personality and decision making, theories of motivation and its application. It also has some topics on group development, group properties, group decision making.
Performance Management System Course
This module teaches to boost efficiency and improve employee efficiency. Here, you get knowledge of how to make employee and managers plan their work by planning some objectives.
Group Dynamics- Behaviour
Group dynamics means to understand the meaning of stages of group and group development. Here you will come to know group development, storming norming, performing, adjourning, human's theory of group dynamics, understanding group behavior, group cohesion, group think, group decision making, and Delphi technique.
Conflict Management in Organization Course
Conflict is a common issue which happens in all company where HR has to play a major role as it shouldn't affect productivity. HR has to understand the negative effects of conflicts and should know conflict resolution.
Organization Development and HR Management Interventions
Here in this human resource course, we will learn concepts of organization development, history of OD, Characteristics of OD, nature of planned change, theories of planned change, Kurt Lewin's model, positive model, and action research model.
Talent Acquisition Training
Talent acquisition is to understand the problem of HR planning in recruiting the new staff. This module consists of planning, recruitment, and selection, constitute the most critical function.
Organizational Behavior Course
This study deals by learning the behavior of employees with regards to its productivity, employee absenteeism, employee turnover, organization citizenship, and job satisfaction.
Human Resource Training Bundle
This is the training to achieve goals and objectives. This includes identifying the main responsibility of HR, listing main areas to focus on, determine the current and future HR trends, learn in detail about recruitment.
Talent Acquisition
Talent acquisition means hiring the right talent in the right place. Big companies require talent from the recruiting team so they need to hire a candidate for a company's growth.
Succession Planning
In this module, you will learn about the details of succession planning, the need for Succession planning course, how it can be achieved and the complete course description.
Managing Team Creativity
Team management creativity can be reflected through some points they are: – Teamwork must be a priority,Nurture non-attachment,Hire smartly,Never point fingers,Alter your praise,Diversity,Prefer team rewards to individual ones,Mix n match,Create practices,Encourage cheerful rivalry.
Job Rotation
This module teaches the Retention of employees. To enhance your knowledge of how to structure departments.
HR Plan for a Startup Firm (Module #1) - Objectives
Here you will learn about introduction and objectives, creating a staffing business plan, KRA basics, and key responsibilities areas.
HR Plan for a Startup Firm (Module #2) - Talent Acquisition
Here you will grab the knowledge about talent acquisition recruitment and selection, onboarding review and evaluation.
HR Plan for a Startup Firm (Module #4) - Exit Management
In this, you will learn about the large firm phenomenon which is important to grow start-up as well.
HR Plan for a Startup Firm (Module #3) - Budgeting
Here you will learn HR budgeting, HR costing, employee handbook, devising the salary and grades.
Human Resource Course – Certificate of Completion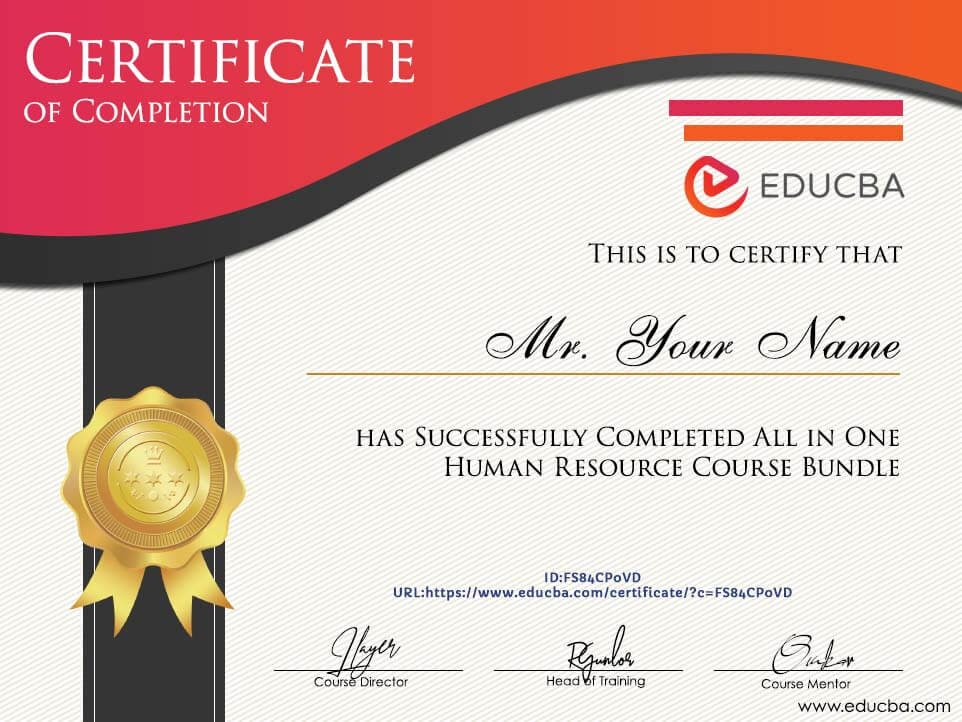 Build your skills to get Job Ready.
Improve your job readiness skills with EDUCBA's courses, which can help you create a portfolio that showcases your abilities to potential employers and aid in transitioning to a new career.
Earn & Share your accomplishment.
After completing the course, you can share your certificate on LinkedIn to connect with others in your field and gain exposure.
---
What is Human Resource Management?
HR management is a platform where a candidate has to perform a crucial role while sitting with the management team. Here HR has to keep a good relation with the employees as well as the staff committee and Director Members. This makes HR's centralized place in a company that is ready for everyone's needs.
Most of the basic things like housekeeping, security and small procurements they have to deal from their side. The big decision isn't taken by them instead all arrangements are done by them. Every candidate has fear in mind about this department as they consider them as an entrance. Here they filter the candidate from their end and then make ready for technical and final enrolment process is done by them. This is how all Hr team function and perform their role.

Industry Growth Trend
The Human Capital Management market size is expected to grow from USD 14.50 Billion in 2017 to USD 22.51 Billion by 2022, at an estimated Compound Annual Growth Rate (CAGR) of 9.2%. The forecast period has been considered from 2017 to 2022.
[Source - MarketsandMarkets]
Average Salary
Average Salary
$74,883 per year
The average salary for a Human Resources Manager is $74,697 per year in the United States. Salary estimates are based on 7,891 salaries submitted anonymously to Indeed by Human Resources Manager employees. The typical tenure for a Human Resources Manager is 1-3 years.
[Source - Indeed]
Pre-requisites
The candidate should be graduated from the management field. If not any graduate stream will work for this Human Resource course.
Candidate should eager to learn all qualities which will make him perfect HR.
He should have good communication skills which will represent him as a good HR in front of the candidate.
He should be interested in knowing new people and gather information about them which is a good talent for recruiting.
Target Audience
People working in industries can opt for this course.
Students can do to get extra knowledge.
He/she should be fluent in English in reading and writing.
FAQ's- General Questions
---
Q. What is EDUCBA's All-in-One HR Bundle?
EDUCBA's All in One HR Bundle is a comprehensive training package covering various HR management aspects. It includes over 100 courses on HR analytics, recruitment, compensation and benefits, performance management, and more.
Q. What is the estimated time required to finish the All-in-One HR Bundle?
The duration of the course is determined by your learning pace. You are free to take as long as you need to complete it since you can learn at your own rate.
Q. Is there any certification offered upon completion of the course?
Yes, EDUCBA provides a certificate of completion for each course in the bundle. Learners can download the certificate from their EDUCBA account upon completing each course.
Q. Are there any additional fees apart from the bundle price?
No, there are no additional fees apart from the bundle price. Once you have purchased the bundle, you will have access to all the courses included in the bundle.
Q. Is it possible to access the course materials even after finishing the course?
Yes, once you purchase the All in One HR Bundle, you will have lifetime access to all the course materials and updates.
Q. Why this Human Resource course is important?
This course makes you more organized and more professional. You get immense knowledge and you can use your previous work experience with it to achieve your goals.
Q. Does this HR course add value to my profile?
The Human Resource course sets a proper track for your career which makes it easier to walk towards your goal. This adds proper management skills and knowledge to your professional life.
Q. How this Human Resource course will relate to my field?
There are many HR in the company but they lack HR who is knowing their field. If you do this Human Resource course and walk back into your field as HR then probably you are in more demand than others because you would be considered as techno-commercial HR.
Q. Is it compulsory to have graduation for this Human Resource course?
No such requirement. Though HR is considered as a postgraduate course, so it is preferable if you have a graduation in any stream.
Sample Preview
---
Career Benefits
There are many career benefits upon completing this All in One Human Resource course and its concepts which are mentioned as below:
After completion of this Human Resource course, you have a wide opportunity to work with any company using your knowledge.
You will be a part of the management and decision-making team.
Your contacts will increase once you are an HR of any company.
As an HR you can use all the facilities available by the company.
You will be a certified HR with full of knowledge.
This gives a boom in your curriculum once you have a techno-commercial career base with you.
Even if you are not a technical person still this Human Resource course picks you from your existing role and you will start a new profile with existing experience.
Career Options
Recruitment and Talent Acquisition

Recruiter

Talent Acquisition Specialist

HR Coordinator

Training and Development

Training Manager

Learning and Development Specialist

Corporate Trainer

Compensation and Benefits

Compensation Manager

Benefits Administrator

HR Analyst

Employee Relations

Employee Relations Manager

HR Generalist

HR Business Partner

HR Information Systems (HRIS)

Compliance and Ethics

HRIS Manager

HR Systems Analyst

HR Technology Specialist

Compliance Manager

HR Compliance Specialist

Ethics and Compliance Officer
Course Reviews
---
Excellent Course on Human Resource Information System
A very comprehensive and Well delivered course covering all aspects of the human resource management information system. Every HR professional who desires to be on the cutting edge of his or her profession should not hesitate in going through this course. I began the course which was quite lengthy, but at the end of the course I was impressed with the detailed knowledge acquired. Awesome!
Linked
I. Arigo Emmanuel
HRIS Training and Implementation
This course gave me a detailed understanding of many aspects and needs for an HRIS system, current trends in HRIS and the future of HRIS systems as more technology becomes available to make processes easier and more employee engagement becomes a necessity for hiring and retention purposes.
Linked
Brandy Ann Cabrera
Great Course!
Great course for people who may have completed an HR-related degree but want to go the extra mile in learning more about HRIS. I wish a test had been included in the end but otherwise, this was a very helpful course and I'm sure I'll find it handy once I start working.
Linked
Carolann Tomy
Human Resources Information Systems Training
This course offered a thorough walk-through of the key functions involved in Human Resources Information Systems (HRIS). It began by describing the many roles of Human Resources- including recruiting and hiring, on-boarding, orientation, payroll and benefits, scheduling, attendance, and other resources for employees- and why automating some of these tasks would be beneficial for the overall well-being and efficiency of organizations and employees. This information, paired with some screenshots and navigation through popular HRIS software, I feel confident that I will be an asset to any Human Resources department as an HRIS Specialist.
Linked
Julie Carrier
Human Resources Processes and Management
As an HR Professional in a Department of Defense environment, this course has provided me with the necessary tools to be successful as an HR Generalist or HR Manager in a corporate hr department. In comparison to the Department of Defense, the many functions of HR are predefined and function in such a matter that the user can operate in a barney style manner.
Linked
Henry E. Jerkins
Easy but Impressive
This course on PMI-RMP has allowed me to evolve beyond my immediate career terrain and will hopefully accelerate my career progression in due course. I intend to acquire a more valuable learning experience by enrolling for more courses to attain my desired goals in life. Well, it was an amazing learning experience at Educa.
Linked
Ada Pasmaciu
Great learning experience
Being my first course at eduCBA, it has helped me gain knowledge about a subject which I am yet to start. This course will prepare me better when I ultimately take up the course. The video tutorials and explanation with examples provide a boost to the mental image. A great course indeed.
Linked
Eddie Romario Carvalho