NANA
NANA
NA% Off
Enroll for FREE
Free Quickbooks Tutorials
5+ Hours
Lifetime Access
Verifiable Certificates
Quickbooks Training Course

5+ hours
Offer ends in:
NANA
NANANA% Off
Enroll for FREE
Skills you will master
Quickbooks
Customer Tab
Vendor Tab
Employees Tab
Employees Tab
Banking Tab
Profit and Loss Format
Balance Sheet Reports
Cash Flow Reports and Service
customer center
income bar
invoice creation
receive payment
credit memo
purchase order full transaction
inventory management
banking multi-currency option
QuickBooks sales receipts
QuickBooks vendor center
Online Free Quickbooks Tutorials
This Free Quickbooks Certification Tutorial includes a comprehensive QuickBooks Course with 5+ hours of video tutorials and Lifetime Access. You get to learn how to record and analyses business (both product and service based) transactions using Intuit QuickBooks and understand its multipurpose.
QuickBooks is a small business management software, which is used for managing sales and expenses and keeping track of daily expenses of a business, through its different tools developed and marketed by Intuit such as accounting, payroll, payments, making invoice to customers, paying bills, generating reports for planning, tax filing and more. For anyone from a sole proprietorship to mid-sized business, the QuickBooks product line includes several solutions that work great.
Though it's a small but powerful software, about which you will learn in this Free Quickbooks Tutorials. You will learn all the loopholes and tips and tricks on how to save time and powerful report tools that will help your business make good decisions.
This Free Quickbooks Tutorials only goals is to simplify QuickBooks so you become confident in this subject. All our teachers are highly trained accounting expert having real-world experience of the subject, running their own businesses and consulting with other companies.
Apart from QuickBooks knowledge, you will also get to learn about general accounting and about business in general, by our professional teachers who breaks down complex accounting concepts into simple everyday terms that you will understand easily.
About Free Quickbooks Tutorials
---
| | | |
| --- | --- | --- |
| Course Name | | Online Free Quickbooks Tutorials |
| Deal | | You get access to all the videos for Free for the lifetime |
| Hours | | 5+ Video Hours |
| Core Coverage | | Learn how to record and analyses business (both product and service based) transactions using Intuit QuickBooks and understand its multipurpose |
| Course Validity | | Lifetime Access |
| Eligibility | | Anyone who is serious about learning QuickBooks and wants to make a career in Accounting |
| Pre-Requisites | | Basic knowledge about Accounting would be preferable |
| What do you get? | | Certificate of Completion for the course |
| Certification Type | | Course Completion Certificates |
| Verifiable Certificates? | | Yes, you get verifiable certificates for each course with a unique link. These link can be included in your Resume/Linkedin profile to showcase your enhanced skills |
| Type of Training | | Video Course – Self Paced Learning |
| Software Required | | None |
| System Requirement | | 1 GB RAM or higher |
| Other Requirement | | Speaker / Headphone |
Free Quickbooks Tutorials Curriculum
---
In this section, each module of the Free QuickBooks Certification is explained.
| | | |
| --- | --- | --- |
| Serial No. | Course Name | Course Description |
| 1 | Introduction | In this Free Quickbooks Tutorials module you will learn about the basic of QuickBooks, and who developed it, what it is all about. You will about it from scratch. QuickBooks is often compared to an iceberg, as the iceberg does so much, but still, no one knows what's below the surface. This course will clear the water around the iceberg so that you can see what's below the surface. Our expert instructors will give you all the detail you need out of QuickBooks by leaving you equipped with the best ways to get around and enter a day-to-day transaction. |
| 2 | Customer Tab | In this module, you will learn about the Customer Tab in QuickBooks. Customer in QuickBooks means a record of information about your real-life customer. You will learn how to enter data about your customer in the program and how the program uses that data to fill in invoices and other sales forms with your customer's name, addresses, payment terms, and other info. QuickBooks applies one moniker to every customer or organization that buys from you.  At a time you can create one customer in the New Customer Tab, although you can create several records in a row without closing the window. |
| 3 | Vendor Tab | In this Free Quickbooks Tutorials module, you will learn about vendor tab in QuickBooks. It is necessary to list all the person or company on the vendor list of QuickBooks when a person or company is initially entered into QuickBooks as a customer and later functions as a vendor, or vice versa. As there are so many options for QuickBooks accounting software it becomes difficult to differentiate between Business associates, vendors, and customers. QuickBooks helps you in differentiating the same by defining Vendor as someone from whom you purchase product or service. |
| 4 | Employees Tab | In this Free Quickbooks Tutorials module, you will learn about the Employees Tab in QuickBooks. You will learn how t9o make employee list in QuickBooks, and also how to add a new employee in it. You will also learn how to edit employee payroll data, update Address and Contact info of the employees, additional info and also payroll info. Once all the details have been updated in QuickBooks, it becomes a very easy and quick process to manage employee details. |
| 5 | Banking Tab | In this Free Quickbooks Tutorials module, you will learn about Banking Tab. You will learn how to connect your bank account or credit card to QuickBooks to automatically download transactions, also you will learn how to connect chequing, savings, or credit card accounts, including foreign currency accounts if you use a participating bank. |
---
Free Quickbooks Tutorials – Certificate of Completion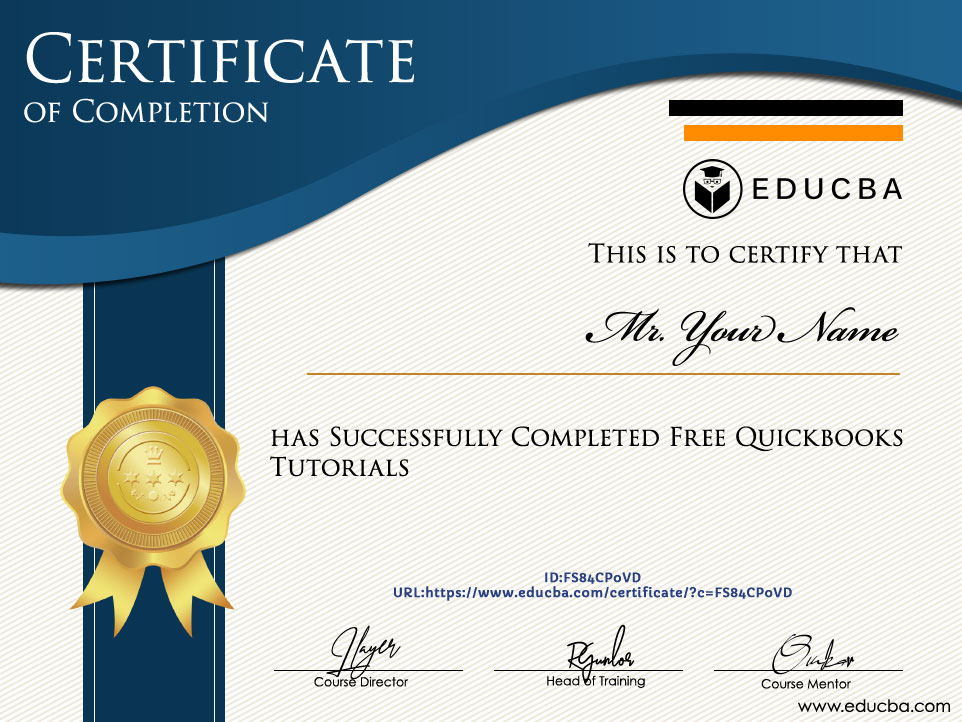 ---
What is QuickBooks?
---
QuickBooks is a bookkeeping software developed by Intuit, that combines a variety of accounting processes into one user-friendly system based on the needs of the business utilizing the software. QuickBooks primary function is to reduce the use of spreadsheets, multiple tablets, and tracking sheets that are necessary to document and maintain accounting tasks at a company, also it helps in easy reconciliation of accounting figures for Tax purposes.
QuickBooks efficiently manage a variety of tasks by providing users with a computerized maintenance and documentation system. It is like personal finance software whose primary purpose is to give people every day the tools necessary to manage their own finances. QuickBooks is most popular at medium and small businesses as its ease of use and reporting functionality makes it famous among these users.
There are many Web-based features in QuickBooks like Electronic Payment Function, Mapping Features, Remote Access capabilities, Online banking and Reconciliation, Remote payroll Assistance and outsourcing, Better mail functionality with Microsoft outlook.
Which tangible skills will you learn in this Course
?
---
Business Analysis: Free Quickbooks Tutorials will give you knowledge about business analysis, and taking management decision, as you will learn to update each and every important segment of a business using this software.
Gain key reporting insights of your business: You will be able to access several reports, by managing all of your cash inflow and outflow activities in QuickBooks, which will provide valuable insights into your business.
Accounting Skill: By reviewing all the report and activities in QuickBooks, even if you are not from an accountancy background, you will be able to learn about it and apply it.
Tracking Inventory: QuickBooks automatically update inventory detail, you just need to enter the changes when and where made, so this keeps you updated about the inventory and you will learn to track in systematically time to time.
Prerequisites
---
Passion to learn and grow: You must be passionate enough to take this course, without passion it's difficult to learn or achieve anything, since passion, dedication, and motivation is what drives us to fulfill our desire.
Computer/laptop with Internet facility: As this is an online course, you can take this course at your comfortable time and place, you just need to have your laptop/or computer with internet facility to view the Free Quickbooks Tutorials.
General Business Knowledge: You need to have the general business knowledge to run this software, as this software is popular in small or medium scale businesses, so without having knowledge of how your business is functioning, you won't be able to make any use of this Free Quickbooks Tutorials or software.
Basic Accountancy Knowledge: Basic accountancy knowledge will help you understand the software and the course better as QuickBooks is a bookkeeping software helping in the management of the business.
Computer Literacy: As it's a computer program it is obvious that you have to know how to use a computer. You will easily learn about the ins and outs of the program if you are computer literate, to literally know every detail of this complexed Software.
Target Audience
---
Businessman/businesswomen: This Free Quickbooks tutorial is ideal for a businessman, as this software can be used in small or medium scale businesses. In order to have insights into your business, a businessman must do register for this Free Quickbooks Tutorials.
Professionals: Any working professional who wants to grow in their organization must opt for this course, as this course will give you knowledge from scratch about how to manage all the revenues and expenses in a systemized manner using QuickBooks software.
Accountants: These Free Quickbooks Tutorials are ideal for accountants as it will add a feather in their hat, making them certified in the course. This will lead them to reach their goals and desired income, as this software is highly in demand in small scale and medium scale businesses.
Students: Student, in order to make their career in Accountancy and Finance, shall definitely register for these Free Quickbooks Tutorials, as this software is highly in demand, with high paid salaries, and this will give practical knowledge of bookkeeping apart from the theory you learned in School or College.
 Career Benefits
---
Hike in Salary: This advanced certified software training is highly in demand, giving great salaries to candidates. So these Free Quickbooks Tutorials will give you an opportunity to earn more and grow or get designation hike in your organization.
Job Security: This course will give you job security as it is highly in demand in the market and is something which will be continued for a long-term, hence giving you better job security.
Job opportunities: As this is a certified course, this will add a plus point in your CV attracting high paid jobs and employment
Understanding Business from Accounts and Finance viewpoint: Most of the businessman, hire accountants to handle their taxation and accounts part, these Free Quickbooks Tutorials will make businessmen understand their own finances, and not relying on the accountant for all work.
Cost Effective if applied in your Business: As this course will teach you how to operate QuickBooks Software easily and smoothly, one employee will be able to handle all the chores efficiently rather than hiring a whole team for looking after accounts and taxation.
Reviews
---
Quickbooks Pro Training Course
It was quick and easy to use and understand for this QuickBooks Pro training course if you do not have the time to take a two-day or 6-week course, I would recommend to take this training. It was very helpful to me after I took the training course, now I have a better understanding how to setup COA and doing custom reporting. Also, the cost of this training, it is very reasonable.
Linked
Jackie Tsang
Extremely Helpful
The course was extremely informative and provided a better understanding of how the software works best for your company. Before I started the training, I did not have any knowledge of Quick Books. Once I completed the training, I am more confident that I will be able to utilize the training I have received in real world scenarios. I would definitely recommend this training.
Linked
Victoria E Guerra