Learn from Home Offer TAKE THIS BUNDLE
Financial Budgeting Course Bundle - 4 Courses in 1
This Financial Budgeting Training is an awesome bundle of 4 course with 17+ hours of budgeting video tutorials and Lifetime access. Through this course, we are going to focus on learning financial budgeting from scratch along with its techniques, process, and also understand advanced budgeting across sectors such as Automobile, IT and banking.
TAKE THIS BUNDLE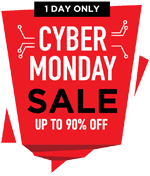 * One Time Payment & Get Lifetime Access
What you get in this Financial Budgeting Course Bundle - 4 Courses in 1?
17+ Hours
4 Courses
Course Completion Certificates
Lifetime Access
Self-paced Courses
Technical Support
Mobile App Access
Case Studies
About Financial Budgeting Course Bundle
---
| | |
| --- | --- |
| | |
| Courses | You get access to all 4 courses, Projects bundle. You do not need to purchase each course separately. |
| Hours | 17+ Video Hours |
| Core Coverage | This course will offer you in-depth knowledge of Financial Budgeting which includes concepts on forecasting techniques, budgeting process, cost structure, and costing systems. |
| Course Validity | Lifetime Access |
| Eligibility | Anyone serious about learning Financial Budgeting |
| Pre-Requisites | Basic knowledge of basic Maths and Financial Statements |
| What do you get? | Certificate of Completion for each of the 4 courses, Projects |
| Certification Type | Course Completion Certificates |
| Verifiable Certificates? | Yes, you get verifiable certificates for each course with a unique link. These link can be included in your resume/Linkedin profile to showcase your enhanced skills |
| Type of Training | Video Course – Self Paced Learning |
Financial Budgeting Course Bundle Curriculum
---
Goals
This course is designed to train the participants on budgeting and forecasting and make them familiar with the process. It will be useful for them in their career as budgeting plays a key role in all organizations as that gives the road map and performance target to the company and employees.
Objectives
The objective of this online financial budgeting course is to impart the requisite skills and subject knowledge to the participants about budgeting and forecasting. Budgeting and forecasting are important tasks as it sets the target for performance and useful for cash flow and cost measurements. It creates a sense of accountability in the organization. People who possess these skills are highly valued in an organization and it helps them to grow in their career as growing up the ladder professional and key management persons are expected to form strategies, align with the operational goals, mission, and vision of the organization.
Course Highlights
This financial budgeting course offers one online course with 2 hands-on projects covering 2 different business sectors. It comprehensively covers the budgeting and forecasting process through 14+ hours of video classes. This is an online course and anyone who enrolls for this course will have Lifetime access to this course. On completion of this course, a Certificate of Completion will be given. The following topics are covered in this course.
Budgeting and Forecasting: Beginner Level
Advanced Budgeting: Banking Sector
Advanced Budgeting: Automobile Sector
Financial Budgeting Course – Certificate of Completion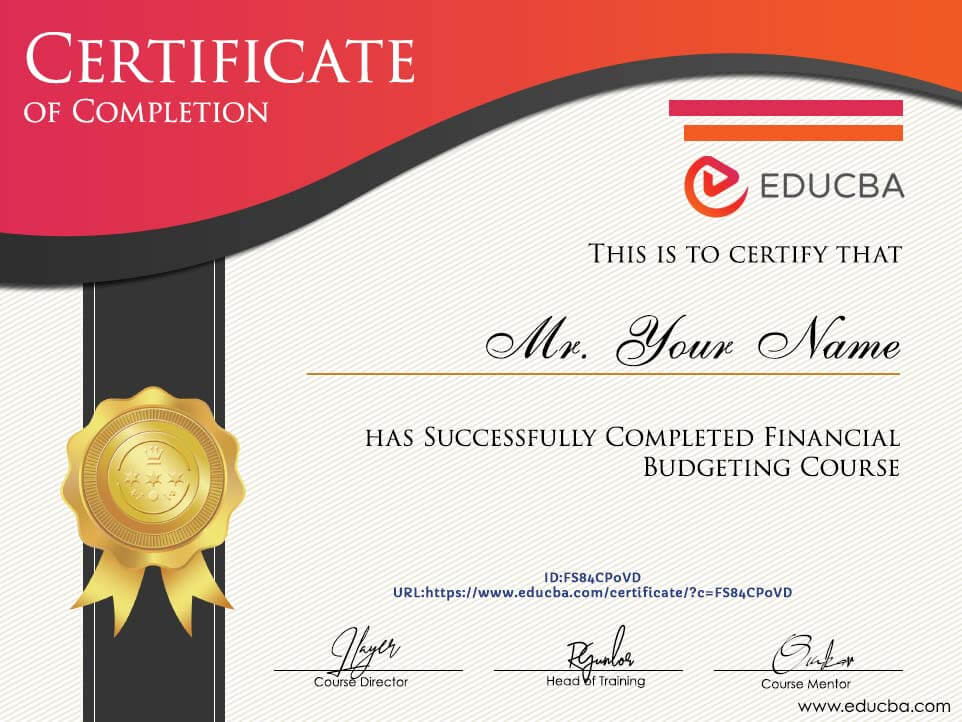 What is Financial Budgeting?
A budget is a financial plan for a specific period, usually prepared for a financial year. It covers all financial aspects for the future period right from revenue, costs, expenses, profits, assets, liabilities, and cash flows. The budget is more of an estimate and the target set by the management for future performance. The budget is the expected performance and the same will be tracked against the actual performance and the gaps will be monitored by the management. There are two types of budgeting – Operational budgeting and Capital budgeting.
What skills will you learn in this Course?
You will be learning the following topics in this Online Financial Budgeting Course.
Budgeting and Forecasting: Beginner Level: This part covers the budgeting and forecasting techniques from basics. You will be able to understand the budgeting process and the various concepts in that. This session will help you to develop the budget in line with the organization's goals.
Introduction to budgeting and forecasting.
Costing concepts – Master budget; Costing concepts; Direct and Indirect cost concepts.
Cost behavior – Overhead allocation; Cost behavior; Fixed and variable cost concepts.
Contribution – Cost volume profit model with examples.
Statement – Forecasting techniques and budgeting techniques; Preparation of Financials; Balance sheet; Income statement; Cash flow statement.
Case studies
Monitoring – Budget monitoring and control.
Run rate – Run rate and MYF; Dynamic market; Behavioral and Ethical aspects.
Advanced Budgeting: Banking Sector: In this part, you will learn about budgeting and forecasting in the banking sector. Though at the macro level the techniques are the same, the core budgeting concepts are different for each business sector. The following will be discussed during the session.
Banking and budget basics
Consumer banking – Interest bearing accounts and deposits; Personal loans; Home and Vehicle loans.
Commercial banking – Commercial loan; Working Capital; Payroll Services; Bank Guarantee.
Advisory and Services – Wealth management; Trade and funds.
Balance Sheet
Income Statement and Funding Gap
Reserves and Provisions
Consolidated budget – Master budget; Revenue and expenses; Cost of sales; Gross profit; Other expenses; Taxable profit.
Scenario analysis – Growth rate scenario; Economic indicators; Forecasts simulator; Reserve Scenarios and Simulator.
Advanced Budgeting: Automobile Sector: In this part, you will learn about budgeting and forecasting in the Automobile sector. The following will be discussed during the session.
Basics of the Automobile industry – Automobile basics; Lead time; Supply schedule; Cost of Goods sold; Goals; Growth estimates; SG&A.
Revenue and direct costs– Gross profit, SG&A overheads; EBITDA.
Cash budget – Monthly and yearly view.
Cash conversion cycle – Concepts; Calculation and Interpretation.
Pre-requisites
The following are some of the pre-requisites to take up the budgeting training course.
Passion to learn – You should have the interest to learn to budget and it could be more useful for students and finance professionals who are planning to pursue their career in finance budgeting, financial planning, and analysis, financial reporting, etc.
Basic Finance knowledge – This course contains advanced concepts and techniques about budgeting and forecasting, so basic finance knowledge is required to understand and get hold of this training.
Target Audience
The budgeting training course is useful for both students and professionals who have the interest to learn and pursue their careers in that line.
Professionals – Finance Professionals who are in lines of b udgeting and analysis and others who are accountants, treasurers, corporate development professionals, reporting analysts, etc.  can also take up this course.
FAQ's- General Questions
---
How much time should I spend on this Course?
This is an online course and you can access it 24*7 from anywhere. It has 1 online course with 2 hands-on projects and 14+ hours of video classes. It has no time frame for completion. Once you have complete 70% of the training material in any course, you can issue your certificate.
How this training is going to help me advance my career?
This course will help you to pursue a career in the FP and A domain. It is one of the most demanded professional roles and there are lots of opportunities in this field. It helps to enhance your skills in budgeting and forecasting.
I am new to budgeting can I take up this training?
Anyone who has a passion to learn budgeting and forecasting can take up this course as it requires only basic knowledge of finance. It is more useful for professionals and students who are from finance background as it helps them to advance in their career.
What learning sources are available?
Expert Faculty: The Instructors for this online training are industry-based professionals who possess experience in Corporate Budgeting, Planning, and forecasting.
Study Material: Participants will be given access to online material that covers the topics of budgeting and forecasting, industry-specific budget modeling, and techniques. This can be accessed all time by those who have enrolled in the course.
Sample Preview
---
Career Benefits
Budgeting and forecasting are key tasks for an organization. It must be prepared, and it gives a road map to the corporation for the future period. It must be continuously monitored to mitigate the gaps in budget Vs actuals and to improve business performance. It is one of the growing finance career lines and there is a great demand for financial analysts. A
is one of the high paying finance jobs for professionals.
This Online Financial Budgeting Course will help you to understand the basics of budgeting and forecasting, its techniques, and its importance in the business. It is useful for finance professionals who wants to pursue their career as budgeting analysts or FP&A analysts. Students who are just qualified can also take up this certification course as it acts as a value addition to their CV and helps them to start their career in a good role.
Reviews
---
Financial Budgeting
excellent learning experience!!! simple but good presentation. it is a worthy review for those who learned similar course before and a good foundation for the first time learners. covering the different budgets and appraisal methods. the course definitely benefited me and enhanced my confidence level.
Pradeepan Koduvalli
Financial Budgeting
The course covered the topic I expected. The course content was consistent with the course structure. The lessons were arranged in a logical way. I feel more confident about the subject after taking the course. My favorite activity was comparing the lecture with the actual presentation. I wanted to take the course to improve my business acumen. The type of content worked for the topic. The length of time of the course was just right. The audio quality needs improvement (some fading). The visual components worked as expected. The instructor was very knowledgeable about the topic and the tools used during this course. I would be a little hesitant to take an online course from this instructor again (talked too fast at times). This course worked better on my notebook than my mobile device (more user-friendly). This course in conjunction with the other courses listed in the pathway will provide a lot of value to me in the near future. The lectures and presentation complemented each othe
Lester Darris, DBA