Learn from Home Offer TAKE THIS BUNDLE
FINANCE for NON-FINANCE Managers Course Bundle - 19 Courses in 1 | 6 Mock Tests
47+ Hours of HD Videos
19 Courses
6 Mock Tests & Quizzes
Verifiable Certificate of Completion
Lifetime Access
TAKE THIS BUNDLE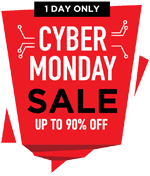 * One Time Payment & Get Lifetime Access
What you get in this FINANCE for NON-FINANCE Managers Course Bundle - 19 Courses in 1 | 6 Mock Tests?
47+ Hours
19 Courses
Mock Tests
Course Completion Certificates
Lifetime Access
Self-paced Courses
Technical Support
Mobile App Access
Case Studies
About Finance for Non-Finance Course In Mumbai
---
| | |
| --- | --- |
| Course Name | Online Finance for Non-Finance Course In Mumbai |
| Deal | You get access to all 19 courses, Projects bundle. You do not need to purchase each course separately. |
| Hours | 47+ Video Hours |
| Core Coverage | Accounting Foundation, Income Statement, Balance Sheet & Cash Flows, Ratio Analysis, Earnings Per Share, Corporate Finance |
| Course Validity | Lifetime Access |
| Eligibility | Anyone who wants to take the first step towards learning Finance. |
| Pre-Requisites | None |
| What do you get? | Certificate of Completion for each of the 19 courses, Projects |
| Certification Type | Course Completion Certificates |
| Verifiable Certificates? | Yes, you get verifiable certificates for each course with a unique link. These link can be included in your resume/Linkedin profile to showcase your enhanced skills |
| Type of Training | Video Course – Self Paced Learning |
| Software Required | None |
| System Requirement | 1 GB RAM or higher |
| Other Requirement | Speaker / Headphone |
Finance for Non-Finance Course In Mumbai Curriculum
---
The course of the Finance for Non-Finance course in Mumbai would provide you with a lot of additional knowledge that would help you in knowing various concepts to understand finance-related information. The main idea behind the same is helping to get a launchpad for finance. The following objectives would be fulfilled by finishing the course:
Understanding Concepts of Finance: The course has been modeled in such a way that it helps to build the very core of the finance. In the core of finance, various topics need to be understood to get the base ready or to learn the higher knowledge of the subject. The topics covered would be understanding the different types of financial statements viz income statement, Balance sheet, Cash flow statement, and other preliminary concepts.
Teaching widely used Financial Terms and Methods: The financial terms are used widely among finance professionals, and these could only be understood by those who have spent time with finance. These terms would enhance your understanding of the subject and help you to be more connected to the finance groups via your knowledge. Some examples would be earning per share, Profit before Tax, Retained Earnings, etc.
Working as a Stepping Stone for Higher or Advance Courses: To gain an edge into the subject of finance, various masters level courses are required to be cleared and have an understanding of. But, to reach that point, the basics of finance need to be cleared and this course is aimed at getting a thorough understanding of the basic concepts of finance so that eventually, it helps you in taking higher studies in the field of finance.
Finance for Non-Finance Course In Mumbai – Certificate of Completion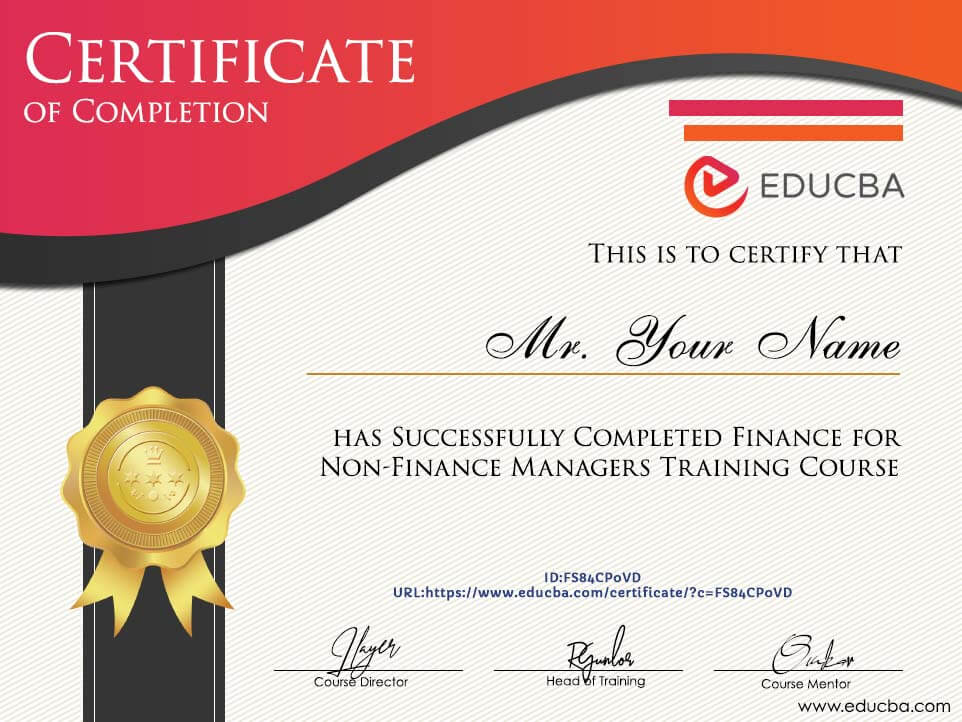 What is Finance for Non-Finance?
This is a course designed for the people who do not have a background in finance and possess a will to understand, learn, and to make a career in finance.  This course would act as a bridge between the journey of the non-finance to the finance world.
What skills will you learn in this Course?
As already mentioned above, this course is a bundle of various topics, skills, techniques, knowledge, and other sources to help you avail of a good knowledge of finance. Following skills could be availed in this course:
Ratio Analysis: Ratio analysis is one of the foundational skills that is required to know to the reader of finance. The ratios help in creating a relationship between the financial and non-financial data and help in comparing the results with the industry peers, industry standards, and the past results of the company itself. Few examples of the popular ratios are net profit margin ratio, Return on Equity, Debt Equity Ratio, etc.
Reading and Understanding of Financial Statements: The financial statements are very difficult to read and understand. As every word requires a concept to understand it and the one word needs to be read about other words hence these should be known with utmost certainty.
Preparation of Financial Statements: Once the candidate is well aware of the terms and structure of the financial statements, the next step would be to understand the preparation of the financial statements. The primary financial statements are Profit and Loss Statements, Statement of Financial Position, Cash Flow Statements, and Statement of Changes in Equity, and Notes to Accounts.
Corporate Finance Training: Corporate finance training includes various concepts that are used in day to day life and it helps in getting the requisite knowledge of the uses to be used in the day to day life of the financial world.
Pre-requisites
Even though the course is a beginner level course in finance, it has some prerequisites as well. The candidate should have a strong will to understand and h/she must be a willing person to put more effort and energy into learning and knowing the course and the concepts. As it would be a new course for the candidates from their respective fields, it would be highly necessary that requisite effort is devoted to learning the course.
Target Audience
As it is a course directed for the candidates with no history of finance, It will be included following people as the target audience:

Students

: The students who aspire to understand the financial concepts and to make a career in finance could avail of this course and gets benefited. These could be from any level study but must possess a strong will to learn things.

Professionals: Many times a professional needs to switch over to another stream of working and the finance is considered as a lucrative choice to get into. They generally belong to other backgrounds such as Arts, or Science and need to understand and learn finance from scratch. So, the professionals to understand and shifts career in the finance is welcome to join this course and gets benefitted.

Any Other Person: Besides the existing students of finance or a professional looking for a career in finance could also join this course to understand the basic knowledge used for the understanding of finance. The subject knowledge of finance has wide uses and could be used at various points in life.
FAQ's- General Questions
---
This section contains various general questions to solve the queries of the candidate interested in the course. Following are some of the primary questions that are required for the overall understanding of the course:
Is the course Finance for Non-Finance available as an offline source or online course?
The course is available at online format and could be availed from any location. It does not require a particular physical location and provide the candidate a facility to attend the course at ease and its own pace. So, it will require the student or candidate to have a laptop and an active internet connection to attend the course.
What are the major features of the Finance for Non-Finance course?
This course has some highlighting features and these are its online portability, in-depth knowledge of the finance and its concepts, better after-sales services, and the certificate after the course.
What payment options are available to take the course for finance?
There are multiple payment options to be accepted for availing this course.  The most popular payment options are Demand Draft, Debit Card, Credit Card, Cheque, Cash, and Net Banking, etc.
Sample Preview
---
Career Benefits
As it is elaborately discussed above that the course helps to build the base for a career in finance. The finance field hosts several carer options but it would be a daunting task for the person of non-finance background to understand complex concepts and the understanding of the financial tasks to be maintained. These issues are being sorted out by this course and it helps the candidate to grapple with the higher courses in the finance.

Why should you take the Finance for Non-Finance Course In Mumbai?

The course would easily be able to fill you with the requisite knowledge to make a fresh start in the field of finance. It will support and push your knowledge to take higher variations of this course and the same would help you to take a strong leap in the future to avail of a good financial role. This is one of the most promising courses providing a basic understating of financial concepts.

What is Finance for Non-Finance Trend in Mumbai?

Mumbai city is considered as a financial capital of India and it is considered rightly. Mumbai boasts the majority of the financial deals in India and keeps itself at a higher position when the finance is considered. The stock markets are situated here and it boasts thousands of financial deals to be closed regularly. So, understanding the finance in the city of India's finance would be a great choice to attend and avail the course and to enhance the knowledge and make a career out of it.  The trend for the finance courses in Mumbai is growing at a greater pace and the same is expected for the Finance Non-Finance people.
Reviews
---

Very practical
This finance for non-finance course gave me useful insights into the field of corporate finance. I can use these skills in real business situations. The course taught us the various valuation methods. It also showed us which fields the concepts of valuation can be applied. Also, the Tutor has provided a detailed explanation of the business valuation process.
Linked
Divot Singh

Simple and comprehensive
This online training on Corporate finance has helped me a lot. I learned about all the concepts related to corporate finance with ease. A lot of examples were there to make a concept clear. This training helped me to do study at my own pace and not according to the scheduled classes.
Linked
LEPAKSHI GOSAIN

EDUCBA made it easy!
This finance for non-finance course clarified most of my doubts when it comes to the income statement, Initially, I used to get confused in understanding reconciliation and also separating non-recurring costs. This course with a practical Colgate example made it seem very simple. The examples taken throughout the course were good.
Linked
Ziyad Kazia

Very enriching
This course is very useful for those who are unaware of Accounting. Each topic was explained properly by the instructor, also he has provided good information related to stock dividends and their types, how it works. I hope I can learn more about other videos as well.
Linked
Gulzar Hussain