TAKE THIS BUNDLE
Pivot Table Training (2 Courses)
2 Online Courses
8+ Hours
Verifiable Certificate of Completion
Lifetime Access
Analysis with Pivot Tables
Power Pivot in Microsoft Excel 2016
Offer ends in:
TAKE THIS BUNDLE
What you get
Online Classes
Technical Support
Mobile App Access
Case Studies
Online Pivot Table Training
This Pivot Table Certification Training includes  2 comprehensive Pivot  Table Courses with 8+ hours of video tutorials and Lifetime Access. You get to learn how to create Pivot tables and analyze data using them. We also learn creation of power pivot from scratch.
In the modern era, the very important thing considered in the world of social media and eCommerce is data. There are numerous tools available in the market which is used to work with the data in order to process it. The data processing has been considered very critical when it comes to generating raw data into something very useful. Depending upon the amount of data, there are various options available in forms of applications. In some of the applications, we do have some of the specific modules that cover the data processing part and we will see one of them here.

About Pivot Table Training
---
| | |
| --- | --- |
| Course Name | Online Pivot Table Training Certification |
| Deal | You get access to all 2 courses bundle. You do not need to purchase each course separately. |
| Hours | 8+ Video Hours |
| Core Coverage | You get to learn how to create Pivot tables and analyze data using them. We also learn creation of power pivot from scratch. |
| Course Validity | Lifetime Access |
| Eligibility | Anyone who is serious about learning Pivot Tables and wants to make a career in the Data Visualization |
| Pre-Requisites | Basic knowledge about Excel would be preferable |
| What do you get? | Certificate of Completion for each of the 2 courses |
| Certification Type | Course Completion Certificates |
| Verifiable Certificates? | Yes, you get verifiable certificates for each course with a unique link. These link can be included in your Resume/LinkedIn profile to showcase your enhanced skills |
| Type of Training | Video Course – Self Paced Learning |
| Software Required | None |
| System Requirement | 1 GB RAM or higher |
| Other Requirement | Speaker / Headphone |
Pivot Table Course Curriculum
---
In this section, each module of the Pivot Certification Course is explained.
| | | | |
| --- | --- | --- | --- |
| Sr. No. | Course Name | No. Of Hours | Course Name |
| 1 | Analysis with Pivot Tables  | 5 | This Pivot Table Training module will begin with a decent description of MS Excel where you will get to know about the ability of it. After the basic introduction of this, you will get every information about pivot table from scratch so that you can understand the urge of this component of excel. The educator will be explaining all the aspects of pivot table and will train you on how one can leverage pivot table for data analysis. The examples that will illustrate the real use of pivot table will be having some of the random data based on the real life scenario which will be processed further to transform the rough data into useful information. There will be several examples covering all the aspect of it and by the end, you will see the main example that covers the entire analysis part in one go. You can follow the steps suggested in the video to make the working easy with pivot table. |
| 2 | Power Pivot in Microsoft Excel 2016  | 3 | This unit emphasis on the power pivot table. In the entire three and half hours video, the first half hour will be covered to give you the depth overview of how the data has to be processed using the power pivot table. The rest of the hours will be utilized on covering the different topics that falls under this module. Similar to that of the previous unit, there will be lots of examples in the unit that will make learning it very easy for you. Starting from the simple to the complex examples, all of them will be explained in details so that one can understand the topic very efficiently. After the completion of this topic, you will be proficient about working in pivot table and you will find it very easy to process the data in order to generate the useful information out of the raw data. |
| | Total No of Hours | 8+ Hours | |
---
Pivot Tables Course – Certificate of Completion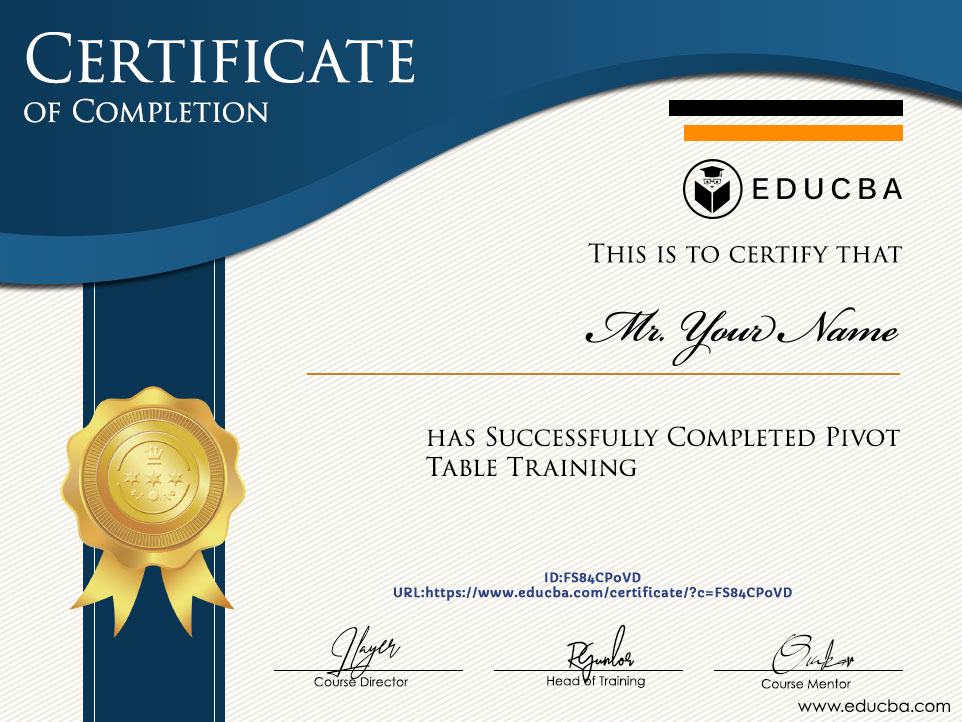 ---
What is a Pivot table?
The Pivot table may be defined as the dynamic table that accommodates the rows and columns in various manners so that the row data can be transformed into some sort of useful information. It is one of the very important components of MS Excel which also facilitates data representation. In order to work with a pivot table, one has to select the concerned cells and then the pivot table option has to be activated or selected in order to get the represented in an efficient manner. One can say that the pivot table is mainly used to make decisions based on data. The way data can be presented using it has been considered as the most convenient one.
A pivot table can also be considered as the tool inside MS Excel which improves the way data can be represented. Whenever data changes in the selected cells, the corresponding value get updated automatically in the section that is representing the data. The important things that have to be taken care while working with the pivot table is, the rows and the columns has to be selected very carefully. There are several points where you will find it enough interesting to work with a pivot table and that is why it has become a very important part of MS Excel.
Which tangible skill you will learn in this Course?
After the data is collected, it has to be represented very efficiently in order to get something out from it which can satisfy the purpose for which the data was gathered. Pivot table helps us to achieve the same by letting us represent the data. So in simple words, we can say that we will be learning how to represent the data using the pivot table. There is various application out there in the market that helps us in presenting the data, but pivot table is considered very simple as it is actually very easy to work with a pivot table in excel as compared to other application. This skill will make you see the data in a manner which can find out the important part of it.
After completing this Pivot Table Training, you will be able to work with the pivot table and will be able to handle the entire process from beginning till the end. This skill will enhance your data representation skills which is considered as the most crucial thing when it comes to making business decisions based on the data. In addition to the data representation, you will also learn other basic things about MS Excel which will definitely help you to when you will start exploring more. As this tutorial demands a good knowledge of MS Excel, you will get to learn a lot about it and you will be enhancing your proficiency as every single module pass.
Pre-requisites
In order to learn the pivot table, you will be supposed to have a good understanding of MS Excel. If you are already working in excel as a professional, you will find it sheer easy to learn pivot table and will be explored more about it. But if you are new to MS Excel, you may take some time to learn it. It is a sure thing that you will end with being a pivot table masker by the end of this Pivot Table Training and all you need is to learn the fundamentals of excel before giving entire focus on the pivot table.
The other important things you should know is how to work with the data and how it has to be represented. It is not any technology to learn how the data could be represented but this is something that comes with experience. The more you will work with data, the more you will find it convenient to represent the data in an efficient manner. You can go through several articles that focus on data representation approaches to enhance your skill to work with the data.
The understanding of graphs will add a plus point to your learning. By using a pivot table, one can draft several kinds of graphs which can be further used to describe the data so that some information can be gathered from that. There are various types of graphs available in MS Excel and all of them can be drafted using the pivot table based on the available data. You can go through the details of those graphs so that you can understand when and how you can opt the correct graph to facilitate the prefect data representation.
Target Audience
The best target audience for this Pivot Table Training is the professional who is already working in MS Excel or other tools that work for data representation. They will learn how excel could be leveraged to work with the data and can contribute to presenting the data in form of graphs. As they would have already worked in presenting data, it will be very interesting for them to get a platform that improves their skills in solving the raw data into useful information. They will be adding some extra edge to their career by learning this skill and will also become ample capable of handling the data from scratch to the advance level where it has to be presented very carefully.
The other best target audience for this Pivot Table Training could be the students who want to grow their career in management. There is no specified stream from which the student has to belong in order to work with a pivot table. Anyone who wants to present data in a perfect way can go with the pivot table. After completing this course, the students will find it very useful when they will move ahead towards internships or applying for jobs and so on. They will open multiple doors of opportunities after completing this Pivot Table Training. In addition to students, the educators who want to explore more about excel can opt for this Pivot Table Training.
Pivot Table Course – FAQ's
---
How long it make take to learn pivot table?
Depending upon your familiarity with MS Excel it may depend on how long you will take to master pivot table. Some of the professional usually takes one month to be proficient in this while some may take more or fewer days than it in order to begin working with a pivot table in actual implementation environment. If you are a student and have a good understanding of MS Excel, you will also find it very easy to learn this and may take around one and half month to begin working with Pivot table.
Why should I learn pivot table?
A pivot table is not just one of the several available tools of MS Excel. Even it is much more than this. By making the use of a pivot table, you can work with the raw data and transform it into useful information. A leaning pivot table is moreover learning all the aspects of excel as some of the components like graphs and so on are included when we learn pivot table. Also, in the contemporary era, it has become very usual for the businesses to make decisions based on the data and here is exactly the point where the use of a pivot table comes in.
Sample Preview
---
Career Benefits
A pivot table is one of the very crucial modules of MS Excel which facilitates the data representation in an informative manner. It is considered one of the important tool within Excel as it covers a lot of other topics as well as inclusive of graphs and other things. One who has good hands-on experience in the pivot table can grow their career in the multinational companies who look for people having good data handling skill. Regardless of the size of the organizations, they use a pivot table to deduce the information from the data which has to be represented to the authorities to make any decision. There are numerous folks having an idea about the working of MS Excel but it is very important to learn the important modules in order to be job ready.
Here in this Pivot Table Training, we have covered each and every topic that falls under the court of the pivot table. The course has been developed in a very informative way so that you can become ready to implement your knowledge of pivot table in the real work environment. After finishing this Pivot Table Training, you will be ready for interviews if you are looking for job or will be ample cognizant about this topic to prove you capable to hold the promotion. You can opt this course if you are all set to give your career wings so that you can make it fly and grow with enough pace. So don't think much, if you are still thinking to opt for it. Just go ahead and start this Pivot Table Training and soon you will see how it helped to shape your career.
Review
---
Very informative course
This course was very useful in gaining some practical understanding of Pivot Tables in Excel. I found the explanations very clear and straightforward. I recommend doing practical exercises while taking this course in order to improve your chance of learning and remembering different aspects of Pivot Tables afterward.
Lucia Lopez
EDUCBA Pivot Table Course
Took the Pivot Table Course. This was a beginner to intermediate course which significantly improved my skills in developing and maintenance of pivot tables. Not only did I learn how to develop and maintenance pivot tables, I also learned some very effective methods for improving the look of spreadsheets. I recommend this course to anyone who has no or minimal experience in excel pivot tables. You will definitely learn from this course.
Joshua Davidson
Power Pivots in Excel Course
Pivot table is a built in feature in excel. This course helped me how to add this feature. Understood how to import data, inserting functions, test connection, change column names, creating a pivot chart with various variables, difference between pivot table and power chart, how to create two pivot charts for the same data, how to create four pivot chats for the same data. Simply awesome course how to create pivot table
Linked
Fredric C
Useful course
I always wanted to learn Pivot tables as my job requires it. This course from eduCBA came in very handy. As far as I am concerned, euCBA courses are more useful to me than Pluralsight.com, Lynda.com or day courses, because eduCBA is far more affordable. Also, new courses are created daily which are very practical.
Linked
Greg Kowalczyk