Learn from Home Offer TAKE THIS BUNDLE
MS WORD Course Bundle - 5 Courses in 1
This Microsoft Word Training Certification includes 5 Courses with 19+ hours of video tutorials and Lifetime access. The aim of this course is to make you efficient and productive in using Microsft Word features.
TAKE THIS BUNDLE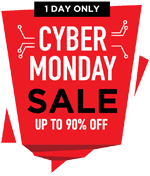 * One Time Payment & Get Lifetime Access
What you get in this MS WORD Course Bundle - 5 Courses in 1?
19+ Hours
5 Courses
Course Completion Certificates
Lifetime Access
Self-paced Courses
Technical Support
Mobile App Access
Case Studies
About MS WORD Course Bundle
| | |
| --- | --- |
| | |
| Courses | You get access to all videos for the lifetime |
| Hours | 19+ Video Hours |
| Core Coverage | Learn formatting text, modifying page layout, proofing documents, etc in Microsoft Word both in Windows and Mac |
| Course Validity | Lifetime Access |
| Eligibility | Anyone serious about learning Microsoft Word |
| Pre-Requisites | None |
| What do you get? | Certificate of Completion for the course |
| Certification Type | Course Completion Certificates |
| Verifiable Certificates? | Yes, you get verifiable certificates for each5 course, Projects with a unique link. These link can be included in your resume/Linkedin profile to showcase your enhanced skills |
| Type of Training | Video Course – Self Paced Learning |
MS WORD Course Bundle Curriculum
---
MODULE 1: Mastering Microsoft Word

| Courses | No. of Hours | Certificates | Details |
| --- | --- | --- | --- |
| Project on Microsoft Word | 1h 56m | ✔ | |
| Microsoft Word - Beginners to Beyond | 5h 2m | ✔ | |

MODULE 2: Microsoft Word Basics

| Courses | No. of Hours | Certificates | Details |
| --- | --- | --- | --- |
| Microsoft Word 2011 for Mac - Word for Mac | 4h 42m | ✔ | |
| Microsoft Word 2013 | 4h 26m | ✔ | |
| Online Microsoft Word 2010 Training Courses | 4h 22m | ✔ | |
| | | |
| --- | --- | --- |
| Serial No. | Course Name | Course Description |
| 1 | Microsoft Word – Beginners to Beyond | This Online Microsoft Word Course starts the training from very basic to beyond basic, so if you are a newcomer and don't know anything then nothing to worry because this is the course tailor-made for you. This will be a 5 hour 28-minute video tutorial. |
| 2 | Project on Microsoft Word | This course will give some of the live projects to work to get practical knowledge about MS Word and this will be covered in 2 hours 1 minute. |
| 3 | Microsoft Word 2011 for Mac – Word for Mac | If you are using the MAC book instead of Windows operating system then nothing to worry because in this category we cover MS Word for the MAC version as well. The version used for this course is MS Word 2011 MAC version. |
| 4 | Microsoft Word 2013 | As we said earlier every version of MS Office will come with some cool features, so in this Online Microsoft Word Course, we will cover the MS Word 2013 version. This will be a 4-hour 36-minute course with advanced concepts of MS Word 2013 version. |
| 5 | Online Microsoft Word 2010 Training Course | This course covers a wide range of concepts of MS Word-like formatting of the word, supporting multimedia elements, ideas of writing text words in MS Word 2010 version, page layout, printing options, and many other things. |
Note: You need not purchase separately rather it will come in a bundle as one and the single course you will get to learn all the above courses.
Microsoft Word certification – Certificate of Completion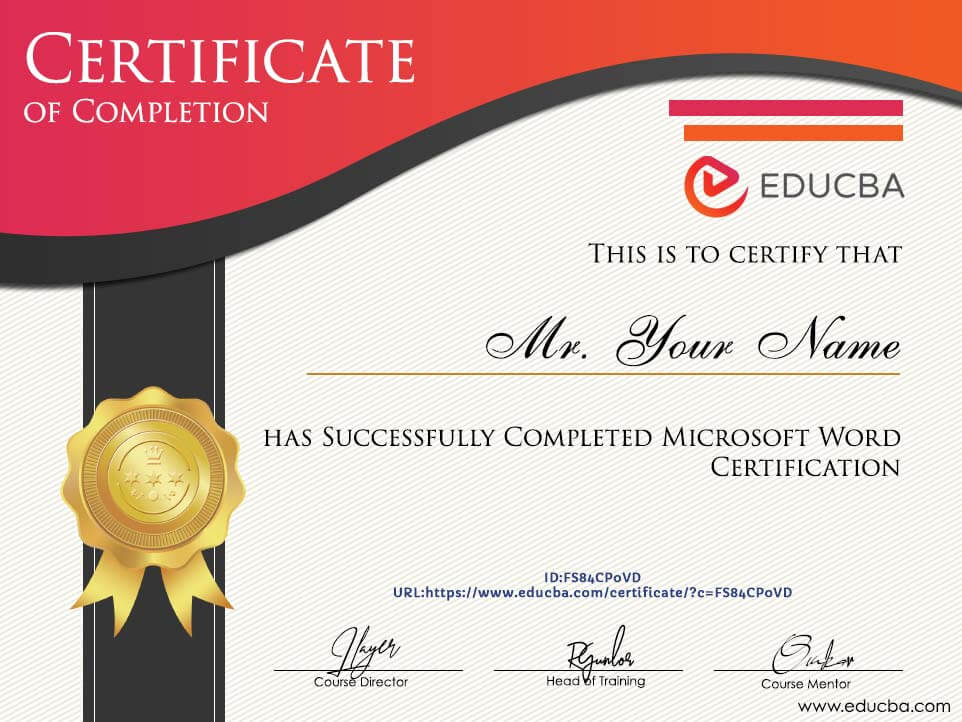 ---
What is Microsoft Word?
Microsoft Word is a product of Microsoft and comes as a part of MS Office tool when you but it as a bundle, so once you but MS Office MS Word will be part of it.
MS Word is designed to frame your letters, envelopes, and drafting many other important documents that require the detailed elaboration of the topic. We can use MS Word to write offer letters, appointment letters, agreements, annexures, project explanations, and many other things that are possible with MS Word.

Which Skills will you learn in this Training
?
Microsoft Word has a wide variety of features, everyone doesn't need to learn everything, so below are the things you will learn with this certification program.
Basic MS Word Introduction: If you are a beginner we will start with a basic introduction to MS Word. This will give an idea to the user about how MS Word looks and its uses.
Basic Text Entering and Formatting: You will learn how to start writing with MS Word with neat formatting techniques.
Saving Document: You will also learn about how to save MS Word documents as Word file and also about other file formats.
Page Layout Design and Modification: Margins are very important concepts of MS Word, so you will learn about page layout designing and modifying the same to make it a neat, clean, and beautiful looking document.
Styles and Themes of MS Word: You will be learning about themes application for MS Word and also different styles applications.
Paragraph Formatting: You will learn about text paragraph formatting because without the correct formatting of paragraph message would be wrongly communicated to the user or reader.
Table Styles of MS Word: When to want to present something in a tabular format you would need to create tables in MS Word, so this course covers all the things you need to know about table style data in MS Word.
Pre-requisites
Microsoft Word Certification requires the following pre-requisites.
Internet Connection: You need to have a strong internet connection because since this is an online course you will be watching videos tutorials, so you need to have a strong internet connection to browse and watch videos.
MS Word Software: You need to have a computer or laptop which has MS Word installed in it, so by watching videos you can practice along with us.
MAC Version Computer: If you want to learn about MAC version MS Word then you need to have MAC computer with MS Word for MAC version.
Passion To Learn: Last but not the least you need to have the passion to learn MS Word, without passion other requisites are irrelevant.
Target Audience
Students: All the students are required to learn MS Word because all the project reports are generated out of MS Word only and you will be in a position to get the job if you know very well about MS Word.
Working Professionals: If you are already working struggling with a lack of knowledge of MS Word then you can take up this Microsoft Word Certification and start your MS Word learning journey with us.
Anybody Interested: If you interested just to learn something new in your life then you can take up this course.
Microsoft Word Certification – FAQ's
---
Can I Access the Course At Any Time?
This is a course that gives you lifetime access, so if you have a laptop and internet connection then you can access the course at a point in time, more importantly, you can learn the course at your own pace.
I am new to MS Word can I take up this Online Microsoft Word Course?
Nothing to worry about if you are a beginner because we start the course from a very basic level only.
How Much Time Should Spend on Weekly Basis?
It depends on your grasping level, if you are a slow learner then you can take your own time.
How Training Can Help Me to My Career?
MS Word is widely used incorporates, there is no doubt that this Microsoft Word training will go waste because you will be using MS Word one or other way for sure.
Sample Preview
---
Career Benefits
Career benefits are huge with course, you will be in a position to use MS Word to the full extent and you will always stay ahead of your counterparts at your workplace. You can draft letters, documents, and agreements with neat formatting and grammar check. As a professional, you will be the go-to person in case of needs of MS Word in your office.
Reviews
---
Recommend!
The course was very well presented. The course outline follows a logical course from beginning to end. Having completed various other Microsoft Office courses, this was an excellent review for me. Having been away from the daily use of Microsoft Office it has helped me jump right back into work. Thank you.
Linked
Richard H. Rihm
Great for Beginners
This was a quick course that gave me a refresher on things I had previously learned about Microsoft Word. I was surprised to learn some new things as well that will be beneficial in the future. I would recommend to those who are not familiar with the program and who would like an easy step by step walk-through.
Linked
Caroline Wiley
Microsoft word debutante
Superb course, easy to understand even if English is not my first language. Good explanation and starts at the base. A course that any neophyte can follow. The lady has a calm voice which makes the course interesting. I recommend it to all, I will certainly follow the next course!
Annie Bélisle
Love the class
I love this class, I had learned a lot from this class. From the beninng I did not know how to use the word now I do, I will recommend to my friend, The class was also inexpensive. The class helped me learned how to find stuff to add pictures on word from google. Please add more courses that I will buy and download.
Alicia Alvarado