Learn from Home Offer TAKE THIS BUNDLE
MS ACCESS Course Bundle - 3 Courses in 1
This Microsoft Access Training includes 3 Courses with 8+ hours of video tutorials and Lifetime access. You get to learn the four main objects of an Access Database such as tables, queries, forms, and reports. You would understand how to customize data and build relational databases to minimize data entry errors.
TAKE THIS BUNDLE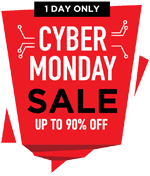 * One Time Payment & Get Lifetime Access
What you get in this MS ACCESS Course Bundle - 3 Courses in 1?
8+ Hours
3 Courses
Course Completion Certificates
Lifetime Access
Self-paced Courses
Technical Support
Mobile App Access
Case Studies
About MS ACCESS Course Bundle
---
| | |
| --- | --- |
| | |
| Courses | You get access to all 3 courses, Projects bundle. You do not need to purchase each course separately. |
| Hours | 8+ Video Hours |
| Core Coverage | Machine learning using Python, Deep Learning, Data Science with R, Face Detection in Python, Bayesian Machine Learning, Business Intelligence, Artificial Intelligence, Projects on Machine learning. |
| Course Validity | Lifetime Access |
| Eligibility | Anyone serious about learning Machine Learning and wants to make a career in this Field |
| Pre-Requisites | Familiarity with at least one programming language is recommended |
| What do you get? | Certificate of Completion for each of the 3 courses, Projects |
| Certification Type | Course Completion Certificates |
| Verifiable Certificates? | Yes, you get verifiable certificates for each course with a unique link. These link can be included in your resume/Linkedin profile to showcase your enhanced Machine Learning Skills |
| Type of Training | Video Course – Self Paced Learning |
MS ACCESS Course Bundle Curriculum
---
The MS Access Course is about the MS Access database management system developed by Microsoft. This course needs a total of 8 plus hours to finish. It contains three sub-courses called MS Access 2016 – Beginners, MS Access 2016 – Advanced and Advanced Database Table Design in Microsoft Access 2016 in the form of hands-on videos. MS Access Training contains a total of 73 videos combining all the three courses. This course is about the basic training on MS Access 2016 version RDBS which is a Microsoft product released into the market. The main contents of this certification are to explain usage, creation, and designing of the database and its schemas.
MS Access Course explains about Beginners and Advanced topics on MS Access 2016 edition along with the advanced database design techniques. It contains three modules and furthers the modules are divided as chapters in the course curriculum that explains clearly about the different topics. The MS Access Course curriculum is designed into three modules with three certifications. The MS Access Training can be accessed offline too upon subscribing to lifetime membership which grants access to All Levels of the course.

---
Microsoft Access Course – Certificate of Completion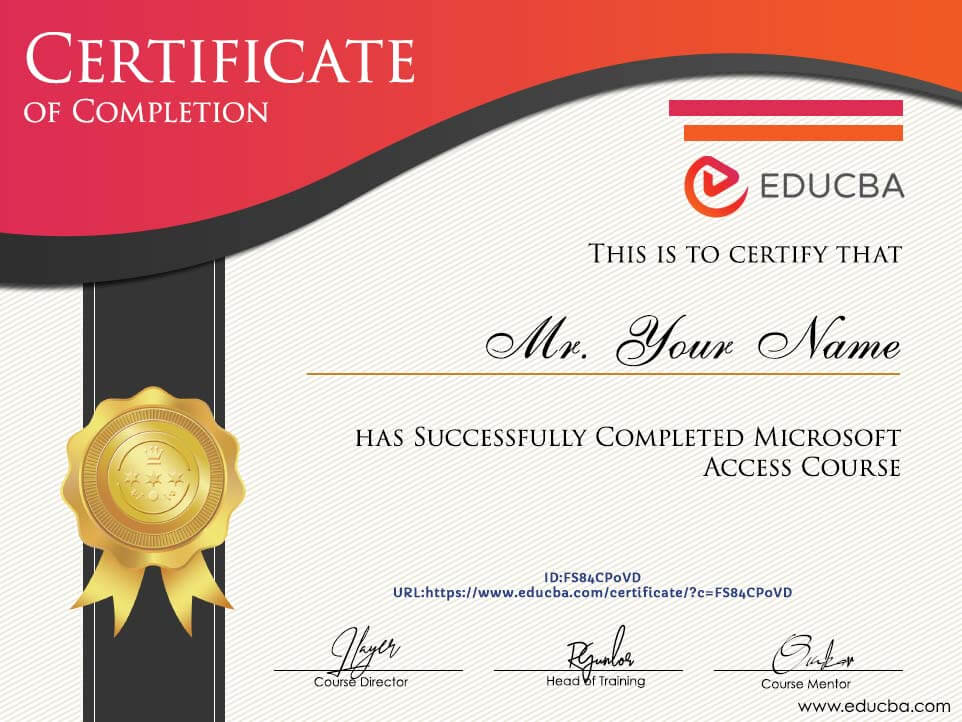 ---
What is MS Access?
Microsoft Access is a database developed by Microsoft Corporation. It was developed by combining the relational database engine and GUI (Graphical User Interface). It was initially released in the year 1992. It supports Microsoft Windows operating system. It was licensed under the Trialware version and just requires a one-time purchase. It is a part of MS Office Suite applications or popularly called as Office 365. It also supports Visual Basic Applications related components. It allows the data model relationships and many other database-related features similar to conventional relational database management systems. The main architectural components of Microsoft Access are such as it can call anything that is of object-based. The typical objects within Microsoft Access are like Tables in the database, Macros, Reports, Queries, Modules, etc.
Microsoft Access being part of Microsoft Office Suite, it has similar features and looks to that of MS Office. The file type extension of MS Access is .accdb in Microsoft Access 2016 where it was .mdb before 2007 edition. Microsoft Access Database is based on desktop and allows to include different types of files such as documents, spreadsheets, different types of formats in a document. Also, there are data import and export functionalities in Microsoft Access 2016.

Which tangible skills will you learn in this Course?
The set of skills which can easily be obtained from this MS Access Course are such as Microsoft Access, Basic database concepts, creating a database, designing a table, Creating Queries, Creating and modifying Forms, Creating and Designing Reports, exporting data and mail merge and Designing Forms, etc.
The several other skills in this Microsoft Access course are such as creation and designing of database and tables or different database components, data model designing, queries and reports generation, usage of macros, etc.
The other skills which can be obtained on completion of this Microsoft Access Course are such as Creating and designing reports, Working with Macros, Column Validation, Converting a Textbox to a Combo box, and Auto Number Columns in MS Access.
The MS Access training also contains a set of tangible skills such as integration of different database or application level components with Microsoft Office Suite related applications or integrating with database object-based components etc.
This MS Access certification contains skills that are required for MS Access developers or Accountants to develop or maintain office related documents using MS Access 2016 edition.
Pre-requisites
Basic knowledge on Microsoft Windows: The Microsoft Access course has few prerequisites such as a basic knowledge of computers and comfortable working on Microsoft Windows operating system environment to work easily with Microsoft Office products.
Knowledge in any Microsoft Office edition or related MS products: Knowledge of the usage of Microsoft Office products like Word, Excel, PowerPoint, or experience with any MS Access previous editions is also an added advantage in easily learning the MS Access 2016 edition. This MS Access Course provides more benefits in terms of usage of the database or as any Data Analyst or Process Associate.
Target Audience
Students or Professionals with MS Access usage experience or want to become Accounting related field: Any student or working professional on MS Access related previous editions or any MS Office Suite related products can opt for this course. It is highly recommended to have some basic knowledge on the usage of the computer in the MS Operating System environment. Anyone interested to work on a database related to the accounting-related profession is an important audience for this course.
Data Analyst or MIS Executives to get expertise on MS Access 2016 Edition: All the Data Analysts or Accountants or MIS Executives are the target audience for this MS Access certification. Anyone with a relative database or data operating or managing skills can choose this course. Any professional who is eligible to opt for this MS Access certification is such as Data Entry Operator, MIS Executives, MS Access users, Account Assistants, etc
MS Access Course – FAQ's
---
Is this Microsoft Access Course recommended for anyone who has basic computer knowledge or it requires any specialization?
Yes, this can be opted by any fresher or any person with basic knowledge on Microsoft Access or any exposure to Microsoft Windows operating system environment for data management or data operating features.
Is MS Access 2016 edition beneficial for existing or previous edition users?
YES, this edition of MS Access 2016 has benefits such as enhanced security features, more functionalities, and easier to handle complex operations in handling and managing the data.
Does this MS Access training add benefits to the learner's profession?
Yes. this MS Access 2016 edition course adds a lot of benefits such as online videos and verifiable certification and lifetime access to the subscribed course package.
Is this MS Access Course a recommended course for the Data Entry or Accountant professionals?
Yes, this MS Access certification is well recommended to all the data entry operating professionals or Accounting professionals or Accounts Executives, and also the database features can be learned from this course which is an additional skill set for any accounting professional. The MS Access certification needs a minimum of 8+ hours to finish learning the course contents.
Sample Preview
---
Career Benefits
The career benefits of this Microsoft Access course are described as below:
The MS Access Course contains the Microsoft related relational database management system features and technologies which is an added career benefit to the subscribers of this course.
Any Accountant or Accounts Executive or MIS Executive or Data Analysts can opt for this MS Access Certification which will benefit the learners such as details about the advanced MS Access database management system features with advanced database objects and elements with several features of developing and maintaining the database components or schemas.
The other career benefits of this MS Access certification are such as – it gives details about the latest MS Access 2016 edition and its security and upgraded database features or importing and exporting data in the form of hands-on videos.
The advantages of choosing this MS Access training are such as any students or professionals can easily understand the course contents and can avail of many opportunities based on MS Access skill set and database related opportunities.
Reviews
---
Microsoft Access 2016 – Beginners
Great course for the basics. I thought I knew all of this but learned a few tricks. It was nice to throw in the mail merge at the end. I know some people will think that it is a bit advanced. It isn't, very easy to accomplish. I will be moving on to the more advanced. I think I know most of it but I want to see some more tricks.
Steven Pilgreen
Comprehensive and easy to follow
This course was very impressive. The instructor provides a clear and concise direction. A great resource for learning the important details of this application. Access has a lot of great features that can be used in numerous business cases. Highly recommend to anyone looking not only to learn but refresh their skills with MS Access.
Linked
Merv McGrath
Great for beginners
It was a great introduction to Access and very helpful. I am much more comfortable with the program now. Although I am not new to some advanced office products, I was a little reserved about using access. The clear format of this training exercise made getting familiar with Access as easy as it could be.
Linked
Don Petry
Microsoft Access 2016 – Beginner to Advanced
Very well laid out course. Some reviews from beginner. I agree with a statement made that there should be a whole course just for macros. That is one I would like as well. I would have enjoyed more on advance forms but that is okay I got a lot out of this. When it came to the spot about automatically sending en email notification I was intrigued with some new ideas for a project I am working on.
Linked
Steven Pilgreen
Comprehensive MS Access 2013 Course
The "Comprehensive MS Access 2013 Course" through eduCBA was very helpful in establishing a thorough understanding of Microsoft Access. The curriculum was well-structured and flowed well, and it was easy to view and learn at one's own pace due to the short duration of each online lesson. The view of the instructor's desktop was adequate, zooming in and highlighting the cursor as necessary, and the audio – once accustomed to the Indian accent – was excellent. I look forward to using my new MS Access skills.
Linked
Christopher D. Geoghegan