Learn from Home Offer TAKE THIS BUNDLE
All-in-One Excel VBA Bundle - 120+ Courses | 110+ Mock Tests | 500+ Hours | Lifetime |
You will learn how you can master all the micro-skills like MS Office, MS Excel (Basic & Advanced), MS Excel for a specific domain, and much more. You will get a verifiable certificate (unique certification number and your unique URL) for each course you complete. These courses will provide the practical knowledge and skills needed to perform excel analysis in the real world.
TAKE THIS BUNDLE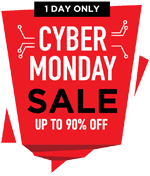 * One Time Payment & Get Lifetime Access
What you get in this All-in-One Excel VBA Bundle - 120+ Courses | 110+ Mock Tests | 500+ Hours | Lifetime |?
500+ Hours
120+ Courses
Mock Tests
Course Completion Certificates
Lifetime Access
Self-paced Courses
Technical Support
Mobile App Access
Case Studies
Skills you will master
Downloadable Excel Templates (200+)
Formulas
Formatting
Conditional Formatting
IF, COUNTIF, SUMIF
Graphs and Charts
Data Analysis
What if Analysis
Pivot Tables
Excel Simulations
Sales Dashboard
Power Excel
My First Macro
Introduction
The All-in-One Excel VBA Bundle from EDUCBA will give you a thorough understanding of MS Excel. The courses are helpful for all profiles, from junior-level employees to top-level managerial positions. The All-in-One Excel VBA Bundle provides a wide range of first-hand experience to acquire industry-relevant skills. They eventually will make you a better fit for the market. Excel is advantageous to employees, employers, and students in many ways. Microsoft Excel boosts students' data management skills. If you know Excel, it increases your chances of getting hired by a reputed company. Employees and employers can benefit from Excel knowledge. Excel is a critical skill that will help you climb up the ladder in your career. Completing this bundle/ some courses from this bundle will help you to acquire the relevant tools required in industry.
Skills You'll Master
---
Excel Formulas & Functions

Building and using advanced formulas like SUMPRODUCT, INDEX, MATCH, and OFFSET
Hands-on with Lookup functions
Understanding what a PIVOT TABLE is and how to build it

Excel Dashboard

Building customized dashboards via data visualization techniques
Understanding excels dashboards basics and utilizing data, charts, graphs, etc.
Learning how to track and analyze learning metrics.

VBA & Macros

Creating custom user-generated functions 

Understanding the user interface by creating toolbars, menus, dialog boxes, and forms
Learning how to structure the VBA code

Excel for Data Analyst

Learning data aggregation, calculating margins and common ratios
Understanding Pivot Tables, Index Match functions, charts, and forecasting trend tools

Building charts for organizing data to make it easy and extract insights.

Excel for Financial Analyst

Creating spreadsheets effectively and navigating through them
Able to track, update, forecast, and provide periodic reports

Understanding popular functions, Valuation equations, and many others

Managing data reports using pivot tables and filtering options.

Excel for HR

Learn the tips and tricks to save the number of hours in resolving the difficulties while doing employee compensation, salary, leave, etc.

Understanding the formatting techniques for converting data from different sources

Getting familiar with essential formulas, making charts, diagrams, and logical functions, and linking the spreadsheets with applications

Learning to automate data by applying advanced techniques to complex data sets.

Excel for Marketing

Learning PivotTables, conditional formatting, and VBA for large data sets to get examined
Able to track monthly statistics, measure the campaigns, and analyze SEO
Learning to import, clean, and organize data with tables, sorting and filtering
Getting acquainted with merging the data with functions like VLOOKUP and XLOOKUP

Microsoft Office

Understanding how to use Word, Excel, and PowerPoint 

Building spreadsheets to perform calculations, conduct analyses, and explore scenarios

Learn to design and construct a database to store, extract, and analyze data

Creating graphical presentations and charts to share data

Statistics and MS Excel

Learn the fundamentals of statistics to plot various types of data
Estimate confidence intervals and calculate correlation and covariance
Test the hypothesis and understand the mechanics of regression analysis

Other Tools and Skills

Shortcuts in Microsoft Excel | Pivot Tables | Graphs & Charts | Financial Functions | Statistical Tools | VBA and Macros|
SmartArt Graphics | Gantt Chart | Power Excel | Reports | Business Intelligence | Financial Analysis | Pivot Tables Presentation | 
Interactive Dashboards | CRM | Business Barcodes using VBA | Financial Modeling using VBA |
Microsoft Word | Microsoft PowerPoint | Microsoft Access | Microsoft Outlook | Microsoft OneNote | Microsoft Sway | Microsoft Visio |
All-in-One Excel VBA Bundle Curriculum
---
| Bundle | No. of Courses | Hours | No. of Mock Tests | No. of Completion Certificates |
| --- | --- | --- | --- | --- |
| Excel for Power Users | 1 | 5+ | | 1 |
| Excel Dashboard Training | 10 | 46+ | | 10 |
| MS Excel Course Bundle - 36 Courses in 1 | 13 Mock Tests | 36 | 137+ | 13 | 36 |
| MS Excel Advanced Course Bundle - 42 Courses in 1 | 15 Mock Tests | 42 | 146+ | 15 | 42 |
| VBA Macros Course Bundle - 18 Courses in 1 | 13 Mock Tests | 18 | 54+ | 13 | 18 |
| MS Excel & VBA for Data Science Course Bundle - 24 Courses in 1 | 10 Mock Tests | 24 | 87+ | 10 | 24 |
| MS Excel VBA & Power BI for HRM Course Bundle - 26 Courses in 1 | 14 Mock Tests | 26 | 122+ | 14 | 26 |
| MS Excel & VBA for Finance Professionals Course Bundle - 28 Courses in 1 | 14 Mock Tests | 28 | 95+ | 14 | 28 |
| MS Excel & VBA for Sales Marketing Professionals Course Bundle - 23 Courses in 1 | 13 Mock Tests | 24 | 89+ | 13 | 24 |
| PIVOT TABLE Course Bundle - 8 Courses in 1 | 6 Mock Tests | 8 | 18+ | 6 | 8 |
| MS ACCESS Course Bundle - 3 Courses in 1 | 3 | 8+ | 6 | 3 |
| MS OFFICE Course Bundle - 13 Courses in 1 | 5 Mock Tests | 13 | 61+ | 5 | 13 |
| MS OFFICE Course for MAC | 4 | 14+ | 5 | 4 |
| MS WORD Course Bundle - 5 Courses in 1 | 5 | 19+ | 5 | 5 |
| Bonus Excel Courses | | 61+ | | |
| Total | 120+ | 500+ | 103 | 120+ |
Excel VBA Course – Certificate of Completion
Build your skills to get Job Ready.
Learning new skills will help you in your professional career to achieve your goals, boost confidence, and motivate you to embark on it. Here is where EDUCBA Excel VBA Course comes to help you enhance your knowledge to improve and build your portfolio for your desired job role.
Earn & Share your accomplishment.
To assist you in starting your career, you can share the certificate with your professional network on Linkedin once you complete each of the course.
---
Pre-requisites
Willingness to learn this comprehensive course: Not all would be willing to commit to this huge course. But if you're not committed, you won't get the best value out of this Excel VBA course.
Basic individual domain knowledge: Not all courses need any prior knowledge. But for domain-specific courses, you need to have a basic domain knowledge so that you don't get stuck while learning the material.
Target Audience
Students: Students from finance, HR, or marketing domain can do this Excel VBA course. They will not only learn the nitty-gritty of Excel of their domain but can try their hands on other courses as well.
Professionals: Professionals from HR, Marketing, or Finance domain can go for this comprehensive course. They will also be able to master their domain (excel) and also get great insights from the additional courses.
Entrepreneurs: As entrepreneurs, you need to be the jack of all trades. Doing this Excel VBA training will help you learn many valuable micro-skills that may help you in your entrepreneurial journey.
FAQ's- General Questions
---
How do a novice get started with Microsoft Excel?
Novices who wish to learn MS Excel should begin with the fundamentals. After you've mastered the fundamentals of MS Excel, you may go to more complex topics.
Is there any validity for this All in Once Excel VBA Course?
Once you've registered for the course, you can access it whenever possible. You will always have access to the video recordings and reference materials.
Can I download the course's reference materials?
Absolutely! You can download every excel file required for a course. Look for a module in the course dashboard that lists downloadable reference files.
What about group discounts or Corporate Training?
Yes, EDUCBA offers corporate trainings and group discounts. Send an email with your inquiry to [email protected] for more information. We provide discounts in accordance with the terms and conditions depending on the group size.
Why should I do this Excel VBA Certification?
EDUCBA Excel VBA Certification is the most robust and comprehensive course available. It will help you become a Microsoft Excel expert and will help you to get a career in the field as its advanced course.
I'm yet to start my professional life, can I do this Excel VBA Certification Course?
Why not? It will add immense value to your professional growth if you take this course. It will keep you ahead of your peers.
Why do you think this is the best Excel VBA training in the market?
It is a comprehensive, detailed course with engaging video tutorials and reference materials to train you on the Excel VBA aspects. It will help you raise your market productivity level, immensely building your career prospects.
Sample Preview
---
Career Benefits
You will reach a higher rung quite easily: This course will help you get a promotion quite easily and you would one of the best people your employers would ever get.
You will an expert on your subject: Whenever we can use our right and left brain together, we're able to master the subject and situations around us. After learning this Excel VBA training course, you would be able to use your left brain quite well (think data) and as a result, you would be an expert on your subject.
How will this course help you to win job offers?
Excel is one of the most demanded skills in today's growing market. It opens many job opportunities for individuals who are experts in this skill. We have listed a few jobs that make use of Excel to give you a head start in your career: 
Financial Professionals:-
Finance professionals should have MS Excel knowledge inside out. It will help you evolve competitively for any finance job and crack all the assignments with confidence. Knowledge about spreadsheets, pivot tables, filtering, and popular functions VLOOKUP and SUMIFS will help you to become competent. Moreover, it will help you to make investment decisions.
Administrative Assistant:-
Excel is also useful for administrative tasks, including tasks such as bookkeeping, generating reports, invoicing, contacting suppliers, paying bills, and many more. Advanced Excel Skills helps individuals working in administrative jobs to help them make themselves marketable and gain an edge over the competition.
Business Analysts are primarily responsible for defining strategy, creating the enterprise architecture, defining goals, and improving business processes. Advance excel functions such as Macros, conditional formatting, histogram, data validation, and analysis can help fetch important information to make better decisions.