Learn from Home Offer TAKE THIS BUNDLE
Excel Course in Mumbai (23 Courses, 9+ Projects)
23 Online Courses
9 Hands-on Projects
110+ Hours
Verifiable Certificate of Completion
Lifetime Access
Microsoft Excel 2016 - Beginners
Microsoft Excel 2016 - Advanced
Mastering Microsoft Excel Date and Time
Pivot Table for Beginners
Project - Analysis with Pivot Tables
Offer ends in:
TAKE THIS BUNDLE
* One Time Payment & Get Lifetime Access
What you get in this Excel Course in Mumbai?
Online Classes
Technical Support
Mobile App Access
Case Studies
About Excel Course in Mumbai
| Course | | No. of Hours |
| --- | --- | --- |
| Microsoft Excel 2019 - Master Basic Excel Skills in 6 Hours | | 6h 3m |
| Learn Microsoft Excel 2019 from A-Z: Advanced Level | | 9h 21m |
| Advanced Excel 2019: Essentials for the Real World | | 3h 25m |
| Microsoft Excel: Master the Essentials | | 4h 36m |
| Excel Crash Course: Master Advanced Excel for Financial Analysis | | 5h 38m |
| Basic Microsoft Excel Training (Most Popular Since 2010) | | 4h 8m |
| MS Excel 2010 Training Course: Advanced | | 8h 15m |
| Excel 101 - Basic Excel for 2013 and Later Versions | | 4h 1m |
| Master Advanced Excel - For 2013 and Later Versions | | 11h 11m |
| Advanced Excel Formulas | | 2h 26m |
| Mastering Microsoft Excel Date and Time | | 2h 41m |
| Shortcuts in Microsoft Excel | | 24m |
| Pivot Table for Beginners | | 1h 28m |
| Project - Analysis with Pivot Tables | | 4h 56m |
| Advanced Excel | | 2h 3m |
| Power Pivot in Microsoft Excel 2016 | | 3h 31m |
| Power Excel Training | | 5h 15m |
| Microsoft Excel Reports | | 8h 23m |
| Graphs & Charts in Microsoft Excel 2013 | | 2h 6m |
| Microsoft Excel Charts and SmartArt Graphics | | 6h 4m |
| Financial Functions In Excel - Microsoft Excel 2013 Course | | 2h 36m |
| Statistical Tools in Microsoft Excel | | 1h 11m |
| Project - Microsoft Excel Simulations Training | | 2h 15m |
| Project - Building Dynamic Heat Map in Microsoft Excel 2016 | | 1h 15m |
| Microsoft Excel Solver Tutorial | | 48m |
| Comprehensive VBA and Macros Training | | 10h 43m |
| Project - Microsoft Excel Dashboard Training | | 5h 45m |
| Project - Sales Productivity Dashboard | | 6h 41m |
| Project - Creating Sales Dashboard using Microsoft Excel | | 1h 3m |
| Project - HR Dashboard using Excel | | 5h 56m |
| Project - Advanced HR Dashboard | | 8h 15m |
| Working with Pivot Tables Presentation | | 3h 7m |
---
| | |
| --- | --- |
| Course Name | Online Excel Course in Mumbai |
| Deal | You get access to all 23 courses, 9 Projects bundle. You do not need to purchase each course separately. |
| Hours | 110+ Video Hours |
| Core Coverage | You will learn Excel Functions, Formula, Charts, and Graphs, formatting, pivot tables, power pivot, power excel, excel dashboard creation, simulations, statistical tools, financial functions in excel |
| Course Validity | Lifetime Access |
| Eligibility | Anyone who is serious about mastering Microsoft Excel |
| Pre-Requisites | None |
| What do you get? | Certificate of Completion for each of the 23 courses, 9 Projects |
| Certification Type | Course Completion Certificates |
| Verifiable Certificates? | Yes, you get verifiable certificates for each course with a unique link. These link can be included in your resume/Linkedin profile to showcase your enhanced skills |
| Type of Training | Video Course – Self Paced Learning |
| Software Required | None |
| System Requirement | 1 GB RAM or higher |
| Other Requirement | Speaker / Headphone |
Excel Course in Mumbai Curriculum
---
There is so much to learn in Excel since Excel has so many in-build tools and features that not everyone is aware of. Through this course, we will unfold all the useful functionalities of Excel which would make your work life easier. Here is the description of what all you will learn in this course.
Section 1: At first, we will cover some courses based on different versions of MS Excel to cover the most common and widely used amazing Excel features and tools. To have a better concept clarity there will be several projects.
Section 2: The focus of the second part of the course would be to cover pivot tables. From pivot training to Excel reports, you will cover them all through some interesting lectures.
Section 3: Data presentation skills become very important and there are several tools in Excel that can help you achieve these skills. In this section, you will learn about graphs & charts, smart-art graphics, statistical tools, and some important financial functions.
Section 4: Once you have covered individual courses, it is the time to practice all the concepts through different projects. You will go through several projects in this section. Also, there will be advanced training on VBA & macros, along with pivot tables.
Excel Course in Mumbai – Certificate of Completion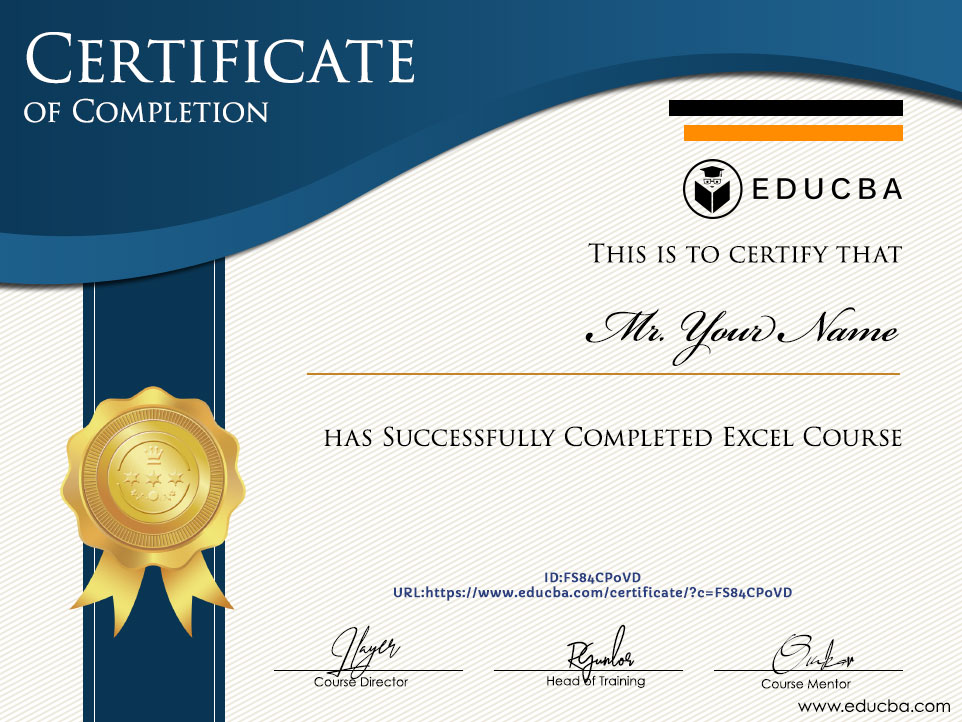 What is Excel?
Excel is an application provided by Microsoft Office like a spreadsheet that helps in storing, collecting, organizing, and presentation of data. There are a lot of hidden features in Excel. Well not hidden, but yes, many people are not aware of these features. Through this course, you can unfold all such features which would make your work easier. There are different terminologies in Excel that you might not be aware of. Hop on to this course to learn them all and stand out as an Excel expert. Nowadays, Excel has become an important application to survive in the business world as its use is spread in every industry. This course will help to know about various tools that you can apply in your practical lives for getting an edge in career.
What skills will you learn in this Course?
Although the list goes on, but to enumerate some of the skills, you will learn the following skills:
MS Excel: You will get to know the most commonly used features as well as shortcuts of different versions of MS Excel such as MS Excel 2016, MS Excel 2010, and MS Excel 2013.
Pivot Tables: Pivot tables are a useful tool in Excel which helps in better presentation of data which makes the analysis of data easier. Through this course, you would learn the working and use of pivot tables.
Graphs and Charts: Being in the corporate world, it becomes important to update your presentation skills. Graphs and charts are widely used in Excel for a better presentation of data; the course will help you gain useful insight into the creation and usage of graphs and charts in Excel.
VBA & Macros: A comprehensive training will be conducted to develop skills of VBA and macros in Excel.
Shortcuts: Shortcuts help you work smartly and complete your calculations and other functions in less time. Learn important hacks and shortcuts in Excel through the course.
Pre-requisites
Here is a list of what all is required from your end for preparing yourself for this Excel Course:

Microsoft Excel installed: This is going to be an online course with video lectures. So, as a bare minimum, you must be having a personal computer or a laptop with a good internet connection so that you can take these video lectures.

PC with good speed internet: The course is based on MS Excel. If you want to learn as you undertake the training, it is better that you install the MS Excel so that you can relate yourself to what is being taught in the lectures and practice at your end.
Target Audience
We plan to provide training to the following audiences through this course in the context of MS Excel:

Students: Being a student means you are in the early phase of your career. It's a learning stage and taking up this course at this stage will help you improve your overall growth prospectus when you try for jobs later.

Professionals: Many professionals struggle with their Excel skills even today. Updating your Excel skills will help you stand out as a professional and therefore, take up better opportunities.

Entrepreneurs: Running a business requires good data analysis on your part. Excel is an application that lets you mine data and extracts meaningful analysis. This course will update you about the important functionalities of Excel.
FAQ's- General Questions
---
Why should I take up this Excel course in Mumbai?
You should consider taking up this course because it would update you about important functionalities and tools of Excel which would help you in your work life irrespective of the field or industry you are working in.
How this course can help me in my career?
Excel is an application that everyone must know, irrespective of the job profiles. This course will help you understand what are the different shortcuts, functions, as well as tools in Excel that you must know in your professional life.
I am a beginner in Excel; shall I join this course?
If you are a beginner in Excel, you need not worry. This course will help you achieve a rich experience in Excel.
Will I get any certificates for this course?
The successful completion of the course entitles the attendees to get a participation certificate from us.
Career Benefits
Ease in Excel: By the end of the course, you would be having a level of comfort in using Excel and you would be aware of the different functionalities of Excel. This would make your work easier.
Better pay scales: This training will give you a very good learning experience in Excel which would make you stand out against the other candidates. You would be able to command better pay scales this way.
Better job prospects: Organizations look for persons who are having good Excel skills especially for some profiles such as that of a financial analyst. Thus, if you enhance your Excel skills then definitely you will be able to get better jobs.

Why should you take the Excel Course in Mumbai?

As we all know that MS Excel is a widely used application in all organizations, it is important to update yourself about Excel skills. Taking this course would help you gain hands-on experience in Excel with the aid of several projects. Be it data processing, report making, or complex financial functions, you would need Excel for processing them in a quick time. That's why we suggest that you take up this course.

What is Excel Trend in Mumbai?

The demand for Excel work is well in Mumbai. All corporations, be it small or big, look for candidates that are well-versed with Excel. Such candidates can process data in a really quick time and an efficient and easy manner. So, it is better that you develop good Excel skills so that your proficiency in Excel improves. This course comes to your rescue for the same.