$149$39960% Off TAKE THIS BUNDLE
Sony Vegas Pro Tutorial
11 Online Courses
77+ Hours
Verifiable Certificate of Completion
Lifetime Access
Sony Vegas Pro:01 - An Overview

4h 39m

Sony Vegas Pro:02 - Interface Window

2h 48m

Interface Timeline and Shortcuts

4h 15m

Preferences and File Types

4h 23m
Offer ends in:
$149
$39960% Off
TAKE THIS BUNDLE
Skills you will master
Sony Vegas ProInterface Window
Interface Timeline
Preferences and File Types
Editing Functions
Scripts
Montage Creation
Masking
Media Generators
Cookie Cutters
Titler Animation
Track Motion Animations
VFX Animations
Online Sony Vegas Pro Tutorial
This Sony Vegas Pro Tutorial is a comprehensive bundle which includes 11 comprehensive Sony Vegas courses with 77+ hours of video tutorials and Lifetime Access. You will also get verifiable certificates (unique certification number and your unique URL) when you complete each of the 11 courses.
Sony Vegas Pro is one of the most versatile Video Editing Software available in the Market today. What is unique about Vegas Pro is that its a Multi Utility Software with the help of which you can Edit Videos, Edit Audio, Create Composites, Colour Correct Video. So this Sony Vegas Tutorial has been designed keeping these four elements in mind. After a basic introduction to the Software and its workings, you will be gradually taken in-depth into the various aspects of Multi-Layered Video Editing, Multi-Layered Audio Editing and Mixing, Multi-Layered Video Compositing, Colour Correction and Colour Grading.
About Sony Vegas Pro Tutorial
---
Course Name
Online Sony Vegas Pro Tutorial Bundle
Deal
You get access to all 11 courses bundle. You do not need to purchase each course separately.
Hours
77+ Video Hours
Core Coverage
Sony Vegas PRO Overview, Interface Window, Interface Timeline and Shortcuts, Preferences and File Types, Editing Functions, Scripts and Montage Creation, Masking, Media Generators & Cookie Cutters, Titler Animation, Track Motion Animations, and VFX Animations
Course Validity
Lifetime Access
Eligibility
Anyone who is serious about learning Vegas Pro and wants to make a career in Video Editing
Pre-Requisites
Basic knowledge of using editing software
What do you get?
Certificate of Completion for each of the 11 courses
Certification Type
Course Completion Certificates
Verifiable Certificates?
Yes, you get verifiable certificates for each course with a unique link. These link can be included in your Resume/Linkedin profile to showcase your enhanced Video Editing skills
Type of Training
Video Course – Self Paced Learning
Software Required
 You can download the software from the official website
System Requirement for Vegas Pro

Microsoft® Windows 7 (64-bit), Windows 8 (64-bit) or Windows 10 (64-bit)
2.5 GHz 4-core processor (3 Ghz and 8 cores recommended for 4K)
8 GB RAM minimum (16 GB recommended; 32 GB recommended for 4K)
1.5 GB hard-disk space for program installation; Solid-state disk (SSD) or high-speed multi-disk RAID for 4K media
Supported NVIDIA®: For hardware rendering (NVEnc), GeForce 9XX series or higher with 4 GB; AMD/ATI®: Radeon with 4 GB and VCE 3.0 or higher (Radeon Pro series with 8 GB for HDR and 32 bit projects) or Intel®: GPU HD Graphics 530 series or higher
Microsoft .NET Framework 4.0 SP1

Other Requirement
Speaker / Headphone
Online Sony Vegas Pro Tutorial Curriculum
---
Let's have a look at the Sony Vegas Pro Tutorial in detail below:
| | | |
| --- | --- | --- |
| Serial No. | Course Name | Course Description |
| 1 | An Overview | As the name suggests, this Sony Vegas tutorial is all about the overview or we can say an introduction to Vegas Pro 13. There are two main sections covered in this lecture. The first being the introduction which focuses on how to download the software and software Essentials. The second section is on Top Menu & Toolbar, which consists of Paste Event Attributes, Adding Rays, Navigation, Time-stretch, Loudness Metres, Compositors, Audio and Video Track, Slip All Takes, Automatic Cross Fades and other toolbar menus. |
| 2 | Interface Window | In this chapter, we will learn about the Vegas Interface Window. The topics covered in this module are Customizing Toolbar, Project Media Window, CD info, Transitions Window, Transitions Pack, Media Generators, Video Output FX, insert a Maker in Video, Copy Snapshot to file, Closed Captioning, Audio Master Bus Window. |
| 3 | Interface Timeline & Shortcuts | In this session, we learn about the Vegas Pro Interface Timeline, which consists of Insert Envelopes, Mute & Composite-Level, Track Headers, Track Effects, Change in Transitions, Timeline Options of Vegas Pro, Option in Video & Audio, Track Level, Channelization of Tracks, Bottom Toolbar of Vegas Pro. The 2nd main topic is Vegas Pro Keyboard Shortcuts, this includes chapters on Edit Shortcuts, Customization of shortcuts & toolbar, Customization of Keyboard, Vegas Pro Help. |
| 4 | Preferences File Types | This Sony Vegas pro course has three main sections. The 1st section is about Vegas Pro Preferences, which teaches about General Settings Tab, Video Tab Settings, Thumbnail Settings, Video Preview & Video Scope Settings, Audio Settings and other Options & Preferences. The 2nd sections are about the Top Menu & Vegas Pro Folder Structure & File Types, which teaches about the Types of Associated Vegas ProFiles. The 3rd main section is about the Top Menu & Vegas Pro Organizing Workspace which tells us about Tagging, Creating Quick Tags, Organizing Docks, Floating Docks, Organizing Windows Layout, Keyboard Shortcuts, importing files, Organizing files & Workspace. |
| 5 | Editing Functions | In this Sony Vegas tutorial, we learn about Adding Tracks & Events to Timeline, Basic Editing Functions, Basic Edit Tutorial, Multi-Camera Editing, Editing with Proxy File. |
| 6 | Scripts & Montage Creation | In this module, we learn about Working with Vegas Pro Scripts, Working with Inbuilt Transitions, Video Event Pan & Crop, Montage Creation Exercise. |
| 7 | Masking | In this Sony Vegas tutorial, we learn about the Basics of Masking, which teaches us about the different shapes used in masking, Multiple Masks, Freehand Masking, & Editing the masks. Next, we study about the Advanced Animated Masking, which teaches us about Animated Mask, Adjustments, Editing the character, Rhythm of the Mask, Keyframe Animation, Fine Tune in Masking, Path Selection. Next, we learn about the Pan, Crop and Masking. |
| 8 | Media Generators & Cookie Cutters | This chapter teaches about the Media Generators, which have topics on Solid Color Media Generator, Checkboard Media Generator, Animated Graphic Checkboard, Recomposing Frame, hit film Settings, Scaling the rays. Next, we study about Working with cookie cutter. Then moving further, we learn about Montage Exercise with Cookie Cutters. |
| 9 | Title Animation | In this Sony Vegas tutorial, we learn about the Media Generator Titles, Pro Type Titler Animation, Credit Roll, Working with BCC Type on Text, Working with Effects, Working with Text and Titles. |
| 10 | Track Motion Animation | In this chapter, we learn about the Working with Compositing and Track Motion, Working with Track Motion Animation, 3D Track Motion & Compositing, 3D Track Motion Animation, Creating Parent & Child Animated 3D Composites & Margins and Box Player. |
| 11 | VFX Animation | In this final Sony Vegas Pro Course, we learn about the Introduction and Working with Sony VFX, Working with RSMB and Neat Video Plugins, Working with Hit Film Plugin & Working with BCC VFX Plugins and BCC Particles. |
---
Certificate of Completion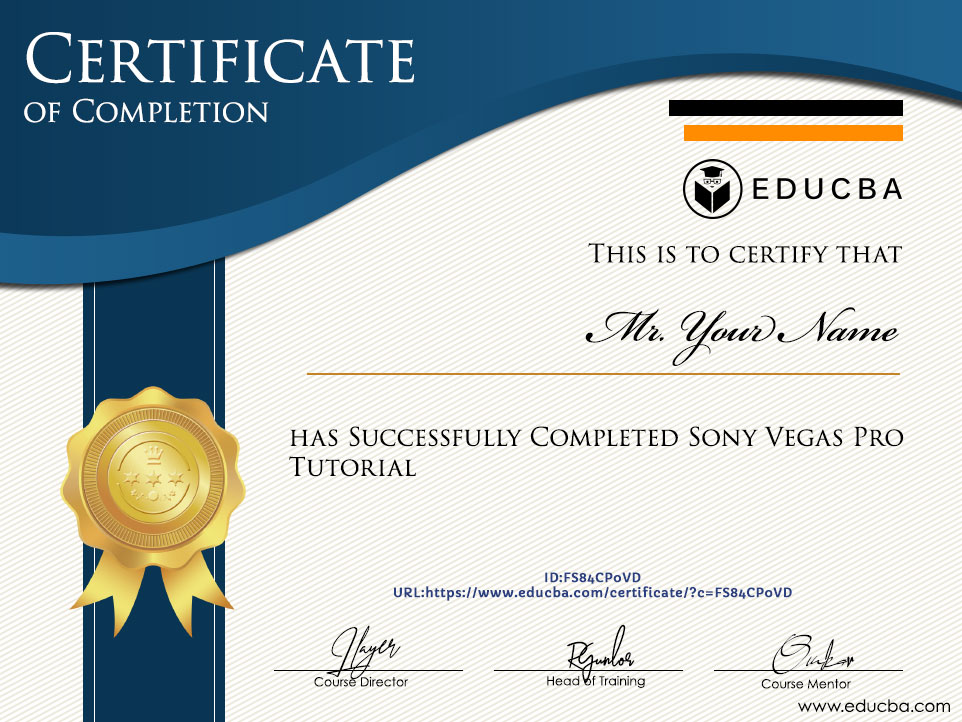 ---
What is Sony Vegas?
Sony Vegas Pro is a Non-linear Video Editing Software Package. It was originally published by Sonic Foundry in 1999 which is now owned by Magix. When it was developed, it was used as an audio editor, later it developed into an NLE for both video and audio. Some of the major strengths of the software is that the software comes with great professional features, it has Useful Plugins, Collaborative app & is also affordable as compared to other editors.
The Vegas Pro Connect is an iPad app that has replaced the written spreadsheets and notes to efficient online & offline review workflows. This app has been specially designed to help people improve their collaborative performance.
The NewBlue FX Video Essentials included in the software enhances one's project in the VFX areas it consists of 100 presents in 10 different plugins. When we face issues with missing files while editing a project we can use a feature included in the software called Project Archiving which helps the user to archive the media associated with the project or the media used in the timeline. Work Flow of Vegas Pro software is considered to be among the best in the world along with software flexibility and customization options.
For a more faster editing experience, a Multi-tool paradigm can use that helps in organizing the most frequently used tools and keeping them in a pop-up menu located directly below the timeline. Sony Vegas has some real-time features like multitrack video and audio editing on unlimited tracks, resolution-independent video sequencing which makes it different from other editors.
Which skills you will learn in this Sony Vegas Tutorial?
This Sony Vegas Tutorial is an in-depth comprehensive course which teaches every aspect of Editing Audio and Video projects with Vegas Pro. This training offers the learner to study the techniques and process easily and logically, and by learning these editing techniques, the learner can improve their skills at a high level. This program would increase the knowledge of learners on Editing, Audio Mixing, Compositing, Image Animation, Color Correction & Color Grading.
Students will learn to organize the project files in the software, learn an efficient workflow for editing with Sony Vegas and choosing the right effects in the program. With this training, the students will be able to have a clear understanding of the interface, various commands & tools, working with videos and audios and rendering the files.
Some of the skills that the leaner covers in this training are Interface Timeline, Editing Functions, Scripts, Montage Creation, Masking, Media Generators, Cookie Cutters, Title Animation, VFX Animations.
Requirements / pre-requisites to this Sony Vegas 
Tutorial
---
Basic knowledge about Computers is a must with internet connectivity.
A passion for learning Audio & Video Editing with lots of ideas and patience is definitely a much-needed pre-requisite before starting this Sony Vegas tutorial. There should be a desire and dedication to study the software through this course, then only the results would be positive.
Basic knowledge of Audio & Video editing tools is also required before the students start using this training. Since the training is based on workable knowledge teamed with various demonstrations and skills, the student needs to have a prior understanding of the minor basic needs of editing.
Target Audience for this Sony Vegas Pro Tutorial
---
This Sony Vegas tutorial targets huge audiences who are willing to learn Advanced and Professional Audio & Video Editing with Sony Vegas Pro 13.
The Sony Vegas tutorial is aimed at the audiences who are dedicated to learn and grasp the skills in no time.
Students & Professionals who wish to become Editors & Visualizers can take this training.
Film Editing students and professionals can also take up this Sony Vegas Tutorial.
Sony Vegas Tutorial FAQ's- General Questions
---
Will this Sony Vegas Tutorial help me to grow my Career?
Yes. It is a career based training, aimed to teach different methods of Audio & Video Editing and it will help you to create Fantastic videos and professional quality video presentations. If you take up this course you will not only learn the software but also obtain command over the various methods and process of Digital Video Editing, which in turn will automatically open many career opportunities.
Will this Sony Vegas Pro Tutorial teach me about the scripting with Vegas also?
Yes, this course is included with lectures that teaches scripting and about Codecs in depth.
Can i make a career as a VFX Artist by learning this Sony Vegas Tutorial?
Yes, why not. This training includes lectures on Advanced editing and effects. It also teaches us about the VFX Animations. So, I would say yes you can positively go for the desired job.
Career Benefits of this Sony Vegas Pro Tutorial
---
Sony Vegas tutorial is a career-oriented training that particularly aims at enhancing the skills and providing the learner to comprehend many various strategies of learning Audio & Video Editing through this course. This training aims to give the Participants a solid familiarity with many of the tools in Sony Vegas and to start creating their own polished and professional video presentations.
In this Sony Vegas Tutorial, we all will learn skills that will not only provide a boost to our careers but also will help us to design our future. Despite, the fact that learning Editing using Sony Vegas Pro 13 is a challenging software to learn, this training provides techniques and methods that describes everything with great ease and simplicity. The choice of career and the ability to use their capability & skills is in the hands of the learner.
This Sony Vegas tutorial opens many possibilities for the students and professionals to choose from various career options. From Beginners to experienced participants, anyone can take up this course who is interested in learning Audio & Video Editing using Sony Vegas Pro 13. Learners can go for jobs like a Data Analyst, Audio Video Editor, 3D Artist, Roto Artist, 3D Visualizer, Motion Graphic Designer and Animator.
Sony Vegas Pro Tutorial Reviews
---
Vegas Pro 13 Course
This course basically is about the Sony Vegas software which teaches us how to use the software many other things and it also gives information related to video cropping which very useful. The course is full practical oriented which makes you literally PRO is using this software. M very much satisfied with this experience of training.
Linked
Manisha vijay Chaddi
Sony Vegas Software
I loved the sony vegas course. It provided me with so much important information. It even had the minute details in it. It was beautifully & well-explained with limited video timings. I would like to enroll myself in many more courses. It covered almost all the content from the introduction till about the software.
Linked
Shaza Aijaz Ahmed
Informative Course.
For the professional video editor, this video tutorial gives a proper introduction of sony vegas editor and teaches the lesson on interface. This module ended abruptly which indicates that this tutorial is just the introduction. It interested me in learning something new in the form of video editor. Thankyou.
Linked
NABENDU KUMAR DEB