Learn from Home Offer TAKE THIS BUNDLE
SOLIDWORKS Course Bundle - 7 Courses in 1 | 3 Mock Tests
This Online Solidworks Training Certification is a comprehensive bundle which includes 7 Courses with 20+ hours of video tutorials and Lifetime access and several mock tests for practice. You will also get verifiable certificates (unique certification number and your unique URL) when you complete each of them. Through this course, you shall learn product design, engineering functions in Solidworks.
TAKE THIS BUNDLE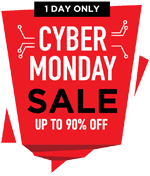 * One Time Payment & Get Lifetime Access
What you get in this SOLIDWORKS Course Bundle - 7 Courses in 1 | 3 Mock Tests?
20+ Hours
7 Courses
Mock Tests
Course Completion Certificates
Lifetime Access
Self-paced Courses
Technical Support
Mobile App Access
Case Studies
About SOLIDWORKS Course Bundle
---
| | |
| --- | --- |
| | |
| Courses | You get access to all 7 courses, Projects bundle. You do not need to purchase each course separately. |
| Hours | 20+ Video Hours |
| Core Coverage | Complete understanding of Solidworks tool and also you would understand product design, engineering functions in Solidworks with application |
| Course Validity | Lifetime Access |
| Eligibility | Anyone serious about learning Solidworks and wants to make a career in this Field |
| Pre-Requisites | Basic knowledge about designing would be preferable |
| What do you get? | Certificate of Completion for each of the 7 courses, Projects |
| Certification Type | Course Completion Certificates |
| Verifiable Certificates? | Yes, you get verifiable certificates for each course with a unique link. These link can be included in your resume/Linkedin profile to showcase your enhanced skills |
| Type of Training | Video Course – Self Paced Learning |
SOLIDWORKS Course Bundle Curriculum
---
In this section, each module of the Solidworks Training Course is explained:

MODULE 1: SOLIDWORKS Essentials

| Courses | No. of Hours | Certificates | Details |
| --- | --- | --- | --- |
| SolidWorks - Beginners | 2h 56m | ✔ | |
| SolidWorks - Intermediate | 1h 55m | ✔ | |
| SolidWorks - Advanced | 4h 37m | ✔ | |

MODULE 2: Projects based Learning

| Courses | No. of Hours | Certificates | Details |
| --- | --- | --- | --- |
| SolidWorks Case Study - IC Engine Drawing | 2h 44m | ✔ | |
| SolidWorks Case Study - Oil Tank with Stands Layout | 2h 03m | ✔ | |
| SolidWorks Case Study - Kids Bicycle Design | 4h 9m | ✔ | |
| SolidWorks Case Study - Design of Multi-Utility Tool | 2h 9m | ✔ | |

MODULE 3: Mock Exams & Quizzes

Courses
No. of Hours
Certificates
Details
Test - Solidworks Test Series
Test - Solidworks Mock Exam
Test - Solidworks Assessment Exam
Goals
Solidworks training is a practical course that teaches learners about the use and application of Solidworks. The program is computer-aided design software used to create 3d and 2d models and architecture. The software is very useful in creating architectural and commercial blueprints into 3d and 2d models.  Therefore, the sole aim of this training is to teach and prepare the participants with Solidworks.
Objectives
The software helps to be involved in creating 3d models of various products and services and test these products within the software itself. Solidworks saves a lot of time and money in the basic fundamental testing of those products in the real world. The learners may take up this course at any point in time in their careers. Whether beginners or professionals, this course is designed to help the students taking up this course irrespective of their levels of prior understanding.
Since Solidworks has a friendly user interface and toolset, it may not be very difficult for students who are already from a 3D background to learn and master the program with this training.  This training is designed in three sections where the 1st section is the theoretical part and the rest two are the practical projects on the same.
The core objective of this course is to make the learners understand the basics of the program and create a bridge between the software and the learner.
Course Highlights
The course of this training has been divided into major three sections. Where the 1st section is based on theory and learning based on concepts and principals. While the last two sections are project-based that emphasis on practical knowledge and understanding. Let us take a look at the highlights of the first section of the course:-
The 1st lesson in this section is based on the beginner level of understanding. In this lesson we will learn the very basic knowledge of the interface and workflow of the program with a detailed introduction. This lesson teaches us about the basic tools used for creating 3d solid models and converting the blueprints into models. So, in this lesson we learn about the Mouse and format, Extrude properties and features, some 3d functions such as fillet and Loft, revolved base and cut, and creating the rectangle and circular sweep patterns.
The 2nd lesson of this section is for intermediate students and learners. Moving a little deeper within software applications in this lesson, which teaches the different styles and patterns used often to create models and products. This lesson teaches us the process of creating linear patterns, circular patterns, mirrors, threads, and views, and the appearance part.
The 3rd lesson of this section is entirely based on advanced teaching and learning. In this lesson the students will learn about the simulation express analysis, Making parts and assembling them, explode, drawing according to dimensions and drawing annotations, telescope, templates, and designs and finally animation and Gear mate.
Project Highlights
There are two main sections based on practical projects. Let us see the project highlights below:-
The first project included in the course is to design a multi-utility tool in the program. In this project we will go through topics such as Washers and support, Pin and LED, Saw Blade and Knife Blade, Can Opener and Screw Head, Body design and Plier Heads, and the final Assembly.
The second project is about creating a kid's bicycle design. In this project we will learn about the introduction to Modeling and Assembling a bicycle, Steering, Frame and wheel creation, sprocket Link and Seat and Chain Link creations.
The 3rd project is about creating Oil Tank with a stand. In this practical project we will learn the basics of creating the design, the stand, the platform, and the fundamental steps in creating the tank. Finally we will learn how to assemble all the parts of the oil tank and see if it works correctly or not.
The final project is about creating a Single Cylinder IC Engine using the program. This project is based on advanced learning and understanding of the program. Also, this project is included in the last and final section of the training. Therefore, a thorough understanding of the tools and functions will require creating this project. At first we learn the introduction to this project, followed by the designs of Piston, Connection Rod, Crankshaft, gears, Rocker Arm Rod and finally assembling these parts into one final model.
Solidworks Training – Certificate of Completion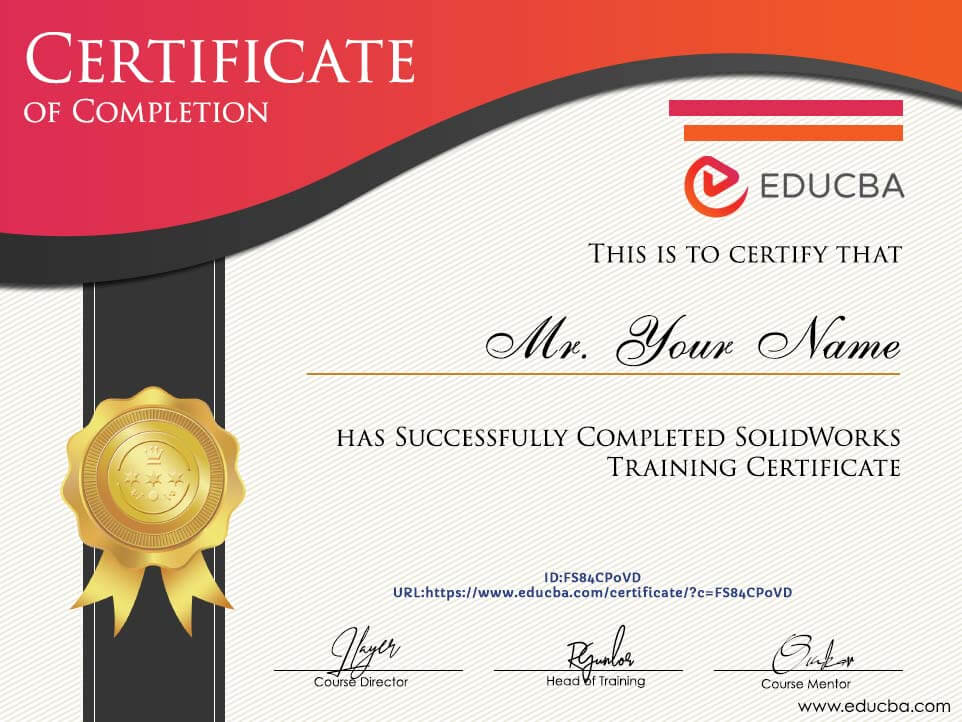 What is Solidworks?
Solidworks is a tool that is used by mechanical, electrical, and civil engineers. Among them, mechanical engineers use this software at the most as it has many features related to them.
Solidworks is an easy learning computer-aided software that has a boom in the market nowadays and also the license copy is available at a cheaper rate.
Solidworks is designed by Dassault systems which is also a manufacturer of Catia. Dassault systems are good in designing surfacing tools but this product is good for modeling purposes.
There are more than 1, 65,000 companies around the world who use SolidWorks professionally in their manufacturing unit.
Solid works are very user-friendly software and the commands used are very easy to learn if you are from the mechanical field.
Solid works are not constrained software which allows you to draw even if the reference is not mentioned.
Learners or newly pass out students feel very comfortable with this software as they can make use of it in a friendly way.
Industry Growth Trend
The global computational creativity market size to grow from USD 204 million in 2018 to USD 685 million by 2023, at a Compound Annual Growth Rate (CAGR) of 27.4% during 2018–2023.
[Source - MarketsandMarkets]
Average Salary
Average Salary
$20 per hour
The average salary for a CAD Technician is $19.84 per hour in the United States.
[Source - Indeed]
Which tangible skills you will learn in this Course?
In this Solidworks Training Certification you will learn the following skills: –
Basics of geometrically dimensioning and tolerance will be taught as it is a part of drawing dimensions.
How to handle the software professionally by making familiar to all commands.
A candidate is supposed to go through the complete syllabus with theoretical and practical knowledge that gives him/her immense knowledge about Solidworks.
Part modeling is the basic startup which he will learn but creating a model that includes all features like the pattern, loft, swept.
Assembling all parts is the skill that you will be taught here. There are more chances that you may lose any reference and may come up with several errors. Sometimes finding an error in the assembly also takes loads of time.
Drawing as per company standard, using ASMI codes and features should be done. Everything is taught under practice.
Using tolerances in annotations, and proper application of Geometric dimensioning and tolerance features.
The animation is the major feature where the candidate can move the parts and give them a unique feature of the movement. Usually, this is done in case of gears, opening doors, sliding tools, rotating equipment like wheel or drill, etc.
Pre-requisites
Before learning this Solidworks Training Certification candidate should have a desktop with a minimum of 4gb ram, 512gb of ROM. The desktop of a candidate should have a powerful graphics card that ensures the proper working of the software.
Candidate should be a holder of a diploma or degree from an engineering field. The terms used here are all related to the engineering field so it becomes easier for a candidate to learn.
Interested students and experienced professionals who have or want a job in engineering or gaming designing fields.
4GHz or more GHz processor
Windows 64bit Operating system
32 GB or more Memory (16 GB minimum)
SSD (Solid State Drive) with minimum 20GB free space because while working the on solid works space will be used as per flexibility and directly affects performance in case of space constancies.
NVIDIA Quadra P600 (basic), P1000 (Intermediate), P4000 (advanced), or AMD Radeon Pro WX 3100(basic), WX4100 (intermediate), WX5100 (advanced) make sour to selects suitable graphics card as per our requirements.
High-Speed Internet connection is needed to download service packs and plug-in if needed based on the project.
Cloud storage and few more options are optional as per requirements and work done we can purchase them online as per solid works terms and conditions.
Target Audience
To learn this Solidworks Training course target learners would be: –
An engineering student who is pursuing his study would be a good candidate.
Enthusiastic people about engineering are good to learn this Solidworks Course Online.
Candidates who are working in the manufacturing industry or on a construction site then by learning this software would help to boom his career.
Existing CAD professionals who know other tools apart from Solidworks seems to be a good candidate. It is better for them as much as they grab the knowledge.
Sometimes analysts may also require SolidWorks to pre-process the model to make the model fit for simulation.
Solidworks Certification Course -FAQs
---
Some frequently asked questions for this Solidworks Training Certification:
How useful is SolidWorks to me?
Solid works have become common software that is used by many companies nowadays. So if you learn this tool then it would help you to get a good job.
Is Solidworks a good tool to learn or should I go for another tool?
Solidworks is simple and easy to learn for the learner. It serves the main tool for modeling without constraining that makes modeling easy. The work done with this tool becomes faster.
Will I learn this Solidworks Training Certification in detail?
You will be taught all the basic commands used with its features and uses. All-sufficient commands and knowledge are covered. Practicing more and more will make you master.
Are these tutorials sufficient for learning?
You will be provided with all study material including videos. These videos will teach you exactly how to use the software which enhances your skills. Notes given will boost your knowledge about commands. Some practical drawings are provided for better practice of drawings.
Can we start this Solidworks Training Certification in the final year of graduation?
Yes, students, you can start your course in the final year. Spend your time flexible for both courses and colleges to avoid overlap. And continues practice on the software till we get hands-on experience matter to give answers at interviews and working shortcuts and procedures.
Can I test my components and get visual animation.
Yes, in the latest version of solid works 2019 there is a very good analysis and animation and file handling aspects visually for presenting with the collaboration of Unity as per course we will be discoursing some new things which you're not familiar with with with and new in the field. So it's important to understand the course whereas this can also help in revision indeed to have a quick look at the details of the application.
Are the 3D solid works better than CAD?
Yes, as the future designing is going to be changed from 2D to 3D so CAD is used only for designing purposes whereas solid works can be used for designing and engineering analyses so that is why solid works are treated as a best industrial application with all the required tools for engineering aspects inbuilt application to solve technical designing and analysis needs.
Sample Preview
---
Career Benefits
Solidworks is a tool that is made by the Dassault system and has grabbed the market globally. Every company finds this tool very easy and a quick response was given. Professionals appreciate this tool after getting experience and incorporate this tool in their firm.
So after learning this Solidworks Course Online, a candidate has a wide opening in the market as there are lots of jobs available. If a candidate wants to start his/her manufacturing unit then he is almost on the right track to creating his design.
Solid works certification CSWA (Certified SOLIDWORKS Associate) is given to the students and professionals who are interested to undergo solid works course and certification. This is valuable to get the job as a designing engineer or analysis in many engineering companies. Course certification provides opportunities in the market for multiple designing engineers, manufacturing companies, animation, and gaming offers jobs along with understanding the designing concepts reduce in designing time, making effective design layouts and reduce scrap rate in manufacturing companies by using prototype methods.
This application is used for material research and analysis before designing as per models and product can be tested in multiple testing values concerning real-world parameters and can be recorded visually to clients and product commercial videos making this videos is also part of course and job responsibility for a designer to show his product and design excellence.
Architectural designs can make their layouts and models in solid works environment quickly and use the exporting old design components and parts into new once by importing and making slight changes. Solid works are best suitable for interior and exterior designing with suitable visual realistic material colors and material properties usage which makes the design look more realistic and impresses viewers while presenting.
Solidworks Course Online Reviews
---
Comprehensive Courses
A comprehensive course on Solidworks would recommend to anyone! In addition to the requirements of learning the mechanical design point of view of the software and simulation, it shows you how to create multiple mate relations and technical drawings. These are all needed for a complete understanding of the software to use it in the industries it was created for. This has given me the knowledge required to use the software effectively.
Frank Worcester
Excellent Solidworks Course Online
Amazing course to those who don't have time to join the center, very good learning at home u can learn anytime according to your mood plus nice videos with complete knowledge and easily understandable, very nice learning and every detail in the videos mentioned very clearly. I read few of Educba testimonials and then decided to go for this training so providing this educate reviews to help the team know their quality of work seriously overall a very nice course lots of learning and a complete package to know about solid works and at last buying this Solidworks package worth it.
Rahul Mathur
Solidworks Essential
Brilliant course. I went through many concepts with the utmost lucidity. I enjoyed myself thoroughly, and got to learn a lot more than I knew was possible with this brilliant software. Much laud to the brilliant course guide. My sincerest gratitude to EduCBA for including this amazing course on their amazing website.
Linked
VEDABIT SAHA
SolidWorks Essential(s)
Solidworks Course Online starts with the basics of the software and creates a solid foundation of understanding. From there you create accurate 2D drawings fast that can be automatically updated on-the-fly when you change your 3D model (updates dimensions, critical tables, and updates associated bills of materials so there is no confusion with manufacturing. If you're looking into this as a career or looking to confidently support end users of SolidWorks. This is a 60+ video course well worth the time.
Lee Gill