Learn from Home Offer TAKE THIS BUNDLE
SKETCHUP Course Bundle - 10 Courses in 1
This Online SketchUp Training includes 10 courses with 24+ hours of video tutorials and Lifetime access. You will get to learn 3D modeling used in varied drawing applications such as architecture, interior designing, film, and video game designing amongst other fields.
TAKE THIS BUNDLE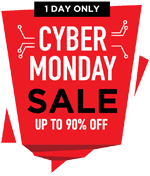 * One Time Payment & Get Lifetime Access
What you get in this SKETCHUP Course Bundle - 10 Courses in 1?
24+ Hours
10 Courses
Course Completion Certificates
Lifetime Access
Self-paced Courses
Technical Support
Mobile App Access
Case Studies
About SKETCHUP Course Bundle
---
| | |
| --- | --- |
| | |
| Courses | You get access to all videos for the lifetime |
| Hours | 24+ Video Hours |
| Core Coverage | 3D modeling used in varied drawing applications such as architecture, interior designing, film, and video game designing. |
| Course Validity | Lifetime Access |
| Eligibility | Anyone who is serious about learning 3D modeling and wants to make a career in the animation field |
| Pre-Requisites | Basic knowledge about 3D modeling in animation |
| What do you get? | Certificate of Completion for the course |
| Certification Type | Course Completion Certificates |
| Verifiable Certificates? | Yes, you get verifiable certificates for each10 course, Projects with a unique link. These link can be included in your resume/Linkedin profile to showcase your enhanced skills |
| Type of Training | Video Course – Self Paced Learning |
SKETCHUP Course Bundle Curriculum
---
MODULE 1: SketchUp Essentials

| Courses | No. of Hours | Certificates | Details |
| --- | --- | --- | --- |
| SketchUp - Beginners | 2h 17m | ✔ | |
| Sketchup - Advanced | 5h 39m | ✔ | |

MODULE 2: Projects based Learning

| Courses | No. of Hours | Certificates | Details |
| --- | --- | --- | --- |
| SketchUp Case Study - 3D Urban Duplex Floor Plan | 3h 26m | ✔ | |
| SketchUp Case Study - 3D View for Pool Resort | 3h 7m | ✔ | |
| SketchUp Case Study - 3D Landscape Garden | 2h 2m | ✔ | |
| SketchUp Case Study - 3D Modeling of Pavilion | 2h 2m | ✔ | |
| SketchUp Case Study - 3D Architectural Model | 2h 03m | ✔ | |

MODULE 3: Additional Readings

| Courses | No. of Hours | Certificates | Details |
| --- | --- | --- | --- |
| SketchUp Case Study - Urban Scale Mapping and Presentation | 1h 54m | ✔ | |
| SketchUp Case Study - Create a 3D AutoCAD Plan from 2D House | 1h 05m | ✔ | |
| SketchUp Case Study - Creating a 3D Model | 2h 16m | ✔ | |
Goals
The main aim of this course is to make the learners aware of all the concepts needed to master in Sketch-Up software. The course is framed in such a wonderful manner that even a beginner or starter can completely understand this software. At the starting of this course the basic concepts or tools are explained to make students aware of the fundamental things and in the later course it is explained about how to use those tools and create your designs with the help of practical examples. This helps in the systematic learning of this course and become proficient in Sketch-Up software.
Objectives
The objective of this course is to make students know each small tool use for designing any 2D or 3D drawing or model. This course will be started by telling the introduction of this software. In the next couple of lectures it tells about the basic functionalities of this software. Starting lectures are framed in such a manner that a starter can easily understand it without much support from any person or website. The Middle course contains the content about the interface and it's features to easily understand its tools and practically use those tools to design the things. After telling about the basic interface in the other tutorials it will be told about how those tools can be used in designing any 3D model or 3D layout.
Course Highlights
The course has been framed or designed very interestingly to fulfill the requirement of the students. It does not depend on whether he or she had ever heard about Sketch-Up software. Below it has been explained briefly about what we will learn in the entire course of this software
At the starting of this course it is explained how the Sketch Up is used as the 3D modeling software for creating civil architecture and design. It has been about how to download this software and start designing your plans
Moving towards further tutorials it has been explained about how the user interface window of this software. Basic things about the toolbar, application bars, and other necessary interface are explained to make users familiar with the entire application software, and also it has been explained about how to use the interface window most effectively.
After this it has been explained about the basic 2D tools like line, curve, fillet, splines, circle, rectangle, triangle, and many other tools that are needed to draw basic 2D sketches. It also explained the 3D tools like extrude, revolves, loft, sweep, and many other 3D tools in a well-defined manner. Tools play the most important role in building any 2D or 3D models. Thus users should learn this part of the tutorial very seriously. He or she should also routinely practice those tools. This will increase their creativity to apply specific tools according to the requirement and build the model in the parametric format.
After completing the basic tools it is explained how to use those tools and create your 3D models. It has been about how to use the camera tools and develop the render images. Render images act as a powerful tool for marketing their products. It is also explained about the toolbar.
Project Highlights
To tell about how to use those tools most effectively some projects are explained to make the user aware of the entire tools and use those tools in the creation of any object.3D models that are developed in this course using the common application tools.
The project about the creation of a layout plan is explained using the layout tools. How to create any 2D layout systematically is explained at the starting of the course. After this object modeling is explained to learn in detail about this software. The 2D draft plan is converted into a 3D format using 3D tools of this software.
In another project it is explained how to create a 3D AutoCAD plan from the given 2D house. This project will explain all the 3D tools needed to convert a 2D plan into a 3D object. This tutorial is the most important part of the course to learn about the application of 3D tools.
SketchUp Course – Certificate of Completion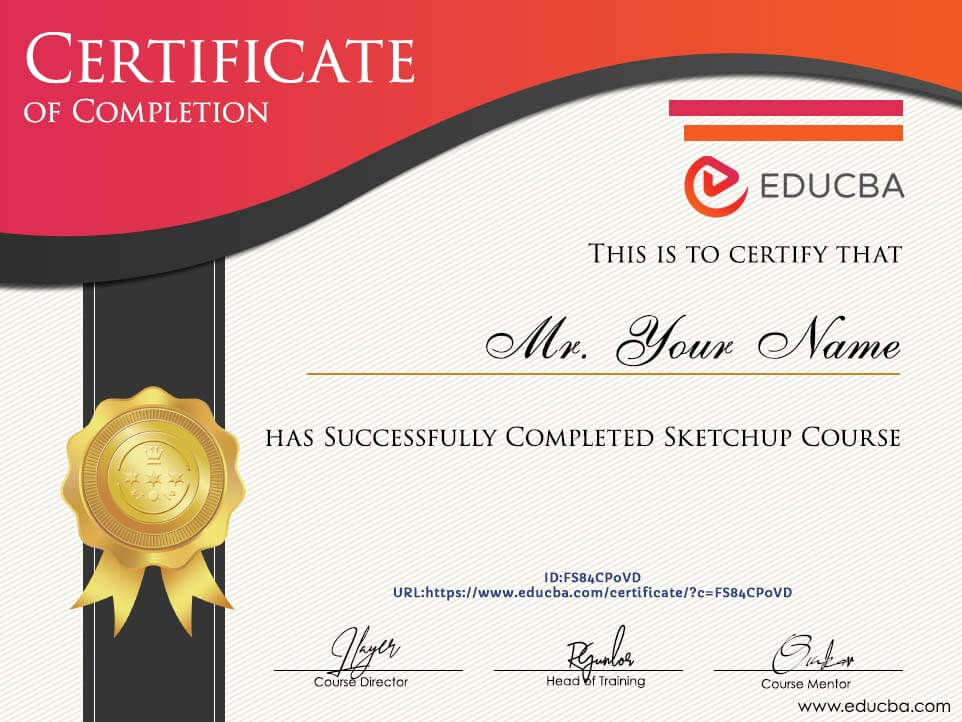 What is SketchUp?
Sketch-up is a 3D designing program that is owned by Google but developed by Trimble Inc. which uses the application in location and navigational purposes. The program is famous for the huge collection of tools present with the software. These tools are widely used in interior designing, architectural designing, mechanical engineering, and designing motion graphics objects. The program comes in two main versions that are pro and free versions.
The free version of Sketch-up was released in 2017 as a web application. This version is useful for beginners and fresher's to understand the program and practice as much. The version will help the beginners to create 3d drawings easily and quickly. This version will also help the users to share their work without certainty. While the Pro version is a little different from its freeware version. It is more advanced and includes more professional tools for modeling. We can also create advanced animation sequences and export them to other software as well. Moreover, the Pro version is a multiple platform usage program and it works well with Windows and Mac operating systems.
The program is also accompanied by the 3D warehouse which is a free and open market where users can share and upload their 3D works without drawbacks.

Which Skills will you learn in this Training

?
This sketch up course will help the users to learn the most important functions and components of the program. Sketch Up is generally a 3D drawing and designing program. So, the users will learn the art of 3D designing using the drawing tools present in the program.
We learn about the most basic tool that is the Layout module which is used to add dimensions and graphic media, important details, and notes to the models. We also learn the technique and method of object modeling and in this process, we learn the various basic and dynamic shapes created in the program.
This course will also help the users to learn the program practically, as a practical project is also included in one of the lessons of this training. It will train the students and solve their problems with the most accurate solutions and techniques used in the course curriculum.
Pre-requisites
Before starting to learn Sketch Up course, the user should have basic knowledge and fundamental understanding of the 3D tools and its functions.
The user must know how to use either Windows or Mac Operating System.
The user should have a prior understanding or interest in creating 3D models, drawings, or interiors.
The user is advised to keep a 2GB RAM and a 500 MB of disk space for avoiding the crashing of the program.
A graphic card and a processor with speed 2GHz or more is also recommended before installing Sketch Up on their computers.
Target Audience for this SketchUp Course
Users who wish to pursue their careers in the field of 3D modeling and architecture can use this training for knowledge and simple understanding.
This training also helps in giving quick and basic methods and examples that include practical and theoretical both.
3D Designing experts can also use this SketchUp Training for their needs.
Professionals who are already in this field can have a huge benefit with this training. This SketchUp course will help them in developing and creating advanced 3d models using the tools and 3D warehouse associated with the program.
SketchUp Course – FAQ's
---
I am new to the world of 3D and its major functions. How can this SketchUp Training course help me?
It does not matter whether you are a fresher or a professional. This SketchUp Course is designed in a way that it will benefit anyone using and learning Sketch Up with this course. Moreover, Sketch-Up has a freeware version that is available in the market free of cost, and it includes most of the tools and functions that are included in the Pro version of the software. So, being a beginner, you can use and learn the tools first on the open version, and later you can purchase the pro version of the program. This course will help in giving basic lessons and advanced as well.
I am from the gaming industry and am looking for a 3d designing tool. Is Sketch Up suitable for me? How will this SketchUp Training benefit me?
Well, Sketch up Pro is initially used for designing models and architecture. But, with the latest advancements and updates, the program is capable of designing models and can be used in the gaming industry as well. The layout module and the 3D warehouse provide the users an additional help and they can download the models as their requirement. This SketchUp course will give you the basic knowledge used to work with the program.
Sample Preview
---
Career Benefits of this SketchUp Course
Sketch up Pro is a vast program with numerous tools used for various functions applied in the program. The software is majorly used to create 3D drawings which itself is a difficult and tough topic to learn and master the same. Although, this Sketch-up training will help the users to remove those small and minor confusions that block the path of the users to success. The course includes practical examples and its explanations are given in a detailed manner that will help the learners to a great extent.
The SketchUp Training Course will become a bridge between the learners and the software. So that the learners can learn the skills and techniques associated with the software and master them. The users can create a bright future for themselves by this program and its functionality. The users can make their careers in the field of architecture or gaming industry or film industry or even in the field of engineering. They can choose to be an interior designer, or 3d game artist or a Data Analyst, or a 3D animation artist, 3D developer as well.
Reviews
---
Sketch Up Pro 2016
This course is such an opening knowledge for sketch up. The instructor shows the basics first and then he gave us a glimpse/ background of what other amazing things we can do on sketch up. Other than that, he thought us some shortcuts and options that we can use for future references. Good work! I learned a lot. So now, I will try to do my design and practice more.
Linked
Jenny Rose T. Caballero
Sketchup Pro 2016
Sketchup Pro 2016 gives an idea of editing more in an easier way of editing 2 and 3-dimensional objects. It may not be the best software out there but it can show the right perspective on whatever the user wishes see to end product. It well explains giving a lot of information clearly and in a few words in brief but comprehensive.
Linked
RENANTE BADILLA GORDOVE