Learn from Home Offer TAKE THIS BUNDLE
AVID PRO TOOLS Course Bundle - 2 Courses in 1
This Pro Tools Course includes 2 comprehensive Pro Tools courses with 14+ hours of video tutorials and Lifetime access. You will also get verifiable certificates (unique certification number and your unique URL) when you complete each of them. This training will help you learn music production, voice and music recording, and multi-track audio editing with Pro tools.
TAKE THIS BUNDLE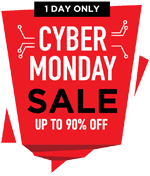 * One Time Payment & Get Lifetime Access
What you get in this AVID PRO TOOLS Course Bundle - 2 Courses in 1?
14+ Hours
2 Courses
Course Completion Certificates
Lifetime Access
Self-paced Courses
Technical Support
Mobile App Access
Case Studies
About AVID PRO TOOLS Course Bundle
---
| | |
| --- | --- |
| | |
| Courses | You get access to all 2 courses, Projects bundle. You do not need to purchase each course separately. |
| Hours | 14+ Video Hours |
| Core Coverage | Working with Pro Tools Workspace and Edit Tools, Audio Editing, Elastic Audio, Tempo and Automation, working with MIDI, Virtual Instruments, Effect Plugins, Audio Mixer, Bouncing Audio |
| Course Validity | Lifetime Access |
| Eligibility | Anyone who is serious about learning Pro Tools and wants to make a career in Audio/Sound Engineering |
| Pre-Requisites | Basic knowledge of using editing software |
| What do you get? | Certificate of Completion for each of the 2 courses, Projects |
| Certification Type | Course Completion Certificates |
| Verifiable Certificates? | Yes, you get verifiable certificates for each course with a unique link. These link can be included in your resume/Linkedin profile to showcase your enhanced sound engineering skills |
| Type of Training | Video Course – Self Paced Learning |
AVID PRO TOOLS Course Bundle Curriculum
---
In this Pro Tools course, we will use, the free version of Pro Tools, which allows us to use all the basic tools and techniques as a learner. Graduating from Pro Tools First to the industry standard Pro Tools is seamless, as it is practically the same software, but with more tracks, tools and plugins.
The complete course has two parts – Fundamentals, and Advanced lessons. You can get a certificate of completion either for just the basic lessons or for both the basics and advanced lessons.

Pro Tools Fundamentals
Pro tools fundamental course helps you get acquainted with the interface of Pro Tools, and learn how to work on the fundamental workflows and accomplish the core tasks for audio recording, importing multiple tracks, multi-track editing, mixing and mastering of multiple source tracks into one master soundtrack.
The Pro Tools Fundamentals course introduces you to the basic settings, track preview and import into workspace tools, elastic audio, tempo, and automation tools.
Pro Tools Advanced Lessons
The Pro Tools Advanced Lessons course introduces you to more advanced audio production toolsets and workflows, starting with an introduction to MIDI and essential MIDI settings in Pro Tools, and then progressing to recording MIDI music, MIDI automation, MIDI velocity, writing and editing MIDI music.
MIDI is a very basic digital format for recording instrumental music, which is an industry favorite since the beginning of the digital era in the world of sound and music production, and gaining an advanced understanding of how to work with MIDI music will allow you to integrate with a collaborative environment in the industry, as well as take much more work from clientele demanding output that can be used further along in their productions.
Along with this, the Pro Tools Advanced Lessons course introduces you to more advanced toolsets such as effects plugins basics, 7-band equalizer, Dverb, compressor, mixing board and disc and track audio bouncing.
After completing the Pro Tools Advanced Lessons course, you can claim to be a full-fledged professional in the world of audio engineering and can take on any standard tasks in music or sound production as a full-time job at a studio, or as a freelancer, offering your services to independent artists and productions.
---
Certificate of Completion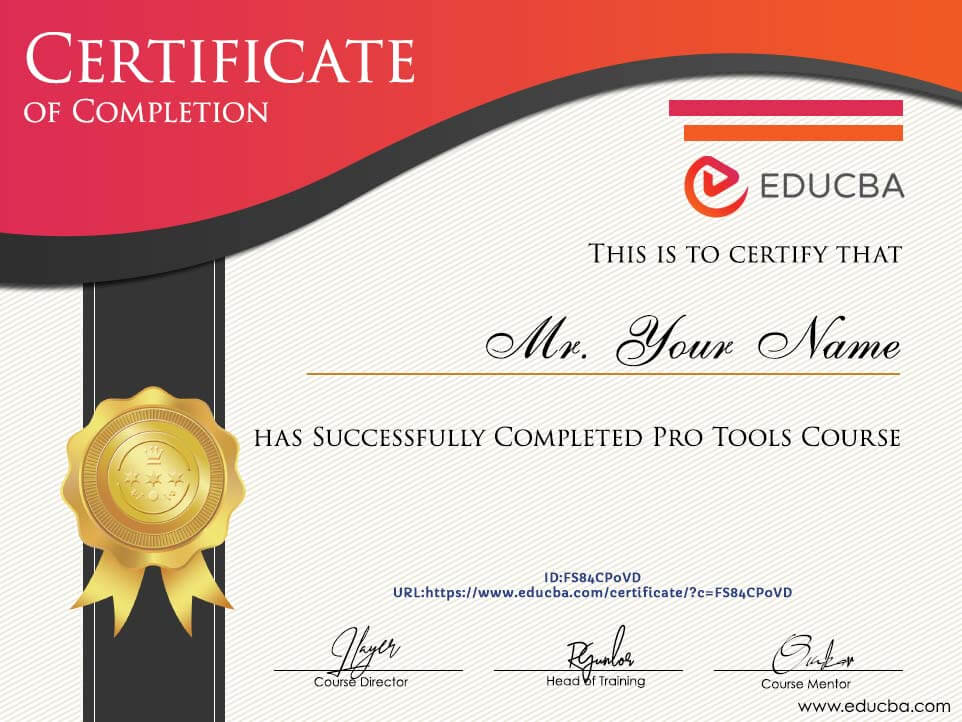 ---
What is Audio Engineering?
Audio engineering refers to the technical skillset required by technicians to help artists in the production of a recording or a live performance. It includes the setting up and tuning of studio equipment to editing, mixing and mastering of soundtracks via equalizers and other audio equipment, including software.
Which skills you will learn in this Pro Tools course?
In the Audio Engineering with Pro Tools course bundle, you will learn the complete technical treatment of audio data from the beginning, starting with the recording of audio to mixing and mastering of multiple audio tracks into a final soundtrack in the Pro Tools Fundamentals course, and in the Pro Tools Advanced Lessons course, you learn to work with MIDI music, Effects Plugins, 7-band equalizer, mixing board and much more.
You will learn to use the industry-standard toolset of Avid Pro Tools with Pro Tools First, with basic and advanced tools and workflows, allowing you to work as a technician in a wide range of media-based companies in sound or music production or background voice.

Industry Growth Trend
The global computational creativity market size to grow from USD 204 million in 2018 to USD 685 million by 2023, at a Compound Annual Growth Rate (CAGR) of 27.4% during 2018–2023.
[Source - MarketsandMarkets]
Pre-requisites
Willingness to pursue a career in audio engineering: A passion for audio editing is a must before learning this Pro Tools course. If you are willing to get a career in this field you can learn the software with full confidence and interest.
Basic knowledge of Computer: You just need basic knowledge to use a computer before start learning this Pro Tools course. Try to learn basic lessons to manage the computer before start using Pro Tools
To gain the most from this course, knowledge of audio formats and codecs, and the basics of music theory.
Target Audience
This course is targeted towards people who want to work as sound engineers, composers, recording engineers, voice-over artists, music arranging professionals, podcasters, etc., and anyone else who wants to learn how to produce music or mix and master audio with Pro Tools.
Pro Tools Course FAQ's- General Questions
---
Can I access this course from anywhere?
Yes, being an online course, this course is accessible from anywhere worldwide with your login credentials for www.eduCBA.com.
Is there any classroom training available for this online training?
This course and its exercise materials have been provided completely online so that students seeking this course can access and study it at their own pace. You may have to look elsewhere if you are looking for classroom training.
Who are the instructors for this online training?
The instructors for this course are industry professionals with many years of experience in the fields of online training, as well as the respective industries for which the Audio Engineering with Pro Tools course has been designed.
Are there any certification courses available in this online training bundle?
This online training bundle comes with two certificates of completion, one for the Fundamentals course, and the second for the Advanced Lessons course.
When will I receive my certificate for this online course?
You can get the certificate of completion for each of the courses after you have seen more than 70 percent of the respective course.
Are there any pre-requisites for enrolling for this online training bundle?
Although there is no mandatory qualification required as a pre-requisite for this online training bundle, a good knowledge of computers, audio formats and codecs, and a basic understanding of music theory would help you in getting the most benefit of this online training course.
Will eduCBA provide any technical support when I am taking this Pro Tools course?
Yes, eduCBA will provide technical support when you are taking this course. If you face any technical difficulty, you can contact us via email or phone, and we will help you to clear any doubts.
Sample Preview
---
Career Benefits
After completing this course, you can work in technical positions in music production for record labels and independent artists, radio, film and broadcasting industry, or any online platform of your choice for voice over, podcasting, music mixing or mastering, etc.
Pro Tools Course Reviews
---
My Pro Tools Course experience
This is a great course if you are an absolute novice in the field of sound or music production, but want to acquire skills for producing your music, starting a podcast, or working at a studio as a technician in the sound department. Both the Pro Tools Fundamentals and Pro Tools Advanced Lessons courses are very well designed and have an easy to follow pace, and the materials and support helped me to learn each of the skills in the course properly. Great value for money too.
Alfaro Yaseen
Good!
I was looking for a course to help me learn the industry-standard tools and workflow for sound production, to start working on my music mixing, and producing some original music. After going through the Audio Engineering with Pro Tools course bundle, I was able to do this and more. I am now planning to start my show with an independent radio station.
Shreejith