Learn from Home Offer TAKE THIS BUNDLE
NewBlueFX Plugins for Video Editing - 6 Courses in 1
This Online NewBlueFX Tutorial is a comprehensive bundle which includes 6 course with 25+ hours of video tutorials and Lifetime access. You will also get verifiable certificates (unique certification number and your unique URL) when you complete each of them. This course is to learn Post Production process of Nonlinear Video Editing.
TAKE THIS BUNDLE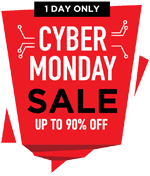 * One Time Payment & Get Lifetime Access
What you get in this NewBlueFX Plugins for Video Editing - 6 Courses in 1?
25+ Hours
6 Courses
Course Completion Certificates
Lifetime Access
Self-paced Courses
Technical Support
Mobile App Access
Case Studies
About NewBlueFX Plugins for Video Editing
| | |
| --- | --- |
| | |
| Courses | You get access to all 6 courses, Projects bundle. You do not need to purchase each course separately. |
| Hours | 25+ Video Hours |
| Core Coverage | Learn how to use NewBlueFX Essentials Plugin Suite (Vol 1) for doing professional-grade Video Corrections and Video Stylisations and make them look awesome |
| Course Validity | Lifetime Access |
| Eligibility | Anyone serious about learning Video Editing and wants to make a career in this Field |
| Pre-Requisites | Basic knowledge about Video Editing would be preferable |
| What do you get? | Certificate of Completion for each of the 6 courses, Projects |
| Certification Type | Course Completion Certificates |
| Verifiable Certificates? | Yes, you get verifiable certificates for each course with a unique link. These link can be included in your resume/Linkedin profile to showcase your enhanced video editing skills |
| Type of Training | Video Course – Self Paced Learning |
NewBlueFX Plugins for Video Editing Curriculum
---
In this section, each module of the NewBlueFX Tutorial is explained:

---
Certificate of Completion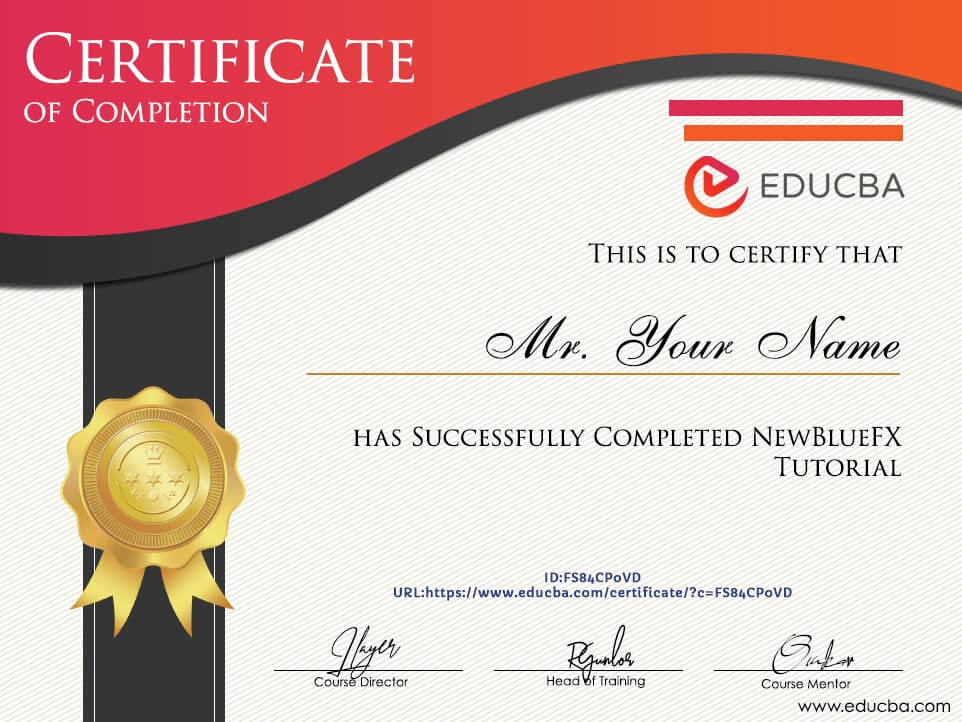 ---
What is NewBlueFX?
NewBlue FX Essentials is a Plugin Suite for correcting and stylizing videos. These Plugins are used in the Post Production workflow of Nonlinear Video Editing. NewBlue FX is a product of its company named NewBlue Inc. that gives video editing solutions to filmmakers, consumers & broadcast professionals all over the world. This company was founded by Tudor fay & Melissa Jordan Grey.
NewBlue FX Essential Plugin Suite is a Cross Edit Platform Compatible. The Product Portfolio features over 280 video editing and audio plugins. The Video Essentials series and Titler Pro-Lines are the most selling products of the program. Today, NewBlue FX deals with industry leaders like Adobe, Avid, Corel, Magix, Pinnacle & Sony Corporation.
Most of the important features of the Video Plugins include Auto Contrast, Crop Borders, Detail Enhancer, Legal Level & Noise Reduction. With this Video Essential Suite Plugin, we can fix common Filming Issues. To a great extent, this program is designed to solve everyday post-production needs such as Video Stabilization, Skin & Color touch-ups, Camera Flashes, Exposure & Aspect Ratio. All the presets present in the suite helps to stabilize, correct and sharpen the videos.

Industry Growth Trend
The global computational creativity market size to grow from USD 204 million in 2018 to USD 685 million by 2023, at a Compound Annual Growth Rate (CAGR) of 27.4% during 2018–2023.
[Source - MarketsandMarkets]
Average Salary
Average Salary
$17 per hour
The average salary for a Video Editor is $16.63 per hour in the United States.
[Source - Indeed]
Which tangible skills you will learn in this NewBlueFX Tutorial?
This NewBlue FX training is specialized for students and professionals who want to master the art of doing Video Corrections & Video Sterilizations using various NewBlueFX Essentials Plugin Suite for Vegas Pro. This NewBlue FX training offers the learner to study the techniques and processes easily and logically. Students who aspire to learn NewBlueFX Plugin Suite can gain tremendous knowledge by taking this NewBlueFX tutorial as the sessions cover almost everything needed to understand it.
The students should have a desire to learn this training then only they can acquire the skills of creating various visual effects using the Plugins. The skills are NewBlueFX, Pixelator, Selective Touch Up, Luma, Color Fixer Pro, Proportion Helper.
NewBlueFX Essential Plugin Suite being a demanding subject is not easy to learn, but this training helps in providing great solutions and teaches the hardest topics in the simplest way possible.
Pre-requisites
Basic knowledge about computers is a must.
A passion for learning Video Editing (Corrections & Stylizing) using NewBlueFX Essentials Plugin Suite with lots of inspiration and innovation is a much-needed pre-requisite before starting this NewBlueFX tutorial. There should be a desire and dedication to study the Suite through this course, then only the results would be affirmative.
A basic knowledge of Video editing using Vegas Pro is also required before the students start using this training. Since the training is based on workable knowledge teamed with various illustrations and skills, the student needs to have a prior understanding of the minor basic needs of video editing.
Target Audience
This NewBlueFX tutorial targets vast audiences who are willing to learn about post-production video editing and applying various plugins & presets using NewBlueFX Essential in Vegas Pro. This course includes several sections that teach the learner numerous aspects and methods of using the Plugin Suite. The NewBlueFX tutorial is aimed at audiences who are dedicated to learn and grasp the skills in no time. Students who wish to become filmmakers and editors are can use this training. Learning Professionals who are into Film editing and wanting to learn Visual Editing using NewBlueFX Essential Plugin Suite in Vegas Pro can take up this training.
NewBlueFX Tutorial – FAQ's
---
How much time will it take to learn Video Corrections & Video Stylizing through this NewBlueFX Tutorial?
It depends on your ability to grasp knowledge from this training. This is a user-friendly course made with useful techniques to be used and it will help you to gain a lot of knowledge and learn professional grades of Video Corrections and Sterilizations.
Will this training benefit me if I have no prior knowledge about Video editing in Vegas PRO?
This training requires the learner to have prior basic knowledge about Video editing in Vegas Pro. So, if you are a pure beginner to them, you will first have to gain some basic understanding of it.
Will this NewBlueFX Tutorial help me to grow my career?
Yes. It is a career based training, aimed to teach different methods of Video Editing in the Post-Production Process. If you take up this course you will not only learn the NewBlueFX Essential Suite Plugins but also obtain command over the various methods and process of Digital Video Editing, which in turn will automatically open many career opportunities.
Sample Preview
---
Career Benefits
This NewBlueFX tutorial opens many possibilities for the students and professionals to choose from various career options. They can become a Data Analyst, NewBlueFX Video Editor, VFX Artist, Motion Graphic Designer, Video Editor, Roto Artist, 3D Compositor, 3D animator.
NewBlueFX tutorial is a career-focused training that particularly aims at enhancing the skills and providing the learner to comprehend many various strategies of learning Video Editing through this course. In this NewBlueFX tutorial, we all will learn excellence that will not only provide a benefit to our professions but also will help us to design our future.
No one can stop the learner to take up this training. It all relies on the learners' capability and his desire for learning this course. Despite, the fact that learning Video Editing using NewBlueFX Essential Plugin Suite in Vegas pro is a demanding task to learn, this training provides sessions and lessons that describe everything with great ease and simplicity. The choice of career and the ability to use their capability & skills are in the hands of the learner.
NewBlueFX Tutorial Review
---
Good Learning
NewBlueFX tutorial is a course that every young or experienced Filmmaker should study. I would say that it is a professional course that teaches most of the video editing practically.
Saurabh Das
Learned Video Editing!
I am glad that I came across this course. It is because of this training that I got to learn Video Corrections in Vegas Pro. I would say that a little hard work and commitment to this course proved wonders for me.
Mathys
Nice
This NewBlueFX tutorial is a straightforward course. I am using Vegas Pro Program as my primary software to edit videos & studying this training only helped me to grow my skills as an editor. I would recommend this course to all the video editors using Vegas Pro and other Non-linear Editing Software.
Jeffery Dijemeni