Learn from Home Offer TAKE THIS BUNDLE
Music Production & Audio Editing Course Bundle - 10 Courses in 1 | 1 Mock Test
This Music Production Course includes 10 courses with 74+ hours of video tutorials and Lifetime access and several mock tests for practice. You will also get verifiable certificates (unique certification number and your unique URL) when you complete each of them. Through this course you will learn learn how to use music production software for Non-Linear Multi-Track Audio Editing, Mixing and Blending recorded clips.
TAKE THIS BUNDLE
* One Time Payment & Get Lifetime Access
What you get in this Music Production & Audio Editing Course Bundle - 10 Courses in 1 | 1 Mock Test?
74+ Hours
10 Courses
Mock Tests
Course Completion Certificates
Lifetime Access
Self-paced Courses
Technical Support
Mobile App Access
Case Studies
Music Production & Audio Editing Course Bundle at a Glance
---
| | |
| --- | --- |
| | |
| Courses | You get access to all 10 courses, Projects bundle. You do not need to purchase each course separately. |
| Hours | 74+ Video Hours |
| Core Coverage | Create awesome sound effects. Work with world-class professional music software such as Audacity, FL Studio, Celemony Melodyne, Pro Tools First, Avid Media Composer and Adobe Audition. |
| Course Validity | Lifetime Access |
| Eligibility | Anyone serious about learning Music Production |
| Pre-Requisites | Basic knowledge of using editing software |
| What do you get? | Certificate of Completion for each of the 10 courses, Projects |
| Certification Type | Course Completion Certificates |
| Verifiable Certificates? | Yes, you get verifiable certificates for each course with a unique link. These link can be included in your resume/Linkedin profile to showcase your enhanced music production skills |
Music Production & Audio Editing Course Bundle Curriculum
---
Let's have a look at the Music Production Course in detail below:

---
Certificate of Completion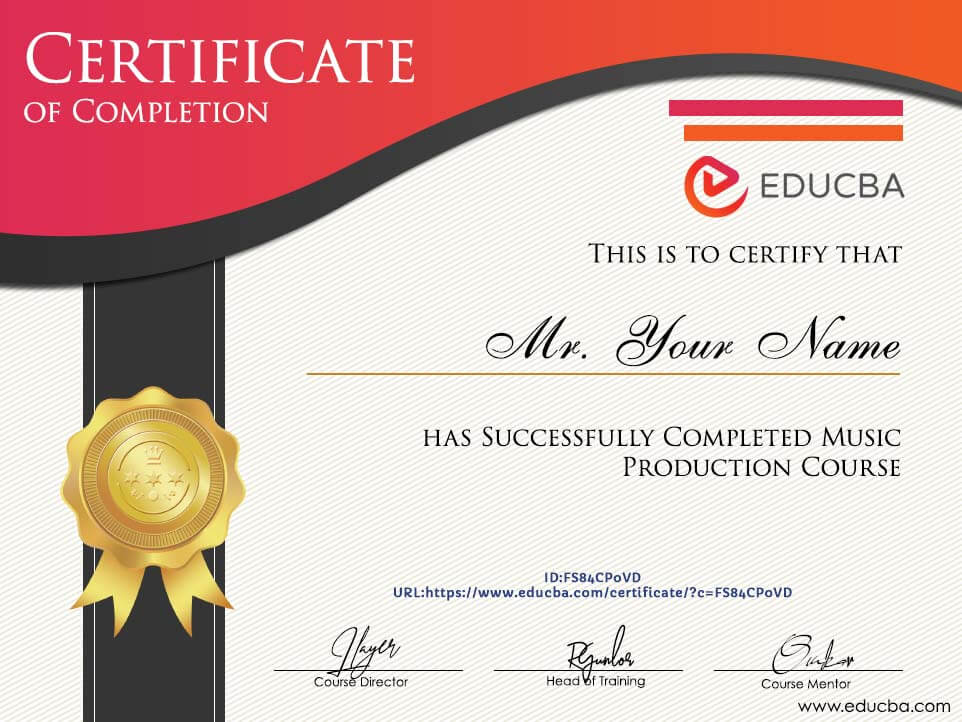 ---
What is Music Production?
Music Production is Editing or advancing music or audio using software that allows editing and generating of audio data. This editing software can be a computer application, a web application or any library.  A digital audio workstation (DAW) is a combination of different software suite components.
In this music production course, we learn about different software of Digital Audio Workstation. The first software is FL Studio. FL Studio is a DAW that is developed by the Belgian company called Image-Line. This software is present in four distinct editions for Windows and Mac OS. The FL Studio Producer Edition provides the highest level of functions. It gives access to edit a playlist, audio recording, Automation Clips, Slicex and more.
The next software is Celemony Melodyne. This is a digital audio pitch correction software. Using Melodyne, we can Edit Pitch as it distinguishes between different types of pitch parameters, we can work with whatever scales and timings, we can also edit time using this program. Detailed editing is also possible for the timing within each note. This software allows the user to Edit Tempo & Amplitude, correct tones and even more.
Next, we learn about the Avid Media Composer, which is a film and Video Non-editing system. This software has many features like Animate, 3D wrap, Paint, Color Correction, and others. We can edit both offline and online in SD, HD, 2K & 4K editing and finishing.
Finally, we learn about Adobe Audition Software. This software was also known as Cool Edit Pro. It is a DAW from Adobe Systems. The main features of this program are that it has both a multitrack, non-destructive mix edit environment and a destructive-approach waveform editing view. The latest version of Adobe Audition is the CC 2019 version released in October 2018. The updated new features of this program are DeNoise and DeReverb Effects, Multitrack Clip improvements, Zoom to time, Add or delete empty tracks, Playback and recording improvements.

Industry Growth Trend
The global computational creativity market size to grow from USD 204 million in 2018 to USD 685 million by 2023, at a Compound Annual Growth Rate (CAGR) of 27.4% during 2018–2023.
[Source - MarketsandMarkets]
Average Salary
Average Salary
$20 per hour
The average salary for an Audio Engineer is $19.97 per hour in the United States.
[Source - Indeed]
Which skills you will learn in this Music Production Course?
Music Production course is aimed for learners interested in sound engineering and audio editing who wants to learn the software that is used around the globe for Music Recording, Music Correction, Multi-Track Music Editing, and Mixing. It helps the student in mastering the fundamentals of Audio Editing to Audio Mixing using Adobe Audition and then it equally focuses on using the gained knowledge by creating a process and introducing several features and techniques of Music Production.
By learning these techniques, the learner can improve their efficiency at a high level. By learning the software, the learner learns how to correct tones, pitches, tempo, scales, streamline and package music like an expert with this software.
Students will learn the usage of different DAW, learn an efficient workflow for Editing with DAW and choosing the right effects in the programs. With this training, the students will be able to master skills on Audacity, FL Studio, Pro Tools First, Avid Media Composer, Adobe Audition, and many other skills and techniques.
Requirements / Pre-requisites
Basic knowledge about computers is a must
A passion for Audio Editing and mixing with lots of ideas and creativity is a much-needed pre-requisite before starting this Music Production course. There should be a desire and diligence to study the software through this music production course, then only the results would be affirmative.
Basic knowledge about Audio Formats and Codecs is also required before the Learner start using this course. Since the training is based on workable knowledge teamed with various practical examples and skills, the student needs to have a prior understanding of the small basic needs of Audio Editing.
Target Audience
Sound Editing, Engineering Professionals and students anybody can use this course.
This Music Production course targets vast audiences who are willing to create and learn Non-linear audio editing with Audacity.
Students & Film Editing Professionals who wish to become Audio artists & Graphic designers can take this training.
The Music Production course is aimed for learners who are dedicated to learn and acquire the skills in no time.
Voice Over Artist and Podcasters can also take this music production course.
Music Production Course FAQ's
---
Will this training help me to grow my career?
It is a career-oriented training, aimed to teach different methods of Multi-Track Audio Editing & Mixing and it will help you to create Sound Designs and amazing presentations. If you take up this training you will not only study the software but also obtain command over the various techniques and processes of Audio Editing with DAW, which in turn will automatically open many career opportunities.
I am a fresher in the field of Audio Editing. Will this training benefit me?
I would say that a pure beginner in this field would be able to learn Audio Editing and Mixing with different software easily. Since you are a beginner you need to first gain some basic knowledge of Audio Formats and Codecs and then only, you will be able to succeed using this Training
In this training, there is various software used to teach me audio editing. Is it necessary to study all of them?
Yes, why not. This training includes lectures on various software that offer unique features. Each software included in this training will teach you something new and exciting. It is your choice to study all of them or study only some.
Sample Preview
---
Career Benefits
Music Production Course is a career-oriented training that focusses on strengthening the skills and providing the learner to study many various techniques of learning Audio Editing, Mixing through this course. This training aims to give the learners a solid simplicity with many of the tools and fundamentals in the software and to start making their own polished and efficient projects. In this music production course, we all will learn the art that will not only provide a raise to our careers but also will help us to design our future. This training provides techniques and commands that describe everything with great ease and simplicity
Having command over the basics of this software is the most important element one should have, to master this software. Luckily, the GUI design is so friendly and efficient that it will not take much time for anyone who is introduced to this program. Revising the tools is the first part, but using most of the tools requires a great effort from the learner's end.
This Music Production course opens many prospects for the students and professionals to choose from various career options. From Beginners to experienced learners, anyone can take up this course who is interested in learning the applications of Audio Editing and Sound Effects with Music Production software. Learners can go for jobs like a Data Analyst, Sound Engineer, Audio Engineer, Audio Video Editor, Audio Post Engineer, and others. The choice of career and the ability to use their capability & talent is in the hands of the learner.
Music Production Course Reviews
---
Learned Audio Editing
Well, this is undoubtedly the best and probably the most used Music Production Course. I can learn so much from this course. It's like a never-ending course of information. Thanks.
Solomen
Fun Course!
With this Music Production course, I can proudly say that I got to learn the fundaments of using different various Digital audio workstation software and learn various aspects of the User Interface along with various features and commands of the software.
Mohd. Haneef
Amazing learning experience
I learned a lot of techniques and methods with so much ease. I thank this training for teaching me the basic concepts and commands of Audio Editing.
Kriti Kulkarni