Learn from Home Offer TAKE THIS BUNDLE
MUDBOX Course
This Online Mudbox Training includes 1 Course with 5+ hours of video tutorials and Lifetime access. You will get to learn 3D Sculpting and painting using Mudbox.
TAKE THIS BUNDLE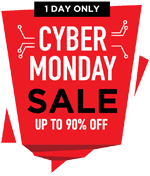 * One Time Payment & Get Lifetime Access
What you get in this MUDBOX Course?
5+ Hours
1 Courses
Course Completion Certificates
Lifetime Access
Self-paced Courses
Technical Support
Mobile App Access
Case Studies
About Mudbox Course
---
| | |
| --- | --- |
| | |
| Courses | You get access to all videos for the lifetime |
| Hours | 5+ Video Hours |
| Core Coverage | Learn 3D Sculpting and painting using Mudbox |
| Course Validity | Lifetime Access |
| Eligibility | Anyone serious about learning Mudbox |
| Pre-Requisites | None |
| What do you get? | Certificate of Completion for the course |
| Certification Type | Course Completion Certificates |
| Verifiable Certificates? | Yes, you get verifiable certificates for each1 course, Projects with a unique link. These link can be included in your resume/Linkedin profile to showcase your enhanced skills |
| Type of Training | Video Course – Self Paced Learning |
Mudbox Course Curriculum
---
MUDBOX

| Courses | No. of Hours | Certificates | Details |
| --- | --- | --- | --- |
| Mudbox | 5h 05m | ✔ | |
SR. No.
Course Name
Course Description
1
Comprehensive Mudbox Training
 This course contains only one major lesson plan and everything is included in this lesson beginning from the introduction to the minor details of the program. The program starts with the 1st chapter on Introduction to Mudbox. This chapter contains the basic knowledge about the program and its core fundamentals are described in this chapter. By showing four different presentations about the program, this chapter explains all the necessary details required to start the program.
The 2nd chapter is based on the concepts of Mudbox and includes 15 lectures as topics discussed and told to make the learners understand more about the program's interface and workflow as well. The 2nd chapter also explains the tools and functions required in the creation of 3D sculptures and paintings.
The 3rd chapter is about the Sculpting in Mudbox. It includes and explains topics about the erase tool, flattens tool, and Foamy tool. The chapter also explains the use of the smooth tool and pinch tool in the program. Rest it contains several other topics in the form of lectures about 3D sculpting and explains the method and procedure of creating sculptures.
The 4th chapter is about object Handling and provides lessons on how to handle the 3D object without errors and mistakes and create them efficiently and accurately. It contains lectures about the same.
The 5th chapter is about Painting textures. This chapter is based on deeper and advanced learning and helps the learner to understand the use of the paints and textures on objects. Moreover, this chapter allows the user to revise the above chapters studied and create an object using these chapters' learning. This chapter is divided into many parts and explains every minor detail in a theoretical manner.
The 6th chapter is based on the face sculpting techniques. Face sculpting is not an easy task to perform as it requires a lot of effort and patience from the learner. So, this chapter explains the need for various tools required to create a proper sculpture of the face and its minor details.
The last and the final chapter are about the sculpting of a figure and its basics. This chapter explains the figure-sculpting using paints, maps, and textures and then exporting the final part and saving the same. So, this chapter is based on advanced learning about maps, paints, and textures, and to understand this chapter the user should be well aware of these techniques used to create figure sculptures in Mudbox.
Mudbox Course- Certificate of Completion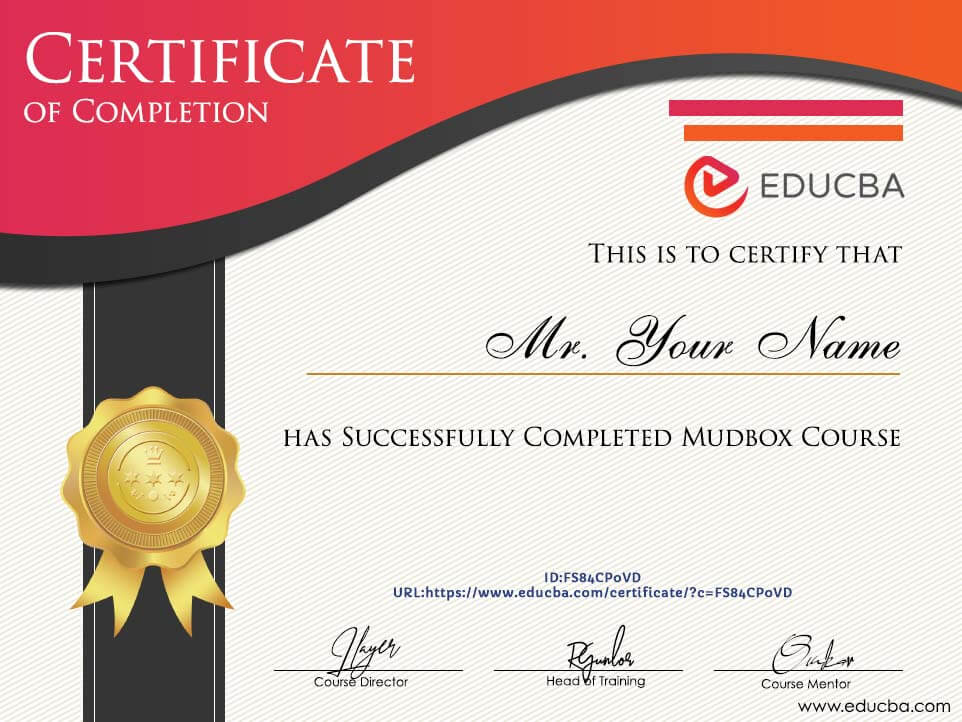 ---
What is Mudbox?
Mudbox is a tool that is used for 3D sculpting and paintings by 3D artists and game developers. The software is currently owned by Autodesk but was created by Skymatter LTD. Mudbox has a huge comparison to Autodesk Maya where users can create 3D objects and materials but couldn't make sculptures and paintings as realistic as they can create in Mudbox. Mudbox is generally considered as a design tool used for creating 3D design textures, models, and games also. The software includes 3D layers feature that helps the user to create different objects on different layers and blend them with masks and blending modes. Moreover, the software can create cameras that are adjustable and can be modified and transformed at any point.
The software can be used with a variety of operating systems such as Windows, Linux, and Mac. The updated and latest version of Mudbox supports the 64bit Operating system only. The best feature of Mudbox is that the software keeps on adding new updates and releases and helps the user to stay updated with the latest tools and technology. The software is also available in tablets and mobiles and can help the users to create modified models with the help of touch technology.

Which Skills will you learn in this Training

?
This Mudbox Course is designed for every 3D artist and sculpture or 3d developer whether beginner or a professional. The course is designed the most perfect way and will help the learners to understand the program with the unlimited examples provided within the course. The training also focuses on the basics of the interface and teaches the most difficult topics such as face sculpting and figure sculpting with much-simplified methods and teachings.
Every part of the course has detailed theoretical explanations and clear methods to perform the most difficult task more easily. Creating sculptures and 3d paintings without any prior knowledge may prove to be a difficult task to perform. But, this Mudbox Training will help the users to simply remove that gap and make them understand the core concepts of the software.
Pre-requisites
The user must know how to use Windows, Linux, or Mac Operating System.
Creative imagination and ideas are also required to get a good understand of the program.
A passion to create 3D models and paintings with the help of this Mudbox Training is also required to master this program
A 65 bit Intel or AMD multi-core processor is also required to work effortlessly on the program.
It also advised using an 8GB RAM computer for better workings of the software.
Mudbox comes only in four different languages English, Japanese, French, and German.
Creating 3d face sculptures and paintings may require extra effort and a lot of patience. So, the user should be able to have them before starting the program.
Target Audience
Beginners and experienced 3D artists can take up this training to learn and master the program.
Students who are keen to create their future in the line of 3d modeling and painting may take up this training.
Game developers and VFX artists can also learn a lot of new techniques and technology of creating 3D models and design textures with the help of this training.
Mudbox Course – FAQ's
---
I am a student of Autodesk Maya and keen to learn the art of creating 3D paintings. Can this Mudbox Training benefit me in any way?
Yes, of course. You have landed yourself for the best training course on Mudbox. Mudbox is generally used for creating 3D sculptures and designs paintings and textures. So, this course will help you to understand the program on a deeper level and you can learn the basics and advanced levels of Mudbox. Also, this training will help you to master the art of creating 3d sculptures including face and figure sculptures without any fail and errors.
I am a game developer and I am interested in learning the art of creating 3D realistic models. Will this training help me in any way?
Yes, this training will provide you with the required tools and functions that will help you in creating 3D models and paintings. Mudbox is helpful software and allows the user to create 3d paintings and drawings that look realistic. Moreover, this software is also very helpful in creating 3D animations and games. So, this training will help you to achieve good results.
Sample Preview
---
Career Benefits
Mudbox Course has a lot of benefits and things to offer to the learners. The training is designed in a systematic manner keeping the freshers and new artists in mind and their capabilities of understanding the software. Whether the students are experienced or beginners this course will include more skills and capabilities in the students who take up this Mudbox Training.
Using this course, the learners will have the full capacity to choose from vast career paths. They can become 3d developers, 3d artists, game developers, 3d sculptures, and many more future paths.
Reviews
---
Training review
The learning process was relatively easy for a beginner. I have a good experience in Maya, and thus I could relate in areas a beginner in Maya couldn't understand. The area where the tangents were involved has been explained better for the guys. All in all, a very good job throughout the tutorials, I will be looking forward to getting more from you.
Mark Muriithi
Great Help!
I cannot wait to get myself on the right track, and with this tutor, I know it will not be that difficult. The amount of descriptiveness and details the tutor goes into is the perfect amount which makes it easy to keep up with, and not get too overwhelmed. I must recommend this to anyone who is thinking of studying Mudbox
Victor Estrada
Great information
Great job by being specific with the keys you are using. It makes it much easier to follow along in the tutorial. I Found it very informative from beginning to end. If I had one request, it would be to insert an 'image' of the keys you are using during the tutorial. At some points in the videos it is hard to hear exactly what key is being said.
Mark Cain