Learn from Home Offer TAKE THIS BUNDLE
ADOBE ILLUSTRATOR Course Bundle - 3 Courses in 1 | 1 Mock Tests
This Online Illustrator Certification includes 3 courses with 11+ hours of video tutorials and Lifetime access. It includes two sets of tutorials, which, once completed, will provide you end to end knowledge of all the fundamentals of vector graphics and using Adobe Illustrator, and also the pipeline for creating industry standard comic book art.
TAKE THIS BUNDLE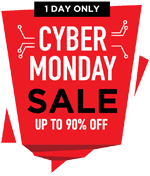 * One Time Payment & Get Lifetime Access
What you get in this ADOBE ILLUSTRATOR Course Bundle - 3 Courses in 1 | 1 Mock Tests?
11+ Hours
3 Courses
Mock Tests
Course Completion Certificates
Lifetime Access
Self-paced Courses
Technical Support
Mobile App Access
Case Studies
About ADOBE ILLUSTRATOR Course Bundle
| | |
| --- | --- |
| | |
| Courses | You get access to all 3 courses, Projects bundle. You do not need to purchase each course separately. |
| Hours | 11+ Video Hours |
| Core Coverage | Fundamentals of vector graphics and using Adobe Illustrator, and also the pipeline for creating industry-standard comic book art. |
| Course Validity | Lifetime Access |
| Eligibility | Anyone serious about learning Adobe Illustrator and wants to make a career in this Field |
| Pre-Requisites | Basic knowledge about designing would be preferable |
| What do you get? | Certificate of Completion for each of the 3 courses, Projects |
| Certification Type | Course Completion Certificates |
| Verifiable Certificates? | Yes, you get verifiable certificates for each course with a unique link. These link can be included in your resume/Linkedin profile to showcase your enhanced skills |
| Type of Training | Video Course – Self Paced Learning |
ADOBE ILLUSTRATOR Course Bundle Curriculum
In this section, each module of the Illustrator Training Course is explained.

Goals
Any online course will not be able to complete its goal until and unless that course can be used by its target students to reach their professional goal. Course or training on Illustrator by EDUCBA is designed in such a clear and precise manner that it will help its viewers to completely understand this software and use those training skills to fulfill their professional goal. Illustrator is all about the vector graphics which can be easily scaled up or down according to the graphics requirement. Thus after learning this course people can create their graphics and can become a high-end graphics designer. This course is designed in a manner that even a new person can understand this software. A sufficient number of practical examples are given in the second part of this course to teach this software in the best possible manner.
Objectives
The objective of this course is to cover every small detail about the software that is needed to create any graphics. At the beginning of this course it tells about the basic tools that are required to frame any graphics image. Basic process steps are explained systematically and sequentially. After covering the basic process steps second part of this course tells about how to use those tools and create your graphics project. People will become familiar with everything that requires creating any graphics image after completing both the parts of the course. The project part of this course will help students to solve the problems that come while creating your project.
Course Highlights
Illustrator is the powerful and simple software used mainly by graphics designers in the creation of websites, postures, pamphlets, etc. This course will make users aware of the basic application of this software and also about how this application software can be used efficiently to do all types of graphics work. Below it has been explained briefly about what we will learn in the entire course of this software
At the starting of this course it is explained about the basic interface of Illustrator software. Basic commands are also explained with their specific use in this part of the tutorial. The interface part of any software is the most important to learn to become friendly to that software.
In this part of the tutorial it is explained about the menu bars of this software. It is defined as how to use different menu bars to do your graphics work. It also explains the short cuts of these bars which is quite handy while creating any graphics image.
This part of the tutorial explains about different page layouts to make your graphics according to your will. It also tells about the different types of fonts provided with this software and how to use it.
After covering the basic commands and page layout this tutorial will tell about different libraries standardized in this software. This will help users while creating their graphics. Users can use the already developed libraries and also customize it according to the requirement
Eyedropper tool which is one most interesting tool provided with this software. In this part of the tutorial it is explained about this tool and also about how to use it. After covering all the basic things at the end tutorial of this course it is told about the advanced tools.
Project Highlights
After teaching about the basic knowledge of all the tools and commands of this software it is now been explained how to use those tools and create wonderful graphics. Below it has been told about the project explained in the tutorials.
Typography is the art or method of utilizing the things to make it appealing to the viewer. It increases the aesthetic appeal of any graphics. In this project course it is explained how to use typography to design your image.
To continue in the same project course it has been explaining about how typography can be used to write and manage the content using different fonts and page layout while designing UI for any website. It also tells how to fix the common problems that appear while framing any graphics.
In the second project session a cartoon is created with the different tools of this software. As this software is vector-based we can change the size of the cartoon according to our requirement without degrading its quality. This part of the tutorial will tell how to use different toolsets to create full graphics.
After completing all the above tutorials you can become a professional graphics designer.
Illustrator Course – Certificate of Completion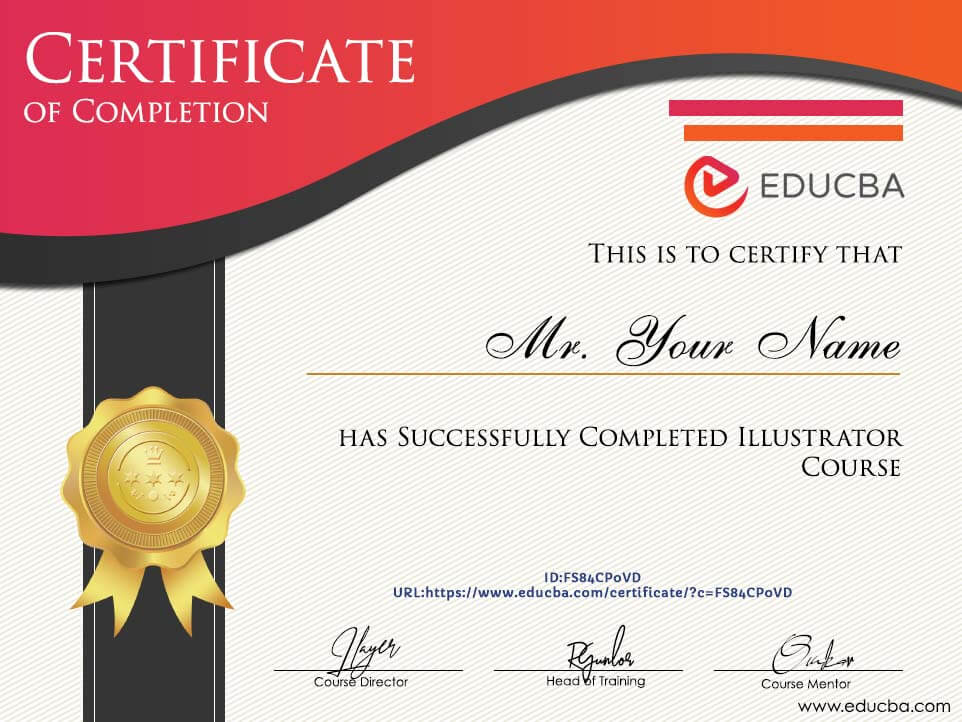 ---
What is Adobe Illustrator?
Adobe Illustrator is one of the multimedia industry's most powerful software programs, as far as vector graphics go. With Adobe Illustrator, you can create beautiful, smooth graphics that can be scaled perfectly, without any resolution limitations, as vector graphics are based in geometry rather than pixels. The major advantage with illustrator, however, is the vast suite of tools and techniques available to deal with all kinds of issues faced when trying to create a project in vector graphics, which may have been done before in pixel-based graphics.
Adobe Illustrator was first launched as Illustrator 88, shipped first in January 1987. It was the commercialization of Adobe's internal software for designing fonts and their PostScript format. It is promoted as the companion product of Adobe Photoshop. While Photoshop focuses on photo editing and photorealistic forms of graphics, Illustrator is designed to focus on areas that are better suited for vector graphics, such as logos, comic book art or designing of fonts.

Industry Growth Trend
The global computational creativity market size to grow from USD 204 million in 2018 to USD 685 million by 2023, at a Compound Annual Growth Rate (CAGR) of 27.4% during 2018–2023.
[Source - MarketsandMarkets]
Average Salary
Average Salary
$17 per hour
The average salary for a Graphic Designer is $17.05 per hour in the United States.
[Source - Indeed]
The latest versions have been put under a common name as Adobe Illustrator CC.
Which tangible skills will you learn in this course?
The first set of Illustrator course online tutorials takes you through the concepts related to vector graphics, and the function and process of using every tool and technique that is essential for you to be able to use Adobe Illustrator for creating vector graphics that are at par with the industry standard.
The second set of tutorials in this Illustrator training, titled 'Cartooning using Adobe Illustrator' is slightly more advanced, and assumes you already know all the fundamentals of vector graphics and Adobe Illustrator, and takes you through a demonstration of the industrial application of Adobe Illustrator. After completing both sets of tutorials, you should be able to create vector graphics that are on par with the industry standard.
Pre-requisites
You need to be fluent with the use of a computer, and being good with a pen tablet can help you use Adobe Illustrator's features better. However, there is no formal requirement in terms of technical knowledge. The Adobe Illustrator certification course from eduCBA has been designed to address absolute novices in the field of graphics, so anyone can take it.
Target Audience
If you are an aspiring cartoonist or comic book artist, this course is for you. If you are a logo designer, this Adobe Illustrator training is for you. If you want to create your custom typography, this course is for you.
The Adobe Illustrator course from eduCBA has been designed to bring an absolute novice to industrial competence, so it doesn't matter if you know nothing about graphics, or you are trying to learn an additional skill for your portfolio, the Adobe Illustrator course from eduCBA is for you if you need a software solution for vector graphics as one of your skills.
Illustrator Course – FAQs
Can I access the Adobe Illustrator course from eduCBA from anywhere?
Yes, you can access the Adobe Illustrator course from eduCBA from any device or location, as it is completely online. Once you sign up for this course, you will receive your login credentials, and you can use them to access this course from anywhere.
Is there a classroom course available for Adobe Illustrator from eduCBA?
eduCBA is a platform for online training only and does not conduct classroom training. We endeavor to help our students have access to the Adobe Illustrator course from eduCBA independent of geolocation or device-based limitations so that they can access it from anywhere and learn Adobe Illustrator at their own pace.
Who are the instructors for the Adobe Illustrator certification course from eduCBA?
The trainers are professionals from the graphics industry who have a long experience of conducting online training for Adobe Illustrator. They deliver the content based on the industry trends and teach Adobe Illustrator from scratch, so that even a novice can learn from the beginning, and comes to be at par with an industry professional as far as the skillset is concerned.
Is there any certificate available in the Adobe illustrator course online from eduCBA?
Yes, you will receive a certificate of completion for the particular course, once you have gone through more than seventy percent of the course material. The Adobe Illustrator course from eduCBA contains two courses inside it, and each of them has its certificate of completion.
Are there any pre-requisites for enrolling for the Adobe Illustrator course from eduCBA?
You need to be proficient with computers, and being able to handle a pen tablet will help you get the most benefit from the Adobe Illustrator course from eduCBA. Other than that there are no formal educational requirements to take this Illustrator course online.
Will I get any technical support from eduCBA during my training?
Yes, you will be provided all the technical support necessary for your Adobe Illustrator training. When facing any technical issue you can drop us an email or call us, and we will help you out.
Sample Preview
Career Benefits
After completing the Adobe Illustrator course from eduCBA, you can work in many graphics and
design-related fields, such as the publishing industry, marketing, and advertising, designing branding
materials, etc.
Course Reviews
---
Really helpful course
I was looking for a good Adobe Illustrator course to learn vector graphics to get a job in a printing solutions company, and with eduCBA's course for Adobe Illustrator, I was able to learn the necessary skills to get this job. Thank you so much eduCBA.
Josephine
An end to end solution to learn Adobe Illustrator
I already knew how to work with pixel-based graphics, but wanted to add vector graphics to my portfolio and get into comic book art. This was the perfect Illustrator certification course for me, teaching vector graphics fundamentals of Adobe Illustrator in detail, as well as teaching industry-standard techniques for application of Adobe Illustrator in creating cartoons. eduCBA's technical support was also great, making my experience top-notch. Thank you.
Bella
Extensive coverage of tools and techniques
I went through many other tutorials but they did not cover all the tools and techniques for Adobe Illustrator, and many of them were not talking about the fundamentals at all. This Illustrator training course covers all the things I was missing everywhere else I looked, and also talks about the fundamentals and does not assume that we know about them already.
Sripriya J.