Learn from Home Offer TAKE THIS BUNDLE
FL STUDIO Course Bundle - 2 Courses in 1
This FL Studio Course is a bundle which includes 2 courses with 18+ hours of video tutorials and Lifetime access. You will also get verifiable certificates (unique certification number and your unique URL) when you complete each of them. This training will help you learn music production, audio recording, and multi-track audio editing from scratch.
TAKE THIS BUNDLE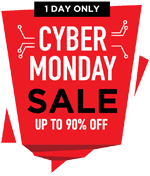 * One Time Payment & Get Lifetime Access
What you get in this FL STUDIO Course Bundle - 2 Courses in 1?
18+ Hours
2 Courses
Course Completion Certificates
Lifetime Access
Self-paced Courses
Technical Support
Mobile App Access
Case Studies
About FL STUDIO Course Bundle
---
| | |
| --- | --- |
| | |
| Courses | You get access to all 2 courses, Projects bundle. You do not need to purchase each course separately. |
| Hours | 18+ Video Hours |
| Core Coverage | FL Studio Systems and GUI Overview, Basic Settings, Pattern/Beat Sequencer & Virtual Instruments, Piano Roll & Related Tools, Playlist Editor, Audio Mixer, Side Chaining, Edison Audio Editor, Effects Automation, VST Instruments, and VST Effects |
| Course Validity | Lifetime Access |
| Eligibility | Anyone serious about learning FL Studio and wants to make a career in music production |
| Pre-Requisites | Basic knowledge of using music editing |
| What do you get? | Certificate of Completion for each of the 2 courses, Projects |
| Certification Type | Course Completion Certificates |
| Verifiable Certificates? | Yes, you get verifiable certificates for each course with a unique link. These link can be included in your resume/Linkedin profile to showcase your enhanced video editing skills |
| Type of Training | Video Course – Self Paced Learning |
FL STUDIO Course Bundle Curriculum
---
Let's have a look at the FL Studio Course in detail below:

| | | |
| --- | --- | --- |
| Serial No. | Course Name | Course Description |
| 1 | Music production using FL Studio – Beginners | We will start this course with an introduction to the FL studio software. This chapter helps you to learn everything you need to know to start using the software as a beginner. This is a 10 hour 9 minutes course which consists of 72 online video tutorials. You will introduce to the user interface and settings of this software. This includes the Main panel, SFX transitions, Arranging, and editing, snap panel, pattern panel, working with audio files, etc. This tutorial also helps you to learn other features of FL studio-like pattern sequencer, piano roll, Playlist editor, etc. |
| 2 | Music production using FL Studio – Advanced | In this FL studio advanced course, you will be provided with all advanced tools and features of this software. It is a 9 hour 15 minutes chapter which consists of 68 videos. Through this chapter, you will get a detailed idea about various features of FL studio-like Mixing board, Edison Audio editor, Automation effects, VST instruments, VST effects, etc. We are also providing you with the details of various plugins of this software through this chapter. |
---
Certificate of Completion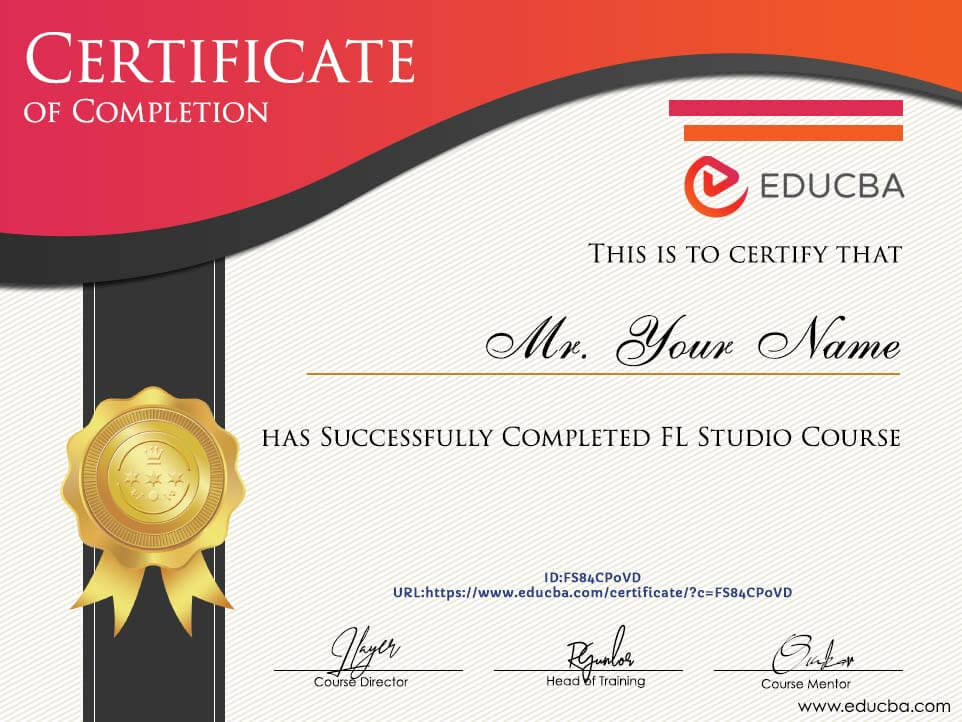 ---
What is FL Studio?
FL Studio formerly known as fruity loops is a digital audio workstation owned and developed by the Belgian company Image-Line. Moreover, it is a multitrack digital audio work station available on Windows and Mac OS. This music production software is capable of various features like multi-track audio recording, sequencing, mixing, etc.  You can compose complex musical scores with this software.
The first version of FL Studio (Fruity loops 1.0.0) was developed and partially released by Image-line in December 1997. It was officially declared in early 1998. After the release of initial versions, it quickly underwent a series of large upgrades and become a popular and complex digital audio workstation. FL Studio is available in four different editions, including fruity edition, producer edition, signature bundle, and all plugins bundle. Image-line made this software available for I phone, I pad and Android devices. FL Studio can be also used as an audio plug-in user interface called VST Instrument in other audio work station programs and also serves as a Rewire client which allowing remote control and data transfer among digital audio editing software.
FL Studio comes with a variety of plug-ins written in programs' native plugin architecture. Also, it is bundled with various sound processing effects like chorus, compression, flanger, delay, phaser, equalization, etc. More than 70 versions of this software were released to date and FL Studio 20.1 was the latest among them. It was released on 11th December 2018.

Industry Growth Trend
The global computational creativity market size to grow from USD 204 million in 2018 to USD 685 million by 2023, at a Compound Annual Growth Rate (CAGR) of 27.4% during 2018–2023.
[Source - MarketsandMarkets]
Average Salary
Average Salary
$20 per hour
The average salary for an Artist is $20.48 per hour in the United States.
[Source - Indeed]
Which skills you will learn in this FL Studio Course?
This FL Studio course will help beginners and professionals to confidently get up and running in music production. It will help advanced composers to improve their skill set and perform effectively in their jobs. Through this FL Studio course, you will learn how to use different editing and mixing tools available in FL Studio effectively. Let us have a look into the different skills you will learn from this tutorial,
Music Production
Mixing board
Edison
Automation
Various plugins
Pattern Sequencer
Piano Roll
Playlist editor
Beat sequencer
VST instruments
VST effects
With this FL studio course, you will understand all the basic and advanced skills of this software. As you know FL studio is a vast area and you may come across new features each day. So this course helps you to find new features and tools and to use those tools in your projects. With the help of this course, you will be able to do mixing and mastering to create your music and beats. And for a beginner, this is an excellent course to create your beats for the first time. Also, you will be provided with all the modern tools for recording and sound effects.
Requirements / pre-requisites
Willingness to pursue a career in Music production: An interest in music, beats, and audio technologies is a must before learning this course. If you are willing to achieve a career in this field you can start this course and drive towards your destination.
Basic knowledge of computer: You just need a basic knowledge of the computer before start learning this course. It will be easy for you to follow and learn this FL Studio course if you know computer fundamentals.
Knowledge of Audio formats & codecs: Knowledge of different audio formats and codecs will be an added advantage for learning this course. This basic knowledge will be helpful for an easy and fast understanding of the course.
An updated version of FL Studio & personal computer: You can use any version of the software for learning it, but using the latest version will always keep you updated and provides the latest features and tools. Since it is a resource-intensive software program we should consider a good system before running the software.
Target Audience
Students interested to enter the field of music production: Students who are planning to enter the field of music production can use this FL Studio course as a stepping stone to achieving a safe and strong career.
Sound editing/Engineering professionals: An audio engineer helps to produce a recording or live performance balancing and adjusting by using different tools and features. This software and this course will help those people to perform well and effectively in their job.
Music Composers: Composers works with film, serial and other media are using FL studio for various audio editing, mixing, recording works. This course suits them for learning more about FL studio and its advanced features.
Voice over artists: Voice effects and techniques in FL studio helps Voice over artists to perform well and give great output. Voice changing and adding effects to voice is possible through this software.
Podcasters: Podcasters who prepare and distribute audio files for their users through various media players use FL studio for their audio production. Anyone with a microphone can produce audio files and the can edit the audio with FL studio
FL Studio Course FAQ's- General Questions
---
Why should I do this FL Studio course?
If you're asking this question, probably you haven't gone through the curriculum. A student or professional who is into the field of music production should do this course since it is the most used and common software used in this filed.
Is FL studio available for installation on Mac?
Yes, FL Studio has been released for macOS. If you already installed FL studio, that license can be used for both Windows and macOS
Would this FL Studio course help me in my career advancement?
Skills and technology along with your creativity will always boost your career growth. Through this FL Studio course, you can improve your skills and knowledge and which helps you to attain a good position in your career.
What version of FL Studio do I need for your tutorials?
You can use any version of the software for learning it. But using the latest version will always keep you updated and provides the latest features and tools.
Sample Preview
---
Career Benefits
Music production is the process of write, arrange, produce and record songs and music using different software. Music producers make a lot of money by making and selling beats and songs to other artists, composing music for games and movies, etc. People think that you need to have music knowledge or need to learn music from childhood to become a music producer. But in reality, anyone can learn music production. Music production is completely different from singing a song or playing musical instruments. The only thing you need to know is to operate the software and learn the software thoroughly. FL Studio is one such software that allows you to do everything for music production.
Music producers have a critical role in the field of the entertainment industry. They look after the entire process of making and editing music and without them, quality recording of music is also not possible. Also, they play an important role as a mediator between artists and musicians. Even though you don't get the same recognition as the artists or performers, producing is a great career path that gives you both fame and earnings. Your career growth and earnings will be based on your skills and hard work. If you produce fresh and attractive music you will be accepted easily and reach great levels in your field. This FL Studio course supports you in your career growth by teaching you all the basic to advanced features of world-famous music production software FL Studio. In the end, your creativity along with FL studio can do wonders by creating magical beats.
FL Studio Course Reviews
---
FL Studio Course made it easy!
This is an amazing course teaching the basics to advanced tools of FL Studio. It helps me to understand the user interface, workflow, and features of this software. As a beginner, I am fully satisfied with this course and I will surely refer this course to my friends.
Andrew Carrey
Good!
This tutorial helped me to increase my confidence as a music composer. I am a professional music composer, and this course helped me to improve my skills in this field and I am really happy to learn this FL Studio course.
Moushmi Shah
FL Studio Training
Good course with a lot of new information and ideas about FL studio. Also, it was very well presented by the instructor. Even a beginner can easily follow and understand the course. My friend suggested this course and I am thankful to him for introducing such a useful tutorial for me.
Zeenath