Learn from Home Offer TAKE THIS BUNDLE
All in One Design Bundle (280+ Courses, 100+ projects)
This All in One Design Course Bundle is an Ultimate bundle of 280+ Design courses with 2000+ hours of video tutorials and Lifetime access.

This is not all, you also get verifiable certificates (unique certification number and your unique URL) when you complete these courses. This course includes hands-on training on Photo Editing, Game development, 2D 3D Animation, Architectural Drawings and Designs, Graphic Design Courses, Video-based courses and highlights various practical courses on designing skills.
Offer ends in:
TAKE THIS BUNDLE
* One Time Payment & Get Lifetime Access
What you get in this All in One Design Bundle?
Online Classes
Technical Support
Mobile App Access
Case Studies
About Design Course Bundle
---
| Bundle | No. of Courses | No. of Projects | Hours | Actual Price |
| --- | --- | --- | --- | --- |
| Canva Tutorial (1 Course, 2 Projects) | 1 | 2 | 10+ | |
| AutoCAD Training (6 Courses, 17 Projects) | 6 | 17 | 52+ | |
| Houdini Training (2 Courses, 6+ Projects) | 2 | 6 | 93+ | |
| CorelDRAW Training (1 Course, 5+ Projects) | 1 | 5 | 38+ | |
| SolidWorks Training (3 Courses, 4 Projects) | 3 | 4 | 22+ | |
| Maya Training (10 Courses, 7+ Projects) | 10 | 7 | 100+ | |
| Photoshop Training (10 Courses, 12+ Projects) | 10 | 12 | 80+ | |
| Unreal Engine Training (12 Courses, 6+ Projects) | 12 | 6 | 160+ | |
| ZBrush Training (3 Courses) | 3 | - | 18+ | |
| Design Courses for Mechanical Engineering (5 Courses) | 5 | - | 30+ | |
| SketchUp Course (2 Courses, 5 Project) | 2 | 5 | 17+ | |
| Blackmagic Fusion Training (1 Courses, 9+ Projects) | 1 | 9 | 28+ | |
| Sony Vegas Pro Tutorial (5 Courses, 18+ Projects) | 5 | 18 | 136+ | |
| Adobe Premiere Pro Tutorial (4 Courses, 7+ Projects) | 4 | 7 | 33+ | |
| Avid Media Composer Training (2 Courses) | 2 | - | 14+ | |
| VFX Visual Effects Training (13 Courses) | 13 | - | 185+ | |
| FL Studio Training (2 Courses) | 2 | - | 18+ | |
| 3DS Max Training (2 Courses, 1+ Projects) | 2 | 1 | 32+ | |
| DaVinci Resolve Training (2 Courses, 2+ Projects) | 2 | 2 | 30+ | |
| Blender Course (1 Course, 3 Projects) | 1 | 3 | 10+ | |
| Unity Training - Game Development with UNITY (15 Courses, 11+ Projects) | 15 | 11 | 115+ | |
| RealFlow Tutorial (3 Courses, 3+ Projects) | 3 | 3 | 41+ | |
| After Effects Training (3 Courses, 3+ Projects) | 3 | 3 | 25+ | |
| Illustrator Training (1 Courses, 2+ Projects) | 1 | 2 | 12+ | |
| OpenGL Course (4 Courses) | 4 | - | 11+ | |
| NewBlueFX Tutorial (1 Courses, 4+ Projects) | 1 | 4 | 23+ | |
| Autodesk Combustion Training (1 Courses, 3+ Projects) | 1 | 3 | 15+ | |
| Natron Tutorial (1 Courses, 4+ Projects) | 1 | 4 | 12+ | |
| Pixelan VFX Tutorial (1 Courses, 7+ Projects) | 1 | 7 | 37+ | |
| Boris FX Tutorial (1 Courses, 5+ Projects) | 1 | 5 | 30+ | |
| MonoGame Course (2 Courses, 2 Projects) | 2 | 2 | 12+ | |
| DirectX Training (3 Courses) | 3 | - | 20+ | |
| Unity Scripting Tutorial (3 Courses) | 3 | - | 11+ | |
| 3DS Max Architecture Training (4 Courses) | 4 | - | 12+ | |
| 3Ds Max Modeling Training (5 Courses) | 5 | - | 15+ | |
| Music Production Training - Audacity, FL, Melodyne, Pro Tools and Avid (10 Courses) | 10 | - | 77+ | |
| Audacity Training (1 Courses) | 1 | - | 8+ | |
| Film Editing Training - Premiere Pro, Sony Vegas Pro, Lightworks, NewBlueFX and Pixelan (9 Courses) | 9 | - | 230+ | |
| Nuke Training (2 Courses) | 2 | - | 9+ | |
| Adobe Flash Training (2 Courses, 1+ Projects) | 2 | 1 | 12+ | |
| 3D Architecture Tutorial using MAYA and 3Ds MAX (2 Courses) | 2 | - | 25+ | |
| Pro Tools Training (2 Courses) | 2 | - | 15+ | |
| Melodyne Tutorial (2 Courses) | 2 | - | 15+ | |
| Lightworks Tutorial (2 Courses) | 2 | - | 18+ | |
| Silhouette FX Tutorial (1 Courses) | 1 | - | 10+ | |
| Cinema 4D Training (4 Courses, 2 Projects) | 4 | 2 | 14+ | |
| Lightroom CC Training (1 Course) | 1 | - | 4+ | |
| Mudbox Course (1 Course) | 1 | - | 6+ | |
| InDesign Course (1 Course) | 1 | - | 4+ | |
| Unity Shader Course (3 Courses) | 3 | - | 12+ | |
| Maya 3D Architecture Previsualization Training (6 Courses) | 6 | - | 13+ | |
| 3D Character Modeling Training (4 Courses) | 4 | - | 23+ | |
| Magic Bullet Training (2 Courses) | 2 | - | 8+ | |
| Bonus Design Courses | 69 | - | 200+ | FREE |
| Total | 280+ | 151+ | 2000+ | |
Online Design Course Curriculum
---
In this section, each module of the Design course is explained briefly:

---
Design Course – Certificate of Completion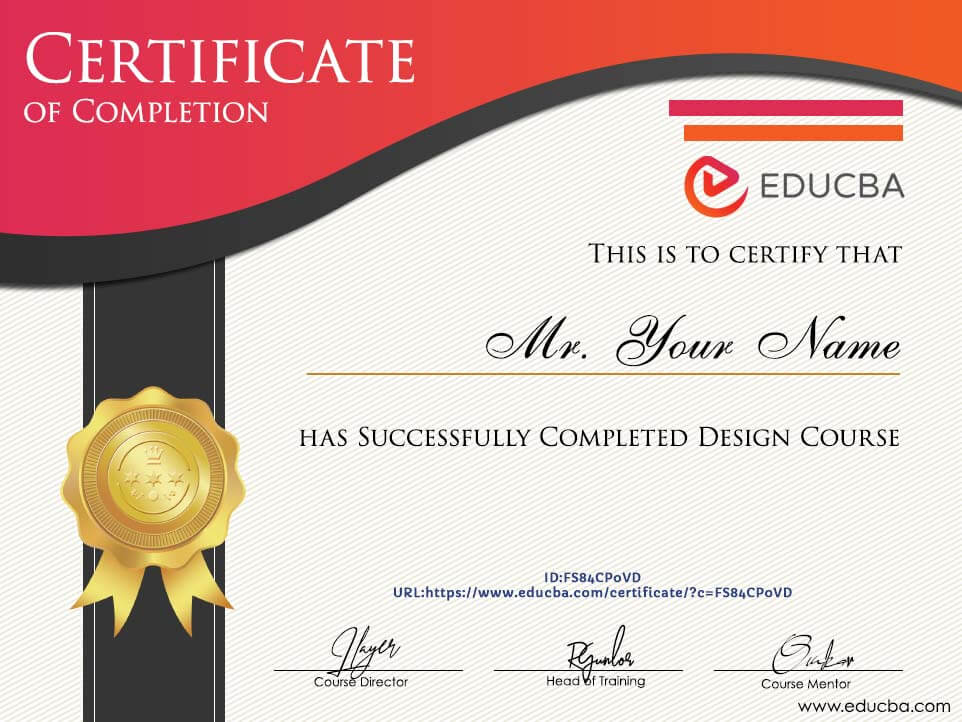 ---
What is Design?
Designs are visual representations used to depict the concepts used in different artworks. It branches out into many different genres, from product design, interaction, to designing cars, video games, software interfaces, offices, and home interiors, architectural drawings and whatnot. Designs are meant to be the problem-solvers and are used primarily to fulfill a need. Designs connect people with technology and it makes technology usable for people.
This is an All-in-One Course Bundle which explores various software from every field of design. Taking up this course will not only help the learners to learn different aspects of development and design but also help in the long run.

Industry Growth Trend
The global computational creativity market size to grow from USD 204 million in 2018 to USD 685 million by 2023, at a Compound Annual Growth Rate (CAGR) of 27.4% during 2018–2023. The base year considered for the study is 2017, and the forecast has been provided for the period between 2018–2023.
[Source - MarketsandMarkets]
Average Salary
Average Salary
$17.03 per hour
The average salary for a Graphic Designer is $17.05 per hour in the United States. Salary estimates are based on 7,022 salaries submitted anonymously to Indeed by Graphic Designer employees. The typical tenure for a Graphic Designer is 1-3 years.
[Source - Indeed]
Which tangible skills you will learn in this course?
Design all in one bundle course is aimed for learners interested in creating Games, Architectural Drawings and designs, Graphic Designs and edit digital videos & create their soundtracks. By learning the techniques and commands included in this course, the learner can improve their skills to a high level.
The learners will be introduced to the in and out of the various design software which will help them in learning the fundamentals of every aspect of the programs.
Students will learn a logical workflow for creating and editing Games & Videos respectively. With this training, the students will be able to master skills on Unity, game development, ZBrush, 3DS Max, AutoCAD, Photoshop, Illustrator, Lightroom, Dreamweaver, After Effects, Autodesk Combustion, Natron, Boris Fx, Nuke & other software.
Pre-requisites
Basic knowledge about computers is a must
A passion for learning design and Development with lots of ideas and creativity is a much-required pre-requisite before starting this Design Course.
Prior knowledge about Game development, Architectural modeling, interior designing, graphic designing & Video Editing will help the learners to understand the software easily as many parts of the interface, toolbox, and effects are mostly the same.
Target Audiences
The design course can be used well by Professional Photographers and Videographers.
Graphics designers who are looking for a new career shift can also benefit from this Design course training.
Students you wish to make careers in Film Editing, Motion Graphics, Visual Graphics for Film and TV Industry and many fields where VFX, Compositing, and Editing are commonly used.
This Design course has many other various courses included. A student aiming to learn a skill can also go through the course.
FAQ's General Questions
---
Can I access this Design course from anywhere?
Yes, you can access this course from anywhere & everywhere. Once you are registered for this Online Training Bundle, you will get your login credentials which you can use to access the video materials and other contents from anywhere.
Will this training help me to grow my career?
It is a career aimed at training, aimed to teach different methods of designing and development and it will help you to create your games, videos, and projects. If you take up this design course you will not only grasp the programs but also obtain command over the various techniques and processes of development & designing with various software included in this course, which in turn will automatically open many career opportunities.
I am a fresher in the field of Developing games. Will this Design course benefit me?
No Issues. This design course is aimed at a general audience. Whether the learner is a beginner or a professional anyone can take up this training. But still, since you are a beginner you need to first gain some basic knowledge of the same and then only, you will be able to succeed using this training
Career Benefits
Design All-in-One Course is a career-oriented training that focusses on enhancing the skills and providing the learner to study many various methods of learning development and designing with a vast number of programs included in this course.
This Design course opens many prospects for the students and professionals to choose from various career options. Learners can go for jobs like an Audio Video Editor, 3D Animator, 3D Artist, Lightworks Video Editor, Assistant Video Editor, FCP Editor, VFX Artist, Roto Artist, 3D Modeler, Graphic designer. The choice of career and the capacity to use their skills & flair is in the hands of the learner.
Course Reviews/Testimonials
---
Sketch Up Pro 2016
This course is such an opening knowledge for sketch up. The instructor shows the basics first and then he gave us a glimpse/ background of what other amazing things we can do on sketch up. Other than that, he thought us some shortcuts and options that we can use for future references. Good work! I learned a lot. So now, I will try to do my design and practice more.
Linked
Jenny Rose T. Caballero
Sketchup Pro 2016
Sketchup Pro 2016 gives an idea of editing more in an easier way of editing 2 and 3-dimensional objects. It may not be the best software out there but it can show the right perspective on whatever the user wishes see to end product. It well explains giving a lot of information clearly and in a few words in brief but comprehensive.
Linked
RENANTE BADILLA GORDOVE
CSS3
I Have enjoyed the CSS3 course, in this course I got a very good review of CSS and especially in the area of responsive web design, this course covers all aspect of CSS3 from the basic CSS style to how to set your CSS for responsive design and friendly pages to be printed.
I recommend this course 100%
Thanks
Linked
GUSTAVO QUINTINO
Excellent!
This design course covered all the basics. It was wonderful! I've been doing Photoshop for a while and I managed to get up to speed to know all the tools needed to start something. Although the accent sometimes is not understandable, the examples itself spoke for themselves. I will check out the advanced ones!
Linked
Mark David D. Generator
Great information
Great job by being specific with the keys you are using. It makes it much easier to follow along in the tutorial. I Found it very informative from beginning to end. If I had one request, it would be to insert an "image" of the keys you are using during the tutorial. At some points in the videos it is hard to hear exactly what key is being said.
Linked
Mark Cain
Very Informative
Good design course with a lot of information. It covers many topics, there is a lot of focus on manual installation of word press both from installation and administration perspective. There is information about third-party tools and website which may come handy from an application development viewpoint. Various aspects of word press development are covered in this course.
Linked
Vivek Kumar
Concise and Clear
As a beginner designer (not a designer at all to be honest) everything seemed very clear to me. Good examples for illustrating the speech. Some are very funny. Good voice tone and pronunciation. I learned a lot about shapes and how to design a logo. Overall I would recommend this lesson. Interesting course
Linked
Julien DELSUC
Detailed
I am very appreciative of the access to this design course. I like the fact that the instructor took the time for each section to be able to distinguish specifics within the design. There are a lot of intangibles that go into designing a diagram of a house and the instructor did a great job of not making it overwhelming.
Linked
Mark Cain
Great!
This tutorial is very well presented by the instructor. I appreciate the attention to detail that the instructor took to all of the intangibles within the presentation. It was presented in a way that a person who is fairly new to the program can follow along. I would recommend this tutorial to anyone who is needing to learn the foundations of Maya.
Linked
Mark Cain
Detailed course
This course goes through everything from audio basics to how to use every feature of Audition. There is a lot of information in this course, but it does a good job of demonstrating every feature of the software and how to use them. I did not need all of the features, but they are all in this course to learn and use.
Linked
K Shawn Hensley
EduCBA Training
I liked their training, worth taking it. I took a course on Understanding WordPress Administration as a refresher more-so rather than a catch-all admin guide. The course gives a reasonably detailed overview of the UI and options for a user new to the basic administration of WordPress. Overall it is a useful refresher on the basic administration of an existing WordPress site.
Linked
Karol Moran
Comprehensive Courses
A comprehensive course on Solidworks would recommend to anyone!
In addition to the requirements of learning the mechanical design point of view of the software and simulation, it shows you how to create multiple mate relations and technical drawings. These are all needed for a complete understanding of the software to use it in the industries it was created for. This has given me the knowledge required to use the software effectively.
Frank Worcester
Very Thorough
This is a very thorough course that will take you to step by step through all of the features of Adobe Captivate and give you an understanding of what they do, and demonstrate how to use them. I found this course very helpful in understanding the features available and very easy to understand how to use them. Each step is also demonstrated to show how it looks.
Linked
K Shawn Hensley
Good Refresher Course on Adobe Photoshop
While the course does not go into advanced features of Photoshop, it's a good beginner's, or refresh course. If you want to get started with photoshop, or like I haven't used the program in a while, then this is absolutely for you. The instructor does a very good job explaining the pen/vector tool system and thought me some shortcuts I didn't even know about! Though the speaker's voice goes a bit monotone near the end, all in all I'm still satisfied with the course.
Anne Winning
CSS3 Course
Overall it was a good course the instructor was awesome, The lessons are compact enough to not get to overwhelmed. The content was spot on to what I needed to learn. The lessons are structured in a fun way that promotes learning and knowledge retention. I can see myself working in the field of web development now that I have completed this course. Slowly the pieces are coming together in the best of ways. Anyone looking to learn. Go here.
Alex Kollar
Enjoyed the training of Unity
I loved the video tutorials. it helped in clearing my doubts and also gave me some knowledge about the game I loved it, this site is very useful for people who want to learn online I will make sure that I will share this website to many people so that people will come to know and their knowledge will also increase good work by the creators of this site hope so u add many as such courses which can truly help us thank you so much
Unit Kothari
Good Course on Big Data
A good introduction to big data, maybe too focused on Hadoop and the technological side. The course focuses on the architecture of Hadoop systems rather than on business applications and the implications of big data for non-information technology employment. The course is short enough to complete in under an hour, I would make sure to undertake further courses to get a more applicable understanding of the subject…
Zala Meena kumari
Reviews of Educa on Unity Training
This course is an introduction to the game development career. You can create any 2D or 3D games with Unity. You can make it with ease, you can make it highly-optimized and beautiful, and you can deploy it with a click to more platforms than you have fingers and toes. And all these functions are taught under this course which is superb to learn & experiment as well.
Linked
Pradyumna Paralikar
Excellent Course on Solid Works
Amazing course to those who don't have time to join the center, very good learning at home u can learn anytime according to your mood plus nice videos with complete knowledge and easily understandable, very nice learning and every detail in the videos mentioned very clearly. I read few of educba testimonials and then decided to go for this training so providing this educate reviews to help the team know their quality of work seriously overall a very nice course lots of learning and a complete package to know about solid works and at last buying this Solidworks package worth it.
Rahul Mathur