Learn from Home Offer TAKE THIS BUNDLE
CorelDRAW Course Bundle - 6 Courses in 1
This Corel Draw Training includes 6 courses with 38+ hours of video tutorials and Lifetime access. You will also get verifiable certificates (unique certification number and your unique URL) when you complete each of them. You will master the Corel Draw graphics suite and various practical applications of the software such as Magazine Designing, Pattern Making, Flyer Designing, Greeting Card Designing using Corel Draw.
TAKE THIS BUNDLE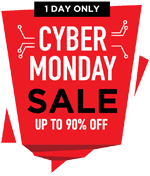 * One Time Payment & Get Lifetime Access
What you get in this CorelDRAW Course Bundle - 6 Courses in 1?
38+ Hours
6 Courses
Course Completion Certificates
Lifetime Access
Self-paced Courses
Technical Support
Mobile App Access
Case Studies
About CorelDRAW Course Bundle
---
| | |
| --- | --- |
| | |
| Courses | You get access to all 6 courses, Projects bundle. You do not need to purchase each course separately. |
| Hours | 38+ Video Hours |
| Core Coverage | Mastering Corel Draw graphics suite and various practical applications of the software such as Magazine Designing, Pattern Making, Magazine Designing, Flyer Designing, Greeting Card Designing using Corel Draw |
| Course Validity | Lifetime Access |
| Eligibility | Anyone serious about learning Corel Draw and wants to make a career in graphics designing |
| Pre-Requisites | Basic knowledge of using graphics |
| What do you get? | Certificate of Completion for each of the 6 courses, Projects |
| Certification Type | Course Completion Certificates |
| Verifiable Certificates? | Yes, you get verifiable certificates for each 6course, Projects with a unique link. These link can be included in your resume/Linkedin profile to showcase your enhanced graphics designing skills |
| Type of Training | Video Course – Self Paced Learning |
CorelDRAW Course Bundle Curriculum
---
Let's have a look at the Corel Draw Training in detail below:

Goals
The CorelDraw training is generally based on the application and usage of the program and where the software is used mostly. CorelDraw is one of its kind vector program that is used for graphic and printing designs and artworks. This training will help the learners to gain immense knowledge of CorelDraw and its purpose of learning.
Objectives
The sole objective of this training is to make the learners aware of the program from the very basic and fundamental level to an advanced and expert level of certainty. This training is coupled with lots of explanations and practical methods that teach learners easily and simply. The learners will learn logical as well as practical knowledge with the help of this course and implement the same as and when required.
The course is not limited to any group of learners; the course aims to teach beginners, intermediate and advanced levels of students universally. The course covers all the basic knowledge about the interface and tools and helps the students to gain as much knowledge as they can.
Course Highlights
This CorelDraw course has been designed in such a way that it aims to justify the sole objective of the training by giving logical and practical lessons to learn and study from. In the first section the course highlights the basic concepts and tools needed to create any artwork in any given situation. Later it also explains the application of these tools with different projects and examples. Let us study the most basic highlights of the course and its learning outcomes:-
The course starts with the introduction of CorelDraw and its working space and user interface as well.
The user interface is well explained in the 2nd section where the user learns about the various dialog boxes and windows that are seen on the user interface of the program. We learn the fundamental process of creating a new document and saving it.
From the 3rd section of the course we go through the vast set of tools available in the toolbox of the program. CorelDraw has a robust toolset that takes the major part of learning the program. We learn about the shape tool which helps the user to create different geometrical shapes with accurate dimensions.
The pick tool is the most basic tool that helps the user to pick and move their object from one place to another.
Similarly, tools such as freehand, virtual segment delete tool, Zoom tools, Bezier tools are well explained in the course segment.
The course section also includes the explanations on Smart fill and Smart Drawing functions that help the user to pick and fill the object with any color.
Working with tables, bullets, text and creating basic graph paper and spiral tools are also explained in this section.
Project Highlights
If learning theory is important then working practically on those theories is also very important to understand the proper application of the tools and functions studies in the theory section. This is why the course includes many practical projects that explain the program well. Let us see the project highlights below:-
The course training has a specific project based on greeting card designing. This project will help the learners to gain knowledge about how to create greeting cards and which tools are used and applied accordingly. The project also focuses on Text designing and its tools.
The second project is based on Flyer designing methods. By learning how to design a flyer, the learners will get to apply and learn different tools and functions and see their outcomes.
The 3rd project is based on creating different patterns used for creating some creative designs and artworks. In this project geometric, textured, tribal and floral pattern making is described and explained.
The 4th project is based on designing a cover of the book using CorelDraw and Photoshop. This project will also teach the users, how to combine Photoshop with CorelDraw and create some amazing and creative ideas and designs. The users will learn different tools that are required to create book covers and inside materials as well.
The last project in the course is based on designing magazine covers using both CorelDraw and Photoshop. The learners will learn how to create different graphics for front and index pages of the magazine and use the required tools to create a perfect design for the same.
With this training the users will get the required knowledge to create artworks and creative graphic materials on CorelDraw and how and when to apply different tools and functions. This training will help the learners to gain immense knowledge and master the skill of graphic designing.
---
Certificate of Completion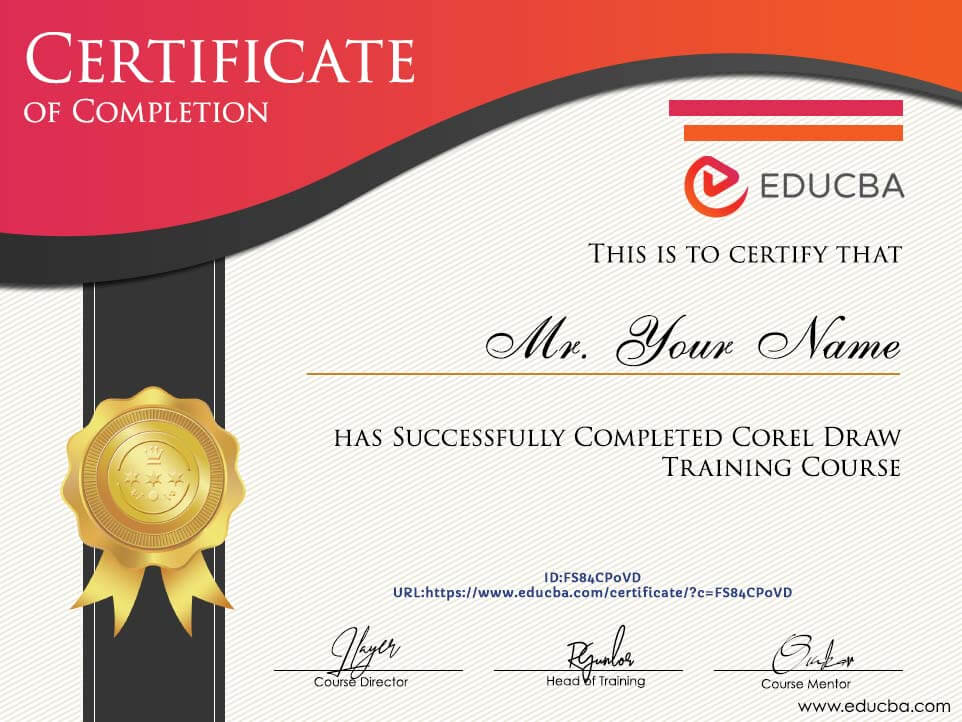 ---
What is Corel Draw?
A well-known vector graphic editor designed to edit 2D images is popularly called Corel Draw. It is developed and marketed by Corel Corporation. Initially released in 1989. Presently the latest version of the software is sold as Corel Draw Graphics Suite 2018 released on April 10, 2018.
Corel Draw being a Vector software uses primitives of geometry such as curves, shapes, and lines. These primitives help the user to design images that can be magnified without getting pixelated and without reducing the image quality. The images exported from the program restore their image quality and can be used in other editing software as well. Corel Draw is simply used to create logos and other forms of artwork that are used on various images such as posters, flyers, brochures, business cards.
Corel Draw is also used in print advertising development. It is mostly used in the professional world for marketing and advertising. It is used to create various other printable documents as it has an amazing page layout feature. It is also used to create complicated drawings. Furthermore, it is widely used software to create newsletters, banners, Boards, web layouts and many more.

Industry Growth Trend
The global computational creativity market size to grow from USD 204 million in 2018 to USD 685 million by 2023, at a Compound Annual Growth Rate (CAGR) of 27.4% during 2018–2023.
[Source - MarketsandMarkets]
Average Salary
Average Salary
$17 per hour
The average salary for a Graphic Designer is $17.05 per hour in the United States.
[Source - Indeed]
Which skills you will learn in this Corel Draw Course?
Designers around the globe continue to benefit from Corel's continuous drive to be the best graphic design software, as they offer new technology, including mobile applications and 3D technology, and standout features, such as vector illustration, raster effects, and layout.
Corel Draw Course is an in-depth comprehensive course which is not limited to any user. This program focuses on various aspects. It helps the student in mastering the basics of Corel draw and then it equally emphasizes using the gained knowledge by creating methods and introducing several tips and tricks of the day to day industry-standard works. By learning these techniques, the learner can improve their skills at a high level.
This Corel Draw course would increase the knowledge of learners on various tools. From Beginners to intermediate to advance students, anyone can take up this course who is interested in learning advanced illustration, photo editing, logo designing, vector graphics, page layout designing, typography, pre-press layout designing and many more features in one program.
Students will learn to organize the project files in the software, learn an efficient workflow for editing with Corel Draw and choosing the right effects in the program. With this Corel Draw training course, the students will be able to have a clear understanding of the interface, various commands & Corel Draw tools required to create different logos, brochures, and flyers.
Pre-requisites
A passion for Graphic and vector designing and photo editing with lots of ideas and creativity is a much-needed pre-requisite before starting this Corel Draw training. There should be a desire and dedication to study the software through this Corel draw course, then only the results would be positive
Basic knowledge about computers is a must
Basic knowledge of editing tools is also required before the students start using this Corel Draw training. Since the training is based on workable knowledge teamed with various demonstrations and skills, the student needs to have a prior understanding of the minor basic needs of editing.
Target Audience
This Corel Draw Training targets huge audiences who are willing to create and learn to edit 2D images and artworks.
The Corel Draw course is aimed at the audiences who are dedicated to learn and grasp the skills in no time.
Students & Professionals who wish to become Editors & Visualizers can take this training.
This Corel Draw Course is not limited to any audience. A beginner or a professional both can use this training.
Corel Draw Course FAQ's- General Questions
---
Will this Corel Draw training help me to grow my career?
Yes. It is a career based training, aimed to teach different methods of graphic designing and it will help you to create great artworks and professional presentations. If you take up this Corel draw training course you will not only learn the software but also obtain command over the various methods and processes of designing, which in turn will automatically open many career opportunities.
Can I make a career by learning this Corel Draw Course?
Yes, why not. This training includes lectures on Practical examples of graphic designing & editing. It also teaches us about the various tools used to make illustrations. So, I would say yes you can positively go for the desired job.
Sample Preview
---
Career Benefits
Corel Draw training is a career aimed at training that particularly aims at enhancing the skills and providing the learner to grasp many various strategies of learning Graphic Designing through this course. It aims to give the students a solid familiarity with many of the commands and effects in Corel Draw and to start creating their own polished and professional illustrations.
Gaining command over the tools of Corel Draw is the most important factor one should have, to master this software. Thankfully, the user interface design is so friendly and convenient that it will not take a big time for anyone who is introduced to this application. Practicing the tools is the first part, but making the most of the tools requires a great effort from the user's end.
In this Corel Draw course, we all will learn skills that will not only provide a raise to our careers but also will help us to design our future. This training provides techniques and methods that describe everything with great ease and simplicity. The choice of career and the ability to use their capability & skills are in the hands of the learner.
This Corel Draw training opens many possibilities for the students and professionals to choose from various career options. From Beginners to intermediate to experienced participants, anyone can take up this Corel draw course who is interested in learning advanced illustration, photo editing, logo designing, vector graphics, page layout designing, typography, pre-press layout designing and many more features in one pack using Corel Draw. Learners can go for jobs like a Motion Graphic Designer, and Graphic & Web Designer, 3D Artist, 3D Animator, Illustrator, Freelance Graphic designer, Photoshop Designer, Computer Operator, Visualizer and many more.
Corel Draw Course Reviews
---
Corel Draw Course Experience
This course will give you a great overview of the basics of Corel Draw. As a beginner, it is very important to start learning any new topic from its base. And this Corel draw course is a professional course but it doesn't disappoint a beginner as well.
Joshua Walker
Corel Draw Course: Excellent Exposure
I enjoyed and learned a lot of tricks and methods with so much ease. I thank this training for teaching me how the basic concepts and commands could be applied to create flyers and magazine covers.
Jacob Lopez
Amazing
This course was a solution for me. It was what I needed – an easy to understand guide to go from complete beginner to be able to use Corel Draw confidently. Thanks so much.
Rakha