New Year '20 Offer TAKE THIS BUNDLE
Cinema 4D Training (4 Courses, 1+ Projects)
4 Online Courses
1 Hands-on Project
12+ Hours
Verifiable Certificate of Completion
Lifetime Access
Cinema 4D Animation and Rendering
Project - Broadcast Show Packaging
Offer ends in:
TAKE THIS BUNDLE
What you get
Online Classes
Technical Support
Mobile App Access
Case Studies
Online Cinema 4D Training
This Cinema 4D Training Certification includes 4 comprehensive  Cinema 4D Courses, 1 Projects with 12+ hours of video tutorials and Lifetime Access. You get to learn the features, tools, functions of Cinema 4D, learning its primitives, modeling techniques, lighting and camera in Cinema 4D and lastly animation and rendering.
Cinema 4D training course is a helpful course that explains the program with extreme ease and simplicity. The course has four main modules which are based on the basics of Cinema 4D. The four modules of the course are Fundamentals, Modelling, Lighting and Animation & Rendering. All the modules are explained in a logical and practical manner and each chapter of the module consists of well-described examples that teach Cinema 4D in the easiest way.
The learners will benefit themselves with this training in hand and will learn a lot of ways and methods of using Cinema 4D and its various features and effects.

Industry Growth Trend
The global computational creativity market size to grow from USD 204 million in 2018 to USD 685 million by 2023, at a Compound Annual Growth Rate (CAGR) of 27.4% during 2018–2023.
[Source - MarketsandMarkets]
Average Salary
Average Salary
$20 per hour
The average salary for an Artist is $20.48 per hour in the United States.
[Source - Indeed]
About Cinema 4D Training
| Courses | | No. of Hours |
| --- | --- | --- |
| Cinema 4D Fundamentals | | 1h 06m |
| Cinema 4D Modeling | | 4h 17m |
| Cinema 4D Lighting | | 2h 1m |
| Cinema 4D Animation and Rendering | | 4h 3m |
| Project - Broadcast Show Packaging using Cinema 4D | | 1h 1m |
---
| | |
| --- | --- |
| Course Name | Online Cinema 4D Certification Course |
| Deal | You get access to all 4 courses, 1 Projects bundle. You do not need to purchase each course separately. |
| Hours | 12+ Video Hours |
| Core Coverage | Learn the features, tools, functions of Cinema 4D, learning its primitives, modeling techniques, lighting and camera in Cinema 4D and lastly animation and rendering. |
| Course Validity | Lifetime Access |
| Eligibility | Anyone who is serious about learning Cinema 4D and wants to make a career in the modeling, animation, motion graphics field |
| Pre-Requisites | Basic knowledge about animation would be preferable |
| What do you get? | Certificate of Completion for each of the 4 courses, 1 Projects |
| Certification Type | Course Completion Certificates |
| Verifiable Certificates? | Yes, you get verifiable certificates for each course with a unique link. These link can be included in your Resume/Linkedin profile to showcase your enhanced project management skills |
| Type of Training | Video Course – Self Paced Learning |
| Software Required | None |
| System Requirement | 1 GB RAM or higher |
| Other Requirement | Speaker / Headphone |
Cinema 4D Training Curriculum
---
In this section, each module of the Cinema 4D Certification Course is explained.

Cinema 4D Fundamentals
The first module of the Cinema 4D course is the basic course. The student learns the basics of the program. The course starts with an introduction to the software. The introduction consists of the detailed interface of Cinema 4D, Manager, Viewport navigation and Viewport Properties. The next chapter highlights more basic concepts of the program. This consists of render settings; keyboard shortcuts and three basic primitives present in the program.
Cinema 4D Modeling
In this Cinema 4D Training module, the students learn about the modeling concepts of the program. The 1st chapter is based on Modeling Techniques. This chapter includes topics such as Modelling technique of spine modeling 1, 2 and 3. The 2nd chapter is based on Deformers. This chapter teaches the different types of deformers. The 3rd chapter is about Modelling Objects. The 4th chapter is about Polygonal Modelling. The 5th chapter is about the Material editor and 6th chapter I about UV Unwrapping.
Cinema 4D Lighting
In this Cinema 4D Certification module, the students learn about different techniques of Lighting and Camera setting. The 1st chapter is about Lighting and in this chapter the user studies about various methods of Lighting. The next chapter is about Camera properties. And this lesson highlights the basic settings of the Camera using different angles.
Cinema 4D Animation and Rendering
In this Cinema 4D Training module, the learner studies about the different methods of Animations and Rendering. The 1st chapter is about Animation which includes various parts of Animation and teaches techniques of the same. The 2nd chapter is about Mo graph which tells the user about the various settings of using Graphs for animation. The 3rd chapter is about Rendering which teaches various techniques of rendering realistic images.
---
Cinema 4D Training – Certificate of Completion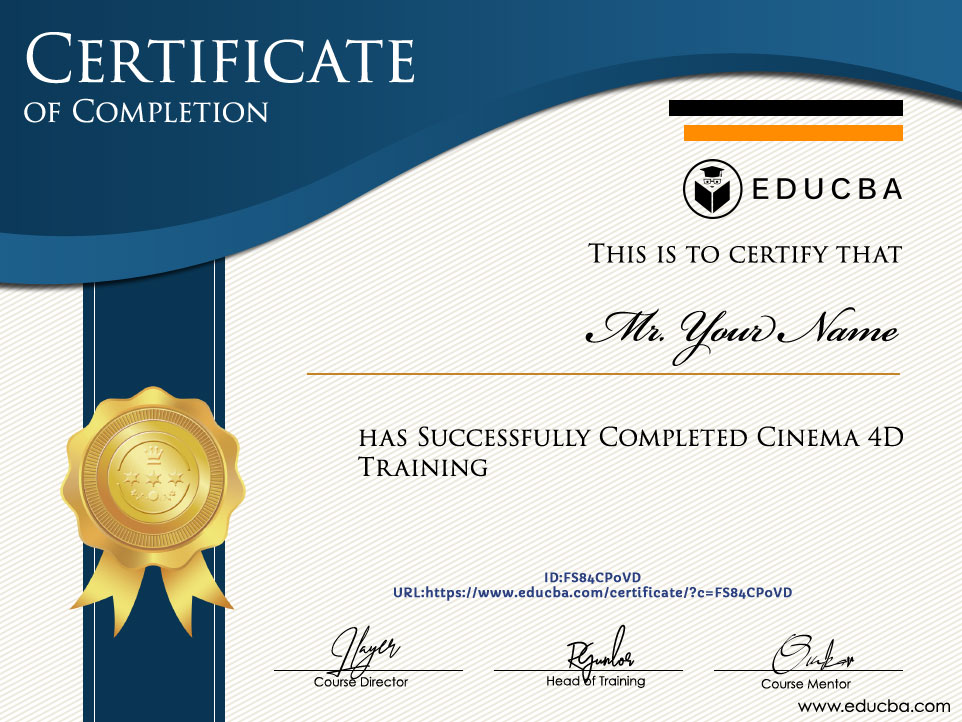 ---
What is Cinema 4D?
Cinema 4D is a popular and well- known 3D animation software. Though the program has many more functions to use it in various fields of Animation and 3d industry. The program was developed in 1990 by MAXON computer GmbH and is compatible to use with Microsoft Windows, Mac OS, Amiga OS. This software is widely used for 3D Modelling, Motion Graphics and Rendering.
Cinema 4D support Lens Distortion, which helps the user to create a distortion profile for any image. The user can also add or remove this distortion or apply it again at the time of rendering. The users can even save lens settings or remove distortion for scene creation and tracking.
Cinema 4D is also loaded with a new Graph View that focuses on the problematic tracking points in a simpler to use the graph and helps the user to remove the problems from the calculations easily.
Cinema 4D has been upgraded with Spine Tools that provide a helping to the artist by giving more interesting ways of influencing points, lines, arcs and tangents.  The users can also use the Boolean settings with great ease such as subtract, Union, And & Or.
The program is always updated with new and latest features and effects. The new tools help the users to easily sculpt and model 3D structures. The sculpt to Pose Morph Feature creates a morph target that helps the user to automatically transit between character design to character animation.
Which tangible skills you will learn in this Course?
---
Cinema 4D course is an exclusive course training that is based on fundamental uses of the course. It teaches the most difficult techniques in the easiest manner and helps the user to a great extent. Cinema 4D is quite a complex software but with this course in which everything is explained in an easy and structured manner, the user will be benefited hugely. The course is structurally being divided into four main modules that will help the users to gain knowledge in a step by step manner.
This Cinema 4D certification is not only for beginners, but professionals can also gain knowledge using this course. The course will help the users to solve many basic problems at ground level and learn a lot of techniques to use various tools for modeling, lighting, texturing, rendering and animation.
Some of the skills that the learner masters are Cinema 4D Modelling Techniques, Deformers, Modelling Objects, Polygonal Modelling, Material Editor, Unwrapping, Lighting, Camera, Animation, Mo graph and Rendering.
Pre-requisites
A basic prior understanding of Computers is a must.
For positive outputs, the students should possess hard work and commitment to learning Cinema 4D with the help of this training.
Prior knowledge of Linear Animation or Fundamentals of 3D technology is a much-required pre-requisite.
The users should be ardent to learn 3D Modelling and animation skills with Cinema 4D using this course. Then only the results will be amazing.
The users should passionate and experimental for learning Cinema 4D through this course. The users should possess' creative ideas and imagination to succeed with the training of Cinema 4D.
Target Audience
This Cinema 4D training provides great examples that will help the learners to learn Cinema 4D with great ease and with structural examples.
This training is also designed to teach beginners and first-time 3D Artists
The students who have or do not have prior knowledge of 3D software can also take up this course. This Cinema 4D training will benefit everyone fairly.
Students & Professionals who wish to become 3D Animators & Artists can take this training.
The artists and Designers from the 2D background can also take up this course and learn Cinema 4D and can step into the world of 3D technology.
 Cinema 4D Course – FAQ's
---
Cinema 4D is a 3d software and I am totally from a 2D background. Will this Cinema 4D certification benefit me in any possible way?
Yes, Why not. This training is for everyone. The beginners, the professionals or even the users from the 2D background. You can take up this training and can easily learn the tools and techniques used in 3D animation software. This Cinema 4D training course is well equipped with practical knowledge and logical examples explained in a structural way which will help you to easily learn Cinema 4D and its toolsets.
I love using Maya for animations. But I found Maya a bit confusing at times. Can I use Cinema 4D for easy animation projects? How will this course benefit me?
Both Maya and Cinema 4D are amazing software. The thing with Maya is that it is an amazing program in terms of animation but for learning Maya the user needs a lot of time and patience. Also, Maya is used for complex and heavy project files. While you can easily go to Cinema 4D for simple animation projects and presentations. This training will help you to gain knowledge of the program and help you learn various techniques of Cinema 4D.
Sample Preview
---
Career Benefits
Cinema 4D training is a career aimed at training that primarily focuses on boosting the skills and providing the user to master numerous procedures of learning 3D modeling and animation through this course. This Cinema 4D training helps to provide the learners with a solid awareness of many of the features and commands in Cinema 4D and to start creating and developing their own advance and professional animation presentations.
Despite, the fact that learning 3D animation and modeling using Cinema 4D is a complicated program to learn, this training provides various examples and logical illustrations that explain the particular module in a structural and simplified manner. The course will benefit the students to a great extent and will provide a medium to not only boost their skills as an artist but also create and design their careers as the way they want.
This Cinema 4D Certification does a fair job in teaching both freshers and professionals and people who are not from the 3D industry as well. They can either become a Data Analyst, Graphics Animator, Rigging Artist, Simulation Developer 3D, 3D Visualizer, 3D Modeler, FX Artist, and 3D Artist.
Reviews
---
Clear
As a beginner designer (not a designer at all to be honest) everything seemed very clear to me. Good examples for illustrating the speech. Some are very funny. Good voice tone and pronunciation. I Learned a lot about shapes and how to design using this software. Overall I would recommend this lesson. Interesting course
Julien Delsuc
To the point and self-explanatory
This course provides a nice introduction to Cinema 4D. Although it does go deeper it also does provide a good start for beginners looking to explore this powerful and versatile software. The course approaches Cinema 4D primarily from a designer or illustrators perspective. Overall this course is a good way to get started.
Jacy Eisold
Too Good
This course completely walks you through the Cinema 4D program, from A-Z, beginning to end. I had created a few presentations prior to taking this course. The coursework was a nice re-cap on skills I have not used in a while. This course would be ideal for those who are new to Cinema 4D. A beginner would definitely become familiar with the program; would not only see what tools Cinema 4D has to offer but how to use those tools to create the effects they desire.
Jessica Lee