Boris FX Tutorial
5 Online Courses
26+ Hours
Verifiable Certificate of Completion
Lifetime Access
Boris FX Transitions

4h 07m

Keying and Blending

6h 34m

Color Correction and Grading

5h 07m
Offer ends in:
$79
$19960% Off
Skills you will master
Boris FX
VFX Essentials
Titling
Keying
Blending
Color Correction
Grading
Online Boris FX Tutorial
This Boris FX Tutorial is a comprehensive bundle which includes 5 comprehensive Boris FX courses with 26+ hours of video tutorials and Lifetime Access. You will also get verifiable certificates (unique certification number and your unique URL) when you complete each of the 5 courses.
Boris Continuum Complete (BCC) is a Plugin-Suite from the company Boris FX, for Vegas Pro which is a Non-Linear Editing Platform from Sony Creative Software. The BCC 10 Suite has over 180 PlugIns, which help in producing professional level Transitions and Video Effects and for creating professional 3D Titles for Films and Video. Through this Boris FX Tutorial, we shall learn all that and more.
About Boris FX Tutorial
---
Course Name
Online Boris FX Tutorial Bundle
Deal
You get access to all 5 courses bundle. You do not need to purchase each course separately.
Hours
26+ Video Hours
Core Coverage
Learn video/film editing using Boris FX Transitions, VFX Essentials, Titling, Keying and Blending, Color Correction and Grading
Course Validity
Lifetime Access
Eligibility
Anyone who is serious about learning Boris FX and wants to make a career in Video/Film Editing
Pre-Requisites
Basic knowledge of using editing software
What do you get?
Certificate of Completion for each of the 5 courses
Certification Type
Course Completion Certificates
Verifiable Certificates?
Yes, you get verifiable certificates for each course with a unique link. These link can be included in your Resume/Linkedin profile to showcase your enhanced sound engineering skills
Type of Training
Video Course – Self Paced Learning
Software Required
 You can download the software from the official website
System Requirement for Boris FX

Processor: Intel Core 2 Duo or equivalent
Memory: 4 GB +
Disk: High-speed disk array
Graphics Card: NVDIA Quadro FX 1500 or equivalent
Monitor: 1920×1080 pixels or higher

Other Requirement
Speaker / Headphone
Online Boris FX Tutorial Curriculum
---
Let's have a look at the Boris FX Tutorial in detail below:
| | | |
| --- | --- | --- |
| Serial No. | Course Name | Course Description |
| 1 | Transitions | The first Boris FX Tutorial is all about learning the BCC Transition in Vegas Pro. In this Module, we will learn the Introduction to BCC Transition and some major effects like Burn Film Effect, BCC Checker wipe, Some of the Lens effects and other Dissolve and Wipe Effects. |
| 2 | VFX Essentials | This Boris FX Tutorial will help in learning the various BCC Visual Effects Plugins for Vegas Pro. With this tutorial, a learner can even start a career as a VFX Artist. This chapter starts with an introduction to VFX Essentials, covering everything about the same. Slowly and gradually we study about FX Browser, Pan & Zoom, BCC Textures, BCC Film Style, & BCC Lighting Effects. |
| 3 | Titling | In the 3rd section of this Boris FX Tutorial we learn about the process of BCC Titling Plugins and Titling Studio. The lecture starts with an introduction to the topic. Moving ahead it teaches about the Lighting & Reflection and finally, it highlights the use of on Interface Window |
| 4 | Keying and Blending | In this Boris FX Tutorial chapter, the learner grasps the understanding of BCC Keying & Blending Plugins. It lets you to first understand about the Basic Chroma Key. Then, gradually teaches the Mate Cleanup & Matte Choker. After this, it highlights Light Wrap & Linear Color Key and Chroma Key Studio. Then lastly, it explains the Composite Choker & Blend. |
| 5 | Color Correction and Grading | In this final Boris FX Tutorial Module, we learn all about BCC Color Correction & Grading Plugins. Going more deeper we study about Video Scraper, Video Scope, Basics of Vegas Pro Color Corrections and different levels of Grading present in the software. |
---
Certificate of Completion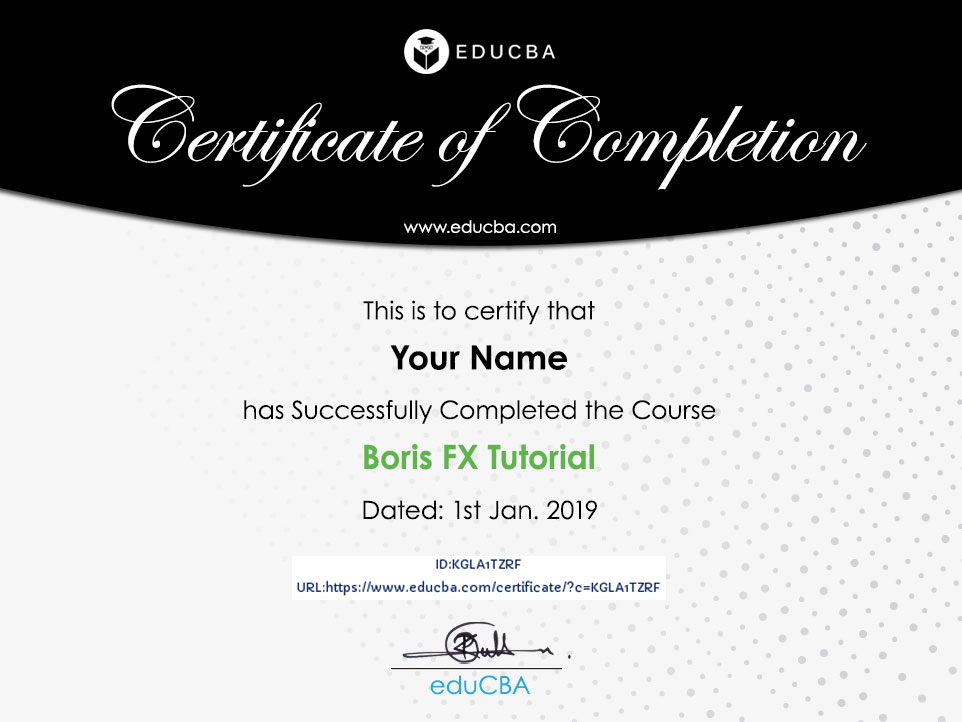 ---
What is Boris FX?
A visual effects and video editing software plugin is what exactly Boris FX. It basically creates plugin tools for post-production workflows. This plugin is supported by various Non-Linear Editing systems like Adobe After Effects, Vegas Pro, Autodesk, Final Cut Pro X. The plugin is sold in three flagship products – Boris Continuum Complete (BCC), Sapphire, Mocha.
The Boris Continuum Complete 10 suite has more than 180 plugins. These plugins help in generating Professional Level Transitions and video effects. They are also used for creating professional 3D Titles for Film & Video.
The various amazing features of Boris Continuum Complete include Integrated Mocha Planar tracking & masking, Beauty Studio, Title Studio, Image Restoration Tools (Flicker Fixer, Lens Correction, Magic Sharp, Reframer, UpRez), Light Leaks & Video Glitch, New Transitions (Time-saver for anyone facing constant deadlines. It has almost 40 drag & drop auto-animating transitions with installing presets. Some of the transitions are- Swish Pan, Flitter Cut, Fast Film Glow, Light Leaks, Lens Blur and Damaged TV)
Which skills you will learn in this Boris FX Tutorial?
This Boris FX tutorial is specialized for students and professionals who want to master the art of using various visual effects in Boris Continuum Complete Plug-in Suite for Vegas Pro. Students who are passionate about learning Boris Continuum Complete Plugin Suite can gain immense knowledge by taking this Boris FX tutorial as the lectures cover almost everything needed to understand it.
This Boris FX tutorial offers the learner to study the process and methods easily and logically. Boris Continuum Complete Plugin Suit being a challenging topic is not easy to learn, but this training helps in overcoming that problem and teaches the most difficult topics in the simplest way possible.
The students having pure commitment to this training can acquire the skills of creating various visual effects using Boris Continuum Complete. The skills are Boris FX, VFX Essentials, Titling, Keying, Blending, Color Correction & Grading.
Requirements / pre-requisites to this Boris FX 
Tutorial
---
Basic knowledge about Computers is a must for this Boris FX Tutorial.
A passion for learning Visual Effects using Boris Continuum Complete with lots of creativity and imagination is probably a much-needed pre-requisite before starting this Boris FX tutorial. There should be a spark and aspiration to study it through this course, then only the results would be positive.
A basic knowledge of Video editing using Vegas Pro is also required before the students start using this training. Since the training is based on workable knowledge teamed with various demonstrations and skills, the learner needs to have a prior understanding of the small basic needs of video editing.
Target Audience for this Boris FX Tutorial
---
This Boris FX tutorial targets huge audiences who are eager to learn about post-production visual editing and applying various amazing effects and transitions using Boris Continuum Complete in Vegas Pro. This training covers different chapters that teach the learner several aspects and methods of using the Plugin. The Boris FX tutorial targets audiences who are passionate to learn and grasp the skills in no time. Students who wish to become filmmakers and editors are can use this training. Learning Professionals who are into Film editing and wanting to learn Visual Effects using Boris Continuum Complete in Vegas Pro can study this training.
Boris FX Tutorial FAQ's- General Questions
---
Will this Boris FX Tutorial help me to grow my Career?
Yes. This training will teach different methods of the post-production workflow. If you take up this Boris FX Tutorial you will not only learn the Boris Continuum Complete plugins but also gain knowledge about the various methods and aspects of digital video editing, which in turn will automatically open doors to several career options.
How much time will it take to learn Visual effects suit through this Boris FX Tutorial?
It depends on your skills and understanding. This course is made with useful techniques to be used and it will help you to gain a lot of knowledge and learn different methods of editing.
Will this Boris FX Tutorial benefit me if have no prior knowledge about Video editing in Vegas PRO?
This training requires the learner to have prior basic knowledge about Video editing in Vegas Pro. So, if you are a pure beginner to them, you will first have to gain some basic understanding of it.
Career Benefits of this Boris FX Tutorial
---
This is completely a career targeted training that especially focuses on sharpening the skills and helping the learner to comprehend many various methods of learning the effects through this course. In this Boris FX tutorial, we all will learn exciting expertise that will not only provide a privilege to our careers but also will help us to design our future.
It all relies on the learners' efficiency and his desire for learning this course, otherwise, nothing is impossible. Despite, the fact that learning visual effects suit using Boris Continuum Complete in Vegas pro is a demanding task to learn, this training provides modules and lectures that explains everything with great ease and simplicity.
This Boris FX tutorial, opens many opportunities for the students and professionals to choose from various career options. They can become a Data Analyst, VFX Artist, Motion Graphic Designer, Video Editor, Roto Artist, 3D Compositor, 3D animator. The choice of job and the ability to use their talent is in the hands of the learner.
Boris FX Tutorial Reviews
---
Boris Tutorial
This Boris FX tutorial is a user-friendly course. I am using Vegas Pro Program as my primary software to edit videos. But i was not aware of the Boris Continuum Complete Visual Effects suite and I wanted to study them. I came across this training and my most of the problem was solved with this course. I would definitely recommend this course to all the video editors using Vegas Pro and other Non-linear Editing Software.
Claire
Good Experience
With this Boris FX tutorial I can proudly say that i got to learn the entire suite of effects and Transition using Boris Continuum Complete and i now can manually tweak them inside the Vegas Pro Editing Platform.
Robert
Good Tutorial
I am glad that i came across this course. It is because of this training that i got to create and learn various visual effects in Vegas Pro and now i am proudly working as a 3D animator in one of the top MNCs.
Anjali Sharma