Learn from Home Offer TAKE THIS BUNDLE
BLACKMAGIC FUSION Course Bundle - 10 Courses in 1
This Blackmagic Fusion Tutorial is a comprehensive bundle which includes 10 courses with 26+ hours of video tutorials and Lifetime access. You will also get verifiable certificates (unique certification number and your unique URL) when you complete each of them. This course will help you learn image compositing, visual effects creation, 3D, VR (virtual reality), Motion graphics and digital compositing.
TAKE THIS BUNDLE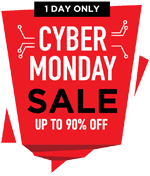 * One Time Payment & Get Lifetime Access
What you get in this BLACKMAGIC FUSION Course Bundle - 10 Courses in 1?
26+ Hours
10 Courses
Course Completion Certificates
Lifetime Access
Self-paced Courses
Technical Support
Mobile App Access
Case Studies
About BLACKMAGIC FUSION Course Bundle
---
| | |
| --- | --- |
| | |
| Courses | You get access to all 10 courses, Projects bundle. You do not need to purchase each course separately. |
| Hours | 26+ Video Hours |
| Core Coverage | Getting started with Blackmagic fusion, Rotoscoping, Polygon Masks, Advanced Rotoscoping, Keying and Compositing, Color Correction, Tracking, 3D Compositing |
| Course Validity | Lifetime Access |
| Eligibility | Anyone serious about learning Blackmagic Fusion and node-based compositing |
| Pre-Requisites | Basic knowledge of using editing software |
| What do you get? | Certificate of Completion for each of the 10 courses, Projects |
| Certification Type | Course Completion Certificates |
| Verifiable Certificates? | Yes, you get verifiable certificates for each course with a unique link. These link can be included in your resume/Linkedin profile to showcase your enhanced sound engineering skills |
| Type of Training | Video Course – Self Paced Learning |
BLACKMAGIC FUSION Course Bundle Curriculum
Let's have a look at the Blackmagic Fusion Tutorial in detail below:

MODULE 1: Blackmagic Fusion Essentials

| Courses | No. of Hours | Certificates | Details |
| --- | --- | --- | --- |
| BlackMagic Fusion - Beginners | 1h 17m | ✔ | |
| BlackMagic Fusion Practical - Rotoscoping | 3h 4m | ✔ | |
| BlackMagic Fusion Practical - Polygon Masks | 1h 43m | ✔ | |
| BlackMagic Fusion Practical - Rotoscoping with Trackers | 2h 13m | ✔ | |

MODULE 2: Advanced Rotoscoping & Compositing

| Courses | No. of Hours | Certificates | Details |
| --- | --- | --- | --- |
| BlackMagic Fusion Practical - Advanced Rotoscoping | 3h 42m | ✔ | |
| BlackMagic Fusion Practical - Keying and Compositing | 3h 31m | ✔ | |
| BlackMagic Fusion Practical - Color Correction | 2h 46m | ✔ | |
| BlackMagic Fusion Practical - Tracking | 2h 33m | ✔ | |

MODULE 3: 3D Compositing & Particles Generation in Fusion

| Courses | No. of Hours | Certificates | Details |
| --- | --- | --- | --- |
| BlackMagic Fusion Practical - 3D Compositing | 8h 1m | ✔ | |
| BlackMagic Fusion Practical - Generating Particles | 1h 4m | ✔ | |
| | | |
| --- | --- | --- |
| Serial No. | Course Name | Course Description |
| 1 | Introduction to Black magic Fusion | After Effects and Photoshop are layer-based compositions whereas fusion, nuke, Bender, Houdini as such are node-based compositions, in films and advanced level of compositing its easier, fast and sophisticated to work on note based system. This Blackmagic Tutorial makes trainees habituated to note base interface, usage of nodes, Console, Timeline and spline editor, etc with viewers and layouts to have multiple views in 2 different viewers. And internal tool helps you to prepare advanced visual effects and animation with far more logical and simple ways to work will be explained. Compositing and animation in 3D and beyond can be done using fusion. |
| 2 | Rotoscoping | In this Blackmagic fusion, the tutorial learns the controls like zoom, pan, move, etc then import Footage, using the timeline for footage length making sure all the preference is set save data. Once this is done the required object is separated for the background playing with pieces of footage is call Rotoscoping it's a visual process within the creation of Visual Effects. Studying on footages and understanding the requirements of editing portions will be learned. Paying attention to the subject and capturing its movements within footage later its generated from footage and added to the required view as per projects. Handling all such creative stuff and tools infusion is rotoscoping. |
| 3 | Polygon Masks | The Node in which you select its properties will be displayed on the right side of the application and by making the polygon solid fill the polygon and with the shape of the polygon we have vertices to adjust them the vertices point to make an irregular shape by adjusting manually as required. Polygon willing with solid color and avoiding transparency through it called mask and there are multiple properties to modify created mast such as opacity scaling, Filters, Border width, soft edge or feather, Size, and x – y – z rotations we also have the node universal control to rotate and shape mask as requires. Masks are frequently used in the movie VFX. |
| 4 | Rotoscoping with Trackers | Both are used in advertising making videos, and videos where an object must be concentrated in frame with motion. So Rotoscoping takes care of the objects visual appearance in the video like zoom in and out, object size, understanding the background or even removing if not require, capturing the object's length, width and size and tracking take care of the objects moving within a frame from right to leave, top to bottom or even diagonal the out looks like an object moving with the visual difference such as moving close to screen, moving away from screen or scrolling or rotating continuously on-screen news channels and channel logos and adds are created with similar technical stuff. |
| 5 | Advanced Rotoscoping | This feature is very much used by studio professionals because of its multiple adjustments of vertices within the moving subject and adding effects to the moving subject. So polygon will be created with many vertices around the border of the objects for with effects need to be done and whenever the object moves in the footage the polygon vertices are adjusted and saved so that all the moves of an object in the footage will be captured and visual effects are applied using nodes for the objects. To enable this option in Fusion u need to have or purchase a licensed version. These options are used in postproduction works of film making. In this Blackmagic fusion tutorial, we shall in detail look into the same. |
| 6 | Keying and Compositing | Creating relations between nodes within node finder of the footage is called keying, linking different nodes to each other to get good footage at the end. Changing backgrounds, eliminating the unwanted objects from footage and concentrating on objects and its detailing and boundary which need to remain in the footage can be done using keying. Even masks can also be used for verifying quality. Compositing is a special detailing given to footages such as color contractions, shadows, lighting, depth, saturation, and many more detailed and visually impressive video effects that can be added and modified. There are many flexible plugins available online to combine and work with fusion for compositing clips. Commercials, movies, and intro videos are created with these tricks. |
| 7 | Color Correction | Color correction means to adjust selected objects to require RGB value which matches the frame which can be easily done by color control tool infusion along with it removes the blur around such location. Hue Curves are available to perform the correction specific color ranges there are few more options like a grid of checkboxes, isolate hue and many more to work on. Even spline helps in applying hue color to the portion as per the required area. Color ranges are flexible and can be selected easily even shadow any object can be added and adjusted with ranges using tools more detail discussion will be done at a time of training. |
| 8 | Tracking | Fusion can capture the moving subject automatically and applying solutions to such elements in the form of point tracking, a planar tracking, and 3d tracking. point trackers in the analysis the small group of pixels that move together will maintain solid color. The plain trackers are used in large areas of the same screen to add different footage into existing and it's not an only square, rectangle and circle its condition such as stationary even if the subjects must be rotting or moving away from a camera can be shown using this tool. 3D tracking helps in managing hundreds of point trackers and track different features in the clip with their respective motion in the video as per requirement in the frame. Flame, snow and water effects can be beautifully shown in the frame. |
| 9 | 3D Compositing | This process is used for huge Composting areas like broadcast, VFX for movies and commercial promotion purposes what happens here is footage will be captured with and the objects within the frame are rebuilt in the composition phase with maintaining the distance between objects, look, feel reality and many more. Even adding characters and new objects to it and changing rotoscoping of the frames, tracking and adjusting lighting, depth and other looks and feel so the views enjoy watching in interactively with 3D feel in it many 3d film making studios use this for their client outputs this feature is very much valuable fusion. |
| 10 | Generating Particles in Fusion | This black magic fusion tutorial is about generating particles. Fusion has a fantastic tool to create a particle to experiment with them making things like fire, smoke, sparks, magic, tiny particle moving. It can be generated and also imported after designing 3d particles from any 3D modeling software like AutoCAD, 3D MAX and others. The Object file (.obj) is acceptable to import into fusion and is multiplied as per requirement, set the direction of flow for particles, increase and decrease sizes of the moving area within a video and can play with it. Destruction frames, Fire accident frames, objects flying frames and many more video editing's can be done is fusion. |
Certificate of Completion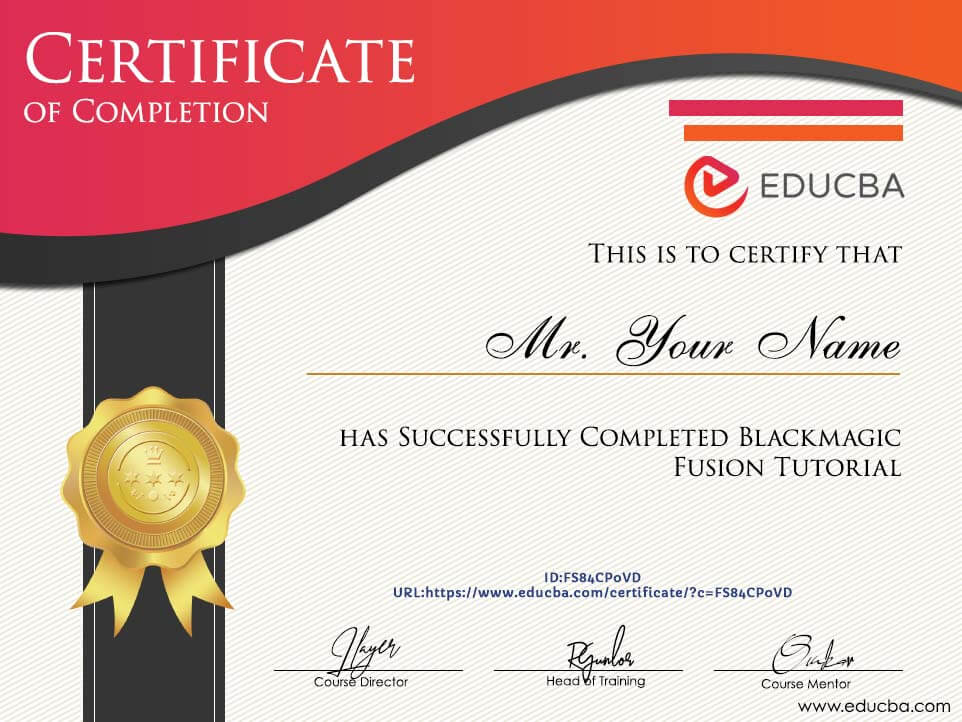 ---
What is Blackmagic Fusion?
Blackmagic Fusion is a complete tool for creating the best visual graphics videos and images for digital compositing movies, TV-series, commercials, graphic posters, and post-production work of movies that attracts the impresses the frame to the audience. Much studious use Blackmagic Fusion for the above projects and hire both freshers and experienced multiple roles in different verticals.
The application and the tools and features make it more users friendly and handy with single move approaches to tools of linking nodes, adding texture, etc. The application is compatible to work in all the operating systems like Windows, Linux, macOS with its latest versions. Many Hollywood movies and other industry movies are preferred Fusion for their post-production development of the movie for adding values to their concepts through Graphs. Graphics Processing Unit which is specially designed for fusion accelerates many fusion's tools using OpenCL which takes care of Application fastness.
In Studios their work on Game making, virtual realistic movies &games, Adding attractive entry titles. The nodes based working makes users work fast at the target location of the file with good production aspects. Quick access to color adjustments, Stereoscopic Vertical Reality, Camera can be live, analyses, focal lengths and tracking can be done on data captured in 3D for Computer graphics and movies. Fusion is flexible to import and export all kinds of image, video, ProRes, DNxHR, and MXF of Seamlessly transferring shots and resolutions.
Its compositing interface is remarkable with good flexibility; it can even modify old images with the "in context" option. Planar tracking, Delta keyer, and Clean plate tools help in making your video with a different background or different image or video played in the planar area where green mats are used for such graphic makings frequently seen in many VFX movies and advertising. Rotoscoping helps in tracking data to follow the motion and perspective of other objects in the shot, it has a good playback engine to review the graphics applied for the quality of multi timelines, playlists, storyboards, etc.

Industry Growth Trend
The global visualization and 3D rendering software market size is expected to grow from USD 1.06 billion in 2017 to USD 2.92 billion by 2022, at a Compound Annual Growth Rate (CAGR) of 22.40% during the forecast period.
[Source - MarketsandMarkets]
Average Salary
Average Salary
$17 per hour
The average salary for a 3d Animator is $17.36 per hour in the United States.
[Source - Indeed]
Which skills you will learn in this Blackmagic Fusion Tutorial?
Who has done their degree in animation, arts or interested in 3D animation, movie VFX creation and Broadcasting set compositing making can join this Blackmagic fusion tutorial and completing it
There are multiple operations done using Black magic Fusion such as Rotoscoping, masking, compositing, tracking, keying, color composition and many more which are a part of visual effects for videos.
Basic computer knowledge and application usage will be learned and work with 2D and 3D visual effects creation on application shortcuts and keying will be trained on.
Innovative new characters, footages, and movie frames designees and VFX creation can be done using Blackmagic Fusion to bring imagination into 2D and 3D realistic view.
You will be trained on unique node-based effects creation used in studios. Note finder which makes it easy to link different geometry, applying combination effects. Which makes it easy to handle and make if any changes required exactly at the targeted spot?
Gain complete Blackmagic Fusion application usage and updates which helps in procedurally creating best visual effects with all the start to end phases of VFX making, minor video editing's like adding fog, smoke, and advance rotoscoping is used for preparing Advertisements making in many professional companies for multiple jobs worldwide, even there is good scope for animation freelancers opportunities.
After this Blackmagic fusion tutorial individual can confidently understand and explain the concepts of any Visual effect worked or seen and also know what techniques were used in making a frame in movies.
Pre-requisites
Knowledge of Computer and basic application usages.
For this Blackmagic fusion tutorial course, you must be familiar with handling 2D and 3D file formats and importing and export the handling of objects.
Basics tools, attributions, and understanding polygon creating and adjusting vertices, lines, shapes identification, and image interpretation and basic tagging and scripting knowledge must be known.
It should be a good lessening, noting and understanding the concepts and why they are used. Understanding techniques of what and why they are used.
If you're interested or educated as a VFX specialist, graphic designers or students with art degrees or communication can join the Blackmagic Fusion tutorial to make a career in many Broadcasting and movie studios with good packages.
Target Audience
Visual effects, arts Students and people interested in video editing, VFX film making or editing in 2D and 3D can gain complete knowledge on worlds most used video editing tool Fusion for many studio-level editing's, animation creating or effects creating and creative thinkers can join the Blackmagic fusion tutorial as above we have a well-structured syllabus for having professional training.
Application has sufficient tools to handle with to make Footage managing, Masking, Effects attribution, tracking, lighting, compositing, and color corrections will be explained to do them with demo's and all this practice is going to give a good handsome experience to learners both theoretically and practically stuff get new jobs for fresher's and also to upskill themself to the experienced people. The packages and hikes are also good and valuable for the skilled.
Professional User: – most of the experienced Visual effect artists and expert professionals do this Blackmagic fusion tutorial for comparing the work done, to save the time is taken and tool handling with an overall performance of application found to be the best solution for complete video editing solution with tools framed. If you're trying to get a job in postproduction movie studios with the designation of visual artists, then complete editing of particle level to advance rotoscoping will be covered as part of this training program. This Blackmagic fusion tutorial would upskill your profile and pays scale in your industrial standards.
Blackmagic Fusion Tutorial FAQ's- General Questions
What should be my eligibility to do this Blackmagic fusion tutorial?
If you have passion, creative and interested in video editing so here is the solution for all the visual corrections, video quality and effects implementing tool Blackmagic Fusion. And the person should have a basic system handling knowledge to understand work. Fusion is more related to Visual effects and 2D and 3D compositing so it's an additional benefit if you're familiar with them earlier.
What effects do Blackmagic Fusion contain for a movie?
To know this, we need to detailed discourse about Fusion which can happen in class. But whereas it has all the features required for making movie videos and high-quality frames to see. Deep pixel composition, video effects implementing the tool and its interface which is node-based make it easy to work with complex VFX data strictures at the spotted location and keying option helps to create effects between to nodes, masking, tracking, Compositing, Color correction, etc makes it unique in completion for more information see the curriculum of the course.
Is 3D Compositing easily done by Blackmagic Fusion software?
NO, 3D compositing is not available on the free version of Fusion we need to purchase the studio version. So 3D compositing is frequently used in studios. Its time taking at starting, whereas frequent practice makes it habituated and easy to handle. A huge polygon with multiple vertices to adjust between the frame to frame of a moving object in the footage. Frequent usage of it makes it easy to deal with that kind of stuff.
Sample Preview
---
Career Benefits
This Blackmagic fusion tutorial is going to contain scratch to Final finishing of footage or video editing and creating suitable effects using Blackmagic Fusion. It can solve all the Professional Requirements of the Compositing, rotoscoping and tracking the moving objects in the video. VFX movies studios and advertising companies are the job sources for visual effects artists. There are many job opportunities for multiple companies. Learn better handling of compositing and Advance rotoscoping for gaining technical knowledge.
Tricks and Tips of creating and modifying studio-level video visual effect make your work valuable with professional standards and freelancing requirements, we can even experience the tool flexibility while working on huge polygon structures along with importing and exporting options as required. With a different level of color adjustments concerning the distance of the visual approach.
Can create Introduction videos for YouTube channels, add visual effects to video songs, make captured video look better by slight color and light adjustments. 2 different videos can be merged and make a common video. Green mat trick is used in capturing videos and the footage imported and can add some other video with the green portion of a video. We can see a similar example in VFX moving making videos on youtube. Movies like Life of pie, Jungle book, etc are completed the video effects by Fusion.
Reviews
Nice Tutorials
The course is really good and will best match to make once carrier as a VFX artist. The syllabus and structure training content is nicely framed by all the topics within the application. The particle demos helped me to make me practice sufficient enough with Fusion. I am glad my company also works with Fusion for video editing before releasing the movie to make the video-rich in color contractions.
Shaun Lim
Blackmagic Fusion Tutorial
It's the best application to get trained on. After habituating I feel like video editing is so simple and structures with a node construction pattern as a flowchart and relation with effects make the video best to see visually. Its application is user-friendly and easy to handle. No other software application is as fast as Blackmagic Fusion for VFX and Visual effect works. I would recommend my friends and colleges to do this Blackmagic fusion tutorial which has worth learning and sharing.
Andrew Beasly