Learn from Home Offer TAKE THIS BUNDLE
AUTODESK COMBUSTION - 4 Courses in 1
This Autodesk Combustion Training includes 4 courses with 15+ hours of video tutorials and Lifetime access. You will also get verifiable certificates (unique certification number and your unique URL) when you complete each of them. Learn how to create motion graphics, visual effects, and compositing.
TAKE THIS BUNDLE
* One Time Payment & Get Lifetime Access
What you get in this AUTODESK COMBUSTION - 4 Courses in 1?
15+ Hours
4 Courses
Course Completion Certificates
Lifetime Access
Self-paced Courses
Technical Support
Mobile App Access
Case Studies
About Autodesk Combustion Training
---
| | |
| --- | --- |
| | |
| Courses | You get access to all 4 courses, Projects bundle. You do not need to purchase each course separately. |
| Hours | 15+ Video Hours |
| Core Coverage | Combustion Fundamentals, Masks, Keying and Color Correction and Paint and Particles. |
| Course Validity | Lifetime Access |
| Eligibility | Anyone serious about learning Autodesk Combustion |
| Pre-Requisites | Basic knowledge of using editing software |
| What do you get? | Certificate of Completion for each of the 4 courses, Projects |
| Certification Type | Course Completion Certificates |
| Verifiable Certificates? | Yes, you get verifiable certificates for each course with a unique link. These link can be included in your resume/Linkedin profile to showcase your enhanced visual effects skills |
| Type of Training | Video Course – Self Paced Learning |
Autodesk Combustion Training Curriculum
---
Let's have a look at the Autodesk Combustion Training in detail below:

---
Certificate of Completion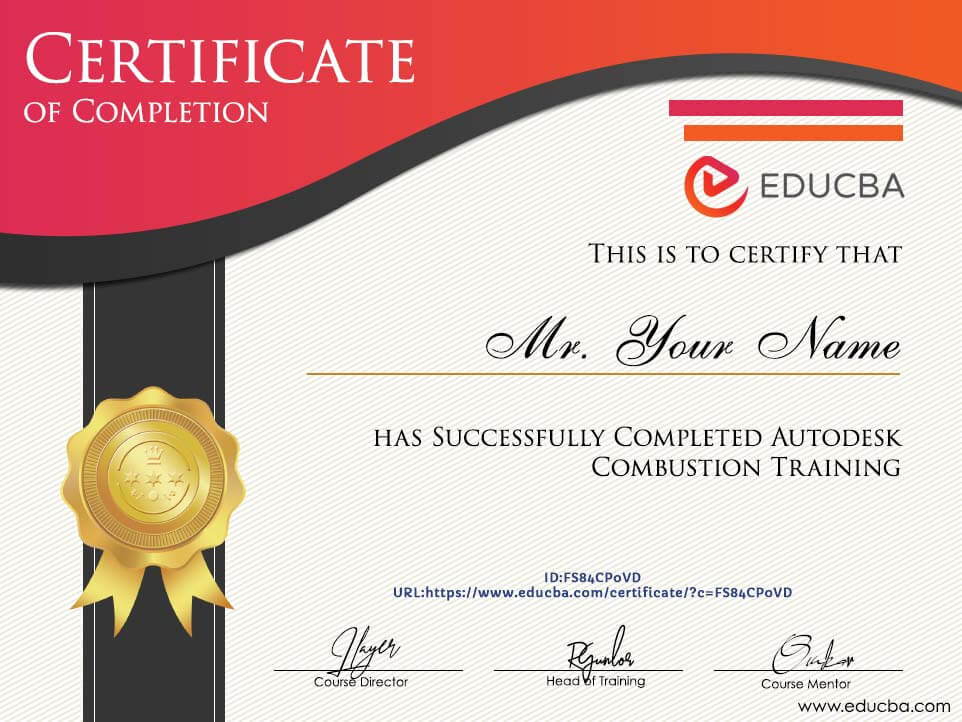 ---
What is Autodesk Combustion?
Autodesk Combustion is a computer program for motion graphics, stunning visuals, and compositing. It is a paid application by the famous software tycoons Autodesk media and entertainment, which is used to create quick and easy visual effects. Combustion was released in the year 2008 and it is available for both Windows and Mac OS. Combustion was formerly known as discreet.
Combustion is an all in one tool which allows paint, animate, edit and composes 2D and 3D visuals in an integrated environment. Also, it is a resolution-independent vector-based animation software which composes visuals corresponding to TV, videos, web, and feature film domains.
Combustion is a cost-effective software that provides basic to advanced features and gives high-quality output at a low cost. This software is used by different professionals like graphic designers, animators, visual effect artists, web designers, etc. and combustion helps them to produce outstanding VFX for a multitude of projects.
Using Autodesk combustion you can produce multi workspace that can handle various projects like compositing, painting projects and visuals effects at the same time. The main advantage of combustion over other graphics software is that it allows the user to switch freely from 2D space to 3D space and managing the complexity of projects by using the layers window.

Industry Growth Trend
The global computational creativity market size to grow from USD 204 million in 2018 to USD 685 million by 2023, at a Compound Annual Growth Rate (CAGR) of 27.4% during 2018–2023.
[Source - MarketsandMarkets]
Average Salary
Average Salary
$20 per hour
The average salary for an Artist is $20.48 per hour in the United States.
[Source - Indeed]
Which skills you will learn in this Autodesk Combustion Training?
This Autodesk Combustion Training will help beginners and professionals to confidently get up and running in graphics and animation. This course helps professionals to improve their skill set and perform effectively in their jobs. Through this Autodesk Combustion course, you will learn how to basic to advanced features of combustion. All features are explained with practical examples for easy understanding.
Let us have a look into the different skills you will learn from this tutorial,
Combustion Masks
Keying
Colour correction
Paint & particles
Working with layers
Working with alpha channel
Layer controls
Animating Mask
Advanced keying
Bit depth
Refine tuning shapes
Stereoscopic roto
Through this Autodesk Combustion Training, you will learn where you can apply combustion along with the unlimited features it can cater across multiple domains.
Requirements / Pre-requisites
Willingness to pursue a career in Graphic design & animation: An interest in graphics, visual effects, animation, etc. is a must before choosing this Autodesk Combustion Training. If you are willing to achieve a career in this field you can start this course and drive towards your destination.
Basic knowledge of computer: You just need basic knowledge of the computer before start learning this course. It will be easy for you to follow and learn this course if you know computer fundamentals.
An updated version of Autodesk Combustion & personal computer: You can use any version of the software for learning it, but using the latest version will always keep you updated and provides the latest features and tools. Since it is resourced intensive software program we should consider a good system before running the software
Target Audience
Students who want to learn visual effects and compositing: Students who are planning to enter the field of animation, visual effects, motion graphics, etc. can use this course as a stepping stone to achieving a safe and strong career can enroll for this Autodesk Combustion Training.
Graphic designer: A graphic designer create visual concepts using computer software. They give appropriate animations and colors for each project. Combustion is one such software that provides all the features needed for a graphic designer. This Autodesk Combustion Training will help the graphic designer to improve their skills over combustion.
3D animators: Animators are artists who create and digitally model computer images using computer software. They use sequential images of drawings, and models to create videos, computer games, films, and websites. They develop 3D multimedia projects involving copter software. Combustion can be used to create 3D animation. This course teaches you how to work with 3D animation using combustion.
VFX artists: VFX artists use computer software for creating animation and visual effects. They mostly work for feature films, web videos, television series, and video games. Combustion software helps them to create visually engaging motion graphics and animations.
Filmmakers: All the features available in combustion can be used for film making. These features make visuals more engaging and attractive. Filmmakers use combustion for such editing and creating effects on their products.
Autodesk Combustion Training FAQ's- General Questions
---
Why should I do this Autodesk Combustion Training?
If you're asking this question, probably you haven't gone through the curriculum. Anyone who wants to learn visual effects and compositing should learn this course.
Is Combustion available for installation on Mac?
Yes, Autodesk combustion is available for both Windows and Mac OS.
Would this Autodesk Combustion Training help me in my career advancement?
Skills and technology along with your creativity will always boost your career growth. Through this Autodesk Combustion Training, you can improve your skills and knowledge and which helps you to attain a good position in your career.
What version of Autodesk combustion do I need for your tutorials?
You can use any version of the software for learning it. But using the latest version will always keep you updated and provides the latest features and tools.
Sample Preview
---
Career Benefits
Animation, motion graphics, visual effects, and compositing are different features used to create various types of entertainment videos. These features are applied to videos with the help of different computer software. Feature films, television series, video games, web videos, etc. are creating and editing in this way. Among such animation software, Autodesk combustion is one of the famous motion graphic software which is used worldwide. Understanding this software will help aspiring students and experienced professionals to improve their skills in their field of work.
This Autodesk Combustion Training is offered for both beginners and advanced professionals. Basic to advanced tools and features of combustion is listed here and explained in a very simple and effective way for better understanding. As you know combustion software is used in different fields like 3D animation, Graphic designing, web designing, video editing, VFX mixing, etc. All these applications produce a large number of job opportunities for skilled persons. If you know combustion and u have skills to perform various features of combustion, then many multinational companies will appoint you for various positions with attractive payments.
Students who are interested in animation and graphics can also learn this Autodesk Combustion Training as parallel learning. As a student, If you are willing to learn Autodesk Combustion Training and ready to work hard you can do the freelance job along with your studies using the skills of this software.
Autodesk Combustion Training Reviews
---
My course experience
As a beginner in this field, everything seemed very clear to me. I learned all the features of combustion explained in this tutorial. Very well presented by the instructor. Overall I would recommend this curse to my friends.
Shane Z