New Year '20 Offer TAKE THIS BUNDLE
AutoCAD Training (3 Courses, 5+ Projects)
3 Online Courses
5 Hands-on Project
18+ Hours
Verifiable Certificate of Completion
Lifetime Access
AutoCAD 2D Essentials Course
AutoCAD 2D Advanced Course
Project on AutoCAD - Drawing Title Housing
Offer ends in:
TAKE THIS BUNDLE
What you get
Online Classes
Technical Support
Mobile App Access
Case Studies
Online AutoCAD Training Course
This AutoCAD Training Certification is a comprehensive bundle which includes 3 comprehensive AutoCAD courses, 5 Projects with 18+ hours of video tutorials and Lifetime Access. You will also get verifiable certificates (unique certification number and your unique URL) when you complete each of the 3 courses.
AutoCAD is an application used for 2D computer-aided design (CAD) and drafting which was first released in the year 1982. This software has been developed and marketed by Autodesk and has use across sectors such as engineering, architecture, product designing. This AutoCAD training bundle course will help you learn 2D & 3D modeling designs. We will understand the AutoCAD software from scratch i.e. its installation, user interface, start-organize and save a drawing, customization, drawing commands, plot drawings, solid modeling and much more

Industry Growth Trend
The global computational creativity market size to grow from USD 204 million in 2018 to USD 685 million by 2023, at a Compound Annual Growth Rate (CAGR) of 27.4% during 2018–2023.
[Source - MarketsandMarkets]
Average Salary
Average Salary
$20 per hour
The average salary for a CAD Technician is $19.84 per hour in the United States.
[Source - Indeed]
About AutoCAD Course
| Courses | | No. of Hours |
| --- | --- | --- |
| AutoCAD:01 - 2D Essentials Course | | 8h 28m |
| AutoCAD - 2D Advanced Course | | 1h 47m |
| AutoCAD:02 - 3D Modeling | | 3h 15m |
| Project on AutoCAD - Drawing Title Housing | | 2h 06m |
| Project on AutoCAD | | 2h 1m |
| SKETCHUP Project- Create a 3D AutoCAD Plan from 2D House | | 23m |
| AutoCAD Project - Solving a Designer's Dilemma using AutoCAD Parametric | | 26m |
| Project on AutoCAD - Electrical Power Demand Calculation | | 1h 05m |
---
Course Name
Online AutoCAD Course Bundle
Deal
You get access to all 3 courses, 5 Projects bundle. You do not need to purchase each course separately.
Hours
18+ Video Hours
Core Coverage
AutoCAD installation, user interface, start-organize and save a drawing, customization, drawing commands, plot drawings, solid modeling and much more
Course Validity
Lifetime Access
Eligibility
Anyone who is serious about learning AutoCAD
Pre-Requisites
Basic knowledge of using editing software
What do you get?
Certificate of Completion for each of the 3 courses, 5 Projects
Certification Type
Course Completion Certificates
Verifiable Certificates?
Yes, you get verifiable certificates for each course with a unique link. These link can be included in your Resume/Linkedin profile to showcase your enhanced sound engineering skills
Type of Training
Video Course – Self Paced Learning
Software Required
 You can download the software from the official website
System Requirement for AutoCAD

Operating System: Microsoft Windows 10 (64-bit only), 8.1 (32-bit & 64-bit), or 7 SP1 (32-bit & 64-bit)
Processor: 2.5 GHz (3+ GHz recommended)
Memory: 8 GB (16GB recommended)
Disk space: 6.0 GB
Display: 1920 x 1080 resolution with True Color

Other Requirement
Speaker / Headphone
Online AutoCAD Course Curriculum
---
Let's have a look at the detailed AutoCAD course curriculum:
| | | |
| --- | --- | --- |
| Serial No. | Course Name | Course Description |
| 1 | AutoCAD :01 – 2D Essential Course | We will start this AutoCAD training with the introduction to the most popular CAD software AutoCAD. This chapter helps you to learn everything you need to know to start using the software as a beginner. You will learn how to install the software and introduce you to the user interface and basic tools of the software. This chapter includes basic tools of AutoCAD like drawing units and navigation, Co-Ordinates, Rotate & Scale, Trim & Extend, lengthen & stretch, Offset & mirror etc. Also, you will learn other features like dimensioning, text & layer, Explode, Hatch, Blocks & plot etc. This section of the course is purely for beginners who are fresh to use this software. |
| 2 | AutoCAD :02 – 3D Modeling | This is a 3 hour 15 minutes course which consists of 24 video tutorials. This chapter helps you to learn solid modeling and creating a 3D structure. 3D designing is an advanced feature offered by CAD. The AutoCAD Certification tutorial starts with the introduction to 3D modeling using AutoCAD. Then you will get to know the basic structure of 3D designing like the plane, UCS, 3D orbits and different 3D views. This AutoCAD training course also provides you with details about other 3D features like Projection mode, 3D wireframe, Solid modeling, and editing. Along with 3D modeling, some of the 2D drafting techniques are also included in this chapter. |
| 3 | AutoCAD – 2D Advanced Course | This advanced AutoCAD Certification tutorial helps you to give a deeper understanding of the AutoCAD features and which helps you to prepare effective 2D designs. This AutoCAD certification course starts with an introduction to the advanced tools in AutoCAD. This chapter also provides you with details about effective features in AutoCAD like XREF, Layouts, Annotation text, and constraints. |
---
AutoCAD Course – Certificate of Completion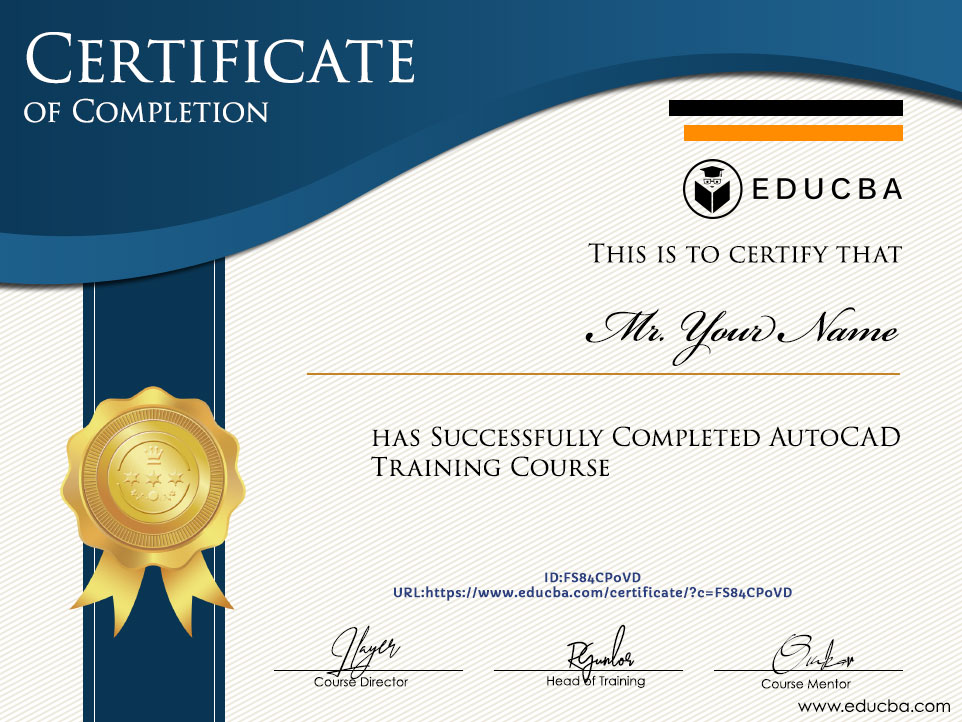 ---
What is AutoCAD?
AutoCAD is a computer-aided design and drafting software developed by Autodesk. AutoCAD is developed for 2D and 3D designing and used for project designing, architecture, product designing, etc.
AutoCAD was introduced in the year 1982 by Autodesk as its flagship product. In 1986 AutoCAD had become the most famous and benchmark CAD program worldwide. AutoCAD version 1.0 was the first version of this software and which was released in December 1982. From then a total of 33 versions were released and AutoCAD 2019 is the latest in this series and it was released in March 2018.
There are different variants of AutoCAD available such as AutoCAD Architecture, AutoCAD LT, AutoCAD 360 and student's variants. In this AutoCAD, architecture is developed in such a way that its functions and tools are especially suited for architectural designs. AutoCAD LT is the lower-cost version of AutoCAD with lesser functions and features as compared to the original version. AutoCAD 360 is an account-based mobile and web application that allows users to view, edit and share AutoCAD files.
Which skills you will learn in this AutoCAD course?
This AutoCAD course will help beginners and CAD professionals confidently get up and running in AutoCAD. It will help advanced cad drafters to improve their skillset and perform effectively in their jobs. Through this AutoCAD training, you will learn how to use different drafting and modeling tools available in AutoCAD effectively. Let us have a look into the different skills you will learn from this tutorial,
2D drawing
Dimensioning
Layering
Different Commands
Trim and Extend
Lengthen and stretch
Offset and Mirror
Type and edit text
hatching
3D modeling
External references (XREF)
Setting Constraints
Tracking Modes
With this AutoCAD course, you will understand all the basic and advanced skills of AutoCAD. As you know AutoCAD is a vast area and you may come across new features each day. So this AutoCAD training certification helps you to find new features and tools in AutoCAD and to use those tools in your projects. Once you complete the 2D essential course and the advanced course you will be ready to work with AutoCAD in a workflow setting and in more complex projects.
Pre-requisites
Willingness to pursue a career in Designing/Drafting: An interest in drawing, designing, modeling etc. is a must before learning this AutoCAD Training Certification. If you are willing to achieve a career in this field you can start this AutoCAD training and drive towards your destination.
Basic knowledge of AutoCAD: Even if it is a course offered for beginners to professional, basic knowledge of using AutoCAD will be an added advantage to learn this AutoCAD training course. Basic skills like drawing lines and circles will be helpful for you to learn other features quickly.
Updated version of AutoCAD & personal computer: You can use any version of the software for learning it, but using the latest version will always keep you updated and provides the latest features and tools. Since it is a resource-intensive software program we should consider a good system before running the software.
Target Audience
Students interested in any field of designing/Drafting: Students who are planning to enter the field of designing, drafting or modeling in any type of industry can use this AutoCAD certification as a stepping stone to achieving a safe and strong career.
Architects: An architect is a person who plans and designs buildings. Architects should know AutoCAD for designing buildings and structures. The blueprints of these drawings are used for constructing buildings.
Mechanical Design Engineers/ Drafters: Another important user of AutoCAD Is mechanical design engineers. They use this software for product designing, plant designing, and layouts, MEP drawings, etc. Also, they used AutoCAD for 3D modeling and drafting.
Interior Designers: Interior designers can contribute to building plans in very exciting ways through AutoCAD. This software allows them to plan and design interior structures and furnishing in different ideas.
Civil Engineers/Draughtsman: Other professionals who use AutoCAD are civil engineers. They used AutoCAD for designing all types of constructions like buildings, roads, structures, bridges, dams, etc.
FAQ's- General Questions
---
Why should I do this AutoCAD Training?
If you're asking this question, probably you haven't gone through the curriculum. A student who is willing to pursue a career in the field of Designing/Drafting should do this AutoCAD training since it is the most used and common software used by professionals.
I don't have a basic knowledge of AutoCAD, can I do this AutoCAD Training Certification?
The answer is yes. You can do this AutoCAD training with basic knowledge of computers. You will learn basic to advanced tools of AutoCAD through this AutoCAD Training Certification.
Would this AutoCAD certification training help me in my career advancement?
Skills and technology along with your creativity will always boost your career growth. Through this AutoCAD training, you can improve your skills and knowledge and which helps you to attain a good position in your career.
What version of AutoCAD do I need for your tutorials?
You can use any version of the software for learning it. But using the latest version will always keep you updated and provides the latest features and tools.
Sample Preview
---
Career Benefits
As you know AutoCAD is the most widely used CAD software in the world. We can see people using this software in almost all the engineering fields. Whatever the industry is, AutoCAD is a must for 2D drafting and 3D modeling. Even if much-advanced software available, AutoCAD secured a benchmark position and still holding that level. The opportunity to use a CAD application may help you to perform well in the future. If you have any interest in designing or drawing, this AutoCAD certification training will help you to use your designing skills in AutoCAD software. You can utilize these AutoCAD skills in your future career. Also knowing the basics and interface of AutoCAD will give you some insight into using some other advanced CAD applications. In today's extremely competitive professional market, you will need to distinguish yourself to reach the top of the competition. In the field of design, architecture, engineering, construction and project management, knowledge of computer-aided design will definitely give you an edge. Many public and private sector companies are looking for highly skilled CAD designers for various job positions. This AutoCAD Training Certification will surely help all of you to acquire a good position in your career with the knowledge of AutoCAD.AutoCAD training can be completed in a few days, however, becoming a professional takes a little longer and it needs more practice. If you practice well and work hard you can easily reach your destination and acquire a safe and strong career.
Reviews
---
Autocad basic review
This was a very interesting , practical, concise, and hands on training. I can recommend it to anyone who want to learn the basics of Autocad in a very quick and timely way. The instructor is very clear in his presentation and he uses video where you can practically see what he is doing and how to go about the processes o Autocad basics. This introductory will usher you into the intermediate and then advance level of Autocad. I am grateful for this training.
Linked
Otis K. Moore
Awesome Experience to learn AutoCAD
I have an awesome experience while completing Auto Cad Course. The lectures provided here were well explained and ellabroted. Even a beginner would easily understand the topics. The content provided in the course video will help us in making actual design and help us a lot. Based upon my personal experience I have got a good experience and learn a lot. I will personally recommend others to do. Thus I would like to say awesome experience and truly every designer should do.
Bharat Kumar Johari
Good AutoCAD Certification
I got brief introduction about AutoCAD,its very useful for beginners, and it will be more worthy if it gets included with some more 3 d industrial oriented problems. I would like to thank educba and youth4work for this help.
Linked
SHUBHAM S GADAGE
Feedback
The contents of this AutoCAD Certification is good. But the duration of each videos is very less. So this course compete in only 4 to 7 days.I completed my course. This is useful to job making profile which is good for a better career. This is a basic course of auto cad so anyone can do this AutoCAD Training Certification and increase their knowledge. Thankyou.
Linked
SATYAM SHARMA
Helpful Course
This Video Tutorial on Introduction to AutoCAD by eduCBA.com is quiet helpful in developing basic understanding and working of the AutoCAD software. It provides the basics needed for the Computer Aided Drafting/ Computer Aided Drawing software, and also gives a proper introduction to the User Interface.
Linked
Nitish Malpotra