Learn from Home Offer TAKE THIS BUNDLE
ADOBE AFTER EFFECTS Course Bundle - 7 Courses in 1 | 4 Mock Tests
This After Effects Training includes 7 courses with 26+ hours of video tutorials and Lifetime access. You will also get verifiable certificates (unique certification number and your unique URL) when you complete each of the 3 After Effects courses. This course is anyone who wants to learn video editing, compositing, creating videos,videos effects using this sophiticated tool.
TAKE THIS BUNDLE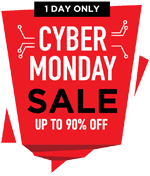 * One Time Payment & Get Lifetime Access
What you get in this ADOBE AFTER EFFECTS Course Bundle - 7 Courses in 1 | 4 Mock Tests?
26+ Hours
7 Courses
Mock Tests
Course Completion Certificates
Lifetime Access
Self-paced Courses
Technical Support
Mobile App Access
Case Studies
About ADOBE AFTER EFFECTS Course Bundle
| | |
| --- | --- |
| | |
| Courses | You get access to all 7 courses, Projects bundle. You do not need to purchase each course separately. |
| Hours | 26+ Video Hours |
| Core Coverage | Compositing, Rotoscoping, Character masking, Text animation, Splash, Puppet and apps animation using After Effects. |
| Course Validity | Lifetime Access |
| Eligibility | Anyone who is serious about learning After Effects and wants to make a career in Compositing, VFX, or Motion graphic |
| Pre-Requisites | Any previous knowledge about Adobe software would be helpful |
| What do you get? | Certificate of Completion for each of the 7 After effects courses, Projects |
| Certification Type | Course Completion Certificates |
| Verifiable Certificates? | Yes, you get verifiable certificates for each course with a unique link. These link can be included in your resume/Linkedin profile to showcase your enhanced After Effects Skills |
| Type of Training | Video Course – Self Paced Learning |
ADOBE AFTER EFFECTS Course Bundle Curriculum
---
To make things easy for you, here's a comprehensive After Effects Training Course. Before we ever talk about the target audience, FAQs, let's look at the course curriculum in detail –

| | | |
| --- | --- | --- |
| Serial No. | Course Name | Course Description |
| 1 | Introduction to After effects with the course training | This After Effects certification course Introducing the application interface, tools (palettes), creating a new project with the usage of workspace along with different frames, resolutions and RGB color managing for VFX, Motion Graphics, app development. The lights and camera are used in after effects have a realistic visual experience. Elements such as video, audio, still images or Illustration images can be manipulated into 2D or 3D. Identifying and applying effects from presets to the frame adjusting color corrections and masks for animation. Techniques that are specific to the after-effects environment, learning to import or create 2D or 3D animation as the first project in after effects and used for broadcast, film or web. Have control of real-world properties such as light fall-off, shadow and depth of feeling with render output to generate a finished composition. |
| 2 | Rotoscoping using After Effects | This After Effects course module includes subjects and scenes can be changed in after effects which are used for motion graphic, Post-production of film making in 3D or feature. Such tools integration while working impacts on Powerful color adjustment make the object and frame interesting to bring cinematic feel. Stimulation of light and cameras with a huge dimension of reality. Cleaning tools help in removing unwanted objects to add your ideas to the frame. This helps in linking objects and graphics with maximum control on the motion to move along the frame. After-effects have enough tools which are designed exclusively for course content with the effects as required for the output within deep knowledge. |
| 3 | Compositing using After Effects | In this After Effects training course we shall understand compositing which involves using different key components in animation such as Keyframing, Anchor point, Graph editor, Motion sketch, Roving, and hold, Orienting with separate dimensions with pre-composing and nesting. It can also be used to non- linear workflow to create complex animations and video effects. Using trim, slip, move sequence with looping footage which is more frequently seen in advertising videos, Image sequencing setting frame rate with time stretch all such similar effects of video making 2D and 3D layers. Masks to remove a portion of layers or to change any layer to mask, blending of one layer with the other without limitation which takes your video to the next level using after effects. Adding and working with text, animation typography objects on the path with basic effects of animation and layer preset styles which give clients and users a visually engaging experience. We can have total control of how the text comes to appear with industrial choices with engaging tiles, add stylistic changes to the text, add text with small animation tricks with infinite possibilities. Grouping up and arranging the work done in after effects step by step is called nesting, pre-composing and rendering project can also be done in after effects. As per project requirements know how to set the rendering settings, Exporting options and Dynamic link. Files can be used in Films, Broadcasting, web designing, Advertising and many more. |
---
After Effects Course – Certificate of Completion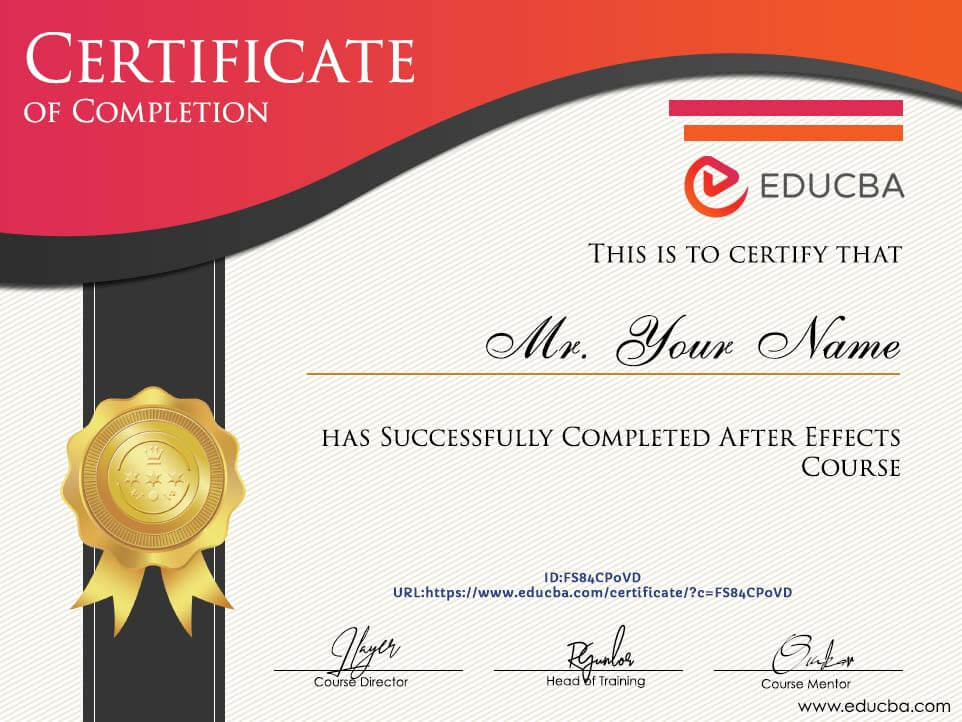 ---
What is After Effects?
After Effects is an application for visual effects, motion graphics and compositing in 2D and 3D developed and serviced by Adobe Systems. After-effects are used in the post-production of films, Advertisement making, television broadcasting, travel film, titles and many more with smart video editing effects, rendering, compositing, motion tracking, keying, and animation.
It's easy to edit videos and adding text and audio to frames with keying options for playing all simultaneously. The latest release had High Definition Rendering footage creating and exporting options. Few users preferred plug-ins are also available as per requirements. 3D and 4D rendering are also available
All Photoshop, illustration, and Adobe formats are accessible for importing and editing them in the video. There is an after-effects temple for video and text which creates an effective look of edit with premiere pro compositing option for each effect. The shape layers, masks, tools, keying, expression and presets are used to make the video as best output as required.
After-effects are called Photoshop of video, the video taken will be opened as it is whether its 4K, Drone shot or 24 frames per second with timelines matched along with the video. Compositions can be edited and modified easily. Quick render time has many resolution values. Camera angle, light effects, color concerns, null object and many other objects to make the video interesting.
After-effects are highly used in movie making for imposable stunts, mix and run 2 or more videos by cleaning all unwanted subjects using masks and retaining the subjects wanted in a video. Improving quality and visual standards within the video. Green mats and other solid colors that are used in television broadcasting or VFX movie making can be removed easily and add the required background as per frame.

Industry Growth Trend
The global computational creativity market size to grow from USD 204 million in 2018 to USD 685 million by 2023, at a Compound Annual Growth Rate (CAGR) of 27.4% during 2018–2023.
[Source - MarketsandMarkets]
Average Salary
Average Salary
$17 per hour
The average salary for a Graphic Designer is $17.05 per hour in the United States.
[Source - Indeed]
Which skills you will learn in this After Effects course?
Editing single and combining multiple videos with time keying.
Working on multiple compositions with layers, masks, frames, color adjustments with RGB values, sound and light effects.
Learn Typography, Motion graphics with their templates and presets to use.
Green screen compositing while moving the object and while without moving object.
Framing video and audio with keying, videos of different formats and cameras output editing experience through after effects.
Null object to move the subject in the direction as required, modifying and editing 2d and 3d videos with inbuilt effects.
Motion sketch, orientation, motion blur, roving & hold separate dimensions.
Looping footages, Image sequences, managing frame rate along with time, using Effects with color corrections, adjusting of layers, animation in after effects.
All tools related to animation and composition and previewing work.
Keyframe interpolation with changing parameters globally.
Importing, feathering the edge, replacing the content in a mask and using masks from Illustrator and Photoshop.
Animating text by applying available presets with range selections with editing its properties such as font, size, color, etc.
Few other effective tools for smoother, wiggle, auto orient, time remapping.
Using expressions program language for more visual improvisations on video, Puppet tools with distorting objects which help in blending objects in the video as required.
After effects rendering videos like a movie with understanding parenting visual looks, with advanced cloud storage space for working and saved projects.
Requirements / Pre-requisites
Interested in working on video skills in art, creative new effects, Interesting Ideas, Out of box thinking. Quick learning skills, basic animation skills to understand tricks and tips in after effects. Understanding technical strands of video effects and other parameters.
Basic Knowledge of Photoshop, Illustrator is an additional benefit as the after-effects tools have a similar environment.
System requirements windows system with 64bit OS, 8GB ram, 5GB hard disk space. macOS 64-bit OS, 8GB ram, 6GB Hard disk space.
The candidates who are pursuing or completed a Diploma in Animation, Bachelor's degree in animation and interested can do the after an effects training course. To frame their career in motion graphics, VFX fields, and many more relevant artistic jobs.
Target Audience
Students interested in video editing and animation: If you're a student or a basic professional in Photoshop and Illustrator can easily understand and work on After effects because of its user-friendly interface similar all other Adobe software's which make it useful in all moviemaking post-production studios, video broadcast, 3D graphics, and VFX making with green mats can be edited which will be covered as part of after effects training course.
Professional: Movie post-production, the title track, and introduction video making are pretty easy by using the effects which are available in after effects. 3D element, Trap code particular, plexus. Optical flares with 3D plug-in, few 3rd part plug-INS are also used for Import, texturing, color, light and 3d object creation. With keying, mapping and expressions programming language we can make our videos better with visual quality improvements. Photographers use after effects for making their event videos look better with effects, light adjustments, intros, and texts flow in between videos frequently use in the wedding and traveling videos by photographers.
Personal use: all the traveling images or videos can be clubbed together and add audio
FAQ's- General Questions
Why should I do this After effects training?
Please check the curriculum for the details, of course, this After Effects course helps in making the career mark in motion graphic, video editing, advertisement making. 2d and 3d animation effects can be added the real-time user will know it.
I am an engineer can I do this After effects training course?
No, but before if you are familiar with Photoshop, Illustration it's easy to handle and understand the basics of after-effects as the interface windows and tool handling are pretty similar and help to learn the course.
How is after effects different from other software in competition?
To know this difference you should pursue the course to experience the difference, for example, review a few videos which are available before and after After effects making.
Do we have relevant job openings in India?
Yes, we do have job openings in India as there are any feature films, animation movies, Advertisements, etc which need motion graphs, VFX, 2D and 3D designing and animation with graphics and effects with best output of video for visual ultimate's.
Would this After Effects training course help me in my career building?
Yes, After effects are going to add values to ideas and bring them to reality in the form of video as required. There is also good growth in the market of animation and graphics for multiple areas in the market in movie making, advertising, broadcasting, etc
Sample Preview
---
Career Benefits
After-effects are used for multiple fields in multimedia with valuable packages for the post of Graphic designer, Film/Video editing, 3D artist, VFX artist and many more.
How is already working on Illustrator, Photoshop or similar application with deals with motion graphics and animation can do this After Effects training for up-skilling and job upgrades as after-effects are the most commonly used software all over the world?
One of the best tools to composite videos with masts, frames, layers, and effects if you deal with such data in real-time so after effects, the After the Effects training course is going to make your job simple.
Movie post-production is done through after-effects if you're trying to get into movies as video editor this After effects training is a bridge for getting it for you.
Even if you are creative enough in adding ideas to the video for YouTube introduction video, Marriage or event introduction videos by photograph and contractors there are also huge freelancing opportunities as well to do in the market after the course completion to earn.
Vimeo, Youtube, Pinterest, and a few more free videos, images, and gif flatforms are free to access and put up your videos and gif into the market. To show your demos in further stages of the interview process.
Overall After effects are going to add values to your creativity and bring them in the form of video with the compositing, you create for the best visual experiences.
Course Testimonials
---
Great Experience of Learning
Like the courses & its structures very helpful & easy to understand. Adobe After the Effects training course is really interesting would recommend this course for people who want to learn about video editing. The After Effects training cover more all option which is available in video editing and make it a perfect course. looking for more interesting designing & video editing courses like this in the future.
Linked
Pramod Kumar
After effects training
After effects course is the best one for motion graphics, VFX, Video effects, compositing and feel. The curriculum has all set of properties available in after effects. This course at the right time added values to me. I would recommend this after effects training to my colleges.
Diana Brooks
My After Effects Course Experience
Had valuable time for upskilling with after effects. I could compare myself after learning the course. The effects, keying and framing of video bites are quite interesting. The After Effects course has reasonable time and successful technical learning on the interface with the examples of real-time use age of after-effects is well explained. I suggest this After Effects course for student how is learning animation 2D and 3D.
Brune Parks