Learn from Home Offer TAKE THIS BUNDLE
3DS MAX Architecture Course Bundle - 4 Courses in 1 | 3 Mock Tests
This 3DS Max Architecture Course includes 4 courses with 11+ hours of video tutorials and Lifetime access and several mock tests for practice. You get to learn a comprehensive detailed course on learning Interior Texturing using 3DS Max Software.
TAKE THIS BUNDLE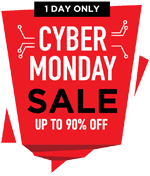 * One Time Payment & Get Lifetime Access
What you get in this 3DS MAX Architecture Course Bundle - 4 Courses in 1 | 3 Mock Tests?
11+ Hours
4 Courses
Mock Tests
Course Completion Certificates
Lifetime Access
Self-paced Courses
Technical Support
Mobile App Access
Case Studies
About 3DS MAX Architecture Course Bundle
---
| | |
| --- | --- |
| | |
| Courses | You get access to all 4 courses, Projects bundle. You do not need to purchase each course separately. |
| Hours | 11+ Video Hours |
| Core Coverage | Learn Interior Texturing using 3DS Max Software. |
| Course Validity | Lifetime Access |
| Eligibility | Anyone serious about learning architecture modeling and wants to make a career in this Field |
| Pre-Requisites | Basic knowledge about modeling would be preferable |
| What do you get? | Certificate of Completion for each of the 4 courses, Projects |
| Certification Type | Course Completion Certificates |
| Verifiable Certificates? | Yes, you get verifiable certificates for each course with a unique link. These link can be included in your resume/Linkedin profile to showcase your enhanced skills |
| Type of Training | Video Course – Self Paced Learning |
3DS MAX Architecture Course Bundle Curriculum
---
In this section, each module of the 3DS Max Architecture Course is explained.
MODULE 1: 3Ds Max Interior & Basic Modelling

| Courses | No. of Hours | Certificates | Details |
| --- | --- | --- | --- |
| 3DS Max Architecture | Interior Design : 01 - The Interfaces and Basic Modeling | 2h 45m | ✔ | |
| 3DS Max Architecture | Interior Design : 02 - Wall, Window and Sofa | 3h 05m | ✔ | |

MODULE 2: 3Ds Max Architecture

| Courses | No. of Hours | Certificates | Details |
| --- | --- | --- | --- |
| 3DS Max Architecture | Interior Design : 03 - Dining, Bed and Kitchen | 3h 4m | ✔ | |
| 3DS Max Architecture | Interior Design : 04 - Texturing and Modeling Others | 3h 31m | ✔ | |

MODULE 3: Mock Exams & Quizzes

Courses
No. of Hours
Certificates
Details
Test - 3D Max Test Series
Test - 3D Max Assessment Exam
Test - 3D Max Mock Exam
Sr No.
Course Name
Course Description
1
 Module 1 – The Interfaces and Basic Modeling
This is the 1st module of the 3DS Max Architecture Course. The course is based on creating and developing interior models using 3Ds Max. In this module, we study the interface of 3Ds Max. The first chapter is about the user interface which consists of a lesson on Rename and Select, Geometrical View, Directions, Changing Axis Dimension, and Rotating the Sphere.

In the 2nd chapter of this 3DS Max Architecture Course module, we learn about the Basic Modelling techniques. The chapters highlight the Basic Modelling of a Chair, Making Curve Shapes, attaching objects, Making Chair portion, Hide and Unhide objects, making rest portions of Chair and Attaching the Chair Portions.

2
Module 2 – Modeling Interior, Wall, Window, and Sofa
In the 2nd module of this 3DS Max Architecture course, we study the Interior Modelling in a detailed plan. The 1st chapter is based on Interior modeling and Modelling the plan, Top View Modelling, Selecting Edge & Vertex, Perspective View, and Editable Poly-Vertex.

The 2nd chapter teaches the techniques of Wall Modelling. The 3rd chapter focuses on Windows Modelling and teaches us Window Adjustments, Window Base, Window-Deselecting, and Bedroom Windows Interior.

The last chapter teaches us Sofa Modelling. The chapter highlights topics on Creating Sofa, Attaching Surface, Selecting Faces, and finalizing the sofa Modelling.

3
Module 3 – Modeling Dining, Bed, and Kitchen
The 3rd module starts with the finishing of Sofa Modelling. The next lesson teaches the modeling of Dining Table and Chair Modelling. This lesson highlights topics on the Dinner Table Pillar, Dinner Table Base, and Arranging Tables and Chairs.

Table Pillar, Dinner Table Base, and Arranging Tables and Chairs.

The next lesson teaches us about Bed and Bedroom Modelling. This chapter consists of Bed Cloth Modelling, Cloth Model for Pillows, Importing the Bed, Back Panel of Bed, Cloth Bedsheet Modelling, and Master Bedroom.

The last lesson is on Kitchen Modelling. This lesson teaches about the modeling of Sink, Cross-section, Kitchen Box, Sink Setup, Drawers, and Understanding Proportion.

4
Module 4 – Texturing and Modeling Others
This is the last module in the 3DS Max Architecture Course. The first lesson in this module is about TV Panel and other Tables Modelling. It consists of topics on TV Table Modelling, LED TV Modelling, TV Panel Modelling, Bedroom Table, Table Lamp, and more detailed modeling.

The next lesson in the module is about Texturing. This lesson includes topics on Floor Cloth Modeling and Texturing, Wooden Floor Modelling, Floor Mat Texturing, Texturing the Bed Sheet, Pillow Texturing, Bedroom Panel Texturing, Dining Table Texturing, Adding Sofa Texture, Table Lamp Texturing, Kitchen Texturing, Wall Painting, Corner texture, Glass Texture, Lighting Addition and Sky Light.
---
3DS Max Architecture Course – Certificate of Completion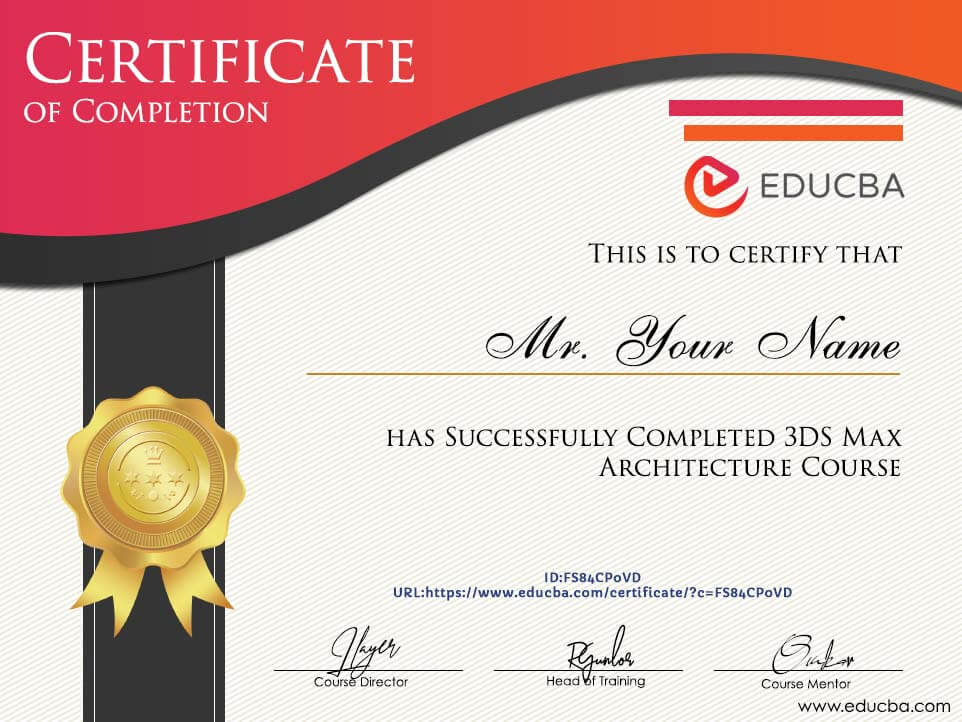 ---
What is the 3DS MAX?
3Ds Max is a popular and well-known 3D modeling, animation, and rendering software. It is widely used by various 3D artists, modelers, engineers, architects, and interior designers. The software is developed and created by Autodesk. 3DS Max program can be used on Windows 7 and later versions of Windows.
3DS Max is also used in Video Games to create 3D models, game properties, and animations. The program has an amazing renderer that renders realistic images and helps in the clarity of the same. It also can navigate real-life camera settings. By enabling the Active Shade Mode in the software, the users can see render outputs and can also view the changes made to lighting and materials in a scene.
The architectural industries also use 3DS Max to create photorealistic images of the buildings and architecture in the design phase. 3DS Max works on Polygonal Modelling which helps the users to have control over every polygon present in the model. This helps the users to a great extent and provides accuracy and efficiency in their work. 3ds Max has its scripting language, changeable plugins, and user-friendly interface. This makes 3DS Max personalize and adjustable according to the needs of the user.

Industry Growth Trend
The global visualization and 3D rendering software market size is expected to grow from USD 1.06 billion in 2017 to USD 2.92 billion by 2022, at a Compound Annual Growth Rate (CAGR) of 22.40% during the forecast period.
[Source - MarketsandMarkets]
Average Salary
Average Salary
$17 per hour
The average salary for a 3d Animator is $17.36 per hour in the United States.
[Source - Indeed]
Which Skills will you learn in this Course?
---
3DS Max is not just a program today, but it is an industry itself. It is used in many of the industries and fields of architecture and engineering. Today 3DS Max is been taught in various educational institutions and schools. The growing demand for the program will keep the excitement going and the company will ultimately update the program with newer and latest features and tools.
This 3DS Max Architecture Course is a practical and simple course which is designed in a way that it can be used by beginners as well as professionals. The course offers great examples and techniques that will help the students to gain knowledge about creating interior architecture using the software.
There is much 3D software available in the market today. But learning 3DS Max will boost the skills of the learners and also help them to learn the basics of 3d Modelling and animation.
Many of the skills that this course teaches are Interfaces of 3DS Max, Basic Modelling, Interior Modelling, Wall Modelling, Sofa Modelling, Dining Table and Chair Modelling, TV Panel Modeling, Lighting, and Dome & Mesh Lights.
Pre-requisites
The pre-requisites of starting the 3DS Max Architecture Course is as follows:
Basic knowledge about computers is a must.
A computer of 2.4 GHz core 2 or i5 or i7 processor is required for working of the program without any issues.
The computer should have 4GB RAM or Higher that can accommodate various heavy files
The students and learners should have a desire and passion to learn interiors using 3Ds Max.
A basic understanding of 3D tools and the environment will help the users to learn the software quickly.
3Ds Max is an easy program to learn but it is a vast program too. So, a lot of patience and determination is also required from the learner's end.
Target Audience
This 3DS Max Architecture Course is all about modeling interiors and various equipment present in the house. This training targets students interested in learning it using 3DS Max.
Students and learners who are keen to become 3D Architecture Designers can go for this course.
Designing professionals who are thinking of making a career in 3DS Max can also use this course.
3D Animators and architects can also use this course to gain immense knowledge on the subject.
3D Max Certification – FAQ's
---
3DS Max is a 3D Modelling program. I am a beginner in this field will this 3DS Max Architecture Course benefit me in any possible way?
Definitely. This course is not just for professionals or advanced learners. If you are a beginner, you can still learn a lot of skills and techniques through this course. This course includes a lot of practical examples and methods that will help you to gain immense basic knowledge about 3D tools and techniques. Also, if you desire to make a career in this field, this course will be very useful for you.
I am a student of Maya and I do most of the animation work on it. But I am not happy with the modeling and texturing part in Maya. Can I use 3DS Max for Modelling and how will this course help me in that?
Honestly, Maya is an animation perfect software while Max is a Modelling Perfect software. You can simply create your models on Max and export them to Maya. Max is a very useful program and is mostly used for Polygonal Modelling. This type of Modelling helps the user to have control over the individual polygons of each model and modify them accordingly. Rest it's your wish to animate your files on Max or Maya. This course will help you to create models and give you perfect practical solutions to your problems.
Sample Preview
---
Career Benefits
3DS Max Architecture Course is designed for beginners and professionals. It is a career targeted course and learning this course will help the learners and users to a lot extent. With simple techniques and methods, this course provides logical examples and gives immense knowledge to the students. This course will also help the students in solving the fundamental problems of the program.
If the learner is efficient and dedicated, nothing is impossible to learn. Learning interior modeling is a demanding task for the users, yet this course helps them to overcome it and provide lectures and lessons that explain everything easily. In this 3DS Max Architecture Course, the students will learn skills that will help them to shape their future and get desired jobs.
The users can go for jobs like Data Analyst, 3DS Max Visualizer, 3D Interior Designer, 3D Artist, Architect, 3D Animator, AutoCAD Draughtsman, and Graphic Designer.
Reviews
---
Great Learning
Your 3D architecture part is very clear to understand.  I enjoyed the case study on architecture and myself performed with the trainer. Very practical.
Arshi
Fun Learning
I have found the subject very informative and extremely helpful.  3D MAX is a good software and the information on the course is very helpful  the items raised on the course are good and can help me with my design work I have found the items on the course will be able to assist me  the lessons are very helpful
Nigel Hibert
Good
What I like most about this program that I can make the design, plans, and drawings of two and three dimensions in an easy and fast away. It is an internationally recognized software. It is excellent for its editing ability.
Arslan Haider