New Year '20 Offer TAKE THIS BUNDLE
3D Character Modeling Training (4 Courses)
4 Online Courses
23+ Hours
Verifiable Certificate of Completion
Lifetime Access
MAYA 3D Modeling of Rhino
MAYA 3D Modeling of Zebra
MAYA 3D Modeling of Tiger
MAYA 3D Character Modeling
Offer ends in:
TAKE THIS BUNDLE
What you get
Online Classes
Technical Support
Mobile App Access
Case Studies
3D Character Modeling Course
This 3D Character Modeling with Maya Course includes 4 comprehensive 3D Modelling with Maya Courses with 23+ hours of video tutorials and Lifetime Access. You get to learn human and wildlife animals character modeling using Maya from scratch. It will not only teach you the techniques to create character models in Maya but also help you speed up your modeling work and produce high-quality models in no time. This is a very dedicated course targeted at improving your skills as a Maya character artist.
The 3D Character Modeling Course covers training about modeling and creating 3D wildlife animals such as it has lessons that teach the users about how to create the model of a Rhino, Zebra, and Tiger. Additionally, the course also teaches human character modeling in detail with Autodesk Maya. This is an easy and interactive training specially designed for 3D artists and designers who are already into designing with Maya and have used the program before using this course about 3D modeling.
Industry Growth Trend
The global visualization and 3D rendering software market size is expected to grow from USD 1.06 billion in 2017 to USD 2.92 billion by 2022, at a Compound Annual Growth Rate (CAGR) of 22.40% during the forecast period.
[Source - MarketsandMarkets]
Average Salary
Average Salary
$17.43 per hour
The average salary for a 3d Animator is $17.43 per hour in the United States. Salary estimates are based on 82 salaries. The typical tenure for a 3d Animator is less than 1 year.
[Source - Indeed]
About 3D Modelling with Maya Course
| Courses | | No. of Hours |
| --- | --- | --- |
| Project on MAYA - 3D Modeling of Rhino | | 2h 38m |
| Project on MAYA - 3D Modeling of Zebra | | 2h 13m |
| Project on MAYA - 3D Modeling of Tiger | | 1h 59m |
| MAYA 3D Character Modeling | | 16h 8m |
| | |
| --- | --- |
| Course Name | Online 3D Character Modeling Course |
| Deal | You get access to all 4 courses bundle. You do not need to purchase each course separately. |
| Hours | 23+ Video Hours |
| Core Coverage | Learn to model human and wildlife animal character using Maya most efficiently. |
| Course Validity | Lifetime Access |
| Eligibility | Anyone who is serious about learning character modeling and wants to make a career in this Field |
| Pre-Requisites | Basic knowledge about using Maya software would be preferable |
| What do you get? | Certificate of Completion for each of the 4 courses |
| Certification Type | Course Completion Certificates |
| Verifiable Certificates? | Yes, you get verifiable certificates for each course with a unique link. These link can be included in your resume/Linkedin profile to showcase your enhanced skills |
| Type of Training | Video Course – Self Paced Learning |
| Software Required | None |
| System Requirement | 1 GB RAM or higher |
| Other Requirement | Speaker / Headphone |
3D Modelling with Maya Course Curriculum
---
In this section, each module of the 3D Modelling with Maya Course is explained.
Sr.No.
Course Name
Course Description

1

MAYA 3D Modeling of Rhino

Starting with the models of wild animals. The first model we learn and create is that of Rhino. We start the lessons with the Basics of modeling and creating the various parts of the animal. We learn to create the legs, tail, head, and the Horns of the animal. In the next session, we learn how to UV Unwrap the model by applying a UV planner and finally we study about how to texture the model by using various textures and re-editing the same model.
2
MAYA 3D Modeling of Zebra
Next in the line is the model of a Zebra. We study how to create a Zebra on Maya in detail with precision. We set the scene with Low-Resolution Quadrapet Modeling and set the image of the Zebra on the scene. We start the model by creating back Leg Portion and the tail of the animal. We then create the Front leg and the Neck of the Zebra. We then learn how to create the ears and Base Head of the animal.

In the next session, we create the UV Maps by adjusting the UV editor and then finally create the Final Texture of the Zebra.

3
MAYA 3D Modeling of Tiger
Next up is the Model of Tiger. We learn how to create a Tiger on Maya with the help of 3D modeling tools and functions. We 1st create the base cylinder of the Tiger, and then we create the Front and back legs and the Head of the tiger, Followed by the Tail and Legs. We then learn how to apply the UV Maps to the animal and apply the texture on the model.
4
MAYA 3D Character Modeling
This is the last lesson in the course. It is the most important and detailed lesson amongst all. We start the training with an Introduction followed by creating a project on the program. We learn different tools and functions for creating a 3d character on Autodesk Maya. This 3D Character Modeling Course has a lot of detailed chapters and each chapter is explained in an interactive way.  Moving further, we study about the Basic Ear Extrude Edge, basic Torso, Leg Thai Details, Abs and Ribs, Back Muscle, Basic Hand, Elbow Extrude Basic, Combine Foot and Body, Index Finger, Connect hand Body and Elbow Twik. Finally, we learn how to combine two bodies and connect them easily.
---
3D Character Modeling Course – Certificate of Completion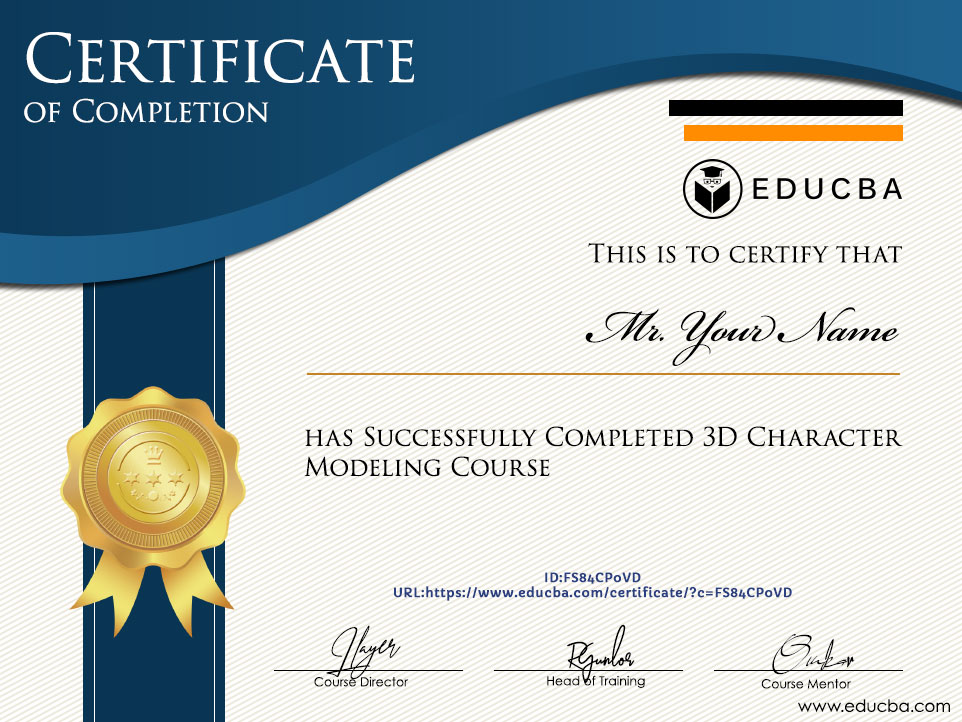 What is 3D Modeling in Maya?
Autodesk Maya is one of the most famous 3D modeling and animation program used by all folks across the 3D Industry. Autodesk Maya seems to be a complex program, yet it has some simple and easy tools and functions that can be learned and used without any detailed learning of the program.
Autodesk Maya supports a UV editor with a user-friendly interface and workflow. It has tools and functions that are always updated and upgraded. The program also supports Polygonal Modeling and shape tools that are efficient and interactive in their use.
With the best in market tools for Dynamics and effects, Maya is the most demanded and attractive program presently. The rendering quality of Maya is also amazing and it produces realistic outputs and results. The program is also capable to produce realistic deformable materials and objects with realistic simulations of soft and rigid body. The program has a unique color management system that has efficient libraries and stores. Maya has inbuilt scripting language and API that helps the user to write and create plugins using the python language.
Which tangible skills you will learn in this course?
This 3D Character Modeling Course can be used by students and artists who are passionate about learning 3D character modeling with Maya. The training helps in producing high-quality models and characters with the help of detailed examples and lessons given in the course.  This 3D Character Modeling Course will help the learner in improving his capabilities and skills and will definitely help the student in the long run.
The course has four main lessons that teach the learner about how to create models of wild animals such as Rhino, Zebra, and Tiger. The course also has a detailed lesson on how to create a 3D Character and texture them accordingly. The course does not only focus on the modeling part but also helps the user to learn the Unwrapping process by using UV maps and then texturing the models accordingly.
The 3D character modeling course has so many demonstrations and illustrations that help the learner to a great extent and solves his basic problems as well. Once, the user practices the lessons given in the course, he will be able to master the program with his abilities and smart work.
Pre-requisites
A pure commitment and smart work are also required from the learner's end to gain positive results.
A strong prior understanding of Autodesk Maya is also required before starting this 3D Character Modeling Course. Since this course does not start from the basic fundamental level, the learner is expected to have good knowledge about the program itself.
Good knowledge about Windows, Mac or Linux is also required. As Maya is a 3d program it is compatible with these three operating systems only.
Passion and dedication are also required before we start to learn the course.
Target Audience
This training can be used by learners who are ready to learn 3D Character Modeling with Maya.
Aspirants who wish to pursue their careers in the field of 3D modeling and character modeling can use this course for their benefit.
This 3D Character Modeling Course also helps in providing easy and simple steps with practical examples that can benefit students to a lot of extents.
Designing professionals can also use this course for their needs.
3D animators or students who are aspiring to become character designers can also use this 3D Character Modeling Course which will benefit them by giving them practical knowledge about the topic.
FAQ's
---
I don't have any knowledge about Autodesk Maya. Will this 3D Character Modeling Course be any use to me?
Yes, why not. You can first learn some basic functions and tools about Maya and then you can easily learn and use this 3D Character Modeling Course for your future projects and presentations. You will not find any confusion with the course,  as the course includes a lot of topics based on practical knowledge and examples that demonstrate the topic very clearly.
There are a limited number of models taught in this 3D Character Modeling Course. I want to create a model of a Dog. Will this 3D Character Modeling Course help me in any way possible?
Yes, of course. The course teaches a limited number of models, and the model of a Dog is not included in the course, but still, we have the model of a tiger, rhino, and zebra that can help you to practice and then create models of any animal you want. The course also teaches you, to learn the process of UV Unwrapping and texturing the same models as included in the course.
Sample Preview
---
Career Benefits
Maya program is a bit complicated software to learn. This 3D Character Modeling Course gives the user the benefit of learning the program with easy steps and examples in a simple process. The course may be limited, but the lessons we learn from the course are unlimited. The 3D Character Modeling Course teaches the creation of wildlife animals and also lets the student learn the technique of UV Unwrapping and texturing in the program. We also learn 3d character modeling in the most detailed yet simple lessons taught in this 3D Character Modeling Course.
This 3D Character Modeling Course will provide a platform to the aspirants and learners to master their skills and create their own future in the field of animation and modeling.  The learners can opt for various career options such as 3D Visualizer, Rigging Artist, 3D Modeler, Maya FX Artist, Simulation Developer, 3D Artist, Data Analyst, and many such career paths.
Reviews
---
Maya – Character Animation Review
The learning process was relatively easy for a beginner. I have a good experience in Maya, and thus I could relate in areas a beginner in Maya couldn't understand. The area where the tangents were involved have been explained better for the guys starting up in Maya. All in all, very good job throughout the tutorials, I will be looking forward to getting more from you.
Linked
Mark Muriithi
Detailed
I am very appreciative for the access to this course. I like the fact that the instructor took the time for each section to be able to distinguish specifics within the design. There are a lot of intangibles that go into designing a diagram of a house and the instructor did a great job of not making it over whelming.
Linked
Mark Cain
Great information
Great job by being specific with the keys you are using. Makes it much easier to follow along in the tutorial. I Found it very informative from beginning to end. If I had one request, it would be to insert an "image" of the keys you are using during the tutorial. At some points in the videos it is hard to hear exactly what key is being said.
Linked
Mark Cain