Learn from Home Offer TAKE THIS BUNDLE
TIME SERIES ANALYSIS with MINITAB Course Bundle - 6 Courses in 1
This Time Series Analysis and Forecasting with Minitab includes 6 courses with 22+ hours of video tutorials and Lifetime Access. This course on time series analysis and forecasting would have access to all the fundamentals required for the learning of Minitab tool and then its application for predictive analytics.
TAKE THIS BUNDLE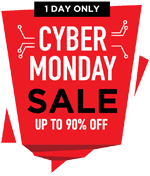 * One Time Payment & Get Lifetime Access
What you get in this TIME SERIES ANALYSIS with MINITAB Course Bundle - 6 Courses in 1?
22+ Hours
6 Courses
Course Completion Certificates
Lifetime Access
Self-paced Courses
Technical Support
Mobile App Access
Case Studies
About TIME SERIES ANALYSIS with MINITAB Course Bundle
---
| | |
| --- | --- |
| | |
| Courses | You get access to all 6 courses, Projects bundle. You do not need to purchase each course separately. |
| Hours | 22+ Video Hours |
| Core Coverage | The main aim of this course is to learn how to use Minitab on real forecasting and time series analysis |
| Course Validity | Lifetime Access |
| Eligibility | Anyone serious about Time Series Analysis and Forecasting with Minitab |
| Pre-Requisites | Basic knowledge about Statistics |
| What do you get? | Certificate of Completion for each of the 6 courses, Projects |
| Certification Type | Course Completion Certificates |
| Verifiable Certificates? | Yes, you get verifiable certificates for each course with a unique link. These link can be included in your resume/Linkedin profile to showcase your enhanced skills |
| Type of Training | Video Course – Self Paced Learning |
TIME SERIES ANALYSIS with MINITAB Course Bundle Curriculum
---
We have a comprehensive list of courses and topic within those courses which make you better by each passing minute of tutorials and make you the most sought-after developer in today's market scenario.

MODULE 1: Statistics Essentials Training

| Courses | No. of Hours | Certificates | Details |
| --- | --- | --- | --- |
| Minitab GUI and Descriptive Statistics | 2h 43m | ✔ | |
| Statistical Analysis using Minitab - Beginners to Beyond | 4h 21m | ✔ | |

MODULE 2: Projects based Learning

| Courses | No. of Hours | Certificates | Details |
| --- | --- | --- | --- |
| Minitab - Data Analytics | 4h 38m | ✔ | |
| Correlation Techniques in Minitab | 2h 18m | ✔ | |
| Project on Minitab - Regression Modeling | 9h 36m | ✔ | |
| Minitab Predictive Modeling using Excel | 55m | ✔ | |
Goals
The goal of this course is to help an individual to achieve knowledge of working with Minitab to perform time series analysis and forecasting of data in all sorts of statistics based problems. It will help all the interested trainees who are willing to extend their knowledge base concerned with Data analytics. This training will also assist the trainees to understand the sort of problems that could be resolved using this. After the finishing of the course, the trainee will advance with the skills needed for time series analysis and forecasting of data.
Objectives
The objective of this training program is to help trainees to master all the skills that are required to work with Minitab. The training program will help the trainee to perform all the statistical analysis with  Minitab. It is also intended to make the trainees cover all the topics that fall under the domain of Minitab. Topics like Minitab GUI and Descriptive Statistics, Statistical Analysis using Minitab, Correlation Techniques in Minitab and Predictive Modeling using Excel will be covered in this training module and Project on  Data Analytics using Minitab and Project on Minitab – Regression Modeling will be covered in the project module.
Course Highlights
Four units are composed in this training program where the training and project modules have been covered. It is outlined in such a way that all the information is  highlighted in the  modules:
Minitab GUI and Descriptive Statistics is the first module of the training in which you will be learning about Minitab GUI from a beginners level and the mentor will be covering all the information of the Minitab interface and then you will be learning about the Descriptive statistics which contain some of the advanced level concepts concerned with statistics. After the end of this module, the trainee will be able to work with the Minitab GUI to solve compound statistics based problems.
Statistical Analysis using Minitab is the next in the training program in which you will be learning how statistical analysis can be done using Minitab the will be covering advanced level concepts of Minitab. It will be almost a four and a half hours long video tutorial where the first half has been devoted to an introduction about the advanced concepts of Minitab.
Correlation Techniques in Minitab will be the third module where you will learn about the  Correlation Techniques in Minitab. The mentor will be explaining to you what Correlation Techniques are and how they help to solve complex problems based on statistics through video lectures.
Minitab Predictive Modeling using Excel is the last module of this course where you will learn about Minitab Predictive Modeling using Ms. Excel. It will be almost a one long video tutorial where you will be working with all the concepts that fall under the domain of Predictive Modeling.
It is essential to note that the course is designed in a manner that covers all the advanced and beginner level topics in the training modules. The topics that are difficult to understand have been considered as advanced level topics and we have made sure to give more focus on such topics. To make it easy for the trainees to understand all the concepts have been explained through simple examples by the educator.
Project Highlights
This training program includes two main projects which cover all the topics that we would have covered in this training program. The project will be based on the training program which will be submitted at the ending of the training modules.
Project on Data Analytics using Minitab is the first project of this training program in which you will be pushing your understanding in various ways to complete this project. This project will be completely based on data analytics and the concepts can be executed using Minitab. You will be required to use all the concepts of Minitab to finish this project. You will learn about some of the aspects that are directly or indirectly concerned with Minitab through the video tutorial of four hours long and any kind of query will be solved by the mentor.
Project on Minitab – Regression Modeling is the next project where you will be working on  Regression Modeling using In this project you will learn how to handle errors which will eventually build up the trainees' understanding of error handling.
Time Series Analysis and Forecasting with Minitab- Certificate of Completion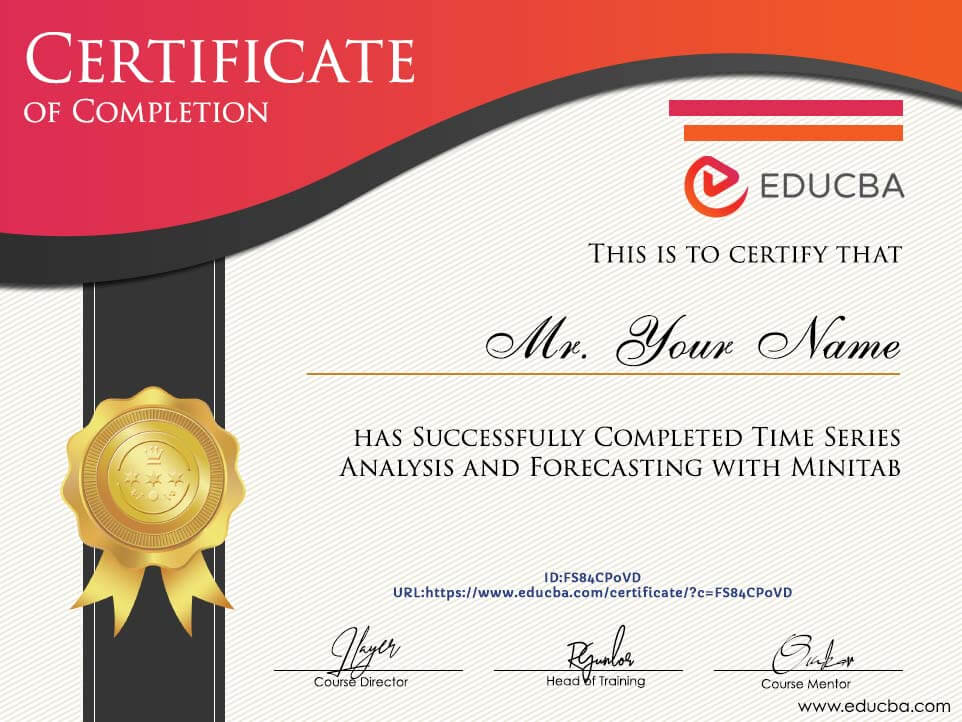 What is Time Series Analysis and Forecasting with Minitab?
To understand the meaning of the "name" of the course, let us break down the curse and understand them word by word so that the intent of the course would be clear to our learners and we would set an expectation for our learners who would be pursuing the course. Let us start to understand what Minitab is. Minitab is a software used in use cases of statistics. Minitab, as the software is capable of data analysis, pattern detection through statistics, data crunching. Most of the calculation is automated, and graphs are generated as per the functionality required by the analyst working on the use cases. For this course specifically, we would be exploiting the use of Minitab for Time Series Analysis and Forecasting.
Now, let us understand what time series analysis is. Time series data is a collection of data over some time or interval. The data when captured over time typically might have some internal structure, for example, autocorrelation, trends, seasonality, stationarity, and many such fundamentals. For example, let us think about the sales of umbrellas or raincoats. We can see that in the selling of these items we might encounter a seasonality aspect, that they might be sold high during the onset of the rainy season. Also, we can see that the data itself might auto-correlate itself to the promos that might have been set by some stores, online or offline, and many more such intricate detailing through the understanding of time series analysis fundamentals.
Now when we know how to analyze the time series it becomes pretty evident that what exactly to do with the studies or hypothesis we developed as a part of the study. The answer lies in prediction! We would understand the fundamentals through historical time series data and then utilize that deep insight to predict or forecast for the future. In this way, we would be able to capture the historical trends and seasonality and utilize them to have a better insight into what's in store in the future.
What skills will you learn in this Course?
This course is a collection of well-crafted tutorials or topics we would naturally go about if we must fully understand the topic of time series analysis and forecasting. This course will allow you to get a sense of what is lying in the basket of time series analysis in the professional project which you would encounter as soon as you take up the project in your organization. This course makes you reach that level of being the "handful" of people who are capable of cracking even the toughest nut in the professional world.
This confidence you build in the course of this training will go a long way in not only analyzing the sense of time series data but also give you the capability to mentor people who would have just started their track on time series analysis. This course doesn't differentiate between a beginner or an advanced learner. We have to learn for everyone who is here to expand their horizon of knowledge. Lastly, we would like to mention that this course will lay a strong foundation in time series analysis so that you would be able to build a strong mansion on this foundation layer.
Pre-requisites
Any of our courses don't come with a prerequisite attached to it. We start our courses from scratch so that it becomes a practice for our learners to not look anywhere else in whatever other courses one may pursue from EduCBA. We have made all concepts available under one roof! And this practice has made the name of "EduCBA" the most sought-after training providing Center. Having said that some prerequisites are "good to have" for quicker grasping of concepts in this course and here they are:
Having fair knowledge about statistical inferences of terminologies like mean, Standard deviation, etc. would be helpful.
There is some possibility of coding in Minitab, so having some background on coding would be helpful.
There should be an open-mindedness towards creativity as data analytics requires a lot of creativity and out of box thinking.
One super-critical prerequisite is the urge to solve the assignments or projects on their own.
Target Audience
We never set "target" for our audience for any of our courses and the same is true for this course as well. We start everything from scratch and try to build from there and the only thing we require is a sense of perseverance and full dedication towards the course. For any of the students in university pursuing a course on data analysis in the domain of Mathematics and Statistics, would be able to use this course as a one-stop-shop for all their queries encountered during their course of study. This course or training can also be used by people who want to bridge the gap in moving to the next role. This course, as we say, has those ingredients to bridge the gap. Also, for people who have been in the space of time series analysis and want to have a quick revision, this course is not bad either! This is that place where you find all the terms you would need to be refreshed for your day to day activities in your job.
FAQ's- General Questions
---
Can I access this training from anywhere?
We have designed our courses that need just a stable internet connection, a laptop, and some fresh air to get going!
When will I receive my certificate for any training?
Once our learners complete one module, they would be receiving a verifiable certificate to flaunt their newly learned skills.
How much time would be required to be invested in this training?
The course on time series analysis and forecasting would require 4-5 hours per week to complete the training within 5-6 weeks.
Sample Preview
---
Career Benefits
Once one can truly realize the potential of this course or training when it becomes a habit of the learner to use the skills learned during the course in day to day activities. Not only from a monetary aspect, which eventually posts completion of the course will allow you to fetch higher in the market because of the newly learned skill, but will also give a sense of satisfaction when you would be able to crack the toughest problem in your organization on your own! This course will allow you to switch your track if you are looking for one, and make you land in an exclusively rewarding path. Don't you worry about the access, you can come back anytime in your lifetime to refresh again, in case you forget anything, as our courses have lifetime access. Finally, this will be your stepping-stone in eventually realizing the "sexiest job of the 21st century" of being a Data Scientist.
Reviews
---
Effective & Informative
Great course, Great information! The training videos were titled properly by section and the course was divided up into sections that were very easy to understand. The information was in-depth and useful in a very practical sense and through this course, anyone can follow and understand more how Minitab functions!
Linked
Anthony J. Santos
Great Experience
The course helped me to get insights on the various hypothesis that are done to do the predictive analysis which helps us to make observations and also make predictions and analyze the behavior of the trend, also working on Minitab was a great experience wherein getting the descriptive analysis is much easier than excel.
Linked
Atish Palav
Predictive Modelling Course
The course training on predictive modeling is again a superb brilliant course from Educba. The training on predictive modeling gives immense knowledge of the area of predictive analytics, machine learning, and various other areas that are linked with predictive modeling. Good course with examples on how to implement predictive modeling. Thank you Educba.
Linked
Abhijeet Prithviraj Patil
Completion of predictive modeling and implementation using excel.
In this course named "Predictive modeling and implementation using MS excel", I learned about the statistical calculation using excel. the course is very comprehensive and easy to memorize because of the expertise of the lecturer. with this course, I can avoid many errors when doing statistical calculations like Anova. it also helps me to save time. THANKS, EDUCBA
Linked
SEYNI SOLEY BOUBACAR
Minitab Course
I always wanted to be a data analyst. I had a passion for number crunching and analysis. I was using excel for many years but was always feeling a need for more advanced skills and automated computations. Then after some research I heard about Minitab and this online training course on Minitab. I enrolled in it and now I am very happy. I learned some of the key skills of statistics and data analysis and along with that some advanced features of excel as well. I strongly recommend this Minitab training to everyone who wants to learn data analysis, excel, or Minitab. It serves three purposes.
Sudhanshu Verma
Amazing learning
I am an MBA graduate and I work as a financial advisor in a large bank.  Data analysis is a major part of my job and I must do it correctly and accurately because my analysis directly involves the transaction of money. Till now, I had no concrete way of doing things and I used to use multiple tools for different types of calculations. When I came to know about Minitab, what I found interesting about this is it has one place solution for almost all data analysis needs. In the beginning, I was a little skeptical as I don't know the ABC of programming, but now I am comfortable with the course. Programming is only 5% of it. I recommend this course to all managers and business graduate folks.
Marc Robinson