Learn from Home Offer TAKE THIS BUNDLE
TABLEAU Course Bundle - 16 Courses in 1 | 2 Mock Tests
54+ Hour of HD Videos
16 Courses
2 Mock Tests & Quizzes
Verifiable Certificate of Completion
Lifetime Access
TAKE THIS BUNDLE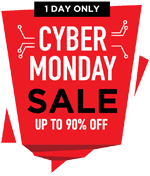 * One Time Payment & Get Lifetime Access
What you get in this TABLEAU Course Bundle - 16 Courses in 1 | 2 Mock Tests?
54+ Hours
16 Courses
Mock Tests
Course Completion Certificates
Lifetime Access
Self-paced Courses
Technical Support
Mobile App Access
Case Studies
About Tableau Training in Pune
| | |
| --- | --- |
| Course Name | Tableau Training in Pune |
| Deal | You get access to all 16 courses, Projects bundle. You do not need to purchase each course separately. |
| Hours | 54+ Video Hours |
| Core Coverage | Business Intelligence with Tableau, Customer Analytics, Pricing Analytics using Tableau |
| Course Validity | Lifetime Access |
| Eligibility | Anyone who is serious about learning Tableau tool and wants to make a career in Data and analytics |
| Pre-Requisites | Ability to Analyze and Visualize Data |
| What do you get? | Certificate of Completion for each of the 4 courses |
| Certification Type | Course Completion Certificates |
| Verifiable Certificates? | Yes, you get verifiable certificates for each16 course, Projects with a unique link. These link can be included in your resume/Linkedin profile to showcase your enhanced skills |
| Type of Training | Video Course – Self Paced Learning |
| Software Required | None |
| System Requirement | 1 GB RAM or higher |
| Other Requirement | Speaker / Headphone |
Tableau Training in Pune Curriculum
---
Most of the organizations use visualization tools like Tableau, Power BI, etc. to present the solutions with various figures and charts which will catch the eye of the clients or end-users. There are various learning platforms that will help you to learn and be trained in Tableau. Tableau Training in Pune is helpful in gaining in-depth knowledge of various functions and tasks that are performed using Tableau. The beginning phase of the course is designed to train you in different visualization methods, creation of dashboards, manipulate the charts as per the user needs. In addition to that, you will also learn to create calculated fields, apply filters, and customize various layouts. It also includes data slicing, scripting, conditional formatting of the data.
In addition to that, the course also offers to learn about customer analytics which includes applying various predictive modeling algorithms for better customer experience. Eventually, you will learn about connecting R and Tableau, digital advertising, pricing of the business, various data validation methods, and analyze the data to perform table calculations. The main objective of the course is to prepare you to deal with various real-life production problems by working with many use cases and examples which will help you build a powerful dashboard with proper details and explanations.
Tableau Training – Certificate of Completion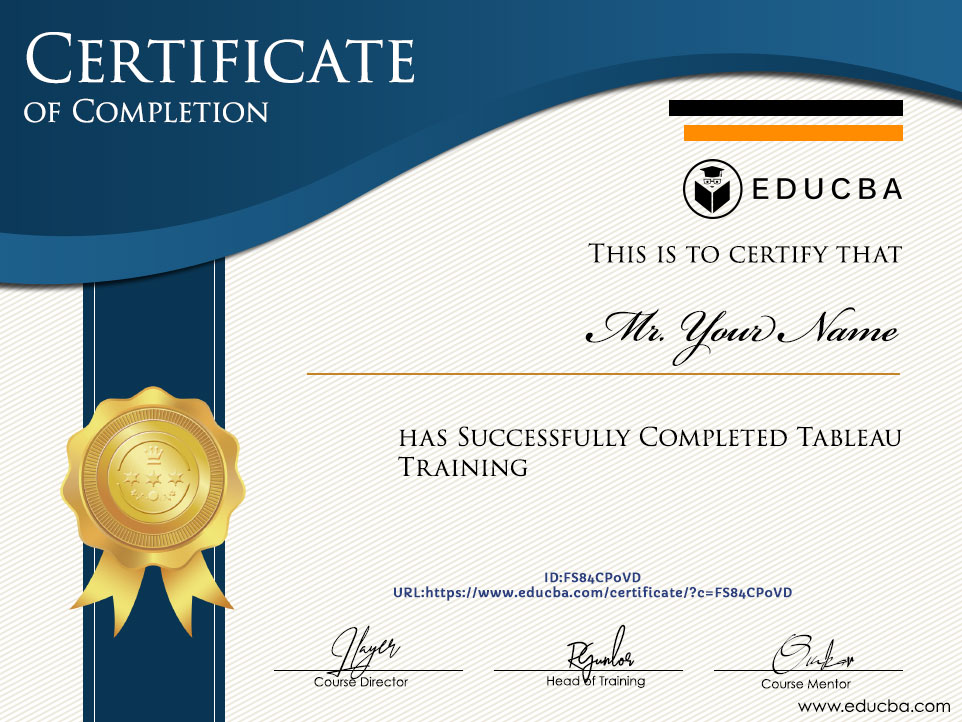 What is Tableau?
Tableau is one of the versatile visualization tools which is used by many researchers and government organizations to provide interactive visual insights. It can handle huge data sets, connect to different databases, and provide the solutions in the form of graphs as per the business needs. There are many functions that can be performed in Tableaus like the creation of calculated fields, groups, sets, and mapping. There are five products which Tableau provides and can be used for several purposes:
Tableau Desktop: It is the main product developed by Tableau which is meant to be used by the individuals.
Tableau Public: It is used by the students or trainees who want to know the various functionalities of Tableau.
Tableau Online: It acts like a cloud platform where people can share their work and solutions.
Tableau Server: It is used for sharing any work mainly dashboards or worksheets.
Tableau Reader: It is mainly used to read files which uses tableau
Industry Growth Trend
The global Advanced Analytics Market size was USD 7.04 billion in 2014 and is projected to reach USD 29.53 billion by 2019, growing at a Compound Annual Growth Rate (CAGR) of 33.2% during the forecast period.
[Source - MarketsandMarkets]
Average Salary
Average Salary
$65,502 per year
The average salary for a Data Analyst is $65,502 per year in the United States.
[Source - Indeed]
Which Skills will you learn in this Course

?
Tableau Training in Pune consists of all functions that are performed in Tableau. The initial part of the course will help you understand the different graphs and charts, the creation of dashboards, etc. You will also learn to connect Tableau with R and perform many predictive modeling algorithms. In addition to the above, you will also learn about Customer Analytics and Pricing Analytics using R. As part of the course, there will be various use cases and examples that will help you in building a good dashboard or story.
Pre-requisites
There are no such required prerequisites for the professionals to learn Tableau. However, the familiarity of the concepts can help one to grasp the concepts easily.
Business and Domain Knowledge: There are numerous data sets associated with different businesses or industries. So familiarity with various domains can be helpful.
Basic Concepts of Tableau and BI: Basic functions in Tableau will help you understand advanced concepts quickly and easily.
Basics of Statistics and Probability: Basics of statistics will help you in Pricing analytics which will be taught in the course as it includes predictive modeling algorithms. So, knowing the basic concepts of statistics will help you understand the module easily.
SQL skills: Some organizations need tableau professionals to have knowledge in SQL. So, having basic knowledge in SQL like joins can boost up your learning.
Target Audience
Tableau Training in Pune is mainly designed for all including technical and non-technical professionals. Non-technical people can also enroll in the course as it will understand the business more. Tableau Training in Pune is also best suited for the beginners as it explains all the modules in a simpler way. Basically, technical professionals, functional professionals, BI Professionals, Business Analyst, Data Analyst and those who are willing to make a transition to be a Tableau Developer or have an additional skill in visualization can take up this course.
---
Tableau Training in Pune – FAQ
What are the job prospects in Tableau Training?
Every organization either big or small are hiring Tableau Professionals and it has been gaining popularity in various sectors as well. Career prospects in Tableau are widespread. So, getting a certification will help you be at the top of the search list of various organizations. There are many job positions for Tableau professionals in many job portals in the world. There are many profiles in the market related to Tableau like BI Developer, Tableau Developer, Tableau Professional, Data Analyst, etc. In addition to that, certification in Tableau will also be an added advantage for machine learning or data science professionals.
What is the average package of Tableau Professionals?
The average package of Tableau professionals varies from 5 lakhs to 9 lakhs per annum. But, it can vary for different profiles in the market.
What are the benefits of Tableau over other visualization tools?
Tableau is considered one of the most powerful tools for visualization related tasks. There are many features of Tableau which makes it an efficient reporting or visualization tool like better customization, can handle huge data sets, faster execution, etc.
Sample Preview
---
Career Benefits
Tableau Training in Pune comprises of all the modules that are required to be a successful Tableau expert. Along with the learning benefits of the course, you will also learn about factors involved in better customer experience, pricing analysis in the business, and more.
Why should you take up the Tableau in Pune?
Many operational and development centers of organizations are situated in Pune. It has a lot of IT infrastructure and startups which are hiring tableau professionals across various sectors. It has many top startups that have settled or planning to set up new offices in Pune. Many Bi and Analytics based companies are present in Pune which are searching for certified Tableau developers. So, taking up a certification in Pune can accelerate your career growth and also help you to have good exposure in terms of job and career.
What is the Tableau market trend in Pune?
Tableau's market trend is increasing exponentially with proper learning platforms and institutes that offer tableau certification and training to the technical or non-technical professionals. Some of the top companies in Pune that hire Tableau professionals are Infosys, TCS, Capgemini, Syntel, Zensar, Cognizant, Cummins, Amdocs, Vodafone, etc. After completing this Tableau Training in Pune you will be able to handle the activities related to Tableau and build various dashboards to provide the solutions to the client.
Reviews
---
Customer Analytics Course Experience
I took this course as part of my Business analytics and the content of the course is adequate enough to understand the concepts. The examples and cases used for the explanation made my understanding easier for me. The instructor has explained in detail which was easy for me to try on my own and learn faster. This also helped me develop my analytical skill in customer analytics. Thank You. Keep up the good work.
Linked
Akash Guru
Great course
This is my first online course and I am satisfied with this program. This course is in-depth with customers' analysis. Clear teaching methods and hands-on examples. This course gives real-life data explains how to use the data. I plan to take more courses in the future. I would recommend this course to a friend.
Ricky Ly
Business Intelligence with Tableau
This was my first course with Tableau and it was very useful for the development of my skills. I took this course since a friend of mine told me that Tableau has become an industry standard for best practices in data visualization. The part of the training that was most useful was the forecasting with Tableau and this was new to me. A great course overall.
Linked
Gus Raposo
Customer Analytics using R and Tableau
The course gives an overview of how R studio and Tableau tools can be used to analyze customer behavior using the responses they give. The course teaches how clustering is done to cluster customers and make use of the clusters to provide customized offers/discounts to retain them. These techniques are used in e-commerce, cab aggregators, and so on. In short, it is a useful course to gain a general understanding of how businesses use customer analytics to increase customer base and their revenue.
Linked
SHERI MIRIAM JOHN
Good one
It was a wonderful course, it teaches how to manage the program perfectly. Very detailed and amazing.
Linked
Juan Carlos Pardo Polo