New Year '20 Offer TAKE THIS BUNDLE
Splunk Training Certification (4 Courses, 7+ Projects)
4 Online Courses
7 Hands-on Projects
56+ Hours
Verifiable Certificate of Completion
Lifetime Access
Splunk Fundamentals Course
Splunk Statistics and Visualisation
Project - Scheduled Reports and Data Models
Splunk Infrastructure and Components
Offer ends in:
TAKE THIS BUNDLE
What you get
Online Classes
Technical Support
Mobile App Access
Case Studies
Online Splunk Training
This Splunk Training Certification includes 4 comprehensive Splunk courses, 7 Projects with 56+ hours of video tutorials and Lifetime Access. You will also get verifiable certificates (unique certification number and your unique URL) when you complete each of the 4 courses, 7 Projects.
Through this Splunk Training, you will be able to understand various live practices, demos and trained well in the data collecting process. This Splunk certification is mainly for software developers who wish to implement Splunk in the operational intelligence of machine data. The basic fundamentals of Splunk is where you learn to correlate events, dynamic searching, workflows. This Splunk training helps to use Splunk in Application Management, Business Analytics. Splunk is a revolutionary analytical tool, learning this course has benefited various IT professionals.

Industry Growth Trend
The hadoop big data analytics market is projected to grow from USD 6.71 Billion in 2016 to USD 40.69 Billion by 2021, at a CAGR of 43.4% between 2016 and 2021.
[Source - MarketsandMarkets]
Average Salary
Average Salary
$139,488 per year
The average salary for an Enterprise Architect is $139,488 per year in the United States.
[Source - Indeed]
About Splunk Training Course
| Courses | | No. of Hours |
| --- | --- | --- |
| Splunk Fundamentals Course | | 3h 9m |
| Splunk Statistics and Visualisation | | 4h 54m |
| Splunk Knowledge Objects | | 5h 51m |
| Splunk Project - Scheduled Reports and Data Models | | 4h 34m |
| Splunk Infrastructure and Components | | 4h 59m |
| Project on Splunk - Configuration Files and Index Management | | 7h 18m |
| Project on Splunk - Splunk Authentication | | 4h 22m |
| Project - Splunk Universal Forwarder | | 11h 56m |
| Splunk Project - Windows Inputs and Agentless Inputs | | 4h 36m |
| Splunk Project - Manipulating Raw Data | | 3h 5m |
| Splunk Project - Performance Tuning | | 3h 33m |
---
| | |
| --- | --- |
| Course Name | Online Splunk Training Bundle |
| Deal | You get access to all 4 courses, 7 Projects bundle. You do not need to purchase each course separately |
| Hours | 56+ Video Hours |
| Core Coverage | This Splunk training will help you learn all the skills needed to analyze machine-generated data using Splunk. |
| Course Validity | Lifetime Access |
| Eligibility | Anyone who is serious about learning Splunk and wants to make a career in analytics |
| Pre-Requisites | Basic knowledge of IT operations and Data analytics domain |
| What do you get? | Certificate of Completion for each of the 4 courses, 7 Projects |
| Certification Type | Course Completion Certificates |
| Verifiable Certificates? | Yes, you get verifiable certificates for each course with a unique link. These link can be included in your Resume/Linkedin profile to showcase your enhanced skills |
| Type of Training | Video Course – Self Paced Learning |
| Software Required | Splunk Tool |
| System Requirement | 1 GB RAM or higher |
| Other Requirement | Speaker / Headphone |
Online Splunk Training Curriculum
---
To make things easy for you, here's a comprehensive Splunk certification. Before we ever talk about the target audience, FAQs, let's look at the course curriculum in detail –
Serial No
Course
Course Description

1

 Getting started Splunk

In this Splunk certification, you will learn how to search and navigate in Splunk using lookups, alerts,  complex dashboards, fields. Also investigates Keyword Search to create reports and visualizations. Also, you will learn the design and implementation of a distributed environment. Also, you will be trained in creating insight dashboards, forms, and visualizations. Dashboards are created by using XML, emphasizing queries, dynamic drill-downs, and customs different style sheets. Using Javascript and CSS we can add advanced implementations in visualizations. You will also be trained in creating reports which include customizing, setup schedule, troubleshooting. This Splunk course trains you how to navigate and onboard data into the enterprise.
2
 Advanced Splunk tutorials Creating Splunk Knowledge Objects
In this Splunk certification module, you will learn how to walk through different knowledge objects and creating it. And also you will go through in different modules: 1. Implementing knowledge objects by defining naming conversions, exploring  Common Information Model and illustrating relationships between CIM and Knowledge objects.
2. Creating lookups and configuring lookups by creating lookup log files.
3. Creation of fields and calculate fields for dashboards implementation and performing field extractions using  Field Extractor(FX).
4. Creation of Tags and event types, predicting possible future events, retrieving events.
5. Creating  Macros by defining variables and arguments
6. The creation of data models by identifying attributes and processing in the pivot.
7. Creating workflow actions by using two variant GET, POST.
3
 Advanced Splunk tutorials- Splunk Administration
 You will learn how to demonstrate day – to – day administration role and configuration details in Splunk environment. This course contains how to send data from a data source with a different process. Almost this Splunk course for administration wraps all the Splunk fundamentals, troubleshooting, and Splunk cluster environment. This Splunk certification training is designed for persons who are responsible for extracting data into Splunk Indexers. You will learn the basics of Splunk methods to get remote data into indexers. This course covers installation, configuration monitoring, data inputs, user accounts, and their licenses. the topics include:
Module 1:
The installation process of Splunk
Module2:
Deploying Forwarder management, customizing input parsing and basic settings for an input.
Module 3:
Getting Splunk Inputs by the network and Scripted Sources describing optional settings for it. And also, you will learn how to use HTTP event collector to get data into Splunk. Finally creating file and directory monitor input.
Module 4:
Searching and reporting commands by manipulation raw facts of data using  SECCMD to modify, Scaling distributed Searches and uses Search Performance Tuning techniques, Filtering and formatting SPL results.
---
Splunk Training – Certificate of Completion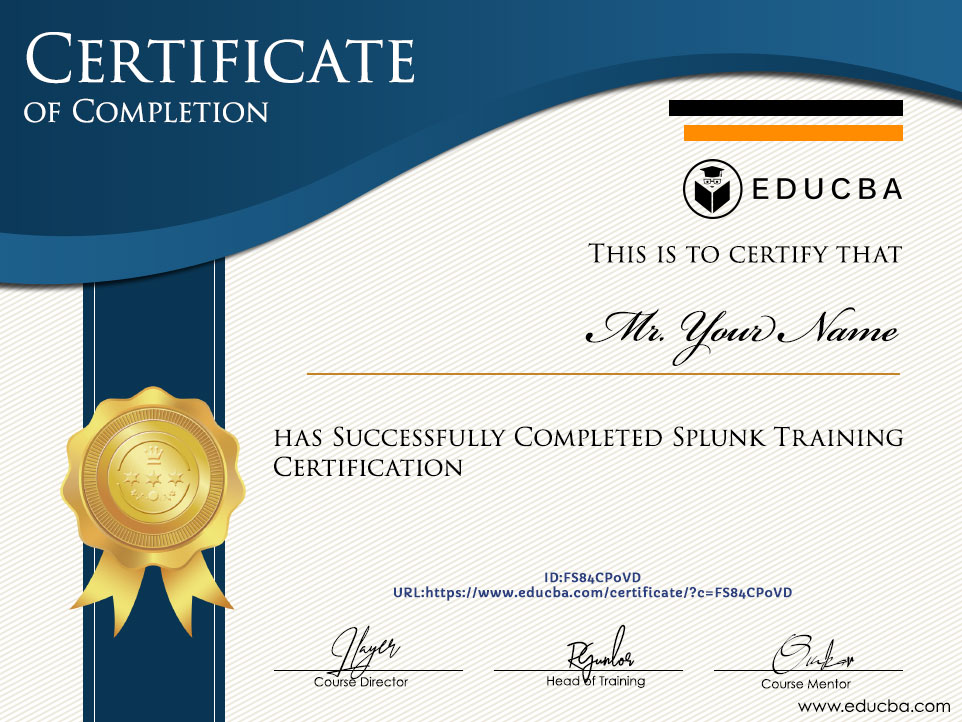 ---
What is Splunk?
Splunk is a versatile software analytical tool used for searching, analyzing real-time machine-generated big data. It is originated as a search engine for the log files stored in the infrastructure. It works with huge volumes of data to analyze machine-generated outputs and resolve data analytics problems with any size. The inputs are taken in any format(.csv,json). They provide a wide variety of services to users like indexing, investigating, Mapping, Scheduling. In Layman terms, Splunk can be defined as pulling data from Multiple systems and data sets using keys and indexer in real time and turn machine data (network, Smartphones, Web services, Security) into business values As Data Platform. It is an open platform and Extensible Architecture. Splunk is licensed on the daily basis of data volumes and quite expensive. Splunk makes use of cloud service version called Splunk storm with an annual subscription.
Splunk is a proprietary enterprise with the highest cost. Splunk doesn't need of databases to store a large set of data they apparently make use of indexes to store a data.  The components used here are the primary cause for indexing of data before indexing data are parsed, cleaned whenever required. After indexing Splunk performs searches on log data for the purpose of analysis. Splunk uses C++ Technology for indexing. Search is the core features of a Splunk where the user navigates data in Splunk Software. They are Transformed using Search Process language (SPL) and the results of a search are saved as Reports and Put it in a Dashboard. The main components of Splunk are Indexer, forwarder, Deployment server.             
Splunk customers and use cases are Vodafone, Domino's pizza, ING. Splunk uses Pivot, Data model, Analytics store; these are the powerful analytics and non-technical users can build complex reports without knowledge in Search Language. Many vendors and private developers developed user applications are published through Splunk and provides enormous values to the customers. The main advantage of going with Splunk is: Query Speed is high, Setups alerts for monitoring of the data, real-time indexing of log files.
Which tangible skills you will learn in this Splunk course?
Here are some of the skills you will consider as the most priority when recruiting candidates and to build a global career future:
After completion of this Splunk certification, you will be familiar with implementing Splunk in the current workplace for indexing, mapping knowledge, alerts, creating interactive dashboards, searching, visualizations to focus on growth. You can efficiently build web framework using web technologies skills like for client-side Splunk javascript component is deployed similarly for server-side it supports Python. Knowledge Objects Course training you will be able to work in domains like Network Security, Application monitoring in real-time. You will get to learn Python Programming language as Splunk commands are entirely written on them and help you in developing own application and package. To display data visualization effectively on the web page you would gain knowledge in CSS, XML.
Pre-requisites
Prerequisite is not required to learn from this Splunk Training as it is a new tool to learn, But having knowledge in Data analysts pays a fine way. The prerequisite required for Splunk administration training is Splunk fundamentals and  Overview of Splunk  Architecture and the most recommended one is the creation of knowledge Objects.  You should have an idea in alerting, monitoring and logging. Basic knowledge of JavaScript will be needed as this is not a pre- Requisite. You should take Splunk fundamentals I course to get an easy understanding of Splunk.
Target Audience
This Splunk certification is best suited for a candidate who is interested in becoming machine learning experts, System Administrators. They do not require any technical background to learn this technology. They are designed for Splunk Administrators, knowledge Manager, Architect. An employee with a Scripting language and Linux / Unix adds a plus to this Splunk training. Knowledge of System administration, basics of Linux/Unix and data analytics concepts is essentials. candidates having  Hadoop admin skills will be benefited from this Splunk training and also data centers professionals can also prefer this Splunk training.
FAQ's- General Questions
---
Why this Splunk Training is demanded more?
As we all know that a machine data is being generated in a fast manner and the companies are looking forward to parsing this Big data and converting them into business importance, that's why this training is demanded more.
What are the benefits of becoming a Splunk Professional?
Being Splunk Professional, we can help an organization to understand the customer's requirements, behaviour. You can fetch relevant information from the waste of data(unstructured data). As a spunk admin, you get the compete for highest paying IT jobs.
What are the course outcomes in Splunk certification?
This  Splunk training is more suitable for the candidates who want to shine themselves in Machine learning, System Administrators. You have a flourishing career in the cloud and big data environment.
What about the career opportunities by getting trained in Splunk?
There are several paths utilizing Splunk trained employees in business sectors and most versatile in the big data domain. And the starting salaries are very attractive while comparing with other IT jobs and also pertaining to the Internet of things.
What do you learn in this Splunk certification course and what is the duration of completion?
You will learn  Splunk Architecture, setting up an environment, installation, Basics of Splunk Language and reports and dashboards for the final outcomes. And the duration for completing Administration course is 12 days and for Splunk Fundamentals along with labs takes 4 days.
How about Splunk certification training helps employees in an organization?
Splunk certification adds value to the career journey. As new technologies are exploring widely in big data, to gain knowledge and challenges in the real world this certification gives you potential career growth.
How About the future of Splunk?
As large volumes of data are been generated from different sources in this digital universe, there is in need of Splunk across the world.
What is the cost of Splunk Training?
The cost of Training depends upon the course schedule which you take up. It varies from one site to other.
Career Benefits
As big data changes every day, a lot of emerging technologies are coming up in the market to attract a field of opportunities. Splunk made them popular in the field of big data analytics with the highest current growth rate. therefore, if you want to make your career in data analytics taking up this Splunk certification shows you great success in the future As Splunk is a global leader in Operational Intelligence. you can earn more Money undoubtfully as the demand on this professional is never ended. Splunk career includes Software engineers, developers, System engineer, Security and Technical Service Manager.
Splunk Course Testimonials
---
Awesome
This is an excellent course. I am really obtaining good knowledge and I am sure that I will use it in my daily activities. The instructor language is clear and concise. He demonstrates various concepts and explains the results as he goes along. There was some useful information and it was presented in a proper order.
Great Job! Look forward to more!
Linked
AHMAD MOHAMMAD KHALIL ABU ALRASHTEH
Splunk Training
I strongly recommend this Splunk training certification to my colleagues who are interested in making their path in data analytics as they are the one of the most top log Analytics availing in the current market. You will also learn to find correlations of data depends on time, location and other factors. the core components of splunk for implementations are explained in a good manner.
Jeffery Carter