SEO Training Course
11 Online Courses
49+ Hours
Verifiable Certificates
Lifetime Validity
SEO Secrets for Page Optimization

5h 24m

SEO - Search Engine Optimization

4h 17m
Offer ends in:
$99
$29967% Off
Skills you will master
SEO
SEM
Page Optimization
Conversion Rate Optimization (CRO)
Google Analytics
Google Adwords
Digital Marketing
Display Advertising
Email Marketing
Local SEO
Marketing Tools
Negative Key words
CPM
Adgroups
SMM
Conversion Tracking
Re-Marketing
Video Analytics
SEO Online Training Course
This SEO Training Certification Course includes 11 comprehensive SEO courses with 49+ hours of video tutorials and Lifetime Access. It is an amazing collection of practical and hands-on learning of the most updated training programs and projects in the area of SEO. You will also get verifiable certificates (unique certification number and your unique URL) when you complete each of the 11 courses. It will explain you concepts such as Search Engine Optimization (SEO), Search Engine Marketing (SEM), Google Adwords, Google Analytics, Digital Marketing, Display Advertising, Email Marketing, Conversion Rate Optimization (CRO).
About SEO Training
| | | |
| --- | --- | --- |
| Course Name | | Online SEO Training Bundle |
| Deal | | You get access to all 11 courses bundle. You do not need to purchase each course separately. |
| Hours | | 49+ Video Hours |
| Core Coverage | | Search Engine Optimization (SEO), Search Engine Marketing (SEM), Google Adwords, Google Analytics, Digital Marketing, Display Advertising, Email Marketing, Conversion Rate Optimization (CRO |
| Course Validity | | Lifetime Access |
| Eligibility | | Anyone who is serious about learning SEO and wants to make a career in this Field |
| Pre-Requisites | | Basic knowledge about Digital Marketing would be preferable |
| What do you get? | | Certificate of Completion for each of the 11 courses |
| Certification Type | | Course Completion Certificates |
| Verifiable Certificates? | | Yes, you get verifiable certificates for each course with a unique link. These link can be included in your Resume/Linkedin profile to showcase your enhanced cloud computing skills |
| Type of Training | | Video Course – Self Paced Learning |
| Software Required | | None |
| System Requirement | | 1 GB RAM or higher |
| Other Requirement | | Speaker / Headphone |
Online SEO Training Curriculum
In this section, each module of SEO training course is explained. The entire course is more than 49 hours long and consists of 11 courses. This course comprehensively covers each topic of SEO and provides enough examples and use cases.
| | | | | |
| --- | --- | --- | --- | --- |
| Serial No. | | Course Name | | Course Description |
| 1 | | SEO Analytics | | This SEO Certification training talks about various content marketing tools. It is about 2 hours long and cover topics such as content marketing tools for social media, webinars, graphic creation, Automation etc. It provides various examples as well. |
| 2 | | Google Analytics | | This is a comprehensive module which is 5 hours long. It explains concepts such as overview of web analytics, different tools and methods of web analytics, process of working of google analytics, goal setting, user management, various types of tab and export options. |
| 3 | | Google Ad-words course | | This SEO training is more than 9 hours long and talks about some of the core concepts of SEO training. It teaches topics such as introduction to google ad-words, basic concepts of ad-words, knowing user searches, search network campaign, the concept of CPM, frequency capping, conversion tracking, shopping campaign, video campaign, dynamic re-marketing etc. |
| 4 | | Advanced SEO course | | This 5-hour long online course on SEO training covers topics such as an overview of search engine optimization, the difference between SEO and SEM, elements of SEO and Page Optimization. It is a very practical module which explains the concept with so many examples for easier understanding. |
| 5 | | Comprehensive SEO Training | | This one is quite long. For about 11 hours, the instructor teaches the fundamentals of search engines, crawling, indexing and processing, relevancy calculation, retrieval, the importance of SEO techniques, types of searches, factors considered by a search engine, optimization for Google, search listing examples etc. It is very important for someone who wants to build pages that can be easily available for search on google. |
| 6 | | Advanced training on CRO | | This module on SEO Certification Training comes in about 3 hours long format. It explains ideas such as installation process of CRO, components of CRO, building and testing an optimization plan, phases of an optimization plan, testing user data, analyzing data, understanding PPC,  CRO tools etc. |
| 7 | | CRO Training foundation course | | This SEO training is relatively short. In about an hour, it covers topics such as introduction to conversion optimization, how conversions get tracked, CRO calculation method, CRO important, understanding audience etc. |
| 8 | | Email Marketing Essentials | | This module talks about email marketing in about 3 hours. It explains the ideas such as getting started with email marketing, choosing email, designing an email, checking reports, segments, email copy etc. |
| 9 | | Display Marketing | | Display marketing is an important component of SEO analytics. In this module, the instructor in about 3 hours covers important display marketing techniques such as introduction to display marketing, basic terminologies, getting started with display marketing, understanding display and then conclude the major ideas beautifully. |
| 10 | | Advanced search engine optimization SEO | | Again, in about 3 hours, the module instructor explains the major ideas behind search engine optimization. It teaches advantages and pre-requisite of SEO, the process of SEO, Adopting SEO, tools, using the directory and generic and the conclude the learnings. |
| 11 | | Local SEO | | Local SEO is a short video. In about one and a half hour, the very important ideas of Local SEO are presented. The user learns about ranking local business, Google business page setup, marketing etc. |
---
Certificate of Completion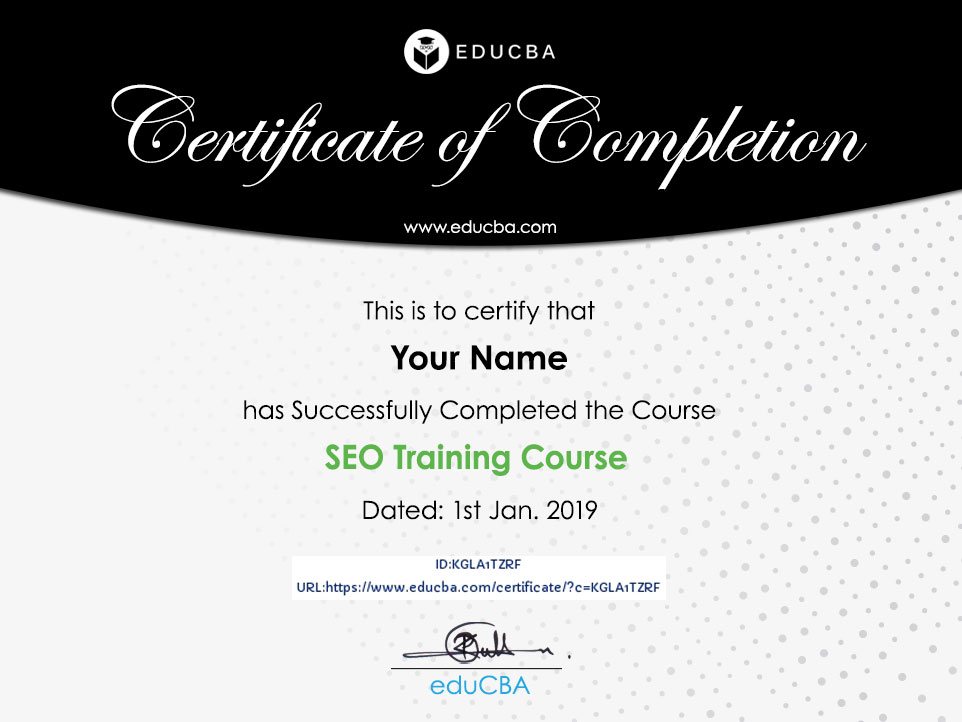 What is SEO?
SEO or search engine optimization refers to the techniques that make a website easily indexed and thus available for after a search query is executed on search engines such as Google or Bing. Indexing and searching are important for the visibility of a website. Internet consists of billions of web pages and in such a huge crowd it is easy to get lost. Many independent studies reveal that less than 1% of the people go to second or subsequent pages on search results shown by Google. Thus, it is important that your website or blog must come not only on the first page but probably within top 3- 5 pages for the users to visit your website. Hence, it becomes quite important to implement necessary SEO practices on your web page.
Search engine optimization can be understood as the practice which increases the quantity as well as the quality of traffic to a given website through organic and specific search engine results.
To understand what SEO really means, following points can be presented:
Quality of traffic: – to ensure only relevant people visit your website who are interested in your product or services or the content you provide, it is important that the same is indexed and understood by the search engine otherwise a lot of people can get distracted if they come searching for apple phone and your website sells apple fruit.
Quantity of traffic: – Only right people coming to the website is not enough, we need a sufficient number of visitors to make any meaningful impact be it popularity, money or fame etc.
Organic results: – If we can attract a lot of visitors without spending much on advertising then it is called as organic.
How does search engine work: – Google or other search engine have a crawler which indexes the web and collect information about all the content that is available on the internet for a given query. The crawlers bring all those results back to the search engine base to build an index for that query. That index is now fed to an algorithm which tries to match all that data with a given query.
Which Skills will you learn in this SEO Training (Search Engine Optimization)?
SEO is a very important skill to have. All the website implements this to make sure they are visible in top results when a relevant search query is performed on a search engine. This SEO training teaches how one can make a web page visible as one of the top result on Google or any other search engine. Many skills are taught includes Google Ad-words, Google Analytics, Page optimization, proper keyword selection, page designing etc. This SEO training is completely practical where candidates learn all those skills which they can implement in a real-time work immediately after learning.
Even those users who have their own website or blog can ensure that their page are visible as top results on Google after learning necessary skills in this course.
Many people have awesome content on their pages, but it is still not visible to millions of people across the world because they do not optimize their page for it. Thus, when a user performs a query, their pages are not shown. This SEO training teaches all about managing your web pages keeping in view SEO to ensure more traffic to your page with better quality and less advertisement.
Pre-requisites to SEO Training 
(Search Engine Optimization)
SEO is a technical topic and hence basic understanding of web technologies and internet is expected.
To understand the course content well and to be comfortable start working in this field, it is recommended that the user has familiarity with at least one programming language.
Familiarity with web crawlers, indexing and scripting language is required. Users also need to know basic of command line and Linux systems.
Apart from these, previous exposure to analytics, particularly web analytics and web design is also preferred but not mandatory. If you have worked with PHP or JavaScript, then it is an added advantage.
Target Audience for this SEO Training
This SEO certification course is intended for web professionals, web designers, and system administrator. Those who want to make a career in this domain should enroll in this SEO training.
Fresh graduates, as well as working professional who wants to optimize a website or is working with a company which specializes in optimizing web pages of their client, can be a good target audience for this course.
Apart from these, individuals who host their own personal or professional blogs or websites can also benefit from this SEO training by learning important techniques to optimize their web page.
This course can also be suitable for managers and web page owners who want to groom their SEO team and thereby need to be familiar with the domain himself as well.
SEO Course FAQ's- General Questions
Shall I be able to manage the SEO course while working full time in a job?
Most of our students are working professionals and they are managing it quite well. This SEO training requires only 3-4 hours of time per week and hence we believe you should be able to manage it without much of a concern.
Will this SEO training help me switch job and gain a salary raise?
Yes. Once you learn a significant amount of material, you can start applying to jobs and appear in interviews. Our team help with interview preparation and resume building. You can expect a hike of 20-30% if you successfully qualify the interview.
How much time will it take to finish the SEO Training?
Usually, 3-4 hours of time per week is advised and with this pace, the course can be completed in about 2-3 months. This pace ensures proper learning without any stress and result is maximum understanding of the content.
Is the SEO course difficult to understand? Do I need to keep revising the material?
In our class, we have a mix of students from freshers to working graduates and the passing percentage is 95%. This shows that almost everyone can understand and pass the course with some effort from their side. Revising the material is only recommended when you have an important interview and you might have missed some of the important concepts otherwise it is fairly easy to remember most of the taught material.
Career Benefits of this Training on SEO
This SEO training offers several types of career benefits to its learners. Many candidates switch jobs and get a pay raise. That is one of the best benefits.
Many other candidates move internally in their organization to work with SEO and thus gets a job which they always wanted to work on.
Third benefits come in the form of starting their own SEO company or freelancing business. Because it does not require much investment or manpower on can start by himself or can easily do freelancing to earn some extra bucks.
Fourth benefit comes to those who have their own website or blog and wants to increase traffic on their web pages. Salary hike of 20-30%, promotion and switching from smaller to bigger companies are some of the great advantages of this SEO training course. Many of our past students are now working with who's who of SEO.
Thus, this SEO training certification suits to a wide variety of candidates having a unique need and expectation out of this SEO training course.
SEO Training Course Testimonials