TAKE THIS BUNDLE
Seaborn Tutorial (3 Courses, 1+ Projects)
3 Online Courses
1 Hands-on Project
6+ Hours
Verifiable Certificate of Completion
Lifetime Access
Case Studies on Seaborn Basics
Offer ends in:
TAKE THIS BUNDLE
What you get
Online Classes
Technical Support
Mobile App Access
Case Studies
Online Seaborn Tutorial
This Python Seaborn Tutorial with Online Certification includes  3 comprehensive Seaborn Tutorials , 1 Projects with 6+ hours of video tutorials and Lifetime Access. You get to learn Seaborn which is a Python data visualization library based on Matplotlib. It provides an interface for attractive and informative statistical graphics and data visualization in Python.
Seaborn is an open source, BSD licensed library which is based out of Python which provides high-level API meant for visualization of data by making use of Python programming language. It is a python based data visualization library which is primarily based on matplotlib. This is used to provide a higher level of interface for drawing informative and attractive statistical graphics. It is closely integrated with Pandas data structures.  The seaborn library aims to make visualizations the main component and a central part of understanding and exploring data.
The data set related plotting functions are often seen to be operating on the data frames and onto the arrays which contain whole datasets and are used to internally perform and analyze all the required and necessary semantic mapping and statistical aggregation in order to produce informative plot diagrams. The pre-requisites to do this Python Seaborn Tutorial is that you should be aware of the computer programming terminologies and a basic understanding of Python is very important. Even if you are new to this programming language having in-depth knowledge and experience in one of the programming languages is a plus. Seaborn library is built on top of Matplotlib library, therefore, all the visualizations and plotting and graphs which form an essential feature and a part of the data science course and techniques form an integral part of this Seaborn Tutorial and curriculum too.

Industry Growth Trend
The rapid application development market size is expected to grow from USD 7.8 billion in 2018 to USD 46.2 billion by 2023, at a Compound Annual Growth Rate (CAGR) of 42.9% during the forecast period.
[Source - MarketsandMarkets]
Average Salary
Average Salary
$117,822 per year
The average salary for a Python Developer is $117,822 per year in the United States.
[Source - Indeed]
About Seaborn Tutorial
| Courses | | No. of Hours |
| --- | --- | --- |
| Seaborn - Beginners | | 2h 34m |
| Seaborn - Intermediate | | 1h 22m |
| Seaborn - Advanced | | 1h 6m |
| Case Studies on Seaborn Basics | | 1h 52m |
---
| | |
| --- | --- |
| Course Name | Online Seaborn Tutorial |
| Deal | You get access to all the 3 courses , 1 Projects for the Lifetime |
| Hours | 6+ Video Hours |
| Core Coverage | Learn attractive and informative statistical graphics and data visualization in Python. |
| Course Validity | Lifetime Access |
| Eligibility | Anyone who is serious about learning Data Visualization and wants to make a career in this Field |
| Pre-Requisites | Basic knowledge about Data and analytics and Python programming would be preferable |
| What do you get? | Certificate of Completion for each of the 3 courses , 1 Projects |
| Certification Type | Course Completion Certificates |
| Verifiable Certificates? | Yes, you get verifiable certificates for each course with a unique link. These link can be included in your Resume/Linkedin profile to showcase your enhanced data and analytics skills |
| Type of Training | Video Course – Self Paced Learning |
| Software Required | None |
| System Requirement | 1 GB RAM or higher |
| Other Requirement | Speaker / Headphone |
Seaborn Tutorial Curriculum
---
In this section, each module of the Seaborn Tutorial is explained.
| | | | |
| --- | --- | --- | --- |
| Sr. No. | Course Name | | Course Description |
| 1 | Seaborn Beginners | 2.5 | Seaborn is a computer programming library which is based out of matplotlib. It is an open source library which is based on Python and also provides high-level visualization and plotting designs with the help of Python programming language. In this Python Seaborn Tutorial module, you will learn about the basic features and functionality of the seaborn library. These features and components include Environment setup and how to import these library-based functions.  It also discusses the various datasets and the libraries which will be used inside the seaborn libraries. These libraries include the basic ones such as Pandas and Numpy which is one of the main libraries used for managing relational also known as the table formatted datasets. This library becomes handy when it has to be about dealing with the data frames which is often the most critical and important component to be used widely in the field of data analytics.  Once you learn how libraries are imported and worked, we will learn about importing datasets which comes along with these pre-built libraries. |
| 2 | Seaborn-Intermediate | 1.5 | Seaborn is a computer-based library which is built on top of Python and matplotlib library. In this module of the course, you will learn about the intermediate concepts such as about figure aesthetics, histograms and other graphs and charts which are needed for visualization purposes, a color palette which explains the various color coding techniques and how to efficiently make use of them to depict the right frame and right output figure. You will also learn the basic differences between data frames and datasets which is that the datasets comes pre-built with the seaborn library which is automatically in place once you install the seaborn library whereas data frames forms the part of your tabular formats which are used to store the data in a rectangular grid-like format upon which the data can be sent over quickly and viewed in a more efficient way. Each row grid consists of the values of every instance whereas every grid column is a vector which is used to hold the data for one specific variable. This typically means that the rows of data frames are not associated with containing values of a similar data type and therefore they can be numeric, string-based, logical or just character based. The data frames for python comes along with the panda's library which is defined as the two dimensional labeled data structures. |
| 3 | Seaborn- Advanced | 1 | The seaborn advanced module consists of the advanced features and concepts such as those like Kernel density estimates, Visualizing pairwise relationships, Plotting categorical data and relationships, distribution of various observations, statistical estimation, plotting wide form of data, Multipanel categorical data, Linear Relationships, Pair grid, facet grid, etc. Among all these features one of the key critical features relates to the understanding of statistical estimation as this becomes one of the key critical components of somebody who is entering into the data science space and ecosystem. These estimates can be taken in the form of Bar plot which makes use of relationships established between a categorical variable and continuous variables. The data, in this case, is represented in the form of rectangular bars and figures where the bar length is generally used to represent the portion of the data in that category. It is generally used to represent the estimate of central tendency.  Furthermore, in this module, you will also understand a special case where the barplot will show a different kind of observations in every category rather than computing a statistical category for every variable. In such cases, we make use of count plot.  One such plotting technique which is of much use in the field of data science is point plots. This is also specific to the seaborn and matplotlib framework and library. It serves the bar plots depicted in various styles i.e. instead of having a complete bar at once, it is used to depict these bar graphs by the estimated values which are represented by a certain point at a certain height on the different axes. |
---
Seaborn Tutorial – Certificate of Completion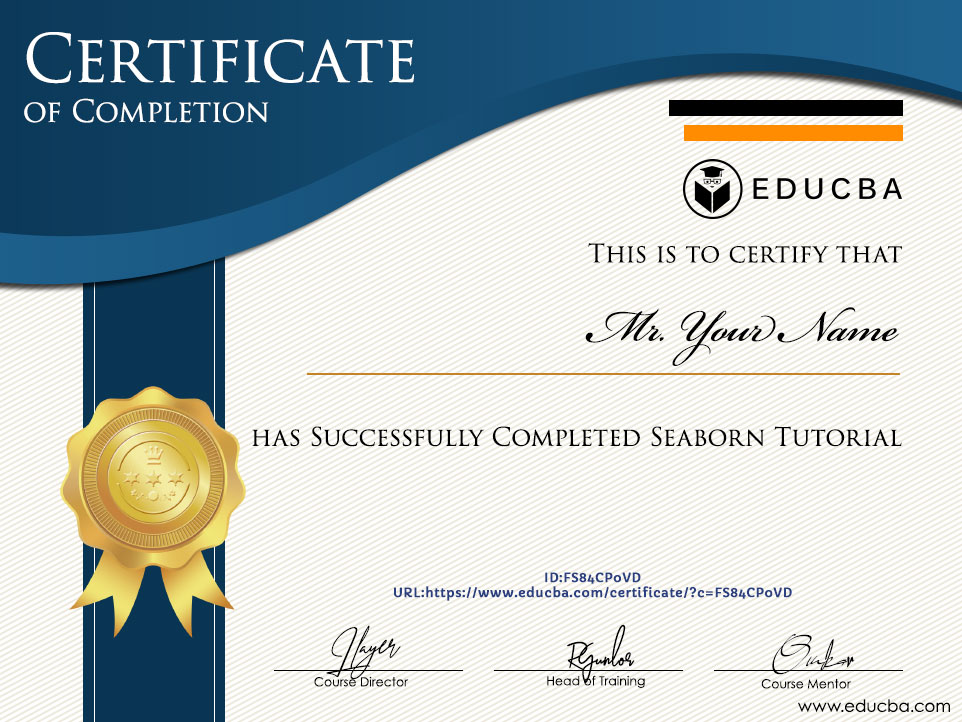 ---
What is Seaborn?
In the domain of analytics and data science, there are a huge number of libraries which are gaining huge popularity with every passing day due to their wide array of benefits and the features that they have to offer. One such important library is matplotlib of which seaborn is made up of. These libraries together are used for visualizations and making a good level of predictions which is specifically based on the outcome of data. These plots are helpful in analyzing and determining the nature of the data and how it can be used for better use. Seaborn is Python-based which is built on top of Matplotlib, therefore, consists of all the features which are present with the main libraries. Seaborn libraries help in resolving two fundamental issues which are related to default matplotlib parameters and the ones related to working with data frames and therefore holds a higher value than the parent library.
Which tangible skills you will learn through this course?
---
Through this Python Seaborn Tutorial, you will learn skills and techniques such as plotting and visualization of the various forms of data which is provided to us. This can also be used to refer to the various kinds of datasets and the data frames which will form an integral part of the data representation. The data frames consist of the data in tabular format and therefore depict the data in a more usable form which might not be the case otherwise. Other skills are related to the analysis of data and mathematics related as all the calculations done after the visualizations are done are mathematics based.
Pre-requisites
The basic prerequisite for this course is that the student or the professional should have a basic knowledge and understanding of the machine learning tools and techniques and also should have a basic knowledge and overview of the data science techniques. Apart from this, he should also be aware of the basic analytical concepts which are a must while opting for this course. The user should also have a mathematical background as most of the algorithms being used and the concepts which are discussed are mathematics based.
Target Audience
The target audience becomes anybody who is interested in learning this Python Seaborn Tutorial and follows the above-mentioned pre-requisites. This typically includes professionals such as data scientists, data engineers, analysts, consultants, software developers, software engineers, testers. Apart from these professionals everybody who is working to build something of their own such as an entrepreneur forms an ideal part of the audience and also the students whether they are directly college passed outs or are looking to do something much more creative and bigger can make use of this course in a much more wiser manner.
Seaborn Tutorial – FAQ's
---
 Do I need to keep on practicing the Python Seaborn Tutorial or is it a one-time thing?
The concepts and the techniques taught in the course of the seaborn tutorial are a one-time thing as you just have to know the basic concepts and how are they applied but when you talk about hand practicing it by making use of Python language then we would suggest not to leave the practice part aside as it will become quite tough to re-opt it once the flow has been lost.
Sample Preview
---
Career Benefits of this Machine Learning Course
The career benefits of this Python Seaborn Tutorial will be related to the ones where it talks about data science concepts and techniques which are on a huge demand today. These visualization libraries will be aimed to provide a much more interesting environment and a good place in the market.
Reviews
---
Python Seaborn Tutorial
During the initial part of the tutorial, which involves the study and creation of a visual representation of data is also an art and science of itself then we studied the objective and understanding of data visualization which was very knowledgeable. Very few good tutorials available on this topic, I am glad I took this up.
Gus Raposo
Seaborn Tutorials
The course is well structured, The pace of the course is also very good and the instructor is well versed on the subject. All examples are clear and easy to understand and very applicable. I recommend taking this class if someone wants to be either familiar with data visualization or wants a more advanced understanding.
Grzegorz Reinhart