Learn from Home Offer TAKE THIS BUNDLE
SAS Training in Pune (9 Courses, 10+ Projects)
9 Online Courses
10 Hands-on Projects
123+ Hours
Verifiable Certificate of Completion
Lifetime Access
SAS Business Analytics for Beginners
Project on SAS - Predictive Modeling with SAS Enterprise Miner
Project on SAS - Quantitative Finance
SAS Output Delivery System(ODS)
Offer ends in:
TAKE THIS BUNDLE
* One Time Payment & Get Lifetime Access
What you get in this SAS Training in Pune?
Online Classes
Technical Support
Mobile App Access
Case Studies
About SAS Training in Pune
| Course | | No. of Hours |
| --- | --- | --- |
| SAS Business Analytics for Beginners | | 10h 42m |
| Predictive Modeling with SAS Enterprise Miner | | 9h 21m |
| Quantitative Finance with SAS | | 3h 29m |
| SAS Statistics | | 8h 18m |
| Logistic Regression using SAS Stat | | 4h 28m |
| Poisson Regression with SAS Stat | | 2h 22m |
| SAS Features for Starters | | 1h 5m |
| SAS ODS (Output Delivery System) | | 9h 08m |
| SAS PROC SQL | | 13h 49m |
| SAS Macros | | 7h 38m |
| SAS Advanced Analytics | | 12h 34m |
| SAS Graph | | 2h 1m |
| SAS DS2 | | 5h 2m |
| SAS SQL | | 3h 03m |
| SAS Practical - Macros | | 5h 12m |
| SAS Advanced Programming | | 11h 24m |
| SAS Categorical Data Analysis | | 7h 26m |
| Certified SAS Base Programmer | | 12h 2m |
| SAS PROC SQL Features | | 1h 53m |
| | |
| --- | --- |
| Course Name | Online SAS Training in Pune |
| Deal | You get access to all videos for the lifetime |
| Hours | 123+ Video Hours |
| Core Coverage | SAS, SAS/GRAPH, SAS/STAT, SAS/ODS, SAS PROC SQL, SAS Advanced – Macro, SAS-EG, Predictive Modeling with SAS, Business Analytics using SAS |
| Course Validity | Lifetime Access |
| Eligibility | Anyone serious about learning SAS and wants to make a career in this Field |
| Pre-Requisites | Math skills, Data intuition |
| What do you get? | Certificate of Completion for each of the 9 courses, 10 Projects |
| Certification Type | Course Completion Certificates |
| Verifiable Certificates? | Yes, you get verifiable certificates for each course with a unique link. These link can be included in your resume/Linkedin profile to showcase your enhanced SAS skills |
| Type of Training | Video Course – Self Paced Learning |
| Software Required | None |
| System Requirement | 1 GB RAM or higher |
| Other Requirement | Speaker / Headphone |
SAS Training in Pune Curriculum
---
The main training objective would be to make the associates get familiar with analytics with SAS, and make him industry-ready so that it can benefit the individual as well as the organization where they are going to work.
Our SAS Training in Pune is most comprehensive and is planned to achieve the above goal when little dedication showed from the associates.
There will be nine comprehensive courses in this SAS training module covering an introduction to business analytics for the beginners and then getting into its advanced concepts, introducing to statistics which is the main ingredient for analytics and this topic will be covered with great details, then you will get to learn SAS Output Delivery System ODS which will also be in as comprehensive as possible, then SAS PROC SQL to query upon and one of the main topics as well, you will get to learn about SAS Macros one of the advanced analytics features of SAS where it has the capability of reusing a written part of code for a repetitive or redundant section of the code without the need of writing it again and Macros had made this possible, then we will get to learn SAS Graph as well which is a powerful data visualization tool to analyze the trend, then SAS advanced programming. These are some of the important modules that will be covered as a part of this SAS Training in Pune.
Apart from this, there will plenty of uses cases and projects in this SAS Training in Pune like predictive modeling with SAS Enterprise Miner, Quantitative finance analytics, projects on Advanced Analytics, Uses cases on SAS Macros, Programing with SAS DS2, ample uses case, and project on SAS SQL, project on Categorical Data Analytics, project on Logistic Regression using SAS Stat, etc. All these modules and projects will be well guided and priority will be given to the associate's understanding of the topic rather than on completing the topic hurridly. Once the above modules and course provided use cases and projects completed by the associates, he will be ready to be part of the analytics market.
SAS Training – Certificate of Completion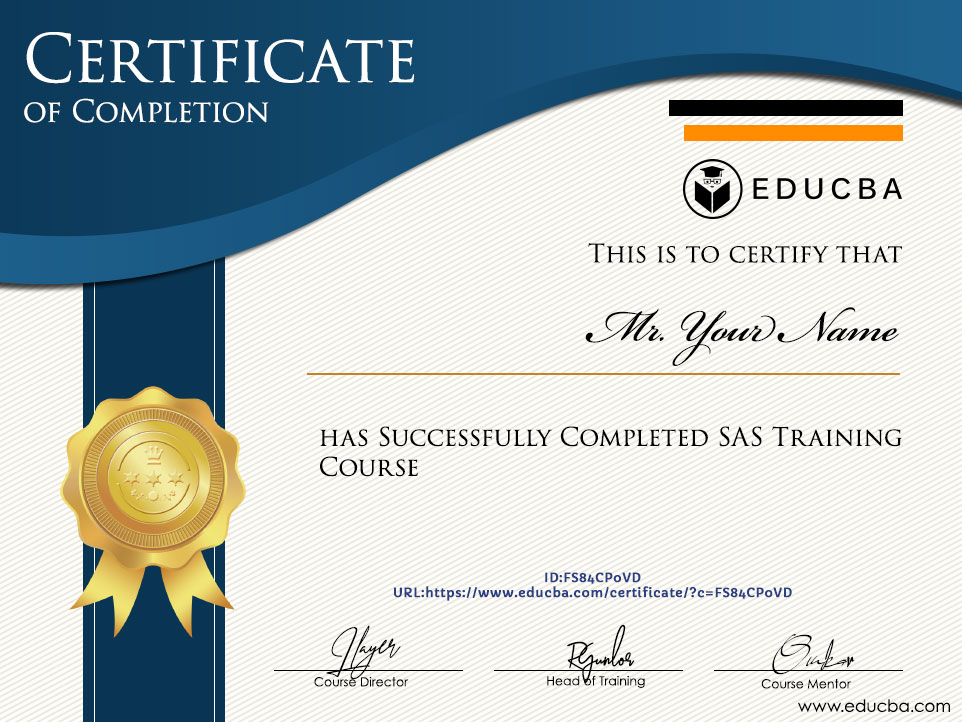 What is SAS?
SAS abbreviates to Statistical Analysis Software is the most popular and has evolved as the leader in the field of data analytics. It is a one-stop solution for data management, data handling, and analytics requirements for the business. SAS data is categorized after extraction and this will be analyzed to read the data patterns. There are different other tools provided by Python and R are available but they all have few limitations and SAS takes advantage of that and hence topped the ladder board in the field of analytics. SAS takes the data and transforms it to give a better and fresh perspective to the problem on business. SAS uses an extensive programming approach and this has been its strength to do the analytics rather than other GUI business intelligence tools that use drag and drop approach. This extensive programming approach from SAS has given it the ability to handle the data to do various manipulations better compared to other BI tools, it has a wide range of configuration parameter which can be tuned to industry needs as desired. It provides a SAS graph to visualize the data manipulations and macros which can help in reducing the redundancy in code. Also, SAS is platform-independent and can be used on both Windows and Linux machines.

Which Skills will you learn in this Training

?
In this SAS Training in Pune, you will acquire good comprehensive knowledge on analytics introduction and its advanced concepts, you will learn why SAS is the ladder board topper when comes to analytics and why most of the cor[porates use it, you will also get a fair idea of comparison with other business intelligence tools provided by R and Python, you will also try to predict the trends using the data and can validate it by putting it to SAS programs. You will get a good knowledge of statistics on how it is going to impact the data trends. You will also learn to incorporate SAS Macros while writing the programs fro analytics. SAS Graph visualization also will aid the associate further in his quest to become a data analyst. The wide range of use cases and hands-on will make sure above mentioned skills are acquired by the associates and they are industry-ready
Pre-requisites
Since the SAS deals with data analytics one should be aware of basic mathematics concepts and should have the quest to learn statistics and one need not worry since these statistics module will be covered in the most comprehensive manner possible. One should be aware of basic computer programing terminologies as it will make training a lot easier else associate have to strive a bit harder but it is possible to cover it by getting hands dirty for some time on this topic before the commencement of the SAS Training in Pune. Having a fair idea of anyone programing language will be an added advantage. Familiarity with the basics of RDBMS and writing SQL queries will help to get more interested and invested in training.
Target Audience
The associates who want to stamp their professional carrier on data analytics, Data Processing of Data visualization should add SAS in their skill set as it will be the catalyst to their analyst or data scientist career. Any associate who wants to know how the industry process the raw data to predict the trends should consider this SAS Training in Pune.
SAS Training in Pune- FAQ's
---
How will be the trend for SAS and Data Analyst in coming future?
The trend will see upward rise as data is going to explode further from corporates and they will be requiring the trained professionals to handle their processing and visualization. So the career option of analyst with SAS will a good option.
Will, I will be called Data Scientist after SAS Training in Pune?
No, SAS is one of the prerequisites to becoming data scientists or data engineer. Data scientists are vast science and SAS is one of the core modules in it and if one aspires to be a data scientist or engineer they should consider SAS to add in their skill set.
Mastery of Mathematics compulsory?
No, but knowing their base concepts will make a lot easier for you to understand. The main thing is you need to have the interest and willingness to get basic preparation.
Do we need to be experts in programming to join this SAS Training in Pune?
You need not be an expert but you want to know at least one programming language as this will make you familiar with different programming terminologies. If you don't know any of the languages then first get their basics ready before joining SAS training.
Why should you take up SAS training in Pune?
Pune is one of the most prominent business and IT destination. Many successful personalities in business and IT fields have started their careers here. Due to the immense network availability of corporates in and around Pune, there is a high chance to get picked if you have valuable skillset from the market and if you are SAS professional then the business where data visualization is required will look after your resumes.
What is the SAS market trend in Pune?
Since Pune is a destination hub for many business corporates, there is ample opportunity for an analyst with a SAS background. Ample organizations require their data to be processed to get trend analysis and they either hire professionals directly or get they get their work by other service-providing organizations. Whatever the case the SAS analyst is required either to the organization directly or its service provider like TCS, Infosys, etc.
Data will be generated is getting generated hugely and it's going to an exponential increase in the coming years and Pune is one of the prime destinations to receive those data in different organizations to process it. So SAS developer is and will be going to be hot in the analyst market of Pune.
Sample Preview
---
Career Benefits
Business the analyst is one of the trending qualifications in the market and if an associate is capable to understand the data and can use SAS in visualization and predicting the trends then the industry will reward them with promising pay and career. Also if associates are desiring to be data scientists the SAS in that associate's resume will be prime while considering the positions available in the market.