Learn from Home Offer TAKE THIS BUNDLE
SAS PROGRAMMING Course Bundle - 18 Courses in 1 | 8 Mock Tests
123+ Hours of HD Videos
18 Courses
8 Mock Tests & Quizzes
Verifiable Certificate of Completion
Lifetime Access
TAKE THIS BUNDLE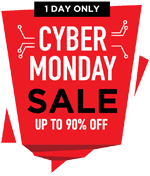 * One Time Payment & Get Lifetime Access
What you get in this SAS PROGRAMMING Course Bundle - 18 Courses in 1 | 8 Mock Tests?
123+ Hours
18 Courses
Mock Tests
Course Completion Certificates
Lifetime Access
Self-paced Courses
Technical Support
Mobile App Access
Case Studies
About SAS Training in Noida
| | |
| --- | --- |
| Course Name | Online SAS Training in Noida |
| Deal | You get access to all videos for the lifetime |
| Hours | 123+ Video Hours |
| Core Coverage | SAS, SAS/GRAPH, SAS/STAT, SAS/ODS, SAS PROC SQL, SAS Advanced – Macro, SAS-EG, Predictive Modeling with SAS, Business Analytics using SAS |
| Course Validity | Lifetime Access |
| Eligibility | Anyone serious about learning SAS and wants to make a career in this Field |
| Pre-Requisites | Math skills, Data intuition |
| What do you get? | Certificate of Completion for each of the 18 courses, Projects |
| Certification Type | Course Completion Certificates |
| Verifiable Certificates? | Yes, you get verifiable certificates for each course with a unique link. These link can be included in your resume/Linkedin profile to showcase your enhanced SAS skills |
| Type of Training | Video Course – Self Paced Learning |
| Software Required | None |
| System Requirement | 1 GB RAM or higher |
| Other Requirement | Speaker / Headphone |
SAS Training in Noida Curriculum
---
In this SAS training course, careful and exhaustive measures are taken during the designing and development for anyone who wants to upscale themselves in the genre of SAS software. This SAS Training in Noida will enable you to reduce the degree of complexity of a problem by thinking small and smart. This course starts with SAS business analytics for beginners which gives intricate details of different datasets in SAS and different data types. Next in line, we have sneaked into statistics essential for SAS, wherein we would dive into ins and outs of data handling and manipulation in SAS. The statistics session in this SAS Training in Noida won't be mathematics heavy but take some intuitive turns on understanding the statistics.
It will explain you SAS modules such as SAS/GRAPH, SAS/STAT, SAS/ODS, SAS PROC SQL, SAS Advanced – Macro, SAS-EG, Predictive Modeling with SAS, Business Analytics using SAS and much more right from the basics to advanced concepts. There is a module of the SAS output delivery system (ODS) specifically aimed for financial and quantitative analysis. Next, we would get comprehensive training on SQL features in SAS.
Not only this, but there are also projects at the end of each milestone to help revise the concepts learned previously, to apply them in real-life scenarios. Doing this will not only help to memorize the concepts but help to fix production/development type problems and help you assist in the future. These projects will also assist you in taking real-life problems at your job with ease.

SAS Training – Certificate of Completion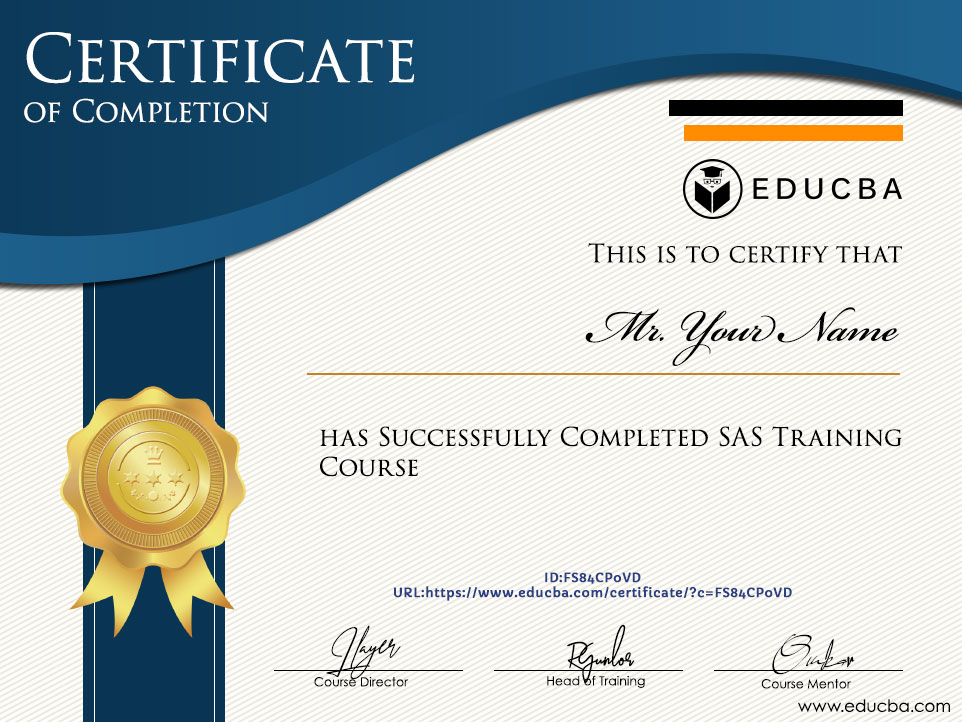 What is SAS?
SAS is a statistical software which is designed by SAS institute and enables developers to perform advanced analytics, multivariate analysis, business intelligence, etc. This software is capable of managing, altering, managing, and retrieving data from a variety of sources and allows the developer to perform analysis of the data. Not only this SAS is a tool which is widely used by industries for data warehousing as well
SAS program is made of DATA steps that are used for retrieval and manipulation of data and PROC steps which are used for the analysis of data. The steps mentioned before are a collection of a series of statements. SAS is an agglomerate of Statistical package, Database Management System, and Programming language. Nowadays SAS is not only used for analytics (Which it was designed for in the past) but does a lot more.
SAS is a fourth-generation programming language. What we mean by the fourth generation is that this software has been developed keeping in mind that it enables developers to meet a particular goal. For example, one can use this software or a part of the application of SAS for developing commercial software. In other words, it is like a plug and play technique to use only those components that are required. SAS is an easy tool for developers to access, manage analyze, and present. So all-in-all software.

Which Skills will you learn in this Training

?
The course here will equip you with all the required skill set to master any project in SAS. SAS is a tool that has ease of learning. The course is structured in such a way that it will enable students to exploit the graphical capabilities of SAS along with the past and advancements of SAS software. This SAS Training in Noida will also equip you with skills to perform not only analytical but also ETL (Extract, Transform, and Load). This course will enable you to exploit every feature of SAS and enable you to use the fundamental of SAS of reduced programming effort and thus minimal coding.
Pre-requisites
Our courses are not prerequisite extensive as the courses try to start from scratch and enable the learner to build to the maximum possible. But to learn effectively, there are a few good-to-have things.
Some knowledge in Microsoft excel will be a good addition. Also, to gain maximum out of advanced SAS features Excel is mandatory.
Programming language exposure is a nice addition.
The basic SQL syntax is recommended.
Basic mathematics is also a good-to-have.
Target Audience
For any of our courses, the main target audience is the one who has inquisitiveness to learn more. This SAS Training in Noida is also intended for people who want to upskill themselves in current job scenarios and provides a boost to career irrespective of what position they are in. Starting from a startup founder level who wants to incorporate SAS for their products or to managers level who wants to start a new project using SAS or even currently working analyst who wants to explore the SAS side of analytics. Even for a college-going student who wants to start their career as a Data Analyst or Data Scientist, this course will help them to find the right path.
SAS Training in Noida – FAQ's
---
Why should you take up the SAS Training in Noida?
Our SAS course is designed keeping in mind the diverse background of the audience. So, no matter what you are currently, this SAS Training in Noida will enable you to reach the goal you have been dreaming about starting or upskilling yourself in Data Analysis. Our SAS course has doubt clearing sessions and lives chat sessions to allow our students to reach the Zenith. In Noida itself, due to the booming Data Analytics sector, every organization irrespective of the genre is trying to tap into the game of Big Data Analytics. The SAS course will enable you to fetch as a higher package as the organization need not spend money in training them again.
What is the SAS market trend in Noida?
Currently, as of the date we speak more than 200 jobs open in SAS every week in Noida and the number will just keep on growing. Many of our alumni have successfully landed into SAS jobs not only in Noida but whole India and even abroad. As companies in Noida produce more and more data, it becomes imperative to find experts in this segment to understand their data and help to address strategic decisions for the organization. Using SAS, one can recommend calculative steps and explain what the reason is for the recommended step.
Sample Preview
---
Career Benefits
According to the recent study, SAS holds 70% of the analytical job market. This SAS Training in Noida will enable you to tap into SAS components, either basic or advanced, and enable you to be the one for driving the strategic decisions for the organization. This course has a lot of real-time projects which will enable one to use the tips learned during execution of the project to demonstrate in the real-life scenario. This SAS Training in Noida bundled with some of our courses will enable not only to tap into the capabilities of SAS but also grow your career in becoming a Data Scientist,
The Sexiest Job of 21st Century
, as quoted by Harvard magazine.