Learn from Home Offer TAKE THIS BUNDLE
SAS PROGRAMMING Course Bundle - 18 Courses in 1 | 8 Mock Tests
123+ Hours of HD Videos
18 Courses
8 Mock Tests & Quizzes
Verifiable Certificate of Completion
Lifetime Access
TAKE THIS BUNDLE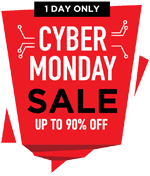 * One Time Payment & Get Lifetime Access
What you get in this SAS PROGRAMMING Course Bundle - 18 Courses in 1 | 8 Mock Tests?
123+ Hours
18 Courses
Mock Tests
Course Completion Certificates
Lifetime Access
Self-paced Courses
Technical Support
Mobile App Access
Case Studies
About SAS Training in Mumbai
| | |
| --- | --- |
| Course Name | Online SAS Training in Mumbai |
| Deal | You get access to all videos for the lifetime |
| Hours | 123+ Video Hours |
| Core Coverage | SAS, SAS/GRAPH, SAS/STAT, SAS/ODS, SAS PROC SQL, SAS Advanced – Macro, SAS-EG, Predictive Modeling with SAS, Business Analytics using SAS |
| Course Validity | Lifetime Access |
| Eligibility | Anyone serious about learning SAS and wants to make a career in this Field |
| Pre-Requisites | Math skills, Data intuition |
| What do you get? | Certificate of Completion for each of the 18 courses, Projects |
| Certification Type | Course Completion Certificates |
| Verifiable Certificates? | Yes, you get verifiable certificates for each course with a unique link. These link can be included in your resume/Linkedin profile to showcase your enhanced SAS skills |
| Type of Training | Video Course – Self Paced Learning |
| Software Required | None |
| System Requirement | 1 GB RAM or higher |
| Other Requirement | Speaker / Headphone |
SAS Training in Mumbai Curriculum
---
This course has been developed by keeping the requirements or expectations of the beginners and professionals in mind. There are several modules that we have covered and you can say every topic that falls under SAS has been covered here. The first unit of this SAS Training in Mumbai will be "SAS Business Analytics for Beginners". In this unit, the concept of SAS has been explained from scratch. You will get to learn about the actual requirements and analysis fundamentals in this unit. Project on SAS – Predictive Modeling with SAS Enterprise Miner will be the next unit. It will be a simple project that has been introduced to give you hands-on experience with this software. Another project will be on Quantitative Finance that is covered in the third unit. After completing two of these projects, you will be a bit fluent in working with SAS.
The fourth unit is SAS Statistics. The purpose of this unit is to make you understand the statistics that SAS uses to serve its purpose of data analysis. How it performs the operations to generate the outcome are some of the things that have been explained in this unit. Other units will be SAS Output Delivery System(ODS) that will be covered to help you understand how the SAS ODS works and how you can interact with the system to take leverage of this module of SAS. After learning things from the previous units, you will come across SAS Macros Tutorials which is all about the macros used in SAS that helps us to perform the actions efficiently. The eighth unit will be a project and the unit is named Project on SAS – Advanced Analytics. This project will require the knowledge of all the topics that you have covered in this SAS Training in Mumbai so far.
This course is comprised of several projects the core purpose of which is to make you understand everything from a practical point of view. Project on SAS – SAS Graph, Project on SAS – Programming using SAS DS2, SAS Advanced Project – SAS SQL, SAS Advanced Project – Macros are some of the projects that you will be doing in this course. SAS Advanced Programming is the next where you will be covering the advanced module of this SAS Training in Mumbai. You will get to learn about the programming used in SAS and will also see the examples that will help you to make things easier while working with this software. In addition to this, you will be covering various other units as well and every unit will bring new learning for you to fortify your hold on this software.

SAS Training – Certificate of Completion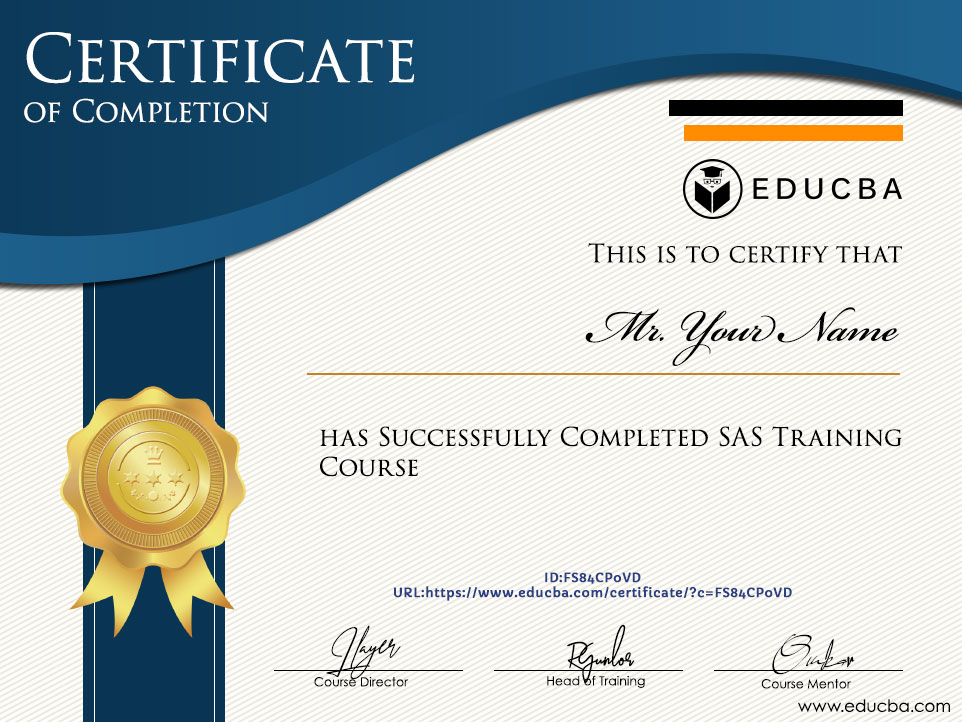 What is SAS?
SAS stands for Statistical Analysis System. It can be considered as the software that is used to process the data to generate the outcome in the form of information. SAS is the collection of various applications that comes together to make the main software that performs all the operations in one place. This software was developed by the SAS institute. The main purpose of its existence is multivariate analysis, advanced analytics, and so on. It is capable to process the huge data to generate the information out of it. It uses the statistics to make help the users in making a decision based on the data. At the organizational level, this software is used to derive business decisions. It also helps in generating the report that gives very simple visibility of the behavior of users based on the data analysis.

Which Skills will you learn in this Training

?
As this unit is comprised of everything that it rewired to master SAS, you will be getting skilled in all those modules. You will get to learn how to work with this application professionally. There are several projects introduced in this SAS Training in Mumbai so that you can get hands-on experience in working with this software. With all the modules, that are used in this application, things are explained using examples that make learning easy for you. You will get to learn about SAS macros and SAS programming in this course which are the next very essential part of this course. You will be handling some of the projects in this SAS Training in Mumbai that real scenario-based and you will learn how to work with SAS to solve the actual problems.
Pre-requisites
There is not any certification that is considered a prerequisite, to beginning with this course of technology. Though there are some of the technology that one should be aware of to understand the concept of this course precisely. One who is having a good understanding of statistics can find it a bit easier to understand the concepts that have been covered in this SAS Training in Mumbai. Though we have given an introduction and details about this, it will be helpful for the trannies if they can get a basic understanding of statistics. The next important thing is big data. Folks who have an understanding of the fundamentals of working with big data will easily understand the topics that leverage huge data to solve business problems.
Target Audience
Anyone willing to learn this SAS Training in Mumbai can be the best audience for this course. Folks who are already working on any technology that is concerned with big data and wants to jump to this software, they can be the best target audience for this SAS Training in Mumbai. They will get to learn about various new features that this software offers to make data processing easy and fun. The students who are willing to begin their careers in the technology that deals with data processing can also be the best audience for this course. They will learn various things that are out of their academics and will help them to grow professionally.
SAS Training in Mumbai – FAQ's
---
Why should you take up the SAS training in Mumbai?
The SAS is used extensively all across India or in some of the big organizations that need their data to be processed to get some fruitful information. Taking SAS Training in Mumbai makes it easier for you to find good and lucrative opportunities as Mumbai is the hub of such a big organization. There are several organizations in Mumbai that keeps on looking for professionals who are expert in SAS. Once you finish this course, you will be eligible for all the opportunities offered by numerous organizations in the city.
What is the SAS market trend in Mumbai?
Mumbai has always been a great place where one can easily find a job in any of the emerging technologies and it is all due to the massive count of organizations in the city. From the beginning, almost all of the big organizations in Mumbai are processing their data some way to generate information that helps in making business decisions. But for a few years, software like SAS has taken over the approach that they followed for data processing due to the huge amount of data. The trend of this software has been witnessed growing for a few years and expected to witness exponential growth in the upcoming years.
Sample Preview
---
Career Benefits
SAS is one of the most demanded software when it comes to data processing. It is ample capacity to operate over huge data to produce the outcome that is leveraged by the organization to make critical decisions. Due to the need for this application in the market, the urge or professionals who are experts in this is also increasing. After completing this SAS Training in Mumbai, you will become eligible for all the opportunities that seek candidates with good hands-on experience in this technology. If you have an interest in working with data and want to have a lucrative professional future, you may want to opt for this technology as the compensation paid to the professionals working in this software is pretty good.