Learn from Home Offer TAKE THIS BUNDLE
SALESFORCE Course Bundle - 4 Courses in 1
24+ Hours of HD Videos
4 Courses
Verifiable Certificate of Completion
Lifetime Access
TAKE THIS BUNDLE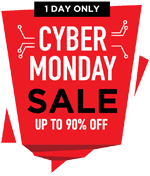 * One Time Payment & Get Lifetime Access
What you get in this SALESFORCE Course Bundle - 4 Courses in 1?
24+ Hours
4 Courses
Course Completion Certificates
Lifetime Access
Self-paced Courses
Technical Support
Mobile App Access
Case Studies
About Salesforce Training in India
| | |
| --- | --- |
| Course Name | Salesforce Training in India |
| Deal | You get access to all videos for the lifetime |
| Hours | 24+ Video Hours |
| Core Coverage | CRM, Salesforce, Salesforce Administration, Visualforce. |
| Course Validity | Lifetime Access |
| Eligibility | Anyone serious about learning Salesforce which is a cloud-based CRM |
| Pre-Requisites | Basis knowledge of CRM (Customer Relationship Management). The concept of Cloud-Based works and Software as a Service should be clear |
| What do you get? | Certificate of Completion for the course |
| Certification Type | Course Completion Certificates |
| Verifiable Certificates? | Yes, you get verifiable certificates for each4 course, Projects with a unique link. These link can be included in your resume/Linkedin profile to showcase your enhanced skills |
| Type of Training | Video Course – Self Paced Learning |
| Software Required | None |
| System Requirement | 1 GB RAM or higher |
| Other Requirement | Speaker / Headphone |
Salesforce Training in India Curriculum
---
The whole Salesforce Training in India is designed with all the updated topics needed to be studied for the Salesforce certification. It keeps in mind all the types of questions that can be asked and try to give a suitable answer for it. The course goes you through first explaining Visualforce, a web development framework used to build sophisticated and easy to use apps in Salesforce for the business. Having HTML basics will help you deal with it quickly. Further then a complete overview of salesforce is provided covering what is CRM to how to use Salesforce for making our business thrive in the market back. The next topic covered is how to become a good Salesforce Administrator explaining the basics as well as the responsibilities of the post and how to fulfill those responsibilities. While making a new account in Salesforce, the need to have admin rights is needful. The course will also help you make feel good with the practical scenarios of being a Salesforce Administrator. The Course completes all the latest apps technology introduced till today in Salesforce and helps you procreate this skill in yourself.
Salesforce Training – Certificate of Completion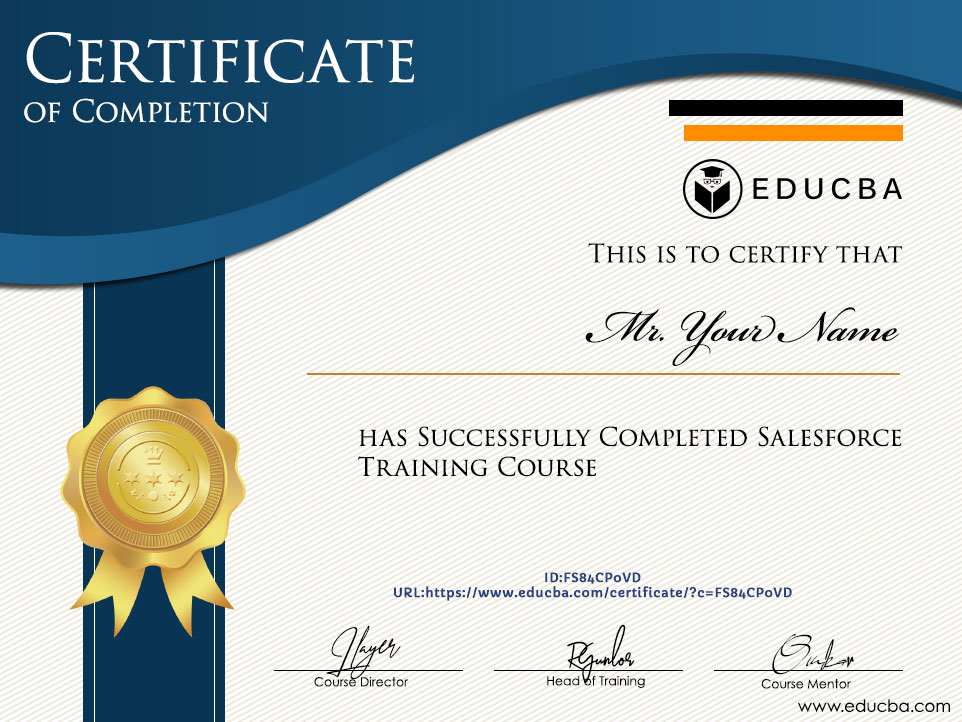 What is Salesforce?
Salesforce is a Software as a service (SAAS) customer relationship management (CRM) solution that brings the companies and their customers altogether. It helps you manage better customer relationships, integration with other legacy systems, and even help to build your apps. It is a coherent CRM platform that provides you departments including sales, marketing, commerce, service, etc. and a single, unified view of every customer. All these tools assist you to design a custom solution as per the business requirements. Salesforce comes with various advantages of using it some which are mentioned below:
Being a Software as a service-based tool, this CRM can be used from anywhere in the world with the help of the internet.
It caters to handle the needs of all the organizations scaling from the small, medium, to large enterprises.
It works on the pay as you go model meaning you need to pay for only what you use.
Accelerates sales productivity and increase the growth of your company.
Industry Growth Trend
The global cloud computing market size is expected to grow from USD 272.0 billion in 2018 to USD 623.3 billion by 2023, at a Compound Annual Growth Rate (CAGR) of 18.0% during the forecast period.
[Source - MarketsandMarkets]
Average Salary
Average Salary
$114,968 per year
The average salary for a Salesforce Developer is $114,968 per year in the United States.
[Source - Indeed]
Which skills you will learn in this training

?
All the necessary skills needed to be a good salesforce developer, administrator, etc. are included inside the course. Some of these skills are described below in brief:
All about Customer Relationship Management (CRM) services and how Salesforce is best in it. Maintain the sales target of the company to seeking the needs of the customer and their preferences, all of this is ingulfed in the course schema when discussing CRM.
Covering the whole if, buts, how and whats about Salesforce with all of its practical usage. Starting with the setting up of Salesforce for your organization then moving to explain all the tools and services provided in Salesforce and how they can be used for the betterment of the organization.
Salesforce Visualforce – The Development framework of salesforce which is used to build sophisticated and easy to use apps according to business requirements. Here you will learn a language similar to HTML to make better user interfaces that can be hosted on the lightning platform.
Salesforce Administrator- Discussing the roles and responsibilities of salesforce administrator while using salesforce, starting from the basics of this job, and then going deep with all the concepts needed such as how to solve company problems, keeping projects moving forward, etc. The course also provides you with real-world scenarios where you can get a practical of the Salesforce Administrator role and how he works.
Projects and Assignments with practical knowledge – Projects based on App logic and interface and Visualforce have been provided bundled with the course which will make you feel easy with the technology for any real-world situation.
Pre-requisites
To entertain yourself in the Salesforce Training, you should be competent with the following:
Since Salesforce is a cloud-based service, hence to use it you need a reliable computer with a decent connection with the internet.
No prior knowledge of coding is required for Salesforce developers but having little knowledge of Java, HTML, .net, etc. programming languages gives you an edge over others without any coding knowledge.
Little awareness about the various features and functionality of Salesforce and force.com such as Lightning, Heroku, and Fuel platforms will help.
Keen interest in learning the technology and determined to do the assignments and complete the daily To-Do list given in the training.
Good communication skills as it is the need in every company nowadays with the will to ask every question which stuck in your mind during the training.
Target Audience
Beginner: Individuals who want to step up into the field of Customer Relation Management (CRM) then Salesforce is best for you as it has been number one for its customer's success and tracking customer activities for the business and many more activities, in recent years.
Student: Learners who are undergoing and graduation/diploma from computer science or IT and have a keen interest in customer relationship management tools i.e. CRM & need to be trained in it, then Salesforce Training is a better choice in the field due to its demand.
Professional: Any professional who wants to implement the best CRM tool for his/her organization for the use cases such as contact management, opportunity management, lead management, case management, reporting, relationship, analytics, etc.
Salesforce Training in India – FAQ's
---
Why should I go for learning Salesforce?
Salesforce is the best Customer Relation Management (CRM) tool in the market nowadays. Being a cloud computing service as a software company, it allows businesses to use its cloud technology to better connect with partners' customers and potential customers. It has overthrown the legacy CRM's such as Siebel, MS Dynamics form the market. Hence Opting for such a trending skill is worthful.
What is the scope of Salesforce in the current market trend?
Being a specialist in Customer Relation Management, Salesforce has a great present and future. It is quoted to enable 1.95 million jobs and to generate about $ 360 billion in revenue in the coming five years. From developers to managers, it is the current hottest skill for individuals who seek the future in the IT sector.
What are the jobs/roles offered to individuals knowing Salesforce?
Salesforce is acting as a complementary skill with other IT skills with a heavy amount of programming skills such as Java, JavaScript, Python, etc. Due to its high demand, it has become a needful skill for clearing big MNC's Interviews. Salesforce Technical Architects, Salesforce Solution Architects, Salesforce Developers, and Project Managers are the most demanding skill within the Salesforce ecosystem.
Name the Organizations that are hiring up individuals with this skill?
Most of the Big shot MNC's are relying on Salesforce namely, Google, Facebook, Youtube, Spotify, Amazon Web Services, Toyota, T-Mobile, Aldo, U.S. Bank, and many more. You can be part of these companies, just the skill needed is indulged within this Salesforce Training in India curriculum.
Why should you take up the Salesforce Training in India?
Salesforce is one of the most demanded jobs in the market. In India, people are recognizing their need and scope. If an individual is interested in this technology and willing to learn, then opting for this training is best. This Salesforce Training in India will help you in learning Salesforce in an organized way and helps in developing the required skill set. Salesforce CRM is the most trending software job and India is having the most emerging economies worldwide. Salesforce training in India allows users to work in sales, service, and marketing to learn the skills they need effectively, anytime, and anywhere. So anyone having an appetite for learning should take up this Salesforce training in India.
What is the Salesforce market trend in India?
The CRM industry is evolving considerably from the last few years. Customer expectations are changing daily and meeting their expectations a standard tool that is not only helping companies to handle data and communications but also helping them to target the right customers, understand their needs in real-time. Nowadays, Salesforce CRM is on high demand and the number of jobs in India is expected to increase more in the upcoming years in Salesforce. This is the number one CRM software available in the market right now. The main point is that all the services given by Salesforce CRM are on the cloud so that you can access them anytime and anywhere. It is also offering various kinds of services as compared to other CRM. So, choosing this technology as your career choice is the best option, and learning this Salesforce training adds a plus point to it.
Sample Preview
---
Career Benefits
Salesforce being the need of the hour comes with various career benefits. Some of them are described below:
Knowing the companies' needs:
For being selected in an interview with a company, the organizations require you to have a better knowledge of its needs. With this Salesforce Training in India, you can have a clear understanding of how working in a particular organization will let you know the exact need to acquire the audience for the company.
Improving your analytical skills:
With this Salesforce training, you will get an enhanced knowledge of trends in sales as you will get a detailed and customized insight about the trends. Since this training can demonstrate your proficiency in the same field alongside your skills, it is the best way to exhibit your knowledge in the domain. Due to this Salesforce Training in India, you can also enhance your chances of getting selected.
Higher Stipend:
Due to its high demand in the market Salesforce as a skill comes with the benefit of higher stipends starting with an average salary of ₹ 1200000 annually. With the experience to come the salary is always expected to rise more and more.
Reviews
---
Salesforce
It is a long course that goes into very small details about each aspect of the Salesforce CRM platform. The level it is basic and it is very descriptive, overall the speaker seems to have a lot of knowledge on the program and he tries to relate the course with small business, overall it does the job explaining Salesforce.
Linked
Jorge Dominguez
Salesforce – Introduction to cloud computing – Basic course
The course content is good and encompassing. The presenter is clear in explaining topics on cloud computing like the advantages of cloud computing, cost savings because there is no need to buy licenses, special hardware. Learned the characteristics of cloud computing like on-demand, broad network access, resource pooling, rapid elasticity etc., learned about cloud computing technologies like public, private, community, hybrid. Cloud computing services were also covered like SaaS, PaaS, IaaS. Salesforce.com comes under PaaS.
Linked
Fredric C
Salesforce Training
The Salesforce course is a comprehensive practical-oriented solution to your preparation for the certification exams prepared by top experts in the Salesforce industry. It follows the right teaching methodology from basics to advanced level. I am happy to learn the Salesforce course at EDUCBA. I can give my highest recommendation.
Mausam
Salesforce Course experience
The content quality was extremely good,  well-structured, and helped me to boost my career.  Outstanding Salesforce training by EDUCBA. It helped me to understand the logic by giving real-life examples and scenarios.
The project which was taught in the sessions was wholesome revisions and implementation of the entire concept and firm grasp of the entire course.
Juliet