Learn from Home Offer TAKE THIS BUNDLE
SALESFORCE Course Bundle - 4 Courses in 1
24+ Hours of HD Videos
4 Courses
Verifiable Certificate of Completion
Lifetime Access
TAKE THIS BUNDLE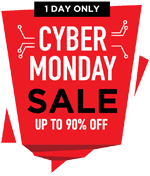 * One Time Payment & Get Lifetime Access
What you get in this SALESFORCE Course Bundle - 4 Courses in 1?
24+ Hours
4 Courses
Course Completion Certificates
Lifetime Access
Self-paced Courses
Technical Support
Mobile App Access
Case Studies
About Salesforce Training in Hyderabad
| | |
| --- | --- |
| Course Name | Salesforce Training in Hyderabad |
| Deal | You get access to all 4 courses, Projects bundle. You do not need to purchase each course separately. |
| Hours | 24+ Video Hours |
| Core Coverage | CRM, Salesforce, Salesforce Administration, Visualforce. |
| Course Validity | Lifetime Access |
| Eligibility | Anyone serious about learning Salesforce which is a cloud-based CRM |
| Pre-Requisites | Basis knowledge of CRM (Customer Relationship Management). The concept of Cloud-Based works and Software as a Service should be clear |
| What do you get? | Certificate of Completion for the course |
| Certification Type | Course Completion Certificates |
| Verifiable Certificates? | Yes, you get verifiable certificates for each4 course, Projects with a unique link. These link can be included in your resume/Linkedin profile to showcase your enhanced skills |
| Type of Training | Video Course – Self Paced Learning |
| Software Required | None |
| System Requirement | 1 GB RAM or higher |
| Other Requirement | Speaker / Headphone |
Salesforce Training in Hyderabad Curriculum
---
In this Salesforce training course1 you will learn important modules which are as follows:
Salesforce is a platform that helps to build popular applications. Visual force is one of the Salesforce's web development frameworks which helps developers to build custom user interfaces for desktop and mobile applications. This Salesforce course focuses on the basics of Salesforce, what is Visual force and how does it work. Along with that, you will also learn about how to build apps that align with the styling of Lightning Experience using visual force. The visual force uses HTML, hence it uses a markup language, Visualforce provides several benefits such as User-friendly development which means ease of use of the application. It provides instant verification of the result of an edit just by saving code. So it is easy for developers to work. Auto-completion and syntax highlighting are also great features of the Visual force. Visual force provides integration with other Web-based user interface technologies. Because of this feature Developers can use Visualforce tags with HTML, Flash, JavaScript, or code of any other programming language which can be executed within an HTML page. It also provides Model View Controller (MVC) style development, concise syntax as well as it is Automatically upgradeable.
Complete Guide to SalesForce CRM
CRM is short for customer relationship management and it is a software which stores basic data of customers such as names, addresses, and phone numbers, also it keeps track of customer activities like how many times a customer visited a website, their phone calls, email, and more. In this Salesforce training course, you will learn how to manage projects, various tasks, email responses, sales funnels, support center. CRM is useful for storing every necessary detail of customer, service request, as well as history. It also helps in conducting and managing sales operations.
Salesforce Administration for Beginners
Salesforce is a widely used enterprise cloud ecosystem and CRM software that helps in individual profile customization. It provides a database which helps in digitizing the sales records of any organization. Reporting functionality provided by Salesforce is the most popular and important feature which helps in managing all the records and enhance the overall productivity of the organization for maximum gain. So in Salesforce Training in Hyderabad, you will learn the basic functions of the Salesforce admin which consists of above-given tasks.
SalesForce Administrator Practical Guide
Salesforce Training in Hyderabad will focus on management options, collaboration clouds, and advanced administration strategies, etc. which are essential for the maintenance of Salesforce implementations.
Salesforce Training – Certificate of Completion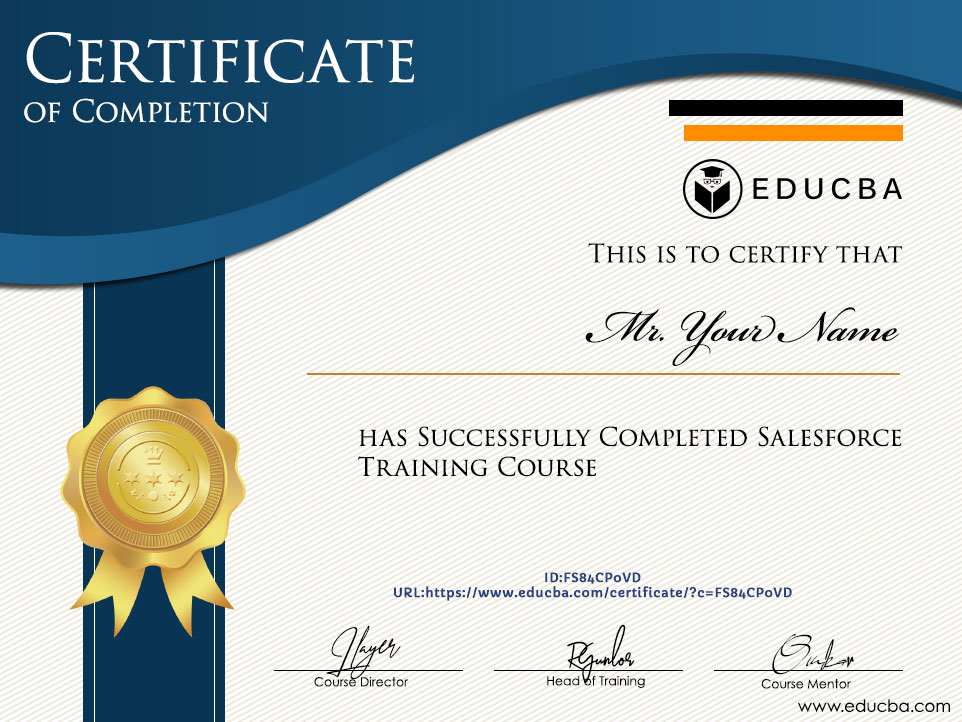 What is Salesforce?
Salesforce is a database management tool, which helps its customers an easy to use, sophisticated interface to manage their database. It also provides more functionality which will help to manage complex automation of regular business activities. It is not only a CRM tool but also a cloud-based software platform in the form of Software-as-a-Service (SaaS). By providing great CRM functionality it helps in responding in real-time and solve customer problems instantaneously.

Industry Growth Trend
The global cloud computing market size is expected to grow from USD 272.0 billion in 2018 to USD 623.3 billion by 2023, at a Compound Annual Growth Rate (CAGR) of 18.0% during the forecast period.
[Source - MarketsandMarkets]
Average Salary
Average Salary
$114,968 per year
The average salary for a Salesforce Developer is $114,968 per year in the United States.
[Source - Indeed]
Which skills you will learn in this training

?
You will learn Cloud computing skills which are most important when getting a job in this field and to build a career which is as follows:
You will learn how to manage the entire setup and implementation sides of Salesforce. You will also understand the architecture, services provided by Salesforce. In this way, Salesforce Training in Hyderabad will help you to enhance your proficiency level in the field of salesforce administration as well as cloud computing for developing and deploying robust cloud applications.
Pre-requisites
There aren't really as such must have prerequisites, but Database and OOPS knowledge can be added advantage. You need to have a basic understanding of database fundamentals, basic knowledge of data processing, data retrieval, etc. The only important prerequisites are interest and a little bit of patience.
Target Audience
Candidates who want to learn and expertise in Salesforce development and Administration and who have enough understanding of storage and processing of data should without much difficulty can learn Salesforce. Some intermediate level people who are familiar with the fundamentals of Cloud Computing which are mentioned in the perquisites section and want to know more about it and explore the amazing world of CRM as well as Cloud computing.
Anyone who wants to create added value to their current job as well as the company.
Candidates who want to begin a career in Cloud computing.
Any Salesforce Developer or administrator who wants to increase their knowledge in this field because Salesforce Training in Hyderabad will give you in-depth knowledge and hands-on experience in this field.
Salesforce Training in Hyderabad – FAQ's
---
After this Salesforce training, will I be able to qualify the interview Salesforce Professional roles?

Yes absolutely. In Salesforce Training in Hyderabad, you will learn all the essential skills needed to fulfill the requirements for the role of Salesforce Admin or salesforce developer.
Would this Salesforce training certification help me in my career advancement?
This Salesforce course is consists of Salesforce Development, Administration, and CRM skills which are highly demanding nowadays. So yes, doing this Salesforce Certification will help in your IT Career.
Can I learn Salesforce without prior knowledge of Networking?

Yes. However learn your basics right, and to do Salesforce Training in Hyderabad and you are more than welcome.
Will I be able to pass Salesforce Administrator Certification Exam., based on this salesforce training?

Yes, our extensive list of modules that are discussed above is mainly focused on Salesforce Administration. So, you do not have to worry about the Salesforce Administrator Certification Exam.
How can I enroll in the Salesforce training?
You can enroll in Salesforce training on our website and make an online payment using any of the following options:
Visa Credit or Debit Card
MasterCard
Credit Card
Net Banking
Will technical support be provided during my Training at eduCBA?
Yes, we provide you with 24*7 technical support. Our expert trainers will get back to you at the time as you requested.
Sample Preview
---
Career Benefits
In this Salesforce course, you will learn from basics of Salesforce and other various resources which will help you to deal with analytical and big storage, Customer queries, compliance, and security problem as well as it will help you to crack your interview of the dream job profile of Salesforce admin or Salesforce developer in the Company.

Why should you take up the Salesforce Training in Hyderabad?

Educba is one of the few IT education institutes in Hyderabad that have a separate Salesforce training course. Educba experts are employed for this Salesforce training course. Educba institute is very highly ranked in Hyderabad and great for anyone who wants the best institute to learn Salesforce.

What is the Salesforce market trend in Hyderabad?

There is n number of leading companies in Hyderabad which nowadays prefer Salesforce roles to provide highly effective and great service of CRM and also to get more security to storage databases for their business. So be ready for your dream job in the Cloud computing field by taking this comprehensive course of Salesforce with Educba.
Reviews
---
Salesforce
It is a long course that goes into very small details about each aspect of the Salesforce CRM platform. The level it's basic and it is very descriptive, overall the speaker seems to have a lot of knowledge on the program and he tries to relate the course with small business, overall it does the job explaining Salesforce.
Linked
Jorge Dominguez
Salesforce – Introduction to cloud computing – Basic course
The course content is good and encompassing. The presenter is clear in explaining topics on cloud computing like the advantages of cloud computing, cost savings because there is no need to buy licenses, special hardware. Learned the characteristics of cloud computing like on-demand, broad network access, resource pooling, rapid elasticity etc., learned about cloud computing technologies like public, private, community, hybrid. Cloud computing services were also covered like SaaS, PaaS, IaaS. Salesforce.com comes under PaaS.
Linked
Fredric C
Salesforce Training
The Salesforce course is a comprehensive practical-oriented solution to your preparation for the certification exams prepared by top experts in the Salesforce industry. It follows the right teaching methodology from basics to advanced level. I am happy to learn the Salesforce course at EDUCBA. I can give my highest recommendation.
Mausam
Salesforce Course experience
The content quality was extremely good,  well-structured, and helped me to boost my career.  Outstanding Salesforce training by EDUCBA. It helped me to understand the logic by giving real-life examples and scenarios.
The project which was taught in the sessions was wholesome revisions and implementation of the entire concept and firm grasp of the entire course.
Juliet