Learn from Home Offer TAKE THIS BUNDLE
SALESFORCE Course Bundle - 4 Courses in 1
24+ Hours of HD Videos
4 Courses
Verifiable Certificate of Completion
Lifetime Access
TAKE THIS BUNDLE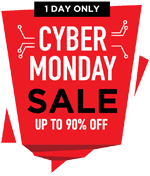 * One Time Payment & Get Lifetime Access
What you get in this SALESFORCE Course Bundle - 4 Courses in 1?
24+ Hours
4 Courses
Course Completion Certificates
Lifetime Access
Self-paced Courses
Technical Support
Mobile App Access
Case Studies
About Salesforce Training in Delhi
| | |
| --- | --- |
| Course Name | Salesforce Training in Delhi |
| Deal | You get access to all videos for the lifetime |
| Hours | 24+ Video Hours |
| Core Coverage | CRM, Salesforce, Salesforce Administration, Visualforce. |
| Course Validity | Lifetime Access |
| Eligibility | Anyone serious about learning Salesforce which is a cloud-based CRM |
| Pre-Requisites | Basis knowledge of CRM (Customer Relationship Management). The concept of Cloud-Based works and Software as a Service should be clear. |
| What do you get? | Certificate of Completion for the course |
| Certification Type | Course Completion Certificates |
| Verifiable Certificates? | Yes, you get verifiable certificates for each4 course, Projects with a unique link. These link can be included in your resume/Linkedin profile to showcase your enhanced skills |
| Type of Training | Video Course – Self Paced Learning |
| Software Required | None |
| System Requirement | 1 GB RAM or higher |
| Other Requirement | Speaker / Headphone |
Salesforce Training in Delhi Curriculum
---
This course consists of over 25+ hours of hands-on training material with video tutorials on the Salesforce CRM module. Since this Salesforce Training in Delhi also provides 2 real-time hands-on projects it will provide a deeper understanding of the concepts and application of the learned technique would become easy.
The course provides over 9 hours of Salesforce Administration with projects and over 5 hours of a complete tutorial of Salesforce CRM, over 7 hours of Projects on Salesforce with App Logic and Interface building knowledge. The course also covers over 4 hours of Visualforce along with a project on the Salesforce Visualforce domain. All this comes with life-time access to the user.
The main objectives of this training are to provide an overall knowledge of the concepts of a platform for building on-demand applications, custom user interfaces for mobile and desktop apps, monitoring customer information and daily business processes like names, addresses, and phone numbers, as well as keeps track of customer activity like website visits, phone calls, managing Projects, Tasks, Campaigns, E-Mails, Support Centre, All the modules, are prepared by industry experts to meet the skills required for industry standards. So, the main objective of the course is to make the individuals gain practical skills in the area of CRM.
In an ever-increasing demand for Salesforce skilled individuals, this Salesforce Training in Delhi would prepare you with skills that are in high demand.
Salesforce Training – Certificate of Completion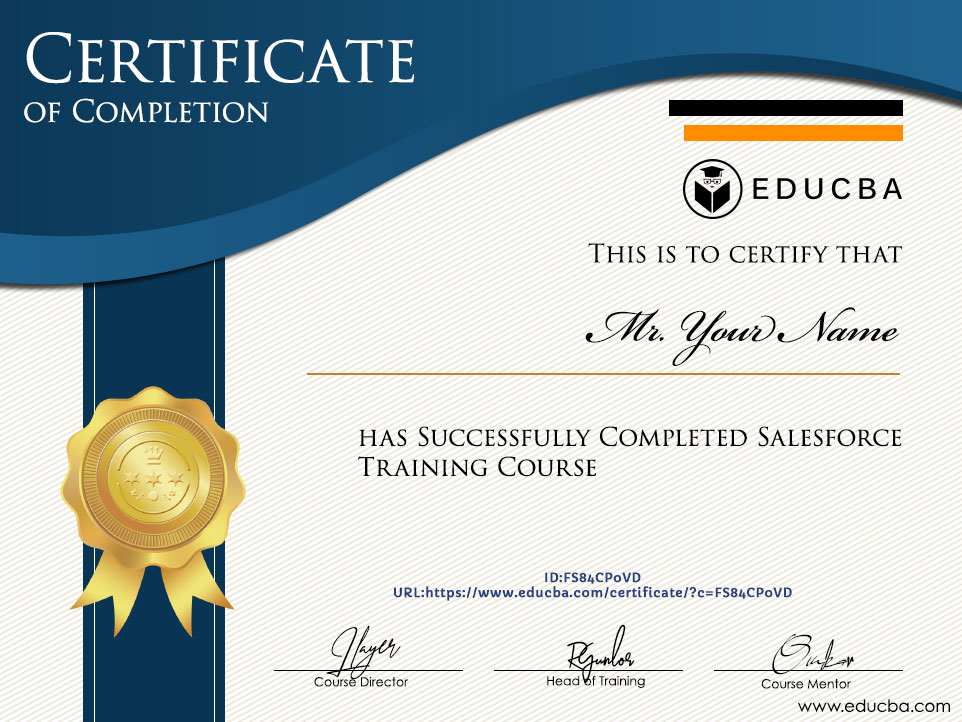 What is Salesforce?
Salesforce is a software as a service (SaaS) product. Salesforce provides lots of software services and solutions and a comprehensive platform for customers and application developers to create and explore the customized application that a user needs. A most important feature of salesforce is its multiple customer accommodation facilities which are termed as multi-tenant architecture. Where the user does not need to worry about infrastructure or technology.
Salesforce provides various cloud computing services like Marketing Cloud, Service Cloud, Community Cloud, Commerce Cloud, Analytics Cloud, and also App Cloud where each service cloud provides unique services to the user. Since salesforce services are versatile, industries from various domains like Communications, Financial Services, Government, Health Care, High Tech, Media, Manufacturing, Retail are using Salesforce services.

Industry Growth Trend
The global cloud computing market size is expected to grow from USD 272.0 billion in 2018 to USD 623.3 billion by 2023, at a Compound Annual Growth Rate (CAGR) of 18.0% during the forecast period.
[Source - MarketsandMarkets]
Average Salary
Average Salary
$114,968 per year
The average salary for a Salesforce Developer is $114,968 per year in the United States.
[Source - Indeed]
Which skills you will learn in this training
?
The Salesforce course teaches the strategy to build on-demand and customized applications, custom user interfaces for mobile and desktop apps. On successful completion of this Salesforce Training in Delhi, you will be fully equipped with all the necessary skills to get a more challenging role or a new job in the Salesforce CRM domain with an increased paycheck.
Core Skills coverage:
Salesforce CRM
Salesforce Visualforce
Lightning Platform
custom interface
Salesforce Admin
Salesforce clouds
This Salesforce training course teaches the skill of creating your interfaces and applications providing creative solutions, storing customer contact information, monitoring and maintaining customer activity, etc.
Pre-requisites
Since this Salesforce Training in Delhi covers concepts from basic to advance level there is a very little prerequisite required. All you have to do is to keep practicing the concepts and hands-on workout and passion to learn will give the skills that are required. Prerequisites are basic knowledge of Information technology and familiarity on the Database and OOPS concept.
Some of the prerequisites for System Configuration is simple, you need a system with basic configuration RAM at least – 4GB is recommended for easy operation. Knowledge of Cloud Computing and Cloud Services and Business Processing would be an added advantage although it's not mandatory.
Target Audience
Whatever course it may be the target audience is the people who are passionate to learn and excel. People from an educational background of Engineering and other Technology backgrounds are the primary audience. For Business Administration Students, Management professionals, and Support and Service Centre Personnel this course will be very useful and it will provide a deeper domain knowledge.
Working people, as well as fresh Job seekers this Salesforce Training in Delhi, could guide you to a successful career in the CRM domain.
For the students and entrepreneurs with theoretical knowledge on Salesforce CRM, this course offers practical and hands-on training and project knowledge for them to excel in this career.
Salesforce Training in Delhi – FAQ's
---
Why should you take up the Salesforce Training in Delhi?
Salesforce domain is one of the faster-growing domains in the field of IT. India has a lot of IT and Cloud computing training centers, and institution which focuses on CRM, SaaS, and cloud services. There is a vivid growth in the Job market for Salesforce specialists in India. This Salesforce Training in Delhi would help you in building and creating your Application and interfaces and to provide innovative and customized solutions for customers using the Salesforce tools. The course provides knowledge on storing customer contact information, monitoring, and maintaining customer business information. All these skills are covered in this course and at a much affordable price for lifetime access.
India is a global player in the technology sector and Delhi is a leading city for technology and cloud services domain due to the growing establishments of IT, cloud-based industries and there is a large number of training centers that are available in Delhi. It is a central place of demand for Salesforce personnel's skill set personals and there is a much demand ranging from small-scale to large-scale web industry, hence there isn't a better place to take up the Salesforce training course than Delhi.
What is the Salesforce market trend in Delhi?
The market for Salesforce Admins and Developers in India is exponentially growing and Delhi is a leading contributor to that market. The usage of on-demand customized cloud-based services is increasing at a rapid rate among industries in India.
Delhi is a city that has a lot of Information Technology companies that have the potential to drastically increase the Salesforce and CRM markets by taking up a lot of global customized application projects. So, there is a vast demand for the Salesforce Admin and Developer skilled Personnel in Delhi, and Job opportunities will keep growing at a good rate. This Salesforce Training in Delhi will help you build a successful career in the Salesforce domain in Delhi.
Sample Preview
---
Career Benefits
This program is designed by industry leaders in a clear and structured manner which has got 2 Online modules, 25+ hours of hands-on learning, and 2 projects and lifetime access. After completing the courses and 2 projects you will be awarded a verifiable certificate.
Important Benefits are, you will learn a fast-growing and much-demanded knowledge in Salesforce CRM
The average annual salary of a Salesforce Administrator is 4lakhs and a maximum of 9lakhs per annum in India. The average salary of a Salesforce Developer is 5lakhs and a maximum of 10lakhs per annum in India. Some of the top Salesforce Jobs are provided by leading companies like Cognizant, Accenture, and Deloitte.
Reviews
---
Salesforce
It is a long course that goes into very small details about each aspect of the Salesforce CRM platform. The level it is basic and it is very descriptive, overall the speaker seems to have a lot of knowledge on the program and he tries to relate the course with small business, overall it does the job explaining Salesforce.
Linked
Jorge Dominguez
Salesforce – Introduction to cloud computing – Basic course
The course content is good and encompassing. The presenter is clear in explaining topics on cloud computing like the advantages of cloud computing, cost savings because there is no need to buy licenses, special hardware. Learned the characteristics of cloud computing like on-demand, broad network access, resource pooling, rapid elasticity etc., learned about cloud computing technologies like public, private, community, hybrid. Cloud computing services were also covered like SaaS, PaaS, IaaS. Salesforce.com comes under PaaS.
Linked
Fredric C
Salesforce Training
The Salesforce course is a comprehensive practical-oriented solution to your preparation for the certification exams prepared by top experts in the Salesforce industry. It follows the right teaching methodology from basics to advanced level. I am happy to learn the Salesforce course at EDUCBA. I can give my highest recommendation.
Mausam
Salesforce Course experience
The content quality was extremely good,  well-structured, and helped me to boost my career.  Outstanding Salesforce training by EDUCBA. It helped me to understand the logic by giving real-life examples and scenarios.
The project which was taught in the sessions was wholesome revisions and implementation of the entire concept and firm grasp of the entire course.
Juliet