Learn from Home Offer TAKE THIS BUNDLE
Salesforce Training in Bangalore (2 Courses, 2+ Projects)
2 Online Courses
2 Hands-on Projects
25+ Hours
Verifiable Certificate of Completion
Lifetime Access
Salesforce Administration - Beginner Lessons
Complete Guide to SalesForce CRM
Projects on SalesForce - App Logic and Interface
Project on SalesForce - VisualForce
Offer ends in:
TAKE THIS BUNDLE
* One Time Payment & Get Lifetime Access
What you get in this Salesforce Training in Bangalore?
Online Classes
Technical Support
Mobile App Access
Case Studies
About Salesforce Training in Bangalore
| Course | | No. of Hours |
| --- | --- | --- |
| Salesforce Administration - Beginner Lessons | | 9h 12m |
| Complete Guide to SalesForce CRM | | 5h 38m |
| Projects on SalesForce - App Logic and Interface | | 6h 55m |
| Project on SalesForce - VisualForce | | 3h 49m |
| | |
| --- | --- |
| Course Name | Salesforce Training in Bangalore |
| Deal | You get access to all 2 courses, 2 Projects bundle. You do not need to purchase each course separately. |
| Hours | 25+ Video Hours |
| Core Coverage | CRM, Salesforce, Salesforce Administration, Visualforce. |
| Course Validity | Lifetime Access |
| Eligibility | Anyone serious about learning Salesforce which is a cloud-based CRM |
| Pre-Requisites | Basis knowledge of CRM (Customer Relationship Management). The concept of Cloud-Based works and Software as a Service should be clear |
| What do you get? | Certificate of Completion for the course |
| Certification Type | Course Completion Certificates |
| Verifiable Certificates? | Yes, you get verifiable certificates for each2 course, 2 Projects with a unique link. These link can be included in your resume/Linkedin profile to showcase your enhanced skills |
| Type of Training | Video Course – Self Paced Learning |
| Software Required | None |
| System Requirement | 1 GB RAM or higher |
| Other Requirement | Speaker / Headphone |
Salesforce Training in Bangalore Curriculum
---
The sole purpose of Salesforce Training in Banglore is to make you understand every concept of salesforce so that you can become job-ready right after completing the course. Salesforce Administration – Beginner Lessons will the first unit. In this unit, you will get to know how the application can be administered. Salesforce provides the functionality to modify the application as per the business requirement and in this unit, you will be learning how to modify the application and makes changes that satisfy the business requirement. This unit has been kept very simple so that beginners could under the concept very easily. Moreover, the unit has been explained using the examples that make it more convenient for the trainees to understand the concepts.
In the next unit, you will be learning almost all of the things about Salesforce. The unit has been named Complete Guide to SalesForce CRM where you will see how the CRM work and how it makes some of the tasks easy for the business who uses this platform. This unit is like a guide that consists of all the questions that are usually asked when one begins to learn salesforce. The application also provides us a mechanism to develop the CRM accordingly and that is what you will be learning in this Salesforce Training in Bangalore. There are various other submodules that we have covered in this unit. After finishing this unit, you will be able to work with salesforce and will understand how it could be leveraged to solve the business. In the third unit, we will be doing a live project which will be about App Logic and Interface. Working in the real project will give you good hands-on experience that is very essential when we talk about achieving efficiency in working with any of the technology.
The very important part about working in a live project is, together with improving your proficiency, it also makes you understand how the errors are handled. When we work with any of the technology, it is very usual to witness errors. If you are having exposure to those errors, you will be able to suggest managing or handling the errors. To fortify your skills and understanding of salesforce, we have again added a new project in the fourth unit which is about VisualForce. While working in this project, you will be learning various new things that could be leveraged when you will be working in any of the live tasks in the actual production environment. After completing all of the units, you will become ready to work in the production and help any of the organizations to draft the solution using salesforce. The purpose of the projects added in Salesforce Training in Banglore is to make you feel confident about working in this CRM and you will be expected to practice these projects more than one to achieve that efficiency that we are expecting from our trannies.
Salesforce Training – Certificate of Completion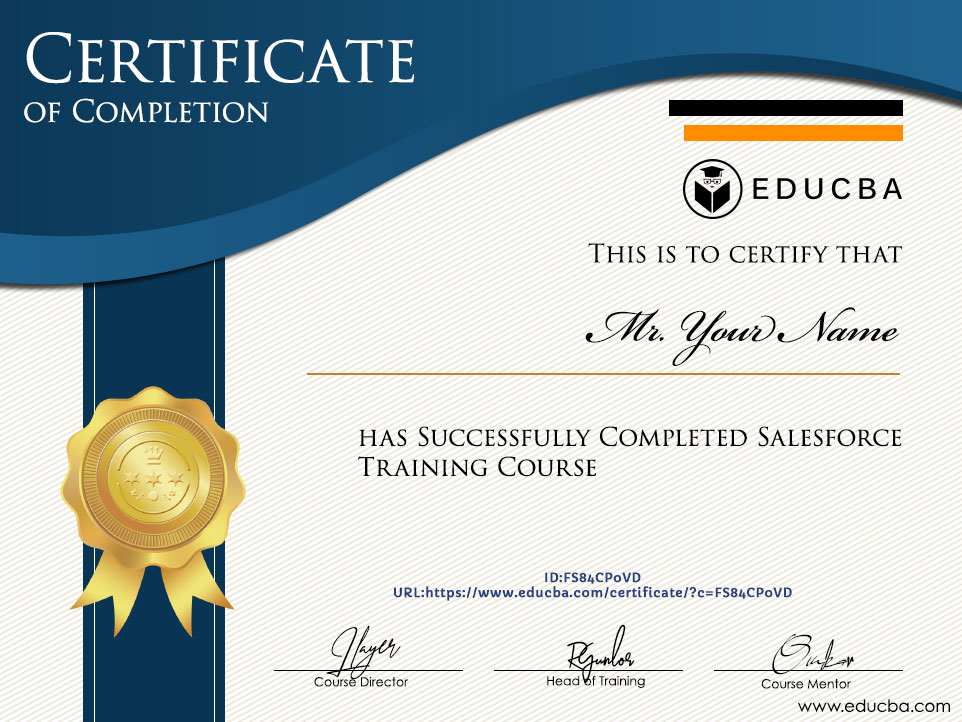 What is Salesforce?
Salesforce can be defined as a platform that offers cloud computing and software-as-a-service. It can also be considered as the customer relationship management(CRM) tool that makes it easy for businesses to keep track of the various activities as per their requirements. It is an application that can be modified or customized as per the business needs. The administrator of the application is allowed to allow access for the selected user that is based on a specific geographical area. It is a highly secure application and also allows integration with other applications using APIs. There are numerous functionalities that this application offers and managing the data is one of the very popular features of this CRM. It is open for the public to login and also provides the test or staging environment that allows developers to work very efficiently with the application.

Industry Growth Trend
The global cloud computing market size is expected to grow from USD 272.0 billion in 2018 to USD 623.3 billion by 2023, at a Compound Annual Growth Rate (CAGR) of 18.0% during the forecast period.
[Source - MarketsandMarkets]
Average Salary
Average Salary
$114,968 per year
The average salary for a Salesforce Developer is $114,968 per year in the United States.
[Source - Indeed]
Which Skills will you learn in this Course
?
As discussed in the earlier section, the course has been developed in a manner so that it can enrich the trannies with all the skills that are expected to be possessed by the salesforce professionals. You will be learning about the administrator role for this application. As per this learning, the trannies will become able to perform all the activities that could be performed by the admin to manage the entire application. They will become able to decide which kind of permission should be assigned to which user and so on. They will also learn how to customize the application as per business requirements. The main part about working in salesforce is to identify the business need and draft the solution accordingly and it is what you will be learning in this Salesforce Training in Bangalore. Right after you finish the course, you will become ready to appear in the interviews for positions in salesforce and will also become ample proficient to work in this application.
Pre-requisites
While working with some of the technologies, folks are expected to have a basic idea about the other technologies that endorses your learning. If we talk about prerequisites to learn salesforce, yes we do have some. The very first thing is development skills. Folks who are having an idea of development will find it very easy to learn this course. When the application has to be modified, it requires the major role of developers and those who are having a good understanding of development in any of the programming languages will find it very convenient to learn this Salesforce Training in Bangalore. The next important thing is the system administrator. Folks who understand how the system should be administered, they will find it very easy to learn or understand the roles and responsibilities of salesforce administrator. If you are very new to these prerequisites, you will come across these topics in the course as we have detailed everything related to the course in the beginning.
Target Audience
All the folks who are interested in learning Salesforce from the career or learning point of view can be the best target audience for Salesforce Training in Banglore. The professionals who are working in other technology as a developer or administrator and want to jump in salesforce are the best target audience for this course. They will learn various new things that will help them to achieve efficiency in working with salesforce. If they are looking to learn this Salesforce Training in Bangalore to ensure their promotion, this tutorial can be the best kick start for them. The students who want to be part of one of the most popular CRM and also liked development can also be the best target audience for this course. They will be learning something very new that is out of their academics syllabus and something job oriented. The trainers who are training folks in salesforce can also opt for this Salesforce Training in Bangalore as there are various new things that they will get to know about salesforce.
Salesforce Training in Bangalore – FAQ's
---
Why should you take up the Salesforce Training in Bangalore?
Bangalore has always been the most desired place for the folks working in information technology and it is because of the opportunities the city offers. Though this Salesforce Training in Bangalore can be opted anywhere across the country but taking it in Bangalore will make it very fruitful for you. You will get to learn about everything in salesforce and you will get a chance to work in the actual environment as the city is having a huge number of opening in this technology in the current time and the count is expected to increase more shortly.
What is the Salesforce market trend in Bangalore?
Bangalore heads the list of the cities that welcomes any of the technology that makes the work easy and hence the trend of the salesforce in Bangalore has always been moving up. In the current job market, Bangalore is the city that has maximum job opportunities in this technology and the opportunities count together with the trend is expected to keep on increasing exponentially in the city. Also, the number of IT-based organization is increasing in the city which also give a piece of rough evidence to endorse the reason of upward-moving Salesforce market trend in Bangalore.
Career Benefits
Salesforce is one of the most popular Saas that is being used throughout the world. Learning this technology will not just help to secure a better future but will also make you open to relocating worldwide to pursue your career. Cloud computing is one of the hot technology in the current time and all the services related to it as used extensively in almost all of the small and mid-size organizations. Salesforce had something for everyone. The developer who is working in any of the programming languages can also learn Salesforce to become Salesforce developer and the folks who are working as a systems administrator can be perfect for the role of Salesforce administrator. If you are looking forward to growing your career in one of the most demanding technology, Salesforce could be the best choice you can make.
Reviews
---
Salesforce
It is a long course that goes into very small details about each aspect of the Salesforce CRM platform. The level it's basic and it is very descriptive, overall the speaker seems to have a lot of knowledge on the program and he tries to relate the course with small business, overall it does the job explaining Salesforce.
Linked
Jorge Dominguez
Salesforce – Introduction to cloud computing – Basic course
The course content is good and encompassing. The presenter is clear in explaining topics on cloud computing like the advantages of cloud computing, cost savings because there is no need to buy licenses, special hardware. Learned the characteristics of cloud computing like on-demand, broad network access, resource pooling, rapid elasticity etc., learned about cloud computing technologies like public, private, community, hybrid. Cloud computing services were also covered like SaaS, PaaS, IaaS. Salesforce.com comes under PaaS.
Linked
Fredric C
Salesforce Training
The Salesforce course is a comprehensive practical-oriented solution to your preparation for the certification exams prepared by top experts in the Salesforce industry. It follows the right teaching methodology from basics to advanced level. I am happy to learn the Salesforce course at EDUCBA. I can give my highest recommendation.
Mausam
Salesforce Course experience
The content quality was extremely good,  well-structured, and helped me to boost my career.  Outstanding Salesforce training by EDUCBA. It helped me to understand the logic by giving real-life examples and scenarios.
The project which was taught in the sessions was wholesome revisions and implementation of the entire concept and firm grasp of the entire course.
Juliet